Keep up with the latest hiring trends!
Reading the room: Data from TA leaders on The Great Resignation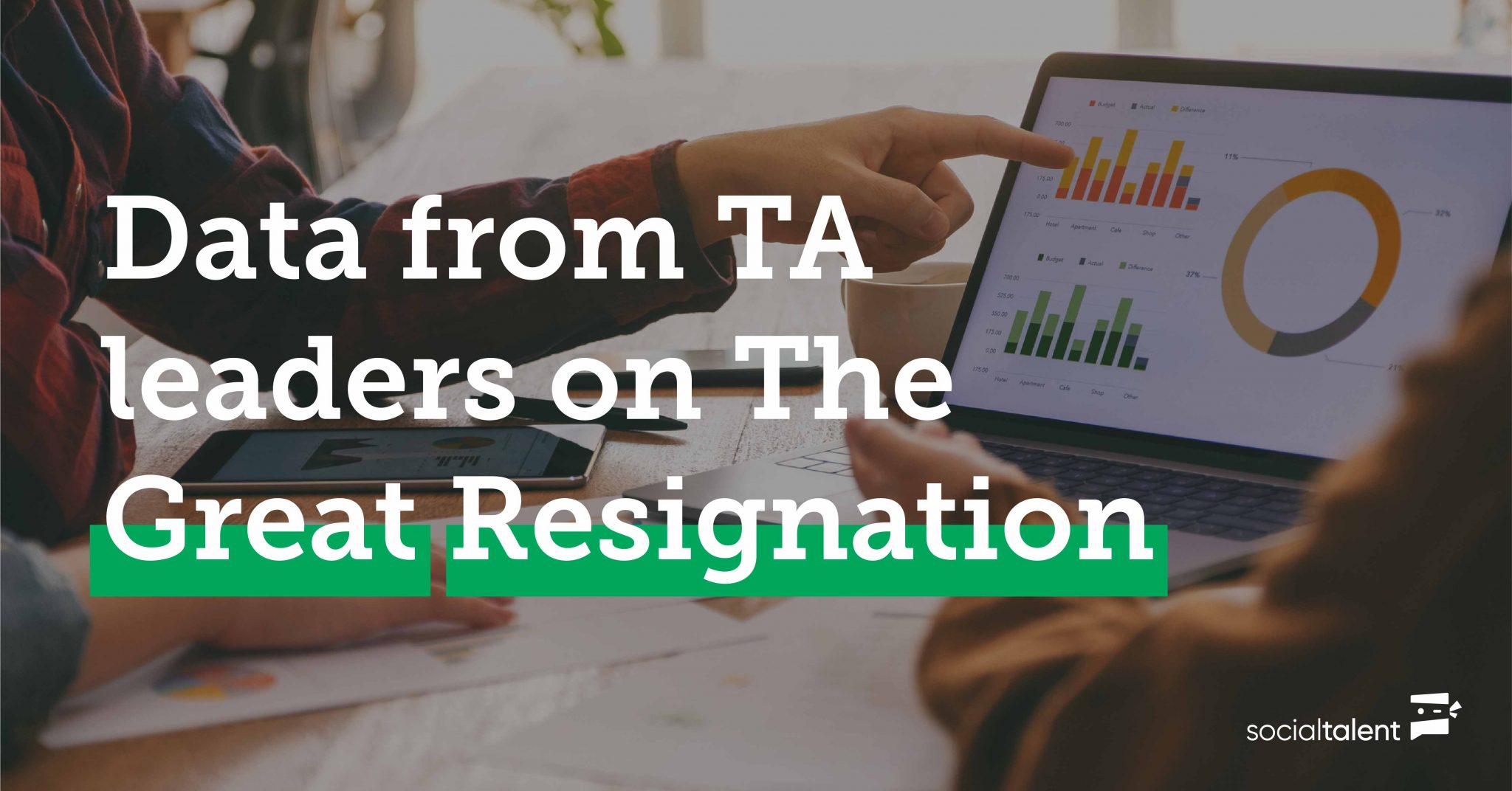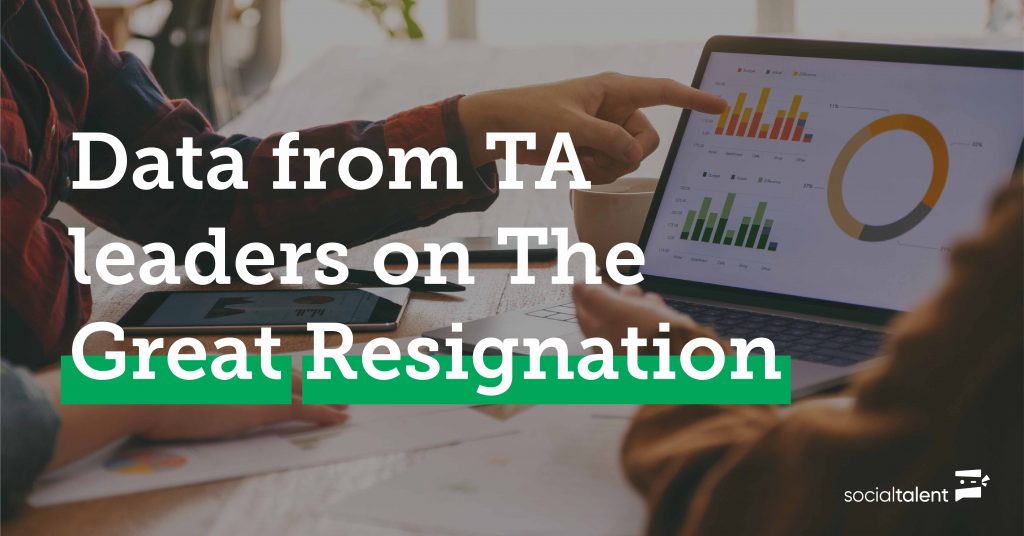 Temperature checks on the recruiting industry are of vital importance, particularly in this current climate. With the widespread impact of The Great Resignation being felt globally, reliable insight and knowledge gleaned from this community can help organizations to steady their ship and plan more carefully for the future. The huge numbers of job openings, mass attrition and increased pressure on the recruitment function all signal one thing – change.
We recently hosted an online, leadership event that directly dealt with this issue. SocialTalent Live: Hiring at scale during The Great Resignation saw over 400 talent leaders and professionals attend as we facilitated panels and fireside chats with some of the industry's leading figures in TA, HR, recruitment and employee experience. And over the course of the event, we ran a number of polls to get a sense of how people were currently feeling about The Great Resignation and its impact. Let's take a look at the results…
How are you driving the recruitment function?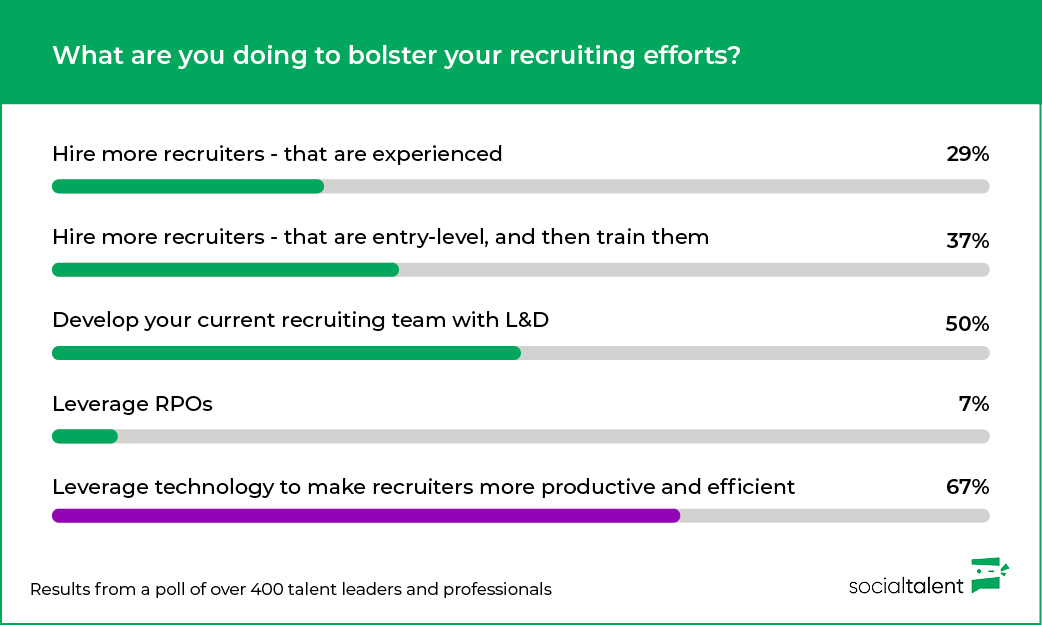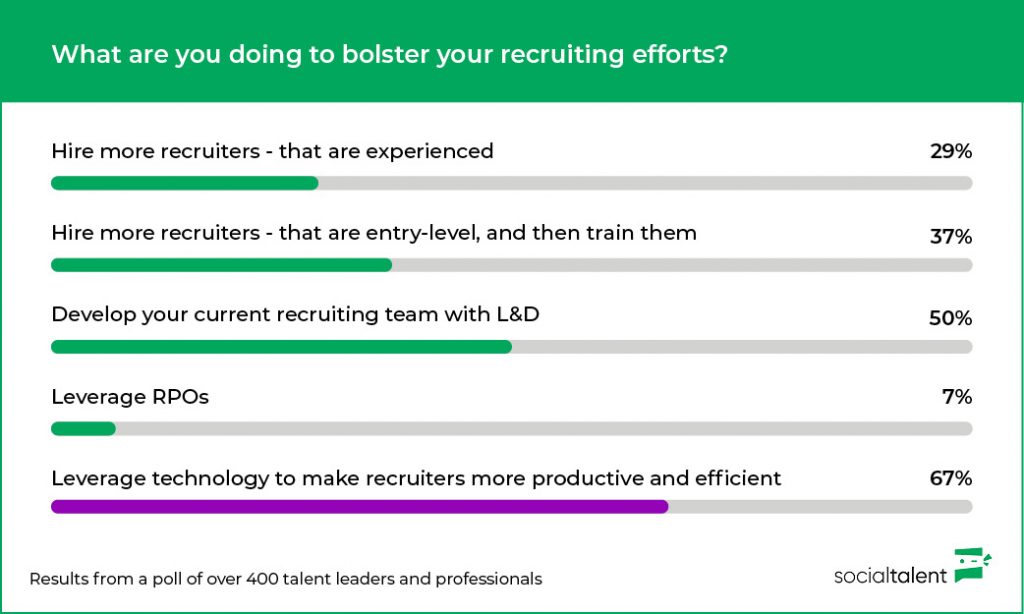 Interestingly, the theme here centers on development. In an effort for recruiters to reach their full potential, companies are looking to technology (67%), increasing L&D opportunities (50%) and training more junior staff (37%) to be more efficient and productive. There seems to be a sense that the best way to augment recruiting is by investing in your employees, rather than solely hiring your way out of this unique situation. And this very much goes along with a more general trend of 2021 too; even the LinkedIn Workplace Learning Report showed that upskilling and reskilling was the top priority for organizations this year. During the event, leading global RPO, WilsonHCG's COO Kim Pope highlighted this, giving detail on how her company is investing in recruiting academies and early career programs to develop in-house talent and keep ahead of the curve.
Salary expectation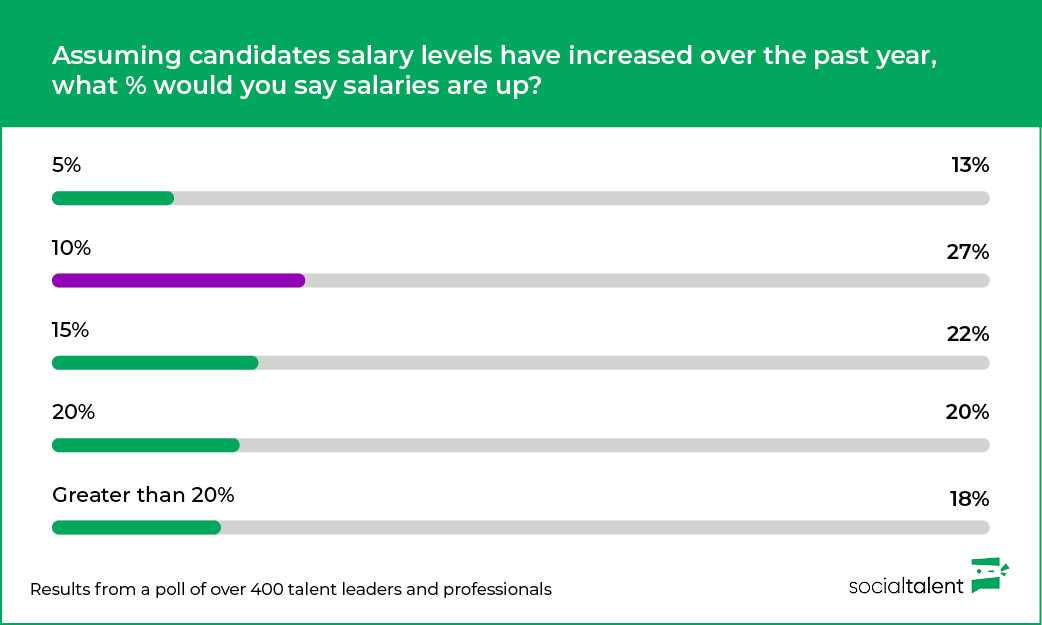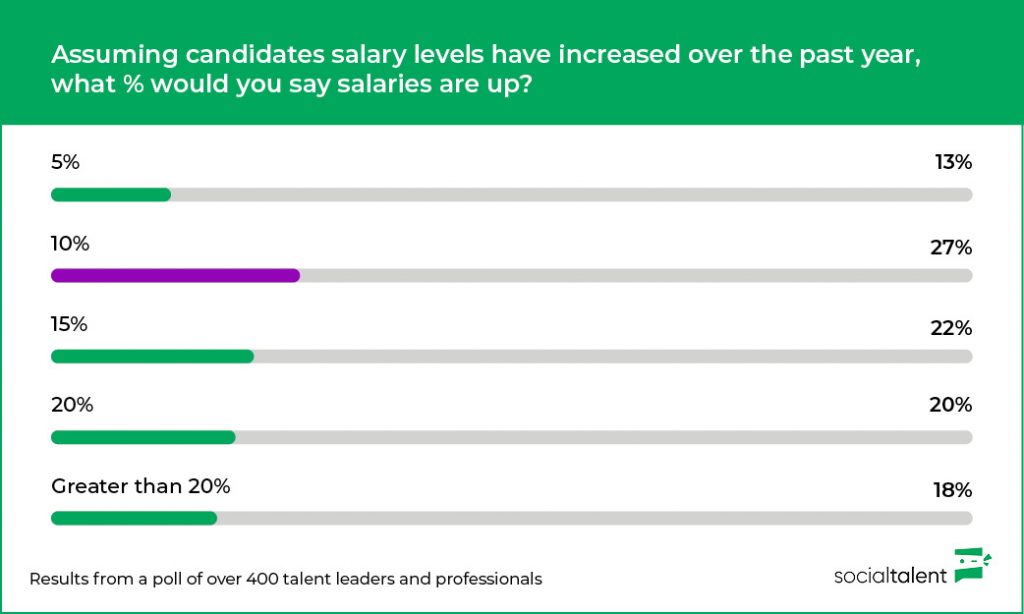 Salary expectation has definitely risen in the wake of this phenomenon. As organizations are all vying for the same talent, money will always play a certain factor in how candidates choose. But according to our data, the jump has been astronomical over the course of 12 months with 60% of respondents saying that salary levels have increased by over 15%. It's important to remember however, that while money plays a role, in order to build engagement and increase retention, it cannot be the ONLY change. As Barbara Lee, the Senior Vice President of HR at NielsenIQ, told us during the event: 
"Pay and benefits are important, but they're almost like a hygiene factor, a baseline – really without career progression, learning and development, you won't keep people engaged."
Attrition rates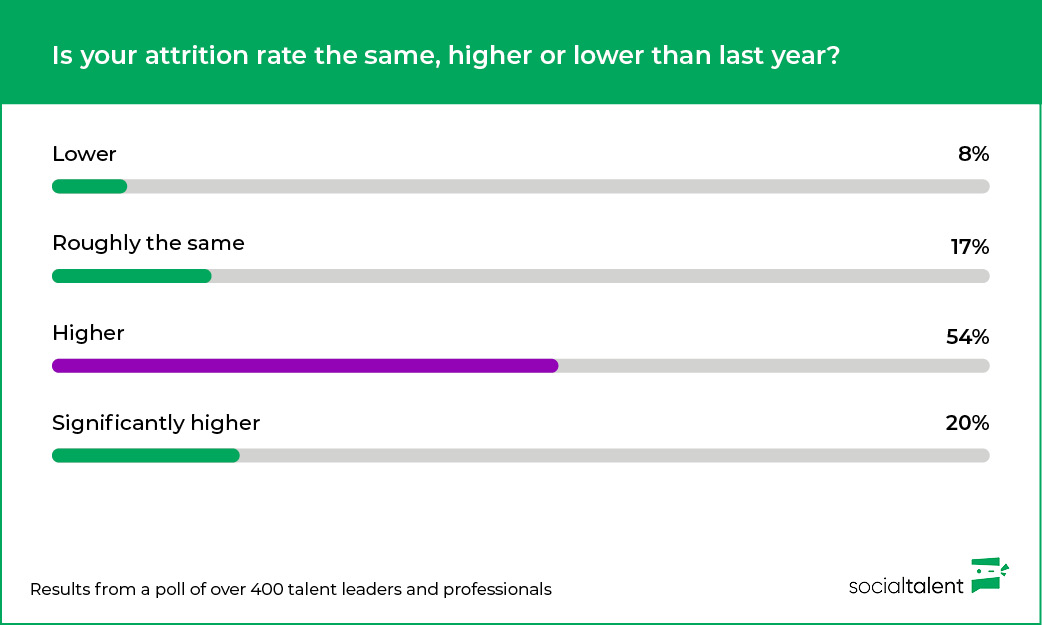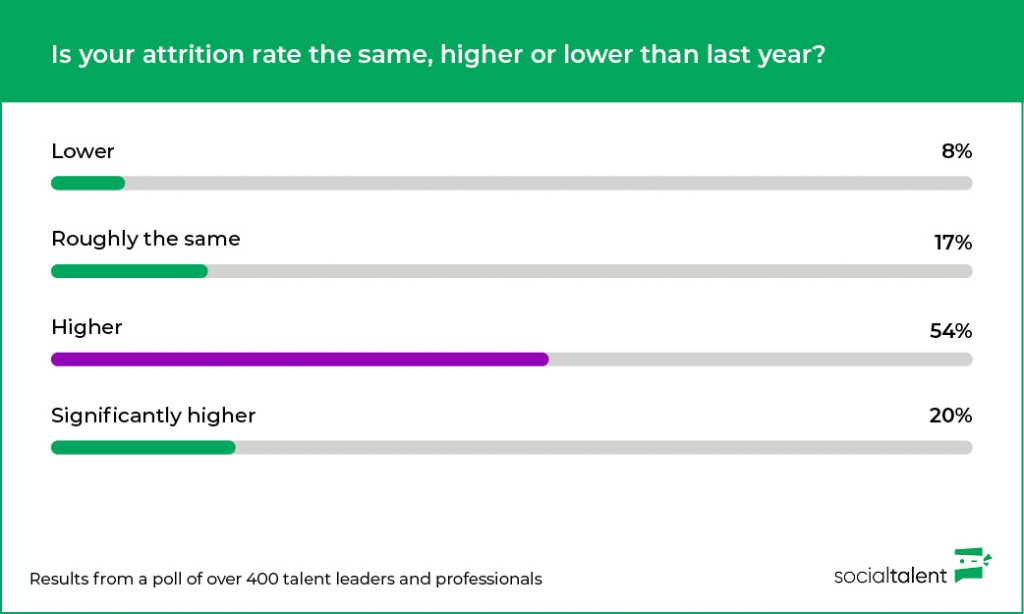 This was perhaps the most pertinent poll we ran during the course of the event and it very much lived up to industry suspicion. Of the over 400 TA leaders and professionals in attendance, 74% noted that attrition rates were higher this year than last. It wasn't a huge shock when we look to the headlines this year, but it confirmed the sentiment that has been percolating. Employees are leaving organizations in higher numbers, and while there is some element of COVID lag associated with this, disengagement and a desire for change and betterment are the major drivers – each of our guest speakers echoed these sentiments.
Want to catch-up on the full event? Click here!
How to attract and retain talent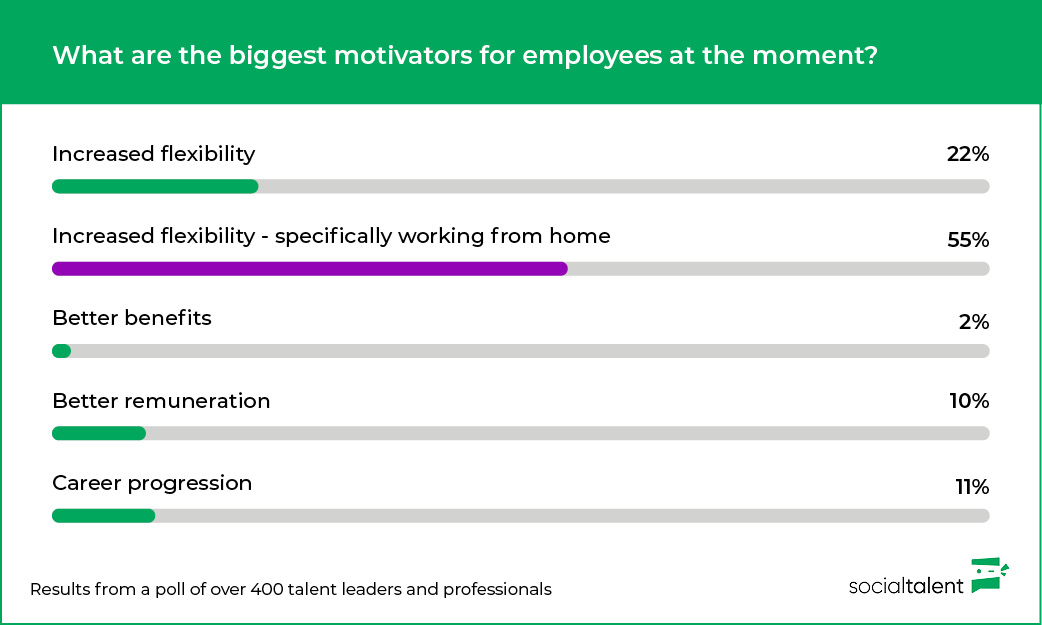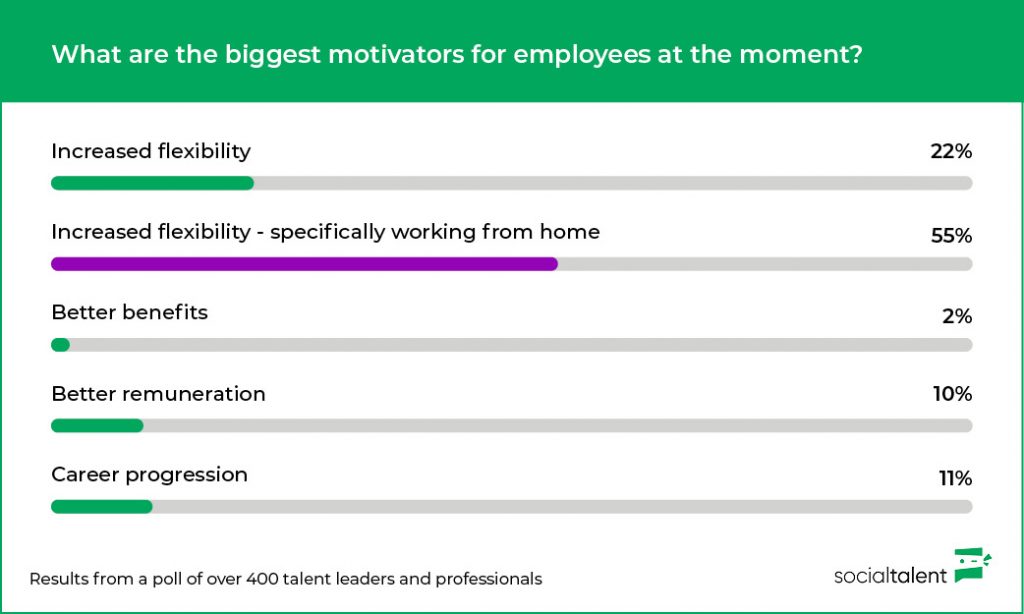 Flexibility was the winner in our final poll. Specifically in relation to working from home, with 55% of respondents selecting it as the biggest motivator for employees at the moment. We've had a taste of flexible working over the course of the pandemic and people won't be quick to give this up. If you're not considering this as part of your talent attraction strategy, you will lose out. Companies around the world are committing to remote and hybrid work. They are putting the infrastructure in place to make this successful. This will become hugely attractive proposition for talent. Interestingly, benefits was the lowest scoring option in our poll with only 2% of the votes. Does this perhaps signal a marked change in what employees now consider of paramount importance?
So what do you make of the data we collected during SocialTalent Live? Do the sentiments of these 400+ talent professionals mirror those of you and your company? It seems like one thing is for certain though – The Great Resignation has changed the industry of talent acquisition. And in order to stay ahead of the game, it's important that organizations change along with it.

Don't forget! You can watch the whole event by clicking this link here. And to stay up-to-date on all things SocialTalent subscribe to our newsletter and follow us on LinkedIn.
Find out how the likes of IBM, IKEA and Siemens
drive hiring excellence with SocialTalent
---