Keep up with the latest hiring trends!
/
/

Finding The Perfect Candidates For Creative Roles on Pinterest
Finding The Perfect Candidates For Creative Roles on Pinterest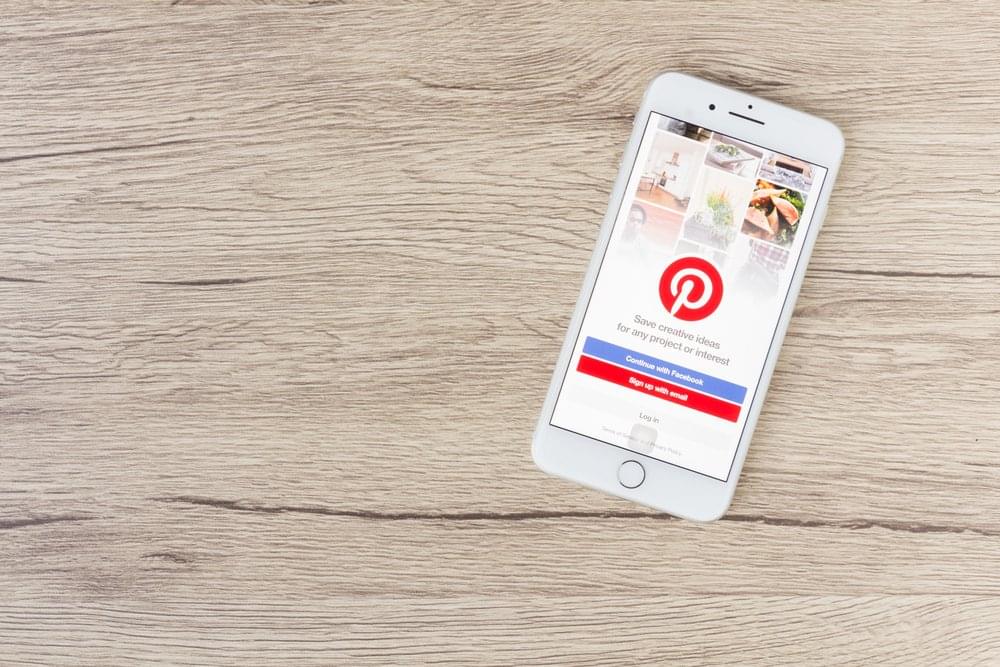 Pinterest is social media site that allows users to collect images, create boards and follow other pinners as a new way of finding interesting content.
The virtual and social pinboard thrives on imagery and design led content. Pinterest might just be your. So what kind of people live and breathe in Pinterest and more importantly- could they fit a candidate profile for a job you are working on? It's time to boost your internet recruitment game and get the most out of Pinterest!
Who Uses Pinterest?
Of Pinterest's 100 million members worldwide 81% of its user base is female. Although it contains millions of images from several different themes and industries there are five certain categories within Pinterest that are consistently popular amongst users like:
Interior Design
Arts & Crafts
Fashion
Food
Inspiration/Education
So these are the most popular categories, but who are the professionals that are using Pinterest? This is what you're interested in as a recruiter. The social media site is teeming with professionals from industries like:
Education
Design
Food and Hospitality
Retail
Tourism & Travel
Web Design
The setup and functionality of Pinterest work really well for these industries and is a favourite for professionals who are researching and collecting ideas or promoting their own work on the site.
How To Search Pinterest
Searching on Pinterest is a little different to what recruiters are used to. On Pinterest, you search for 'pins'. You cannot search for people by typing in a skill or job title. Pinterest will show you a pin or a collection of pins (pin board) based on the keywords you type in. So it's time to get smart and use your recruitment skills to find the information you want.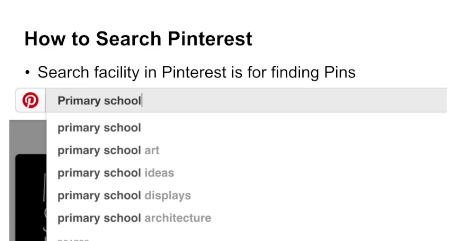 You can search Pinterest by name but if you are currently candidate hunting you may not know the name of the person you're looking for. So what can you do to find potential candidates?
X-ray searching profiles by using a search engine like Google can help you find some profile details that may not be immediately obvious to you.
Or you can search for followers of pin boards that are specific to the categories you are searching for. This will help you build up an idea of what type of person might follow certain types of boards so you can create a profile in your head.
What Does A Pinterest Profile Contain?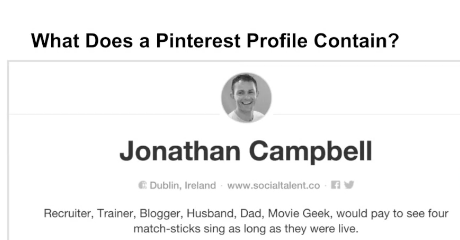 The bio on a Pinterest profile is short- only 160 characters. It is also free text which allows people to structure their bio in any fashion they want- or leave it blank. People can also add their location (also a free text field).
So what does this mean for recruiters? 
Search for short job titles rather than skills, also because of the free text location field it's important to try a variation of spellings and locations such as city, county, ZIP code etc as you never know which way people may choose to define their location.
Developing an X-ray Search For Pinterest
With x-ray searches, it's important to find a pattern before creating your search. As we can see a user's profile on Pinterest will say www.pinterest.com/usernamee

If we examine the page closer we can find some clues to help us build a really stealthy x-ray search. We can see that on Pinterest is included in the title of the page. This is a pattern that will apply to all profile pages on Pinterest.

So let's try using this new piece of information we've discovered on the Pinterest website.
To search a website we use site: followed by the web page 
eg. site:pinterest.com
Then we use intitle: to apply our new found title information
eg. intitle:"on pinterest"
These two functions will narrow your search down (but not exclusively) to people's profiles on Pinterest.
Now we can insert a standard Boolean search for the candidate we are looking for. In this example, we are looking for a chef on Pinterest.
(chef OR "de partie" OR "soux-chef" OR chefs) 
(london OR ldn OR "united kingdom" OR uk OR england)
Running this search on Google will present you with member profiles that match the keywords and locations you are searching for.

Your results will give you a good indication of where you can start searching on Pinterest to find the people you want to start reaching out to.
Messaging on Pinterest
So now that you have the skillset to find potential candidates on Pinterest we need to understand the messaging protocol that comes with this new social media site.
People You Are Friends With
The private messaging function on Pinterest only works for people who are following each other ie. you are following them and they are following you. You can start attracting followers by pinning and creating boards packed with the type of content you want the people you are searching for to engage with. This will help you build up a network of people to share interests in the areas you are recruiting for.
Once you are mutually following each other then you can private message, share pins and start engaging directly with people on Pinterest.
People You Are Not Friends With
The easiest way to connect with someone who is not following you on Pinterest is to try and find them on other social networking sites they may have linked to their account.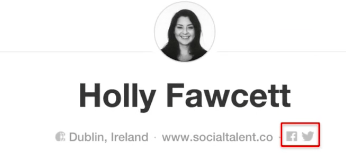 Quite often you verify a new account by using a social media account like Facebook so this is a neat way to find them and connect with them elsewhere. Even Googling their name and location can help you further your search for your creative candidate.
So now you have all the information you need to start finding the perfect candidates on Pinterest. Get started today and set up a Pinterest account and start finding the people other recruiters are looking for but don't know how to find!
For more information on outside the box recruitment, check out our strategic sourcing training on the Social Talent platform.
Find out how the likes of IBM, IKEA and Siemens
drive hiring excellence with SocialTalent
---