Keep up with the latest hiring trends!
/
/

Reshaping Talent Acquisition Strategy, with Keiran Dodd
Reshaping Talent Acquisition Strategy, with Keiran Dodd
Talent is the lifeblood of every organization. Very few things impact the success of a business more than the employees within its walls. When leveraged and optimized well, talent strategies can be a significant strategic strength. So why then is Talent Acquisition and HR often regarded as a service function that merely receives and fills vacancies? 
Well, according to our guest, Keiran Dodd, the Global VP of Talent at Preply, this definition needs reframing. TA and HR should be seen as a shaping function. And on this week's episode of The Shortlist, Keiran chatted with us about how this perception can be changed. We discussed the key pillars of this, examining operational excellence, data, employer brand, and customer experience. We also talked about how organizations can move from being reactive to proactive, giving TA that space at the table to impact workforce planning and contribute to overall success.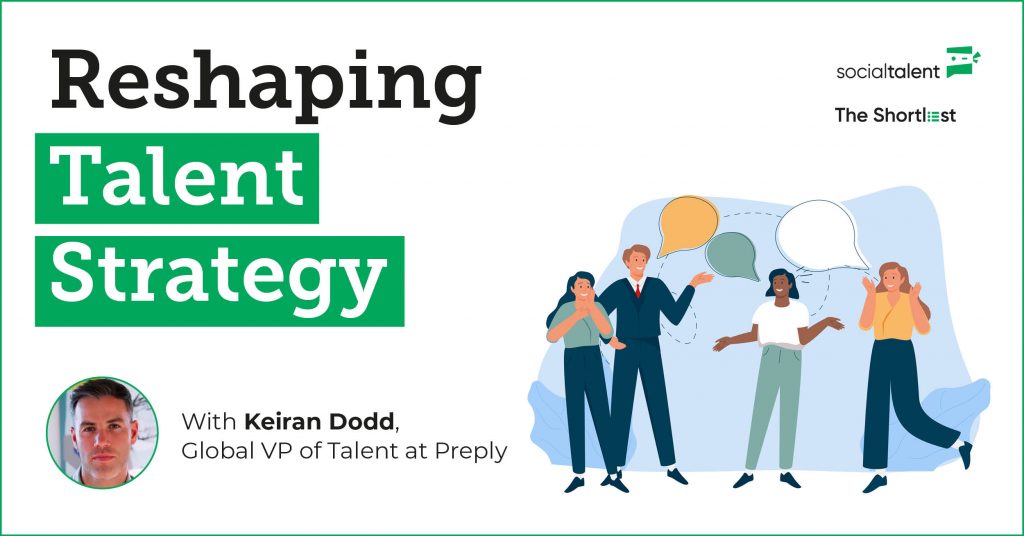 In this episode:
The difference between leading TA in a large global organization compared with a Series C company.
Quality versus quantity in TA.
The key pillars of talent acquisition.
Ensuring alignment between TA and business strategy.
The impact of the war in Ukraine.
Key takeaways:
1. Building TA from the ground up. Keiran's experience from leading teams in larger organizations helped him focus on the most important things to transform in Preply – most notably structure and process. He invested in data, a stronger ATS, and made sure they hired the right people, including an Operation Specialist. Recruiters also had to have an appetite for other areas, like candidate experience or employer brand. This desire to learn and grow ensured that the TA team would have a broader impact.
2. Reframing TA as a consumer facing role. One of the key pillars Keiran talks about is how we need to start seeing candidates as customers. And this is why the interview experience needs to be optimized – it is an opportunity to turn even unsuccessful candidates into brand ambassadors and should be capitalized upon. It is a marketing channel in itself.
3. Aligning TA and business goals. Talent acquisition objectives should always be informed by what the organization is aiming for. Getting that cliched 'seat at the table' gives TA insight into the overarching strategy, and an opportunity to influence and impact this. Talent is becoming so intertwined with business success that Keiran can even see the role of Chief Talent Officers become commonplace in years to come.
Our guest's final piece of advice:
We got two nuggets this week:
"Invest in the people around you."
and
"We as TA individuals, leaders, recruiters – the more you learn about the business, the more impact you can have."
Highlights:
[2.40] Introduction
[6.07] Preply and its focus
[8.19] Keiran's experience leading global TA teams
[14.50] Transforming TA in a Series C company
[18.25] Changing minds re. quality versus quantity in TA
[22.45] The pillars of TA
[28.00] Aligning TA and business strategy
[33.23] Evolution of TA
[37.29] The importance of having a seat at the table
[40.05] The CTO
[42.55] The impact of the war in Ukraine and Preply's response
Transcript:
Holly Fawcett:
Good afternoon everybody, and you're very welcome to episode 120 of SocialTalents's The Shortlist. Today we're talking about reshaping talent strategy. I'm sure, as you're aware, considering you're listening or watching to this podcast about talent, that talent is the lifeblood of every organization. Very few things impact the success of a business more than people that they employ. But organizations don't become great companies out of sheer luck. There needs to be intentional actions made regarding the recruitment, the retention, and the development of employees to meet the company's goals. And the two departments who typically run these activities, talent acquisition and HR more broadly, they're often regarded as a service function that merely fills vacancies.
So with this in mind, joining me on The Shortlist today is Keiran Dodd, the global VP of Talent at Preply, who claims that this definition needs reframing. HR and TA should be seen as a shaping function instead. Keiran will chat with us about how this perception can be changed. They'll go through some key pillars examining operational excellence data, employer brand and customer experience. And we'll also hopefully have discussions about how organizations can move from being reactive to proactive, something I personally am very interested in. And giving TA that space at the table to improve and impact workforce planning and contribute to the company's overall success. So Keiran, you are very, very welcome to The Shortlist.
Keiran Dodd:
Hi, Holly. Thank you very, very much. I appreciate you having me. It's really, really great to be here. As I was saying earlier, I'm from a very, very sunny Barcelona…
Holly Fawcett:
And a very sunny Dublin back at you as well. We're both in unseasonably warm weather in Europe at the moment, which is kind of lovely for this time of year.
Keiran Dodd:
Yeah, yeah. Probably more unseasonable for you than for me!
Holly Fawcett:
Fair. Yes. Barcelona does tend to get nice weather. Dublin the odd day when it starts sunning as you can see in my background here. For those of you who are watching, it's very, very sunny and beautiful. So Keiran, can you tell us a bit about yourself and your background maybe? And tell us also a little bit about Preply as well. I'm sure there'll be some folks who are listening or watching who haven't yet heard of Preply.
Keiran Dodd:
Yeah, absolutely. So I'm super happy to be here and happy to introduce myself. So I probably spent over 12 years now predominantly in talent acquisition, ranging from agencies to corporate organizations. I don't think I'll take you through it all, but I'll take you through some of my most recent experience. I joined Booking.com in 2015, which we were just talking about there. And I actually joined as one of the team leads for one of the functions. We were very small at that time, around 14 to 15 people in their product and tech TA. By the end of it, I was actually managing the field product and tech recruitment team, which was around 50 to 60 recruiters, sourcers, managers from that side. And I think we were doing roughly around a thousand hires per year into our main hubs. So our three main hubs were Amsterdam, which was around 80% of the hires, in Tel Aviv and Shanghai.
My next experience, I actually worked for a company called Zalando, which is a fashion marketplace within Europe. Not as big in the UK, but the biggest in Europe, operating in around 17 countries. And my role there was actually to be the global head of executive recruitment. And I was brought in to build out the very first executive recruitment function for the company from scratch. Very, very great experience and some synergies from Zalando and Booking in terms of the companies that they are tech driven, European organizations. And then most recently, where I am today, I am the VP of Talent and People at Preply. Preply is a marketplace that actually connects student and tutors from all over the world. We probably operate in almost 175 different countries and we do around about one million lessons per month.
And what we are actually doing is we're trying to build the digital classroom for the world. And we truly believe that everyone has the right to an education and we want to give that opportunity, not only to our learners, but also to our tutors. And my role at the moment is predominantly looking after the talent side, but most recently I've stepped into looking after the people function. When I joined two years ago, we were 130 people. I was probably around the 20th person in the Barcelona office. As of today, we're just short of 500 people. So in two years we've done 4X growth in people. And it's been an insane journey, but a very, very good one. And quite the journey from going from an enterprise into an early stage startup.
Holly Fawcett:
Absolutely. So speaking of this marketplace I suppose that you're bringing tutors and students from all over the world. You're saying that you're in over 170 countries now at this stage. And is it every type of education, every single type of lesson from math on upwards? Or is it specialized? What kind of … Is it university education
Keiran Dodd:
Yeah, it's a fantastic question. So at the moment we predominantly focus on language learning. And the reason for that, there's around about 1.9 billion people currently trying to learn a language and around 80% of them won't even get to basic fluency. So right now, that's a problem that we're trying to solve. Now, if you were to land on Preply today, you could find a maths class, you could find a singing class, you could find a public speaking class. But it's not something that we actively market yet. But we have a very strong platform where people like tutors want to go on and be there and be able to use that product. Will we start moving into that area? Very, very potentially. But I think right now we're very, very focused and our focus right now is being the biggest and largest language learning platform in the world.
Holly Fawcett:
I think languages is a fantastic place to start and certainly dominate, right? Because, I mean, so much of the internet, let alone everywhere else, but so much of the internet is just written in one language. Software coding is written in English as well. It's very homogenous.
Keiran Dodd:
Exactly. And I mean, people can do coding classes actually on Preply as well. Actually, one of our TA members yesterday was telling me that she'd done a data class on Python.
Holly Fawcett:
Nice.
Keiran Dodd:
Because she's recruiting a role there. So yeah, no, no, I fully agree. And I think for us is if … By breaking down the boundaries of language in a world that, in my opinion, needs more uniting than ever, then we've just got this huge potential as a product to bring the world together and allow people to do that. So we're very, very focused on that at the moment.
Holly Fawcett:
That sounds awesome. So thank you for taking me through the brand and I hope everybody watching and listening suddenly is Googling Preply like mad and going, "Oh, I want to learn this language." Or, "I want to teach this language as well," would be even more awesome as well.
Can you talk to me about your experience then maybe a little bit more about maybe that transition from moving from these big global organizations, Booking and Zalando, now to a series C organization where you're suddenly going through 4X growth in terms of your people. And 4X is really meaningful, but in terms of … in comparison to Zalando and Booking, there are much, much different stages in this organization. What were your learnings that you were able to apply from those kind of companies to what you're doing now?
Keiran Dodd:
Yeah, it's a really good question. And I think where I'd probably start, because everyone asks me this question. Why? Why leave big brands like Zalando and Booking and go join … When I joined, we were series E … series A, excuse me. And I think for me there was three main reasons. Number one, I'd experienced the well-oiled machine, seen the scale gone into new markets and I really wanted the opportunity to build something from the ground up. And I think you truly, truly get that at a series A organization. You have opportunity to really shape it. It's much more difficult at an enterprise company to change processes because it has massive impacts on the Sydney team, to the San Francisco team, to the Amsterdam team. So that was number one.
And then number two was actually what we just discussed is Preply for me is one of the one products that I truly believe has a positive impact on the world and you would struggle to find a negative for it. I think we give an opportunity to people to earn, we give an opportunity to people to learn. So that's why. In terms of the experience of going into it, the growth is similar. So when we were at Booking, I think we went … When I joined, we were probably 5,000 people, went to 19,000 people. So it's almost 4X as well. It's just a different scale of the number. I think the first thing that you notice is you become a lot more creative and a lot more innovative because you do not have huge budgets. You do not have huge employer brand teams, you do not have huge sourcing functions.
You do not have a people analytics function. So you really need to roll your sleeves up and actually be willing to get in and get your hands dirty. And I think what I took away from Zalando and Booking straightaway I brought into Preply is without structure and without process, it's just complete chaos. So the first thing we'd done, we went, "Okay, what can we do to bring some structure and some organization to make sure that we can be more efficient?" I always use this analogy. Preply had everything there. We had a great team, we had systems, good systems, the data existed, it just wasn't being used properly. And I was like, do you remember when you used to fly on an airplane before COVID? And you land and then everyone just shoots up and it's chaos, no one can get off the plane.
And for some weird reason, it took COVID to happen for planes to realize if we just disembark the first five rows, then the second five rows, then the third five rows, everything becomes a lot easier. And that was what it was a Preply. It was how do we take all this information and how do we make it more efficient? So what we done straightaway was like let's invest in the right tooling. And so when I joined, we were only five recruiters and the first thing I'd done was brought in an operations specialist, which I think is very uncommon in a series A company so small. You probably don't invest in an individual to run TA ops so early. But by doing that we've seen massive, massive ROI. A very good example that I'll give you is we had an ATS when I joined and we had 8,000 applicants just sitting in the application stage. Hadn't been moved for-
Holly Fawcett:
Oh my god.
Keiran Dodd:
Well over GDPR compliance! Which of course we fixed. So I had to convince the leadership team to give me budget to get a stronger ATS. And the very simple way of doing that was I said, "Okay, well I can pull some data and I can see that on every average hundred applications we get one hire. So if we had a way of repurposing these 8,000 applicants, we would hit the hiring numbers already for the next two years." So the first thing we done was we brought in a system and then we made global consistent processes. So if we were hiring an engineer for our Ukraine team or for our Barcelona team or for our US team, they went through the same process. So it was a very, very centralized approach and that really allowed us to scale a lot quicker. And then the other part as well is as we invested in data super, super early. So we built a Tableau to begin with and then the business moved to Looker but we built reports that the business can have access to. And that really, really helped shape us. And maybe the last thing that I think was really, really impactful for me was hiring the right people into the TA team. And what I mean by that is in an organization where you don't have functions such as sources such as employer brand, then you need to find people who are willing to do both and you need to train them to be what I would call M shaped. So you have your 360 recruiter, but you also have someone who actually is passionate, is skilled about employer brand. And then you have someone who's also passionate and skilled about candidate experience, talent acquisition ops, moving things in a different direction as well. So I think one of the very good things we've done at Preply, we hired a really, really strong team that wanted to operate more than just someone who wanted to make hires.
Holly Fawcett:
Yeah, totally. I think that's a really important aspect, certainly at those early stage organizations, it's finding people with range. And I love that kind of M shaped skill … or well I'd probably call it cone shaped skill. You're able to go … You have a broad level of understanding, but you go deep in multiple areas and you have that breadth and range to be able to dig in where an organization needs you at those early stages, as you say, to shape and determine what the company's going to be ultimately.
Keiran Dodd:
Absolutely. And I think the last part is that you really need someone who's bought into the product and the mission. Mission led people. Because when we were Zalando and Booking, I mean, we were getting 500,000 applicants per year. When you're at an organization that doesn't have a huge brand, you need someone that can really go out there, go to the market and sell that machine and sell that story. That, hey, yes, we're this small but we have 175 … and we have customers in 175 countries already. Can you imagine what we can do if we scale this and really sell that to the individual? So I think it's imperative that you hire the right people and key people for the organization.
Holly Fawcett:
A hundred percent. You were saying earlier as well about you're building, reporting a Tableau and visibility for the organization to be able to see the things that they needed to. Can you go into a little bit more about that? First of all, what things do they need to see and what kinds of decisions did it help them to make?
Keiran Dodd:
Yeah, absolutely. So we've now migrated over to Looker, but I think first and foremost is workforce planning. So all execs in my opinion, but especially in a startup, is the way that you do planning on hiring is like you get told the week before the quarter, "Here's the roles, go fill them." And the expectation is they start that quarter. When I think all us TA experts know that, okay, we need to build pipelines, we need to do the attraction part, we need to take them through the process, we need to make them make offers. If they're best in Germany, they have a three month notice period. If they're based in Spain, they have a two week. So the first part is actually giving that signal that this is the exact time it takes from someone to fill a position to start, which I think is a much more important metric.
I think a lot of teams look at time to fill or time to hire. For me it's slightly a vanity metric because ultimately the person's not adding value the day they start or the day you hire them. They add value once they're onboarded. So I think it's creating that holistic view of the life cycle of a new employee, which we do. Another part is just making sure that we are on track. So how are we trending against the roles? What's our conversion rates? How are interviewers being and doing? Is one person doing more interviews than the other? One thing that we're really looking into now at the moment, which I'm not sure any company's quite cracked, is how do you measure quality of hire?
And how can we put that into the system? And it's a tricky one. I think a lot of people say, well, people who pass the probation rate. But for me that's not always the best way of doing it. I think you can have bad managers that onboard people and people choose to leave or whatnot. So we're really looking into what is the definition of a quality of hire and how can we actually track that to make sure that we're growing the organization in the right way. The term I always say to the team is like, we want to be better, not bigger. So success isn't for us is hiring 300 people. If we hire 150 amazing people and we're short of target, it's better than hiring 300 people that are not right for the organization. So always better versus bigger.
Holly Fawcett:
That's a really interesting take to have actually. Because I'm sure for … Well, maybe I'm not so sure. But certainly my impression of talent acquisition is that, look, we're measured on if we're meeting our talent acquisition goals. And if we don't because we only got half of them, then we're being told we're doing a bad job. So I suppose you're inside an organization where you're still at a reasonably small size. Small is relative, right. You're still … You're larger than the company that I work for, for example. But again, compared to massive global organizations, big tech companies, whatever it is, you're still reasonably small. So you're able to influence this behavior of quality versus quantity. How do you change the mind though of the person that you're reporting to that you're still doing your job even though you might have only hit, in your example, half of the recruiting number but the quality is still great?
Keiran Dodd:
Yeah, I think it's a really good question. I think I'm fortunate that our CEO is very, very focused on quality of people. And I think he has the same philosophy as me and the TA and the HR team. But I do agree. I mean, there's always a case where you have your director of product or your director of engineering's like, "We need to hit the numbers. We need these people to build the products. We need to do this." And I think it's an education piece almost. It's about showing what a bad hire can do. And I think a bad hire can do a lot worse in a smaller company than a larger company. So I think if you don't bring in quality into most roles, you can see a significant impact earlier. In a smaller company I think … In Booking, you have 3,000 engineers almost.
So I think it's number one is it's an education piece on how do you do that. And then also it's a buy-in. I use this term with the team very, very often is if the business thinks you're responsible for TA, there's a problem there. We're co-responsible. And the sooner you can convince the organization to realize that, the much, much more successful you're going to be. And that is simple as that. So I think one thing we always try and do is encourage the leadership team and the key members of the hiring team is you should have OKRs for hiring. It shouldn't just be on the TA team to have OKRs for hiring. That's part of your role.
And it's almost a privilege to be able to scale the organization that you work for, to interview for the organization that you work for. Because you're having such a big impact. And most organizations, I don't think we're unique now, but every single person to the customer service representative is a stock owner in Preply. You have stock options. And so it's your responsibility to make sure that you skill this organization in a healthy way. And I think you look at the last six months and tech and even in other organizations. Organizations were just too fat, they were too big. And you start to see all these layoffs that are happening and I think that's an ill discipline of maybe not taking a more focused approach.
Holly Fawcett:
I can't agree more. It's much more long term sustainable approach I suppose to talent acquisition and to talent in general, right? We're being conservative with what it is that we use maybe to use more environmental language. But certainly there's zero waste here and no where to hide in small organizations.
Keiran Dodd:
No, and I think, I'll be honest, we've made mistakes in Preply. I've made mistakes. I think there's even times you probably experienced that you need to hire someone for your team. You're so desperate for that role to be filled. It's open for a long time and you want to make trade offs, but then it's a risk against reward or short term game versus long term game trade off that you need to make. And I think a lot of organizations, if they can then they can make some trade offs and you invest in your people and you invest in the L&D and you grow people as well. So I'm not saying go find the best candidate every single time, that's not a sustainable strategy. But I think if you're going to go find candidates then you need to make sure you have the right environment where they can prosper.
Holly Fawcett:
Well, that's it. Maybe it's the best candidate who is adaptable or moldable that they can become the best employee perhaps.
Keiran Dodd:
Exactly, exactly. I think that's a very good way of putting it.
Holly Fawcett:
Mm-hmm. So in terms of these fundamental pillars of TA that I described in the opening about data, about employer brand, can you bring me through what some of the maybe the operational excellence pieces that you were driving? What customer experience … How customer experience comes into recruiting? Because that's an interesting one, how you're describing it as a CX there. What do those core pillars for your understanding of TA in your organization look like?
Keiran Dodd:
Yeah, absolutely. I think that if we tackle customer experience straightaway. That's my whole experience within TA when working internally for an organization is we're a consumer face business. So every single candidate is a customer, and the sooner the team realizes that, the better. Because I think the one thing we want is that everyone leaves the process wanting to be a customer of Preply. Or even like Zalando or Booking, whether they got the job or not. So I think a massive part is one, making people realize that, and in particular making the interviewers on the business side realize that. And then it's about investing in tooling. So very, very quickly we invested in a candidate experience tooling, which straightaway was a game changer for us because we very, very quickly could see, okay, what are we doing well? What are we not doing well? And then how do we course correct that? And the last part about customer experience that what I try and teach the team to think about as well is TA does actually have the opportunity to influence, for example, a profit and loss of a company. I think one idea that we haven't quite tested yet at Preply but I would love to is that you can do this for any consumer, every single candidate that goes for your interview, whether they get the job or not, you give them a discount to use a product. Okay? And that essentially … And if you look at it on skill, let's take Booking.com for example, that's, when I was there, half a million people as a marketing channel in itself. And then if you can track that and correlate that, okay, well wow, 10% of that, 50,000 people, have now booked on Booking.com, what's the revenue?
And then it's a lot easier to go to your chief financial officer or whoever you're working with at the time and be like, "Hey, we need more budget with within TA." So candidate experience I think is one, really, really putting the customer at the center of everything. But also think if you do it in the right way then you can turn it into a strategic strength for the organization. Process excellence, operational excellence, is about having the right systems, the right tools, the right data. I wouldn't put … There's five metrics that you should always track. I think each company's … it depends on what they're trying to do. If you're trying to look at cost per hire, there are different things. But I think what is important is that you know what you're trending against.
And that was something we sat with the execs, we said, "Hey, what's important? What's important to us?" And then we very quickly said, "Okay, here's our five main metrics." And we constantly do monthly business reviews as a TA leadership team on how are we trending against them? Where are we with them? What can we do to have an impact on them? And then really invest in them different tools that drive efficiency. And that's big thing for me. I see a lot of, even in the enterprise companies I worked for, we had tools that we were paying for that we didn't even know that we had a contract with. So it's about making sure that you're getting value from them and you're investing them in the right tools on employer brand. But it's so important, isn't it?
I think in particular for an early stage organization where you don't have the whole world looking at you, I think you need to really amplify your employee engagement, your employee ambassadors, and really drive that. And the sooner you invest in that, the better. I've seen some very, very good series A, series B, series C companies that have gone very, very aggressive early on and straight away they're known on the market and that can really, really change the game. I think we've had a couple of competitors, and even when we're at Zalando or even when we're at Preply where they specifically targeted us. And that really, really changed the game. So I think we quite early invested in employer brand, worked on our EVP, made sure our EVP was aligned. And then maybe the last part that I would say as well is really just make sure that you follow the business.
So for me, all our objectives should come from what the business objectives are. So we always break down. So I think a big, big thing for operational excellence and success within TA is that your OKRs, or however you want to call them, are driven by what business goals are. You don't want to spend time on stuff that's not driving the direction that the business is going in. And then you can go really where it probably doesn't seem like it's driving that specific business goal that your company has for six months, 12 months, a quarter. But it should be changing at 1% every single day. 1%, 1%, 1%. Makes you a lot stronger as a TA function.
Holly Fawcett:
I have to say there's a … We had a recent SocialTalent live event, which is a large live webinar that we run every probably two months. And the previous one that we've just ran most recently was about talent acquisition strategy and different aspects of strategy, right? One of the polls that we ran in that webinar was how aligned do you feel … Or something along those lines. How aligned do you feel that your talent acquisition strategy is to your organization strategy? And a reasonably large chunk, large enough for people to go, "Hold on, what?" About a third of people who were at the event, well over a thousand people on the live event, were saying not aligned or only sort of aligned, which just blew my mind.
How on Earth … Now whether in fact the recruiting strategy is aligned or not, but at least people had the perception that they weren't clear how exactly what they were doing was working against the company's goals or working towards achieving the company's own goals. There was no direct correlation or continued communication that, "We're trying to achieve this so that the business can do this." It was such an eye opening statistic to be like … Oh my gosh, I'll have to read it out. The real one. And it's well over a third anyway of people who just were like, "No, not completely aligned," or just not aligned at all. They were just off doing their own thing, which is terrifying. How do you align those two things for your company? Was it through OKRs? Was it something else? How did you bring those through?
Keiran Dodd:
Yeah. I see that a lot and I think we've had it in some of my previous companies before where there is this mismatch. It's interesting because I think it's quite easy to pick up where you see the business is like right, we're going to massively grow into the US and then use a TA function where there's no hiring in the US. So where's the disconnect here? I think how do we it at Preply is … and I don't think everyone can do this. I mean, it's maybe a cliche, saying it's like a seat at the table. So I sit within the LT. So every decision that's made, I can steer it and I can influence it. And that's maybe a little bit how we also train our TA partners is … They're talent advisors. So when roles come to them, their job's not just to go and execute, it's to challenge and push back. We have business partners but I honestly feel like talent acquisition plays a massive role of partnering with the business as well in conjunction with your HR business partner.
So there's one part is making sure that the team feels enabled to do that and comfortable with challenging VPs and challenging directors on that. The other part is the OKRs. And then the last part is actually the celebrating success together. So I think a very good example is imagine you're hiring for a sales organization. The sales team hits target, the celebration is around the sales team hitting the target, rightfully so. Because they've scaled the business. But it's also about can you educate that department to recognize the hard work that went in from the TA team, from the interviewers as well, to get those people in to allow you to hit that target? And then once that kind of recognition comes, then I think you see there's much, much more alignment across, "Hey, I know exactly how my job influences the work that I do … Sorry, I know exactly how my job influences the success of this organization." And that's a really difficult part to do. But I think if you can get an organization to do that, it can be quite game changing.
Holly Fawcett:
Yeah, I remember there was a presentation from the vice president of talent acquisition for Europe for Microsoft who fairly boldly, may I add, but also completely correct, described the talent acquisition's role … fairly significant role in a 15% rise in Microsoft's share price. "We are responsible for this. Why? Well, none of those people who actually built the share price, who managed to achieve our goals within the different parts of Microsoft, we never would've got there if we didn't have the people. So that's our job. That's us." And it was like … Everyone was like, "Yeah, absolutely. Well done. Go for it." But how often do people describe that that was me? That was my achievement.
Keiran Dodd:
Honestly, it's so true. And I think in the last six years there's been a shift I think within HR but maybe even more in talent acquisition. That what we're talking about today is 10 years ago, talent acquisition wasn't even called talent acquisition. It was called recruitment. And it was about-
Holly Fawcett:
Before that it was personnel.
Keiran Dodd:
Yeah, there you go. Exactly. Here's a job, fill the job. And I think now organizations just really, really recognize the need and the support and the skillset that they have. And I think that will continue to evolve and continue to grow. And for me, I really, really love it. There's not a function in my opinion that you get so much exposure to the business outside of being a general manager of a function. You really do. You know which organization's growing, you know where you're doing hiring, you know where you're need to prepare for succession planning, you know if you're moving into new markets. TA and HR is so exposed to the business strategy and plays such a critical part of it. I think it's quite unique. Yeah, I think it's really, really good that organizations and people start to recognize that a lot more.
Holly Fawcett:
Yeah. It's just making sure that we're able to influence though at the same time, right? Because there's informed versus who's going to be the person making the decision or at least influencing the decision? If we're to think about it that way. I don't know how many HR functions are simply told, "We're going into this market." And you're like, okay fine, interesting choice, but yes, let's go there. Versus a very conscientious strategy of, "We're thinking about going into this market, could your recruiting team do some sourcing just to see what the talent landscape is in that country and should we go there? Do part of it on our behalf and work out the business case." That's a very different … Being told versus being asked to participate, right?
Keiran Dodd:
100%. 100%. And I hope that organizations very early include TA in those conversations because it makes a massive difference. I've been in places where we've been told, "Hey, we're building an R&D center in this city." And you're like, what? That doesn't make any sense. The talent pool doesn't exist. So unless we're planning on relocating everyone there, which then defeats the purpose. It's interesting. But I think as well, you just need to be very strong as a TA partner and really see your value add. Which I think at Preply we have. And I see in a lot of organizations that we have, it's a very, very pedantic … For a long period of time we had an issue with interviewers doing scorecards.
Standard problem that every TA function does are too busy to fill out a good scorecard. And my feedback to the team was don't move the candidate forward. We don't make a hire unless there's no scorecard. And then you see this cultural shift from the business team because they're like, "Oh, oh wow. Yeah, actually I do need to do this." It's about making them understand why they do need to do it. But sometimes it's having that bold stance to be like, "Well, if you can't do that then we don't move forward," essentially.
Holly Fawcett:
That's it. Especially when you're looking at the forward momentum of quality versus quantity, right? You have to get in the best people or the right people more so than a bum in a seat. And therefore all of the behaviors that drive quality are going to be … they're very different than to just letting things slide going, "Oh, fine. Okay, I'll take this candidate on because you said so." And you're able to say, "No, we have the evidence." Or, "We don't have the evidence and that's why we're not moving this person forward." Yeah, I like that.
Keiran Dodd:
Yeah, exactly. And I always say, if you had to onboard someone tomorrow, what do you want to see in the information? Like a brand new person, you never met them? You need some sort of information to help onboard them. Other part is almost every single organization issues stocks or you're a public company. So you should have some evidence on why you're bringing someone into that organization. So it's a about reframing that and making people understand that it's just so important and it's part of their responsibility.
Holly Fawcett:
Yeah. What level of importance … Or maybe how important is it that … for example, your role where you are today, you report directly to the CEO. How important is it that that talent acquisition has, as you say, that seat at the table, has the ear of the executive leadership team or the executive team generally where they recognize talent is a source of shaping the organization rather than simply serving … being the servant and going off and doing the thing I asked you to do?
Keiran Dodd:
Yeah, it's a good question. I mean, to be completely transparent, and part of the reason I report to the CEO now because I manage a people team, but I like the question, I think I've got an answer for it. I genuinely do think over the next five years you'll see Chief Talent Officers, which may not be responsible for certain aspects of HR, but they are responsible for recruitment and for talent acquisition and for onboarding, off boarding. And so I think the world is moving into … or business is moving into a place where TA does have a seat at the table because they uniquely see the importance of it. And also the spend, the budgets are insane in talent acquisition now. It's very interesting. I do think that you can still operate in the exact way we've spoken about for the last 40 minutes.
With a CHRO, you're reporting into CHRO. But you still, when it comes to the workforce planning, when it comes to discussions around talent, you are involved in them. You are there. You're sitting with the CFO or the FPNA. Whoever's planning the growth of the organization. Like, "Hey, we need to grow by 300 people over the next six months." Then you can say, okay, well we need to scale the recruitment team by this much because there's the data there. So I don't think you necessarily need to report to a specific C level member, but I do think that you need to make sure that you are involved in the conversations that influence that. And a lot of that is the financial planning and the strategy planning of the organization. So there needs to be a space for that person, whoever it is that's there. Absolutely.
Holly Fawcett:
Yeah. Chief talent officer. I've seen plenty of people be heads of talent or VP of talent more so than chief talent officer. But yeah, definitely, I think chief talent officer rather than chief … What's the other CTO? Technology officer. They're all getting very muddled at this point.
Keiran Dodd:
Yeah. I think when you see that there's a chief talent officer and a chief HR officer then you know that there's been a shift in talent acquisition. When talent acquisition doesn't report to HR but there is an HR leader, then that's where an organization is really saying talent is the bloodline of this organization. The CEO wants to be extremely close to it. Do I think it'll happen? Probably.
Holly Fawcett:
Yeah, that would be interesting. What would they do differently? What would HR do without talent acquisitions?
Keiran Dodd:
So I think they'd still live together, but I think talent acquisition will start to become all encompassing talent. And in my opinion, what does that mean is you remove some of the onboarding from HR and you put that under … You have the full employee life cycle and talent where it influences. So the hiring part is with talent, the onboarding part is with talent, the off boarding part is with talent. So you really understand why are people leaving this organization? What can we do differently in terms of finding the right people or maybe the market conditions have changed and you see that loads of people are leaving because of compensation and benefits. I think performance management is something that could sit with a chief talent officer. LND as well. I think who knows more than the people hiring the individuals into the organization of what we need-
Holly Fawcett:
What they need to learn.
Keiran Dodd:
-to level people up with. Exactly. What do we need to level people up with? And then you follow their journey through the organization. So it's interesting. One of my friends and I have this conversation quite often, but I think that they're still married together. They're still like … HR lives with talent. Talent lives with HR. I don't think it's one or the other.
Holly Fawcett:
Yeah, I can hear already plenty of people who are in the very senior echelons of HR going, "What's left for me to do if you're taking all these things?" But do you know what? There's still plenty, right? As you say, it's a symbiotic relationship if we work together.
Keiran Dodd:
Yeah, in the last five months I've been much more closer to the … let's call it the people the HR side. And that side of the business is phenomenal. You don't understand the sort of work that they go through and the experiences they have and the influence they have on the organization on coaching and managing and mentoring people. I'll call it the drum of the band that very much keeps the rhythm within an organization. Or at least in the one that I have. Our HR team's phenomenal.
Holly Fawcett:
Sounds good. Can I ask you a very different question?
Keiran Dodd:
Please.
Holly Fawcett:
And this … Sorry, it's actually … You mentioned that you were hiring people into Ukraine. And I know that Preply is founded by Ukrainian founders. I know the company's American, but it's founded by two Ukrainian men. What's the situation in Ukraine and has it impacted TA there? Or maybe how your organization has supported people, whether it's employees in Ukraine or customers in Ukraine or from Ukraine perhaps to deal with this conflict?
Keiran Dodd:
Yeah, absolutely. So maybe context. Founded in Ukraine 10 years ago, three co-founders, all from Ukraine. And yeah, I mean, it's been a very, very difficult experience for Preply but even more so for all people living in Ukraine. So when the war officially started, I think we had 160 people within Kyiv. And within the space of six, seven days, our people, our HR team, which I just called phenomenal, worked day and night until 6:00 AM, 7:00 AM and back on one hour sleep, working again. And we actually moved almost 95% of the people to the western site to a city called Aviv and then started moving people out of Ukraine that wanted to and that could. Of course there's a lot of people out there that chose and wanted to stay. I mean, it's been probably the most difficult part of my career. Absolutely. It's slightly strange to say this, but the most rewarding as well. And why do I say it is because the unity that come together of this organization and the people that were in Barcelona or in other areas just helping everyone, everything.
The whole organization just stopped. One of our values is human and business growth just stopped. And it was like how do we help our people? And that was just phenomenal to see. And maybe the second part as well is just the strength and the braveness is maybe the word of the Ukrainians. I mean, these people were just continuously wanting to help. We've got some insane stories where we had a family that was in a bomb shelter that worked for Preply and we said like, "Hey, can we help with anything at the moment?" And they said, "There's just one request, it's our daughter's birthday. Can we get a birthday cake?" And the contingency team was like, "It's going to be hard." And they literally worked nonstop to try and make this happen and that happened. And it's some of these stories that you just … you'll never take away and that'll never leave you is the term.
We continue to operate in Ukraine. We've given a lot of donations to different causes that are helping humanitarian parts. We have Ukrainian roots as an organization. Absolutely. We have an entity in the US, we have an entity in Spain as well. And I think we will continue to hire in Ukraine. I hope … I pray that the situation gets much, much better in the not so distant future. But yeah, I mean, it was just an insanely difficult experience, but at the same time, you've never met individuals like this. The courage is probably… courageous people that are focused on supporting the business and supporting each other is pretty incredible to see is the honest answer. And we spoke about this earlier on but it's unique that, for me, the power of Preply as well. As we speak about this, you have people that are moving all over the world at the moment due to this. And I think we give people an opportunity to be able to integrate into new cultures and learn new things, which is very unique.
Holly Fawcett:
Well, that's it. Especially if you have to … if you're forcibly moved from your country and have to learn a new language to be able to live somewhere else, right? That's really powerful.
Keiran Dodd:
Absolutely.
Holly Fawcett:
Mm-hmm. To finish off, we've gone slightly over time, but thank you for indulging me with my very different questions. But this has been really interesting. Thank you so much, Keiran. We ask all of our guests to leave us with one last piece of advice. It can be on what we just discussed or it can be something completely out of the blue. Up to you. What's the last little nugget that you want to leave us with?
Keiran Dodd:
Well, first of all, thank you, Holly. I really, really appreciate it. I really enjoyed the conversation. I'll cheat and I'll do two. I'll do a very short one which is invest in the people around you. When you go through hardship, if you have the right team and the right people around you, then that can become much easier and you see the strength of a team. And maybe more on the practical side, I truly, truly believe we as TA, individuals, leaders, recruiters, the more and more that you learn about the business, the more impact that you can have.
I truly speak to my team and think if you can read a profit and loss statement at a very basic level, it can change the game because then you can really see the impact that you have as an organization and you can translate that into your TA strategy and into the way that you recruit. So my advice is focus very, very much on business acumen. Because I think it'll take you a long way and I think you'll see a lot more focus on that over the next five, six years of business profiles coming into talent acquisition.
Holly Fawcett:
Hopefully more recently than four, five years. I think this is a real urgent need that talent professionals need to have is very much that proficiency and acumen with what the business does.
Keiran Dodd:
One hundred percent.
Holly Fawcett:
As we heard earlier about that misalignment for what the company does generally. So yeah, that's brilliant. Thank you so much, Keiran.
The Shortlist is a workplace, thought-leader focused talkshow that broadcasts every Wednesday. You can watch it live on LinkedIn and on YouTube. Or, why not stream as a podcast after?
Find out how the likes of IBM, IKEA and Siemens
drive hiring excellence with SocialTalent
---