Keep up with the latest hiring trends!
/
/

The Secret to Growing Your Views on LinkedIn
The Secret to Growing Your Views on LinkedIn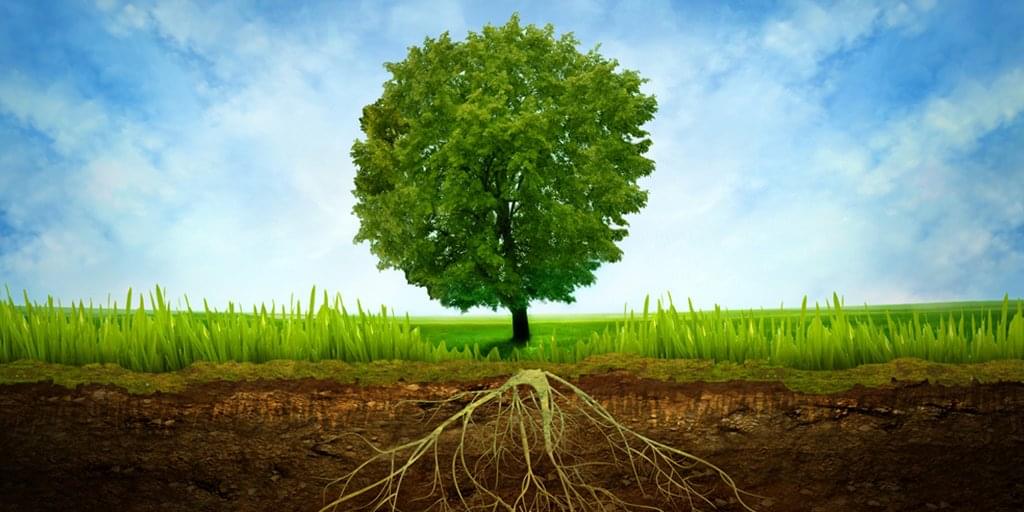 Organic reach is dead. If you follow any social selling influencers then no doubt you are probably bored of hearing or seeing this. So I am going to share step-by-step instructions with you as well as real-life examples showing how you can growth hack your LinkedIn posts to generate a huge uplift in your organic reach.
With the recent algorithm changes that we've seen on pretty much all social networks, I'm 100% in agreement that organic reach is quickly dying. However after conducting an experiment over the last month with my personal LinkedIn profile I've managed to find a super simple way to maximise profile views, high-quality connections and ultimately the reach of my posts.
Before we jump straight into this I need to give you a quick insight into my personal LinkedIn content strategy. Koka Sexton once said to me "Visibility creates opportunity" and since that moment I have ensured that I am constantly visible to my target customer on LinkedIn by scheduling at least 3 posts per day that will provide some value to my audience. Below is an example of the type of posts I am sharing.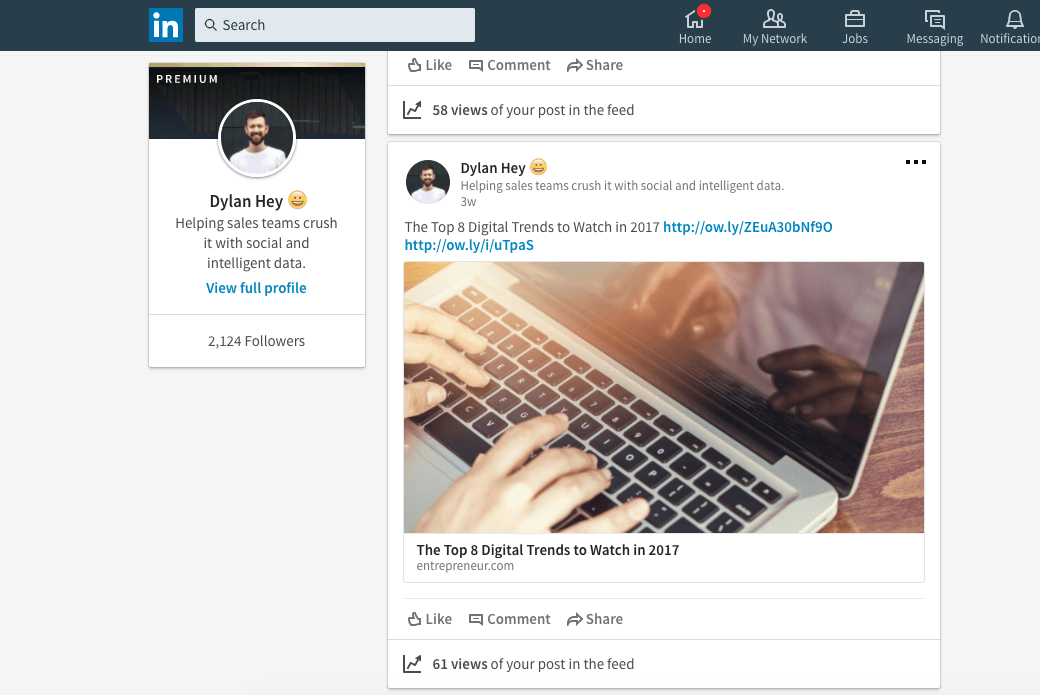 As well as these 3 posts per day I am also making sure that I try and jump into at least one or two conversations daily on LinkedIn – this will usually be commenting on posts shared by others always with a focus on providing value.
Now, this is where things start to get interesting. When I left Hootsuite to join Leadfeeder I decided to post this: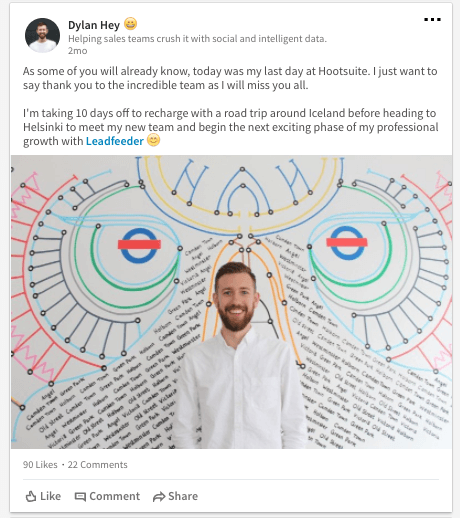 The engagement was absolutely off the chain compared to what I would normally receive.
90 likes
22 comments
+15,000 views
This got me thinking – How can I replicate this in future posts? If I can get anywhere close to this again on future posts my audience will grow, my brand will grow and most importantly more people will know about the work I am doing at Leadfeeder.
Around the same time, I saw an article written by Daniel Knowlton explaining how he had been experimenting with LinkedIn and seen some crazy results. We connected and after exchanging a couple of messages I got to work on my own experiment.
I started to notice a pattern on my LinkedIn timeline. The posts that catch my eye and ultimately generate the most engagement have three things in common:
updates that ask questions
demonstrate a slightly controversial opinion
great visuals
The very best posts combine all of these plus one more very, very important thing:
They don't link to an outside source/article
That's right, LinkedIn don't want their traffic to leave their site. Makes sense doesn't it? We've seen similar trends affect other social media sites and I can 100% say this is now being seen with LinkedIn too.
So this is what I did next and what I would recommend you do too if you want to see your LinkedIn presence grow. I started creating two posts a week to go out on my profile that match this criteria.
And then this happened: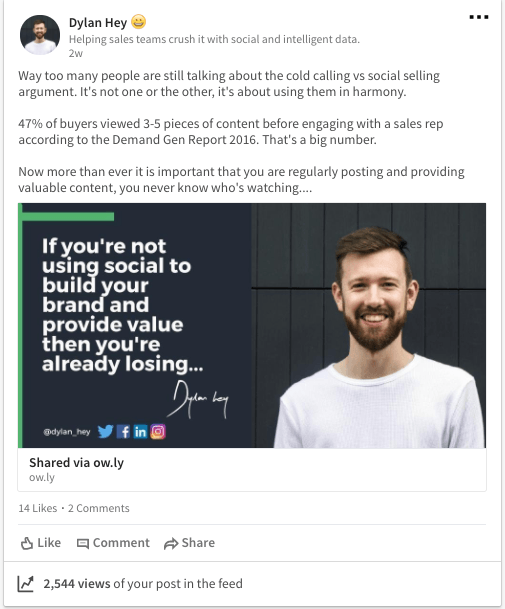 As you can see, my engagement immediately went up. In this post I focussed on providing some value, adding a simple graphic that matches my other branding and opening with an opinion that is causing a lot of conversation at the moment. I received over 2500 views when my other posts to external links would normally generate 50-150 and I received 14 likes and 2 comments.
I continued experimenting with this style of post and my engagement numbers were consistently higher than usual: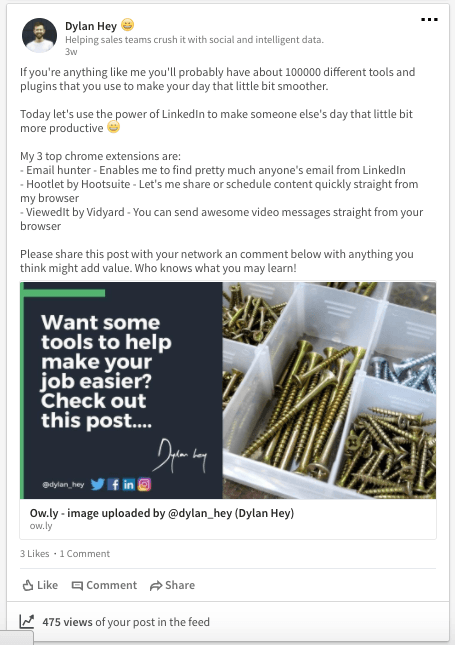 After a couple of weeks experimenting with this 'tactic' I then posted the most successful update of mine since joining LinkedIn: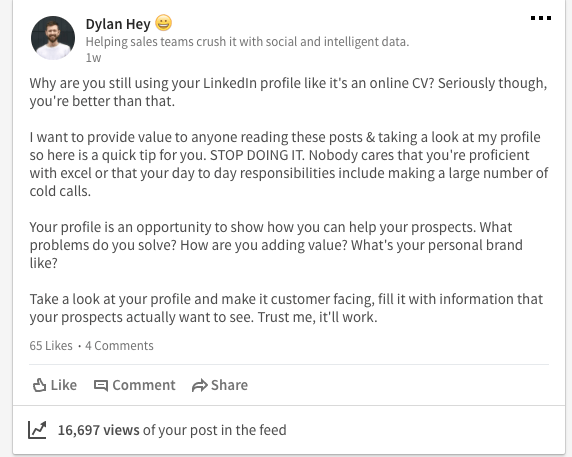 In this update, I actually forgot to attach an image and was worried this would affect the post's performance but clearly not. The reason this post received so much traction is that it provides value, has a strong opinion and is easily shareable. Now some people will say that these 'vanity metrics' of likes, comments and views don't mean anything and yes, they are correct. So let's dive into this post in some more detail.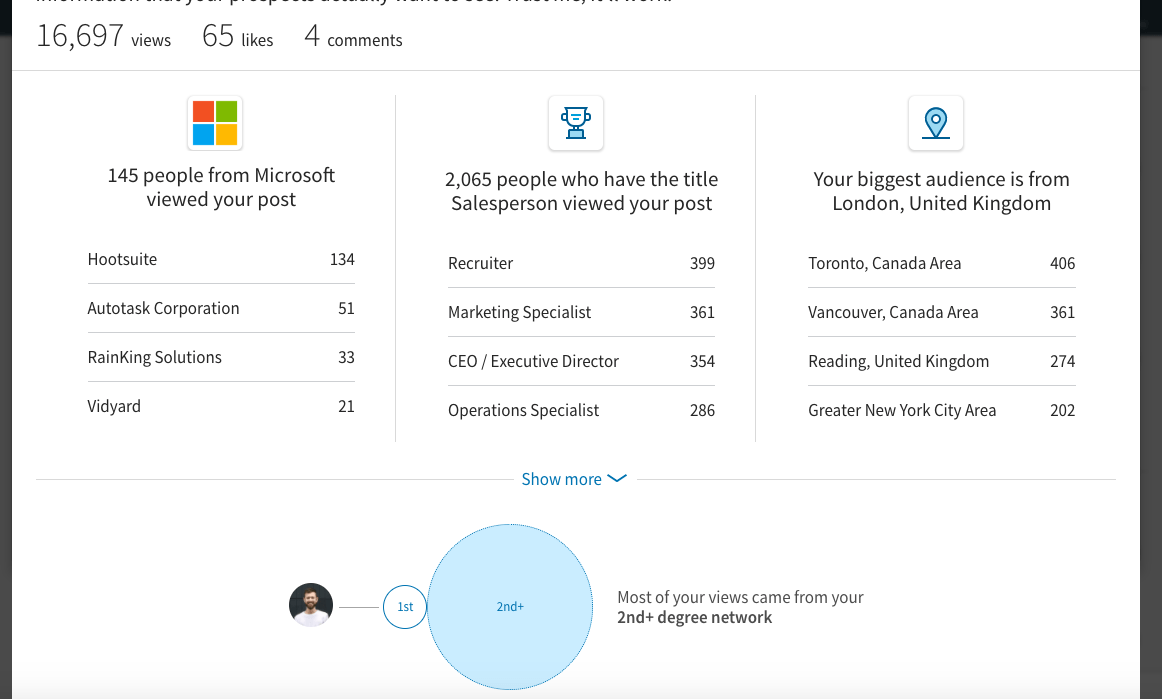 If we look at who has viewed this post we see that over 2000 sales people have seen it, along with 361 marketing specialists and over 350 CEOs. This is fantastic as this is my target market and these are the types of people who I'd like to to see my company's product. Off the back of this post I actually received over 100 new connection requests and the majority of these also fitted my target customer profile.
As you can see from my numbers I am not claiming to be an influencer, nor am I an expert. I am just a normal salesperson like you who has found a way to boost my results on the platform that is best used to connect to B2B buyers. Give it a go, it'll definitely be worth it.
Dylan Hey is a 22 year old social selling practitioner who is passionate about helping sales people use social more effectively.  Having previously worked in the sales team at Hootsuite, Dylan now heads up UK growth for sales tech startup Leadfeeder. Connect with him on Twitter and LinkedIn
Find out how the likes of IBM, IKEA and Siemens
drive hiring excellence with SocialTalent
---