Keep up with the latest hiring trends!
/
/

LinkedIn Updates EVERY Recruiter Needs to Know (Part One)
LinkedIn Updates EVERY Recruiter Needs to Know (Part One)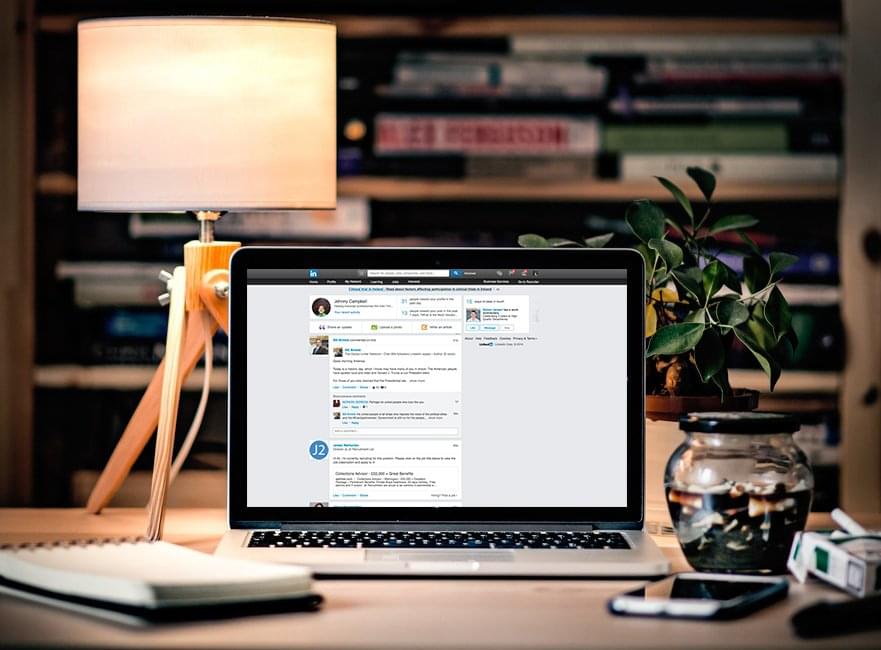 It's been a very busy year for everyone's favourite professional network. Not only was LinkedIn acquired for a staggering $26 BILLION by one of the world's leading tech giants (Microsoft), but throughout 2016 they released some incredible insight reports and industry statistics, and a myriad of new and different product updates all with one goal in mind – to make our recruiting experience on LinkedIn better. And it's those updates we're going to discuss today.
Yes, today we're taking a look back over the first half of the year and giving you all the information you really need to know about some of LinkedIn's most important product and feature updates of 2016.
1. "Next Generation" LinkedIn Recruiter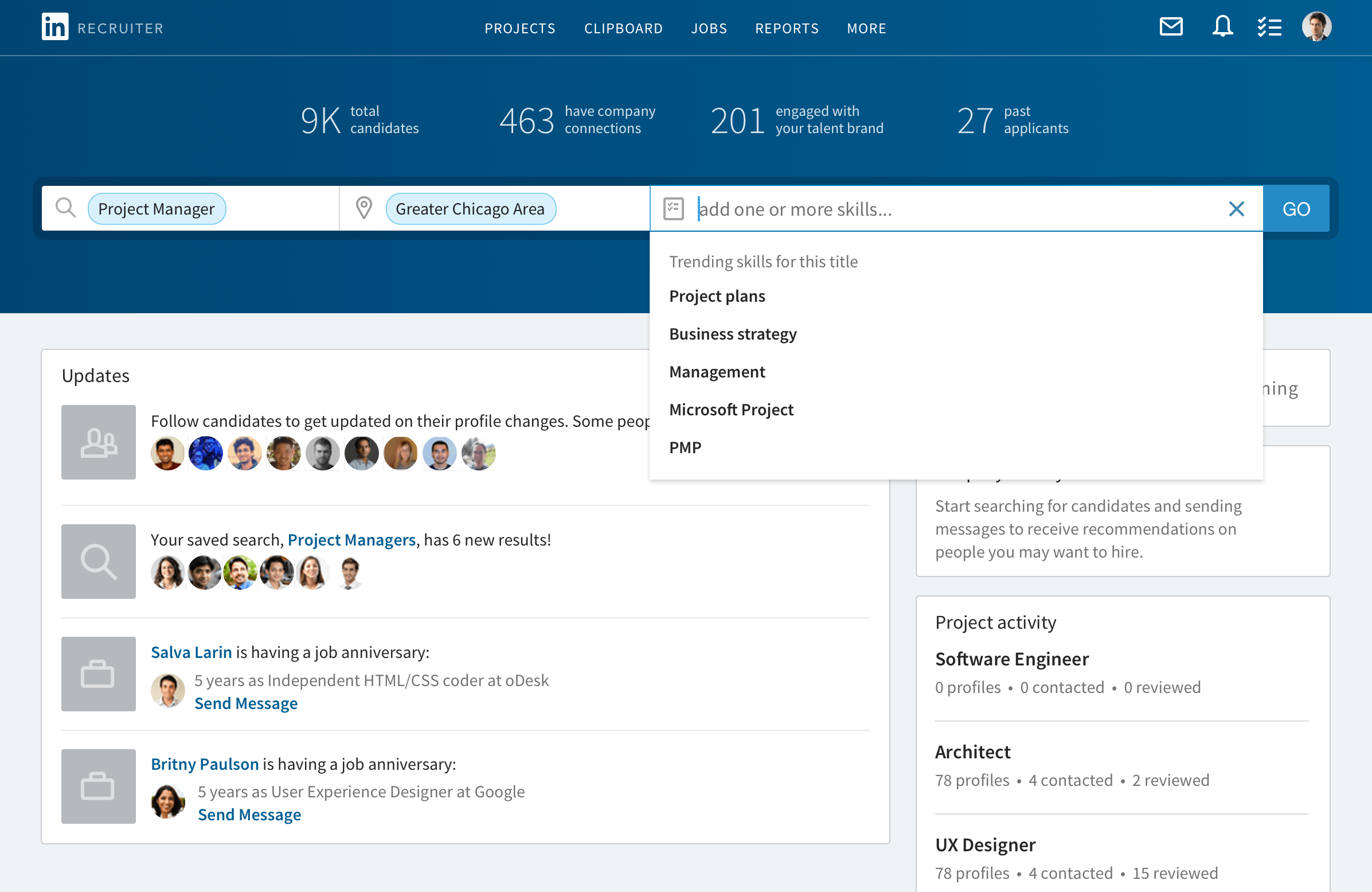 Back in April, an upgraded version of LinkedIn Recruiter was rolled out to existing LinkedIn Recruiter customers as a free upgrade. What was different about it than its predecessor? In terms of new features, users received the following:
1. An intuitive search bar
LinkedIn simplified how you start a search by implementing an intuitive search bar that guides you (much like our own free SourceHub tool) through your search from job title to location to skills without having to develop a complex Boolean string.

2. "Find more people like"
"If I have a candidate that a hiring manager has given an excellent rating to, I'll go to "Find more people like." said Ginamarie Sampan, HR Manager at Preferred Brand International when speaking about the upgrade. Simply type in that person's name (and a few more names if you wish to get even more targeted), and Recruiter will serve up a list of candidates who have the same job title and skills, and who work at companies and in industries similar to that person. Additionally, it will show you the exact keywords used to build the list, so you can understand the starting point, and refine your results from there.
3. Smart Search
Once your search results appear, the new interface surfaces the most common refinement filters, from which you can add or remove suggested keywords to improve your results and identify talent you may have otherwise not considered. These insights-driven search suggestions will update in real time, to offer the most relevant key terms at any time. Your full list of advanced filters are also still available, LinkedIn just moved them to a 'view more' link, to give you a cleaner page to work on.
4. Spotlights
These filters help you prioritise candidates who are more likely to engage with your company based on their relationships on LinkedIn, including if they previously applied to your company, if they are 1st degree connections with your employees, or if they've engaged with your talent brand. Additional Spotlights show you people who your competitors target, or who've been in their role for awhile.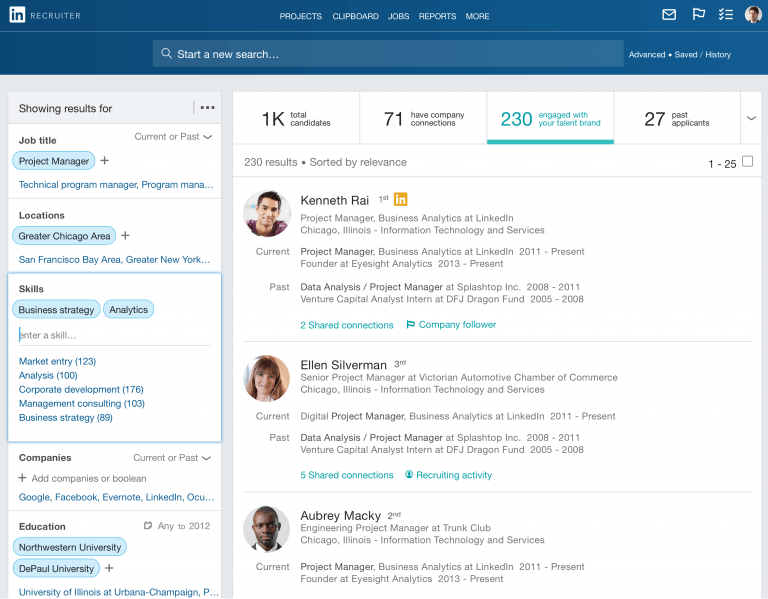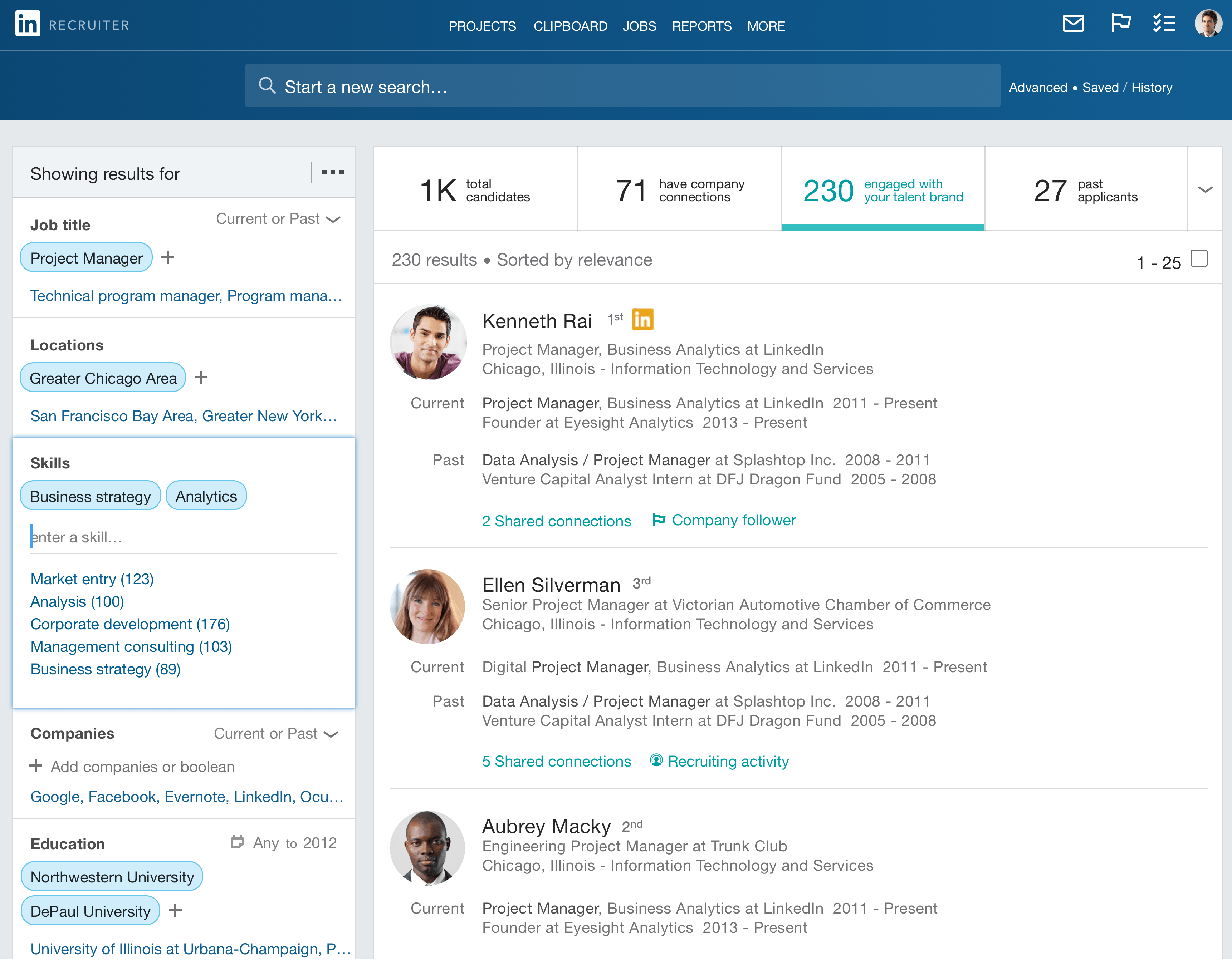 2. LinkedIn Students App
Also back in April, LinkedIn unveiled a first-of-its-kind Tinder-style Students app, tailored specifically for soon-to-be college graduates. The app was touted as students' "personal job exploration guide", and its aim was to help graduates tackle the college to career transition using insights from LinkedIn's database of over 400 million professionals.
When a student opens the app, LinkedIn serves up 5 items for them to review on that day which (like Tinder) they can swipe right through. First, there's a career suggestion based on their college and major, then there's a recommended article about career-related topics, followed by a company that often recruits from their college and then a few suggestions of jobs that alumni with similar majors from their college have pursued. Lastly, the app suggests an actual job listing the student might be interested in based on real data from the career paths of hundreds of millions of successful professionals.
A quick overview of the new app, can be seen in the video below:
The new LinkedIn Students app is available for iOS and Android in the US only for now.
3. A New LinkedIn Job Posting Experience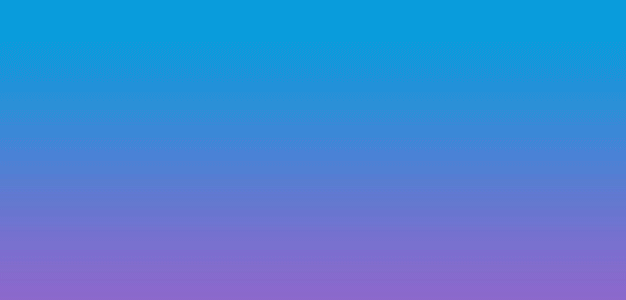 Last April, LinkedIn also announced the launch of a new job posting experience, which gives you a helping hand as you write and optimise your LinkedIn job descriptions in 3 different ways:
1. You never have to write a job description from scratch again
As you fill in the job title and industry for your open role, LinkedIn will "tap into the power of the LinkedIn network" to recommend the top skills and education requirements to include in your job description: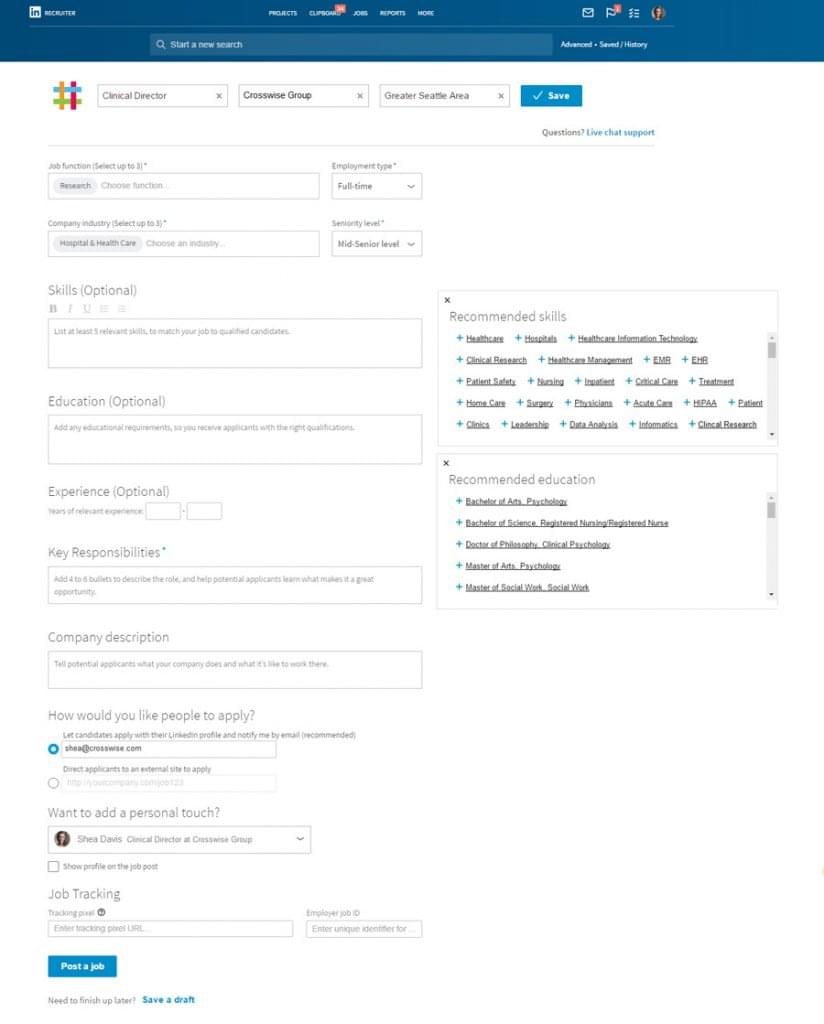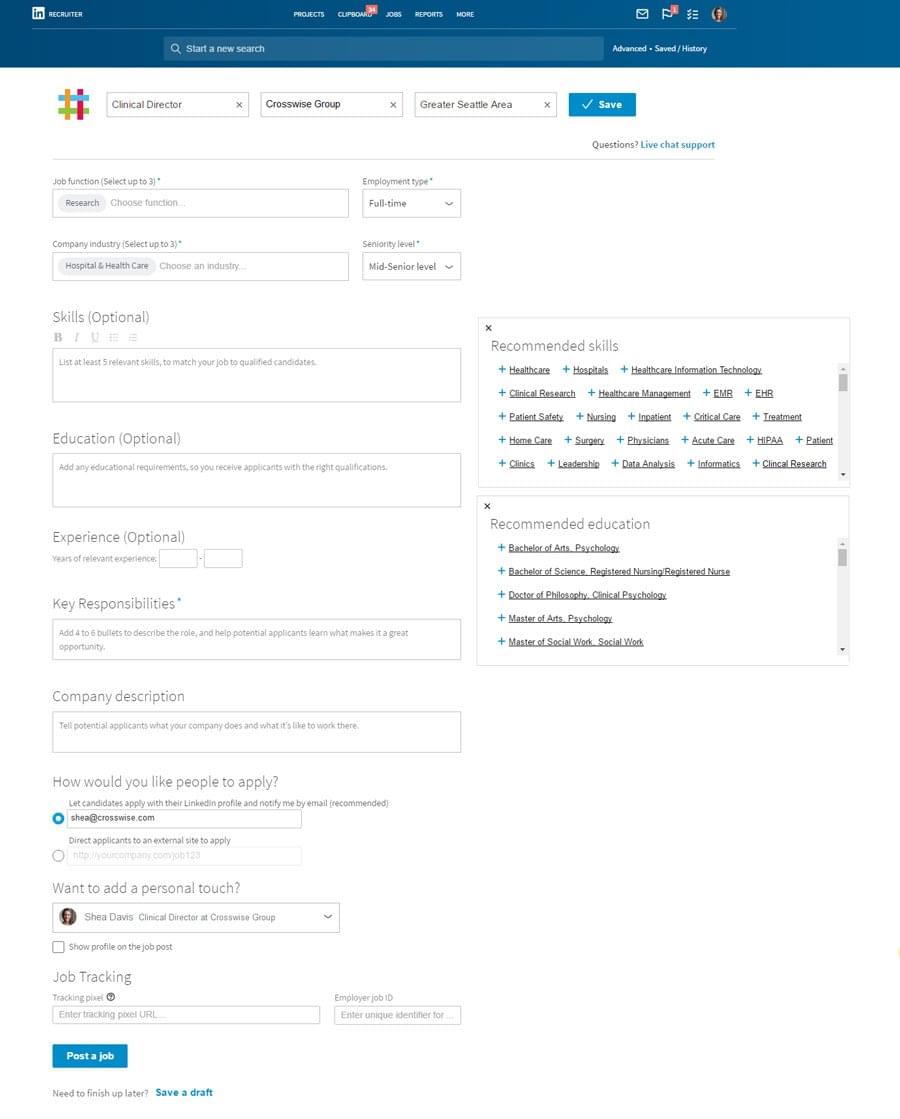 2. You can optimise your posts by staying on top of the most relevant skills for your role
Needless to say, as the skills of your target talent change and evolve, your job descriptions need to change alongside them. LinkedIn's new skill recommendations help ensure your job descriptions include the most up-to-date qualifications for your industry: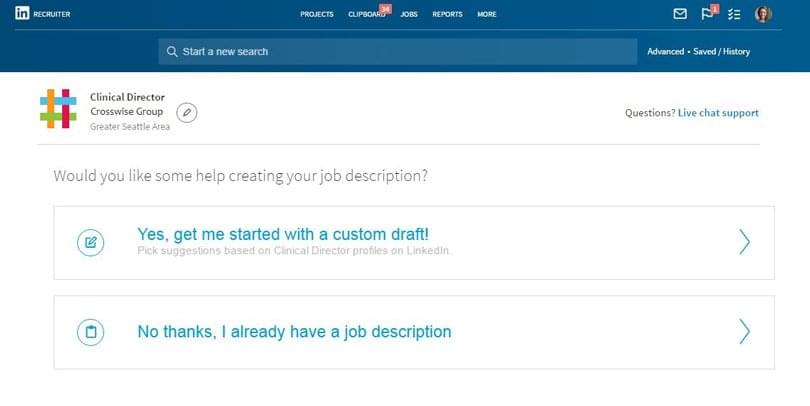 3. Job targeting made easier
LinkedIn matches the skills and qualifications in your job post with the skills and experience that members list on their profile. They then advertise your openings to the most relevant members as they go about their day – in their email inbox in the morning, on their mobile phones, and as they're browsing the LinkedIn platform.
You can learn more about the new job posting experience by viewing the tutorial video below:
4. A New Administrator Experience for LinkedIn Recruiter
According to LinkedIn, as a LinkedIn Recruiter Admin, "you play a critical role in ensuring your recruiting team gets the greatest ROI from the Recruiter product". So, to help you do this "even more effectively", LinkedIn have redesigned the Admin settings page with a simplified interface and new features that will "help you perform key tasks independently and instantaneously and select the right product settings for your team". Here's what changed:
1. Managing your Recruiter seats got easier
Gone are the days where you had to contact someone at LinkedIn to manage seat changes for you when someone leaves your organisation or moves to a different team. LinkedIn redesigned the seat management interface and included new features so that you can ensure the right person is in the right seat at all times with a few clicks. You can now easily view all your team's unused seats and reassign seats if you find that the wrong person (e.g. – former employee) is occupying one. You can also reassign seats if a recruiter on your team moves to another role still retaining that individual's work performed in Recruiter (e.g. pipeline of candidates, search history). You can also park a seat temporarily (e.g. when someone goes on maternity leave) and then un-park the seat to grant access to the original seat holder or reassign the seat to another user. And you can undo a seat reassignment for all the seats that have been reassigned within your contract:


2. Improved inbox management when seat-holders change
If your recruiters have ever struggled with managing their inboxes after a seat has been reassigned to them, the new Admin experience should help change all of that. LinkedIn has redesigned the inbox management features for reassigned seats so that users can manage both their current and assigned inboxes independently, instead of having all emails show up in one single consolidated inbox. The reassigned inboxes now show up as a new filter under Assigned Inboxes.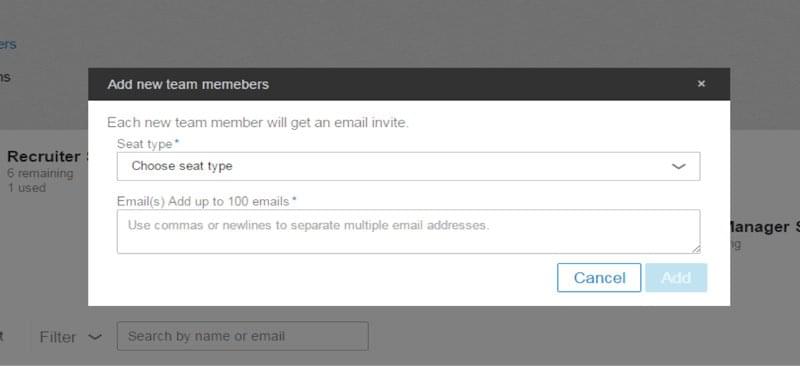 3. You can now assign seats in bulk
Let's say your team just hired 5 new recruiters and you purchased 5 new Recruiter licenses for them. You're now able to assign all of these seats at once in a few clicks. All you need is the email addresses associated with the LinkedIn account of those seat holders. The bulk seat assign feature lets you assign up to 100 seats at the same time: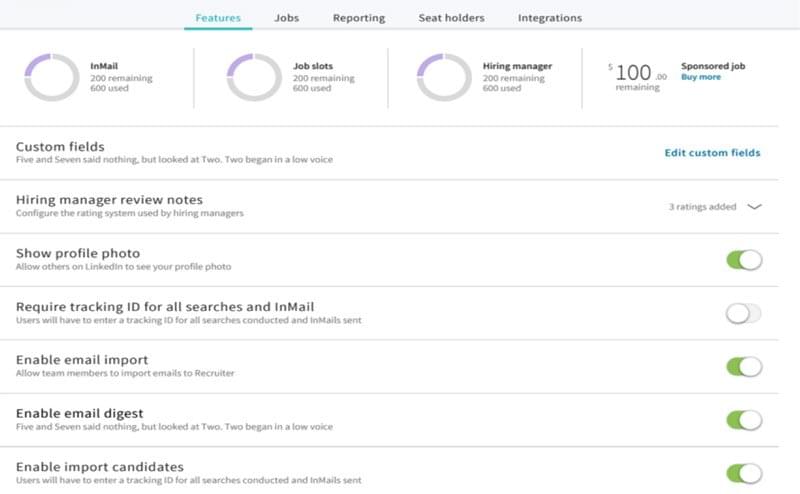 4. More control and visibility into your account settings
The new Admin experience gives you more control over your account preferences and helps you "feel confident of the settings selected for your Recruiter and Jobs products". Organised tabs for Overall Features, Jobs, Reporting, Seat Holders and Integrations will now make it easier to access the section you want to manage. In addition, each tab includes detailed descriptions for the different settings options. For example, the setting "Enable Email Import" also includes a description explaining that turning on this setting means team members will be able to import emails to Recruiter: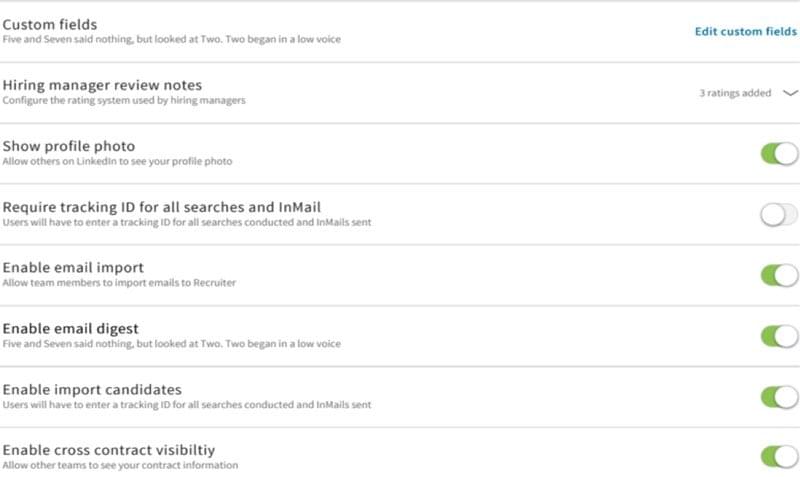 A step-by-step walk through of the features is laid out in the video tutorial below:
5. Premium Insights
If you have a Business Plus, Sales Navigator or Talent Solutions subscription, Premium Insights is a new feature that allows you to see unique and timely data about companies via their company page. New insights include:
1. Total employee count
This insight offers an inside look into a company's growth trends and can be used to identify or qualify investment targets or potential business partners:

2. Employee distribution by function
This insight helps you to understand how a company is structured based on department and can also be used to signal its stage of growth based on which functions are growing fastest: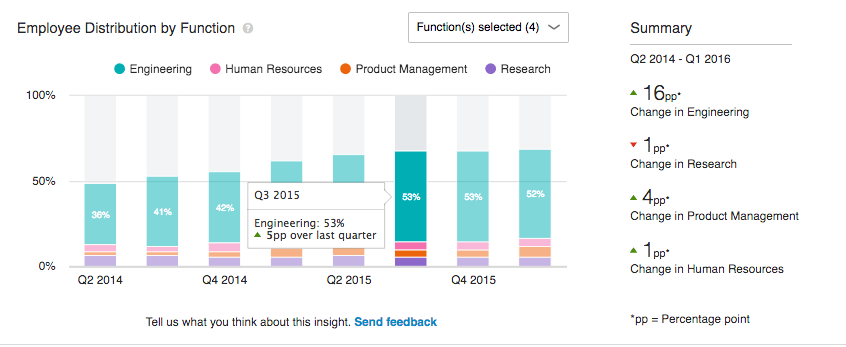 3. New hires
The New Hires intel offers perspective on how a company is growing, particularly with regards to senior management. Uncover breakout companies, new business areas the company is investing in, or gauge seasonal demands based on new hiring trends: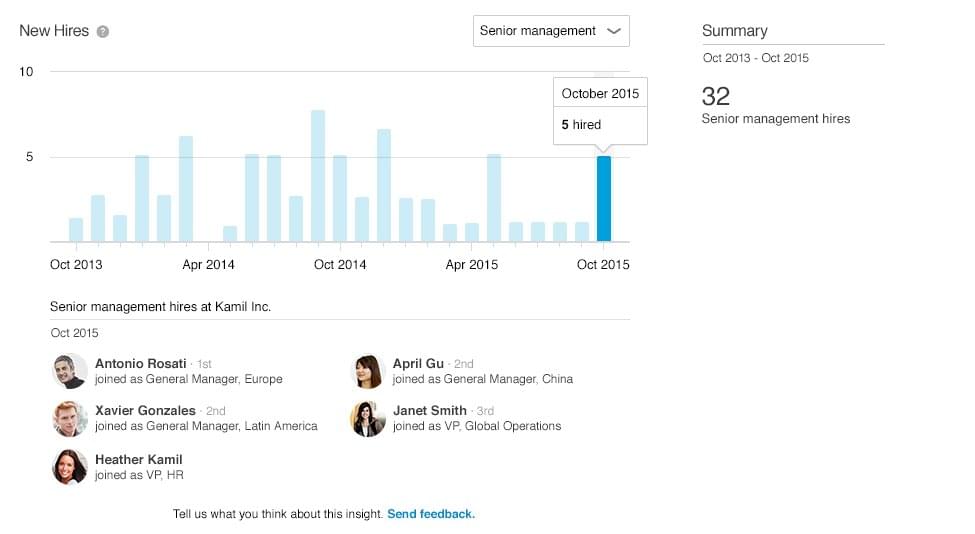 4. Notable alumni
This insight highlights a company's former senior talent. Taking note of these career moves can help you to identify new companies to keep your eye on:

5. Total job openings
This insight spotlights the company's job postings available on LinkedIn. Use it to gain a better understanding on how a company plans to grow by function and seniority: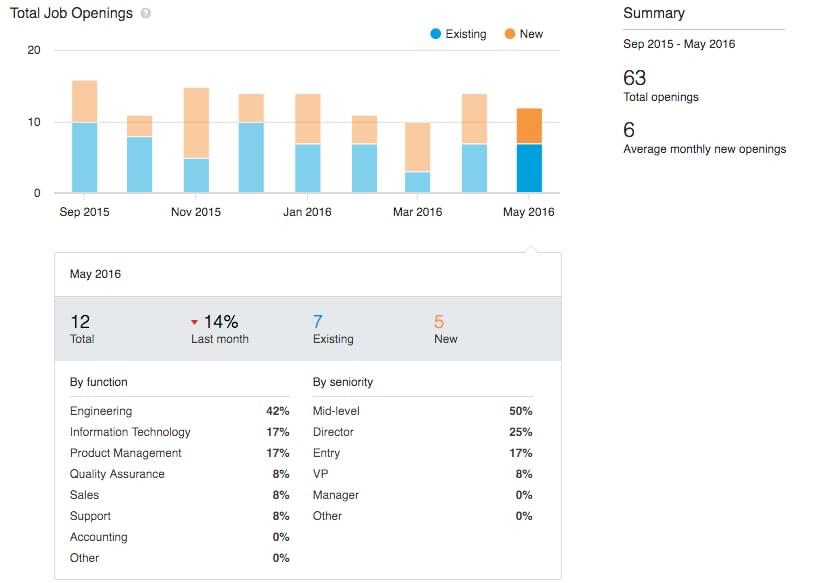 Join us next Tuesday when we'll be taking you through even more of LinkedIn's most important updates and how they can benefit you.
Why not discover new ways you can use LinkedIn to improve your sourcing and recruiting efforts? We're offering our readers a FREE 48 hour trial of our world leading HR & Recruitment platform. That's 50 hours of expert learning in sourcing, candidate attraction, recruiting, tech recruiting, diversity & inclusion, digital marketing and social selling. So what are you waiting for?! Get your free trial here today.
Find out how the likes of IBM, IKEA and Siemens
drive hiring excellence with SocialTalent
---