Keep up with the latest hiring trends!
/
/

How to: Find a Job on Twitter
How to: Find a Job on Twitter

A couple of weeks ago, we brought you our guide on how to job search on the world's most popular job aggregator, Indeed.com. This week we're sharing a few of our expert tips on how to do the same on everybody's favourite microblogging site, Twitter.
Twitter is now the 2nd largest social network in the world, and in just 8 years it has revolutionised everything from news reporting to how brands and celebrities interact with their fans to social communication between friends. It's also quickly revolutionising the way job seekers are going about looking for jobs.
Most recruiters are tweeting the jobs they have on offer every minute of every day and they're doing so first, often before publishing the job spec to their job boards. This means that by searching for jobs on Twitter, you are privy to the most up-to-date jobs available. You also get to see which specific recruiters in the organisation are recruiting for that role, in case you wish to contact them directly. As a result, Twitter is a great way to find hidden jobs that not everyone is able to see and therefore apply to.
"Tell me more!" I hear you scream, "How do I go about searching this marvellous database?" Well, quite simply, this is how:
How to: Find a Job on Twitter
First things first. Login to your desktop Twitter account (not really the done thing these days with all of us primarily using our phones to check our news feeds, but trust us!)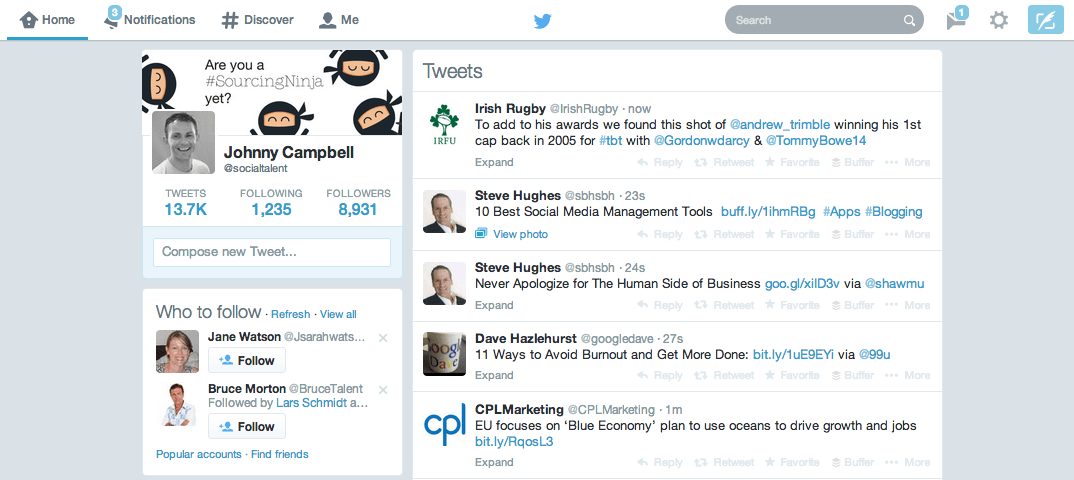 Type the following criteria into the search box in the top right hand corner:
(job OR jobs OR career OR careers
("job title 1" OR "job title 2")
"location name"
Input the first bracket verbatim. Where we use "job title 1" and "job title 2", amend these to include the job titles you're looking for like "digital marketing" or if it's a pure marketing job you're after, there's no need to include the quotations, just use the word marketing. The same goes for "location name". If you're searching for jobs in Dublin, Ireland and not Dublin, Ohio then use quotations "Dublin Ireland". If you're searching for job in Austin, Texas using just Austin should be fine as the place name is unique.
Here's an example of what a marketing job search would look like:
(job OR jobs OR career OR careers)
(marketing OR brand OR "digital marketing") (manager OR head OR supervisor)
london
*Note: We have thought about the job title and broken up the search accordingly. We are clearly looking for a Marketing Manager or Brand Manager position with this search, so we've used marketing and brand as synonyms of the industry we're looking to get into, as the first part of the search and we've used manager, head or supervisor (again all synonyms of each other) to determine the type of Marketing role we're looking for.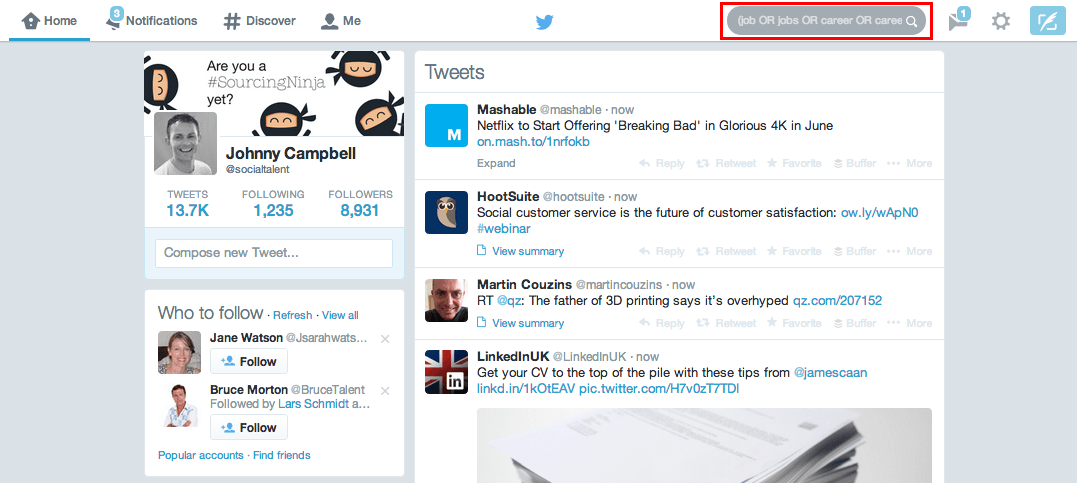 Click the little magnifying glass to run your search and what comes back will be lots of jobs matching your search criteria. Be sure to select 'All' tweets and not just 'Top' tweets to ensure you receive the most up-to-date search results.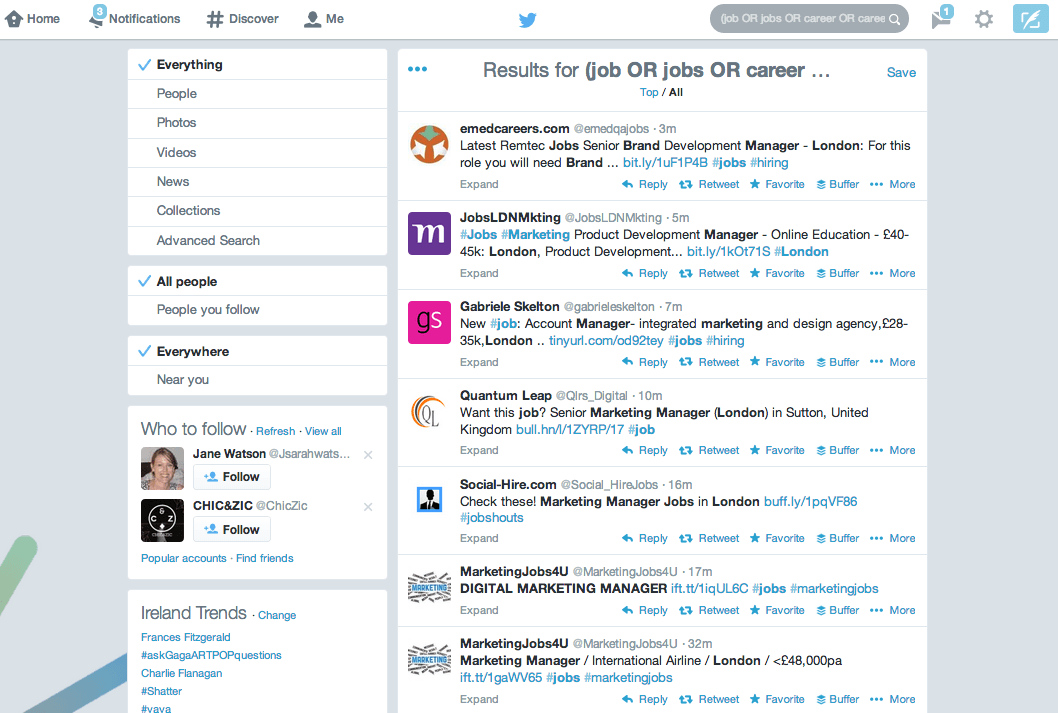 **Top Online Job Search Tip
Smart job seekers will take note of the 'Save' button in the top right hand corner of the results screen. Click it and Twitter will save the search you have just run, allowing you to come back at any time and run the same search again. How? All you need to do to run the same search on a different day or at a different time, is click into the search box, and all of your recent and saved searches will appear ready for you to click and receive real time results.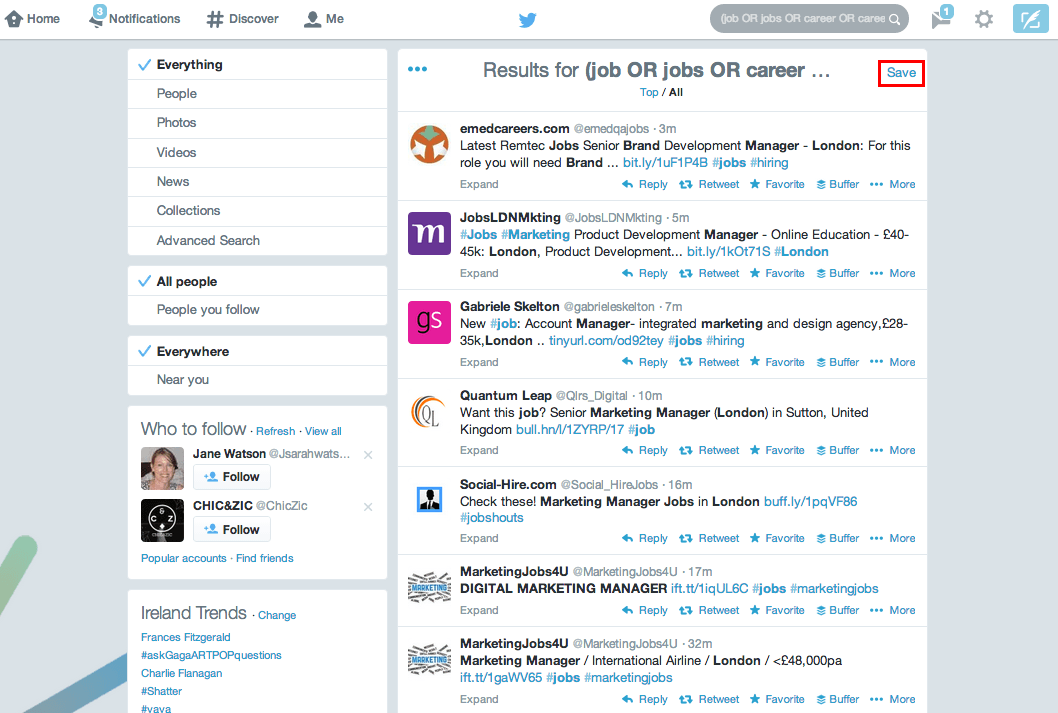 It couldn't be simpler! So get out there and get job searching on Twitter folks, and let us know how you get on in the comments below. We love hearing from you 🙂
Find out how the likes of IBM, IKEA and Siemens
drive hiring excellence with SocialTalent
---