11 Twitter Accounts Every Recruiter Should Start Following in 2015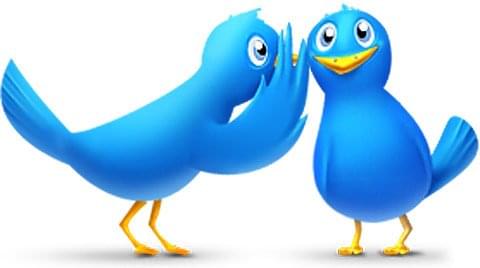 Start your 2015 the right way by following some great people on Twitter and adding their knowledge to your daily feed. Here's our comprehensive list of the 11 Best Twitter Accounts Every Recruiter Should Start Following in 2015: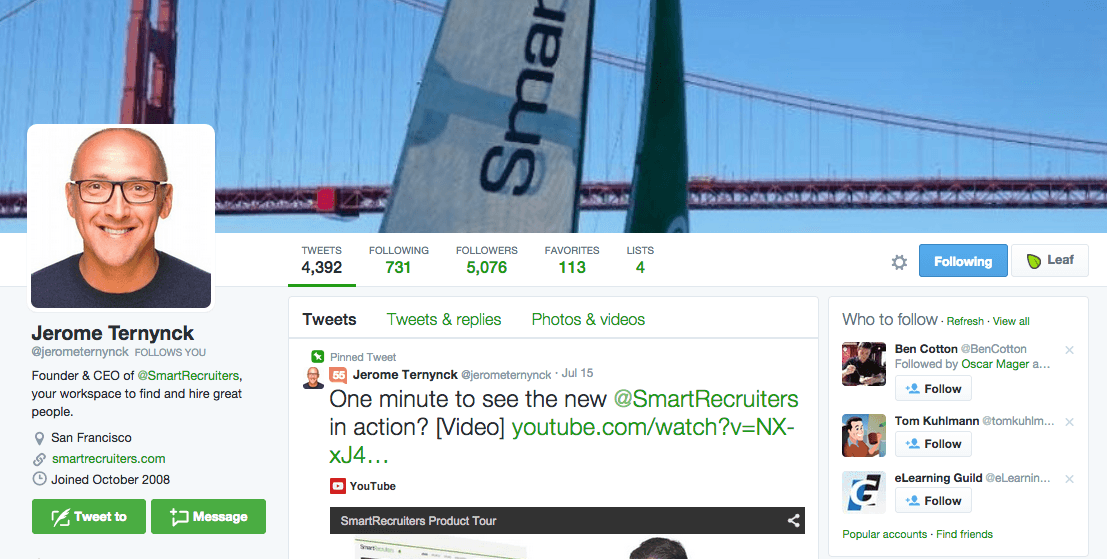 What to expect:
Daily links to unmissable recruitment-related blog content, live tweets from important industry events and invaluable nuggets of wisdom from an industry pro.
Jerome Ternynck is the founder and CEO of the San Francisco based, SmartRecruiters, and an absolute 'must follow' on Twitter. Not only does Jerome share links to his own extremely interesting and thought-provoking blog posts on a daily basis (all of which are well worth a read), but he also uses his Twitter account to live tweet during some of the biggest events and conferences the recruitment industry has to offer, keep the world updated with SmartRecruiters news, and give his expert opinion on the most pressing recruitment industry news stories. But our favourite thing that Jerome uses his Twitter for are the bite-sized nuggets of wisdom that he likes to put out from time to time, to get us thinking, inspired and motivated. Like this ditty that was voted 'Tweet of the Day' by HRWARE back in November:
Tweet of the day! #HR #ATSFail pic.twitter.com/Twxg18mbN7

'¬€ HRWARE (@hrwarefeed) November 26, 2014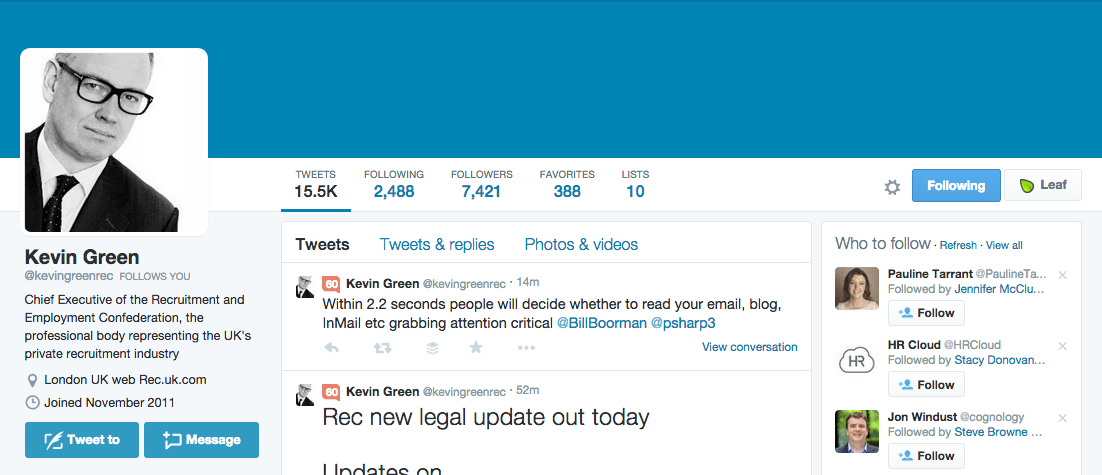 What to expect:
Up to the minute research, trends, updates and reports from the UK recruitment industry.
Kevin is the Chief Executive of the REC, the professional body representing the UK's private recruitment industry, which means both he and his Twitter account are full of up to the minute updates, research, market trends, reports and infographics about the recruitment industry in the UK. Want to know exactly what the latest legal update means for you an your recruiting efforts? The information will be on Kevin's account. Interested in finding out the latest social media usage figures among recruiters? The information will be on Kevin's account. Could that business news have implications for the recruitment industry? The information will be on Kevin's account. Do you see what I'm trying to say?!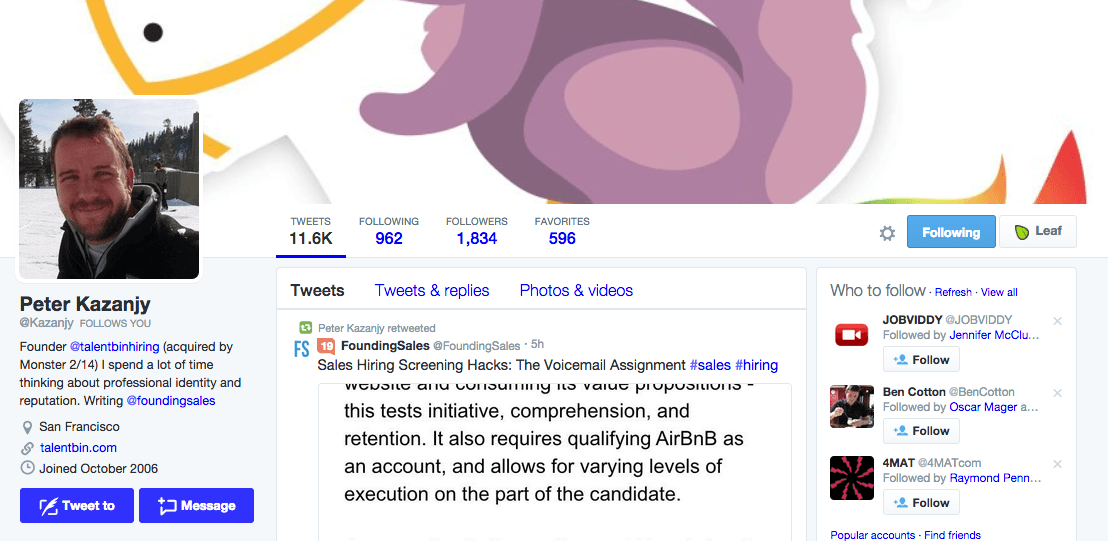 What to expect:
No bulls*t advice about recruiting and sourcing, and some great debates!
Peter is the founder of TalentBin (the much talked about talent aggregator now owned by Monster), and his stuff is really good! Peter's no bullsh*t approach to advice about recruiting and sourcing is right up our alley and we particularly enjoy the almost daily debates and rows he gets into on Twitter and how he argues his corner – the man's a legend! But it's not all about brilliant arguments and straightforward advice, you'll also find updates about the TalentBin product and what's happening in the world of tech (which is very helpful to tech recruiters). He also has the coolest Twitter header of all time – a purple squirrel riding a unicorn –  does it get any better than that?! No, seriously check it out: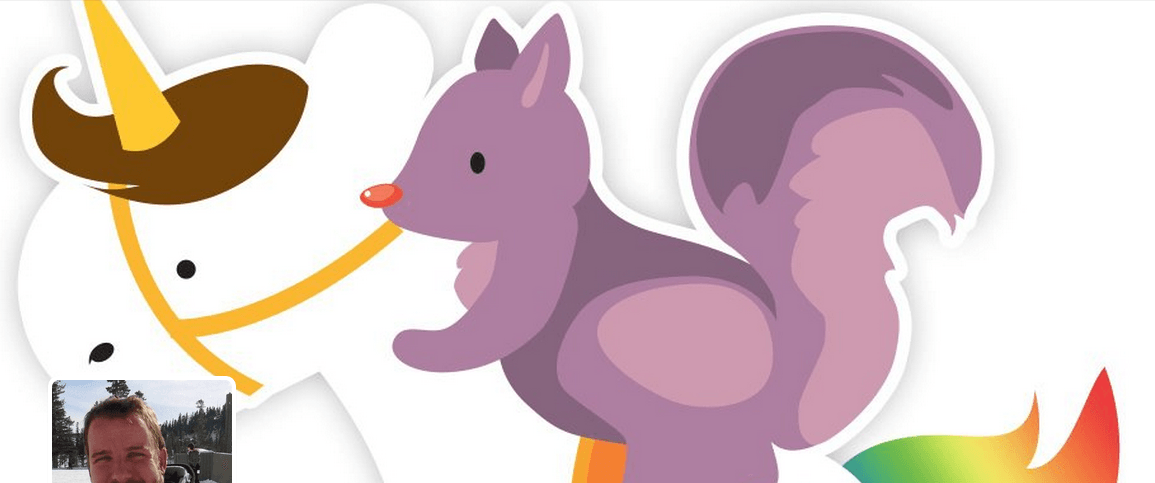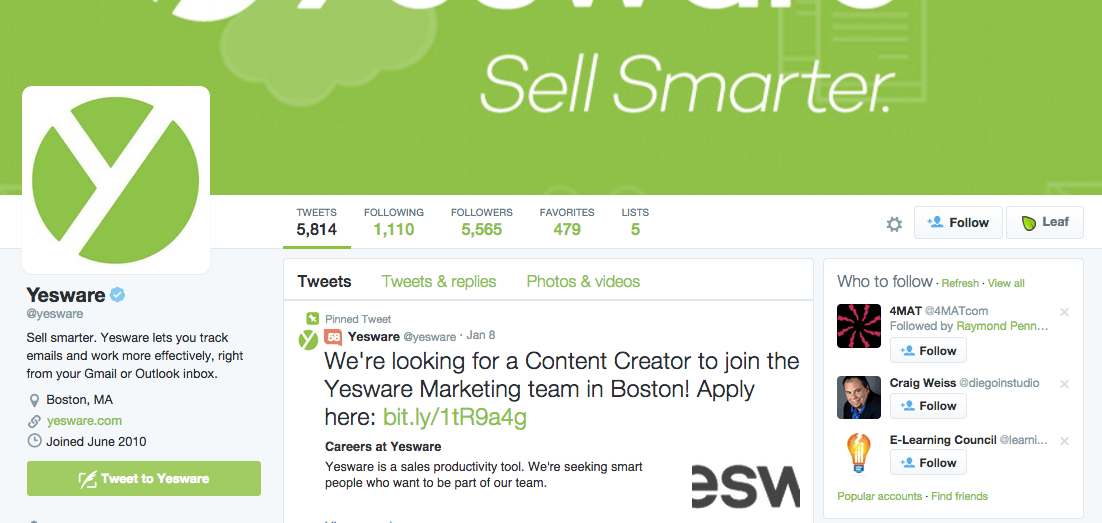 What to expect:
Practical information on how to improve your email communication and sales figures along with it.
Yesware is an email tracking product that is not only a fantastic product to use, but the team behind it also produces some really interesting stuff on Twitter. Tips to improve your email reply rates, interesting studies into increasing the productivity of Salespeople, practical advice on how to influence clients effectively – it's all on Yesware's Twitter. We've used their research as the basis of a couple of our blogs (see – "How to: Radically Improve Your Candidate Response Rates in 2 Easy Steps") and the outcomes of said research have influenced what we teach in our Black Belt in Internet Recruitment training course. Oh, and they post fun stuff from around the office including photos from 'Dress Up Your Pet Day', which is incredibly fun to look at:
Meet Wally! Our newest Yeti is taking over the office today in honor of #DressUpYourPetDay #YetiPug pic.twitter.com/7YmOC4hvYD '¬€ Yesware (@yesware) January 14, 2015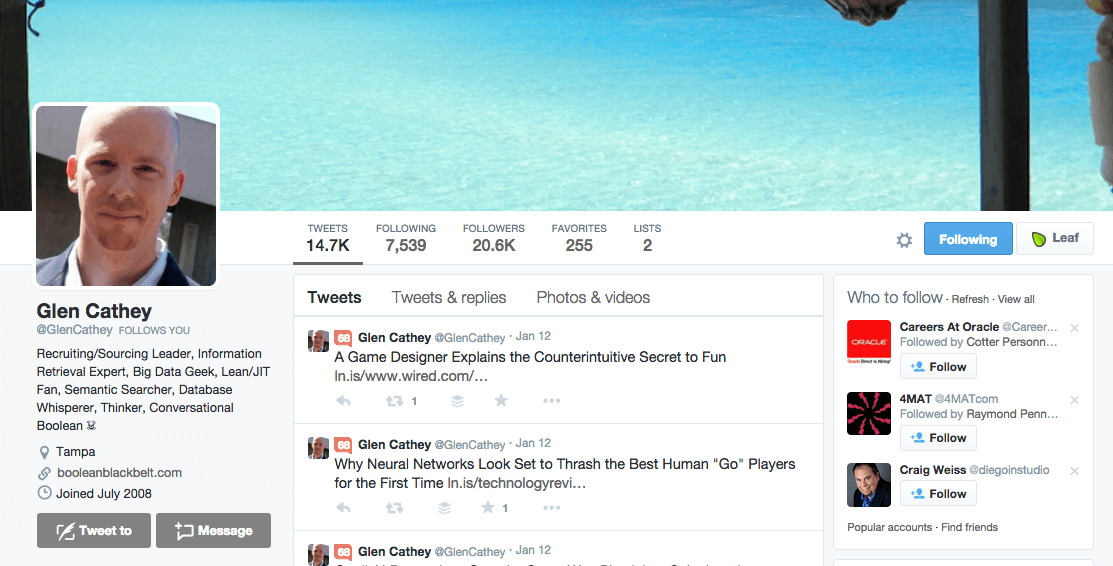 What to expect:
Thought-provoking and opinion-challanging and conversations about the current and future state of the recruitment industry.
Glen Cathey is a self-confessed "Information retrieval expert", "Big Data geek", "Lean/JIT fan", "Semantic searcher", and "Database whisperer" as well as being a recruiting/sourcing thought leader (trust us, he knows his stuff!) And while he may have had a relatively quiet 2014, his latest Facebook and Twitter posts have promised that 2015 will be one of his busiest yet! He plans to write more blogs (he told us he's got loads of ideas he's extremely excited about) and he plans to tell us all about them via Twitter. Glen has also told his current followers "be prepared to be challenged and think", so if you're looking to shake up your sourcing efforts this year, Glen is the man to follow.
I forgot how much I've missed writing. Expect more blog posts this year, and be prepared to be challenged and think! :) '¬€ Glen Cathey (@GlenCathey) January 2, 2015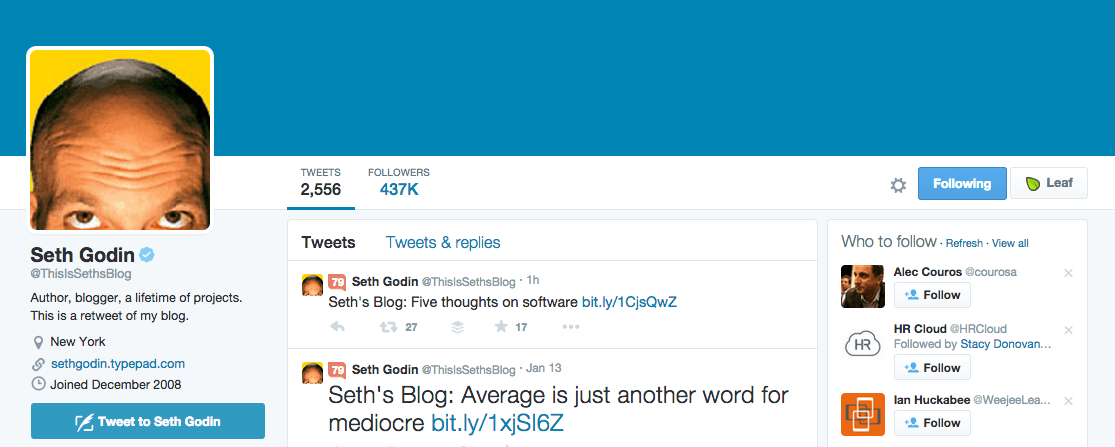 What to expect:
Daily updates about Seth's unmissable blog posts.
Everyone should be reading what Seth Godin has to say regardless of whatever field of business they work in. Why? Well, in a nutshell, his marketing advice as well as his business advice is second to none, and if you're not already following his blog, the least you can do is follow his Twitter. All Seth's Twitter does is alert you (once daily) as to when he has posted a blog, but when those blogs are bursting with really helpful information as well as being quick and easy to read as Seth's are, you'll be raging if you miss one!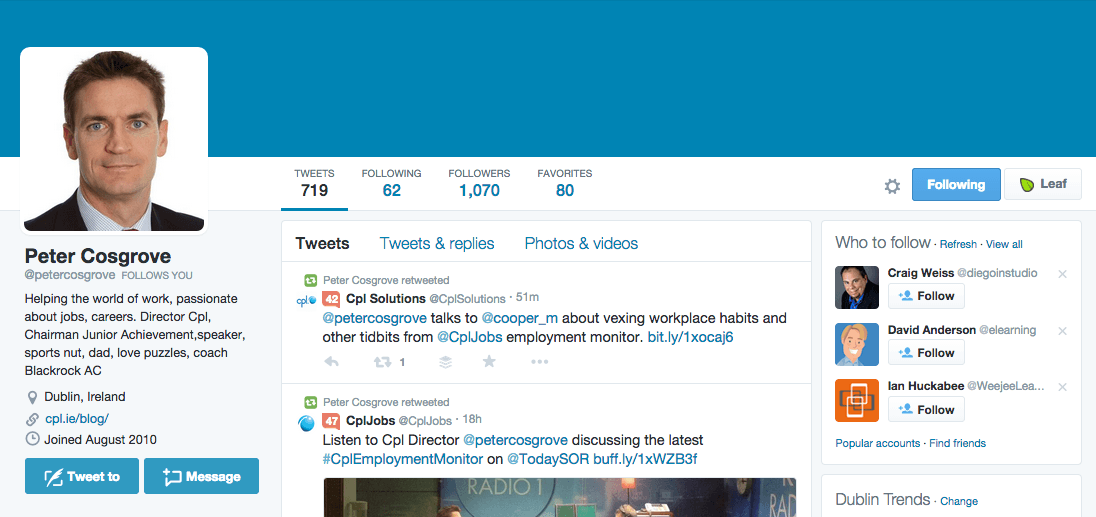 What to expect:
Links to some of the most viewed Slideshares on recruitment topics in the world aka his own!
Peter is the Director of CPL Resources, a resourcing/placement company based here in Dublin. Peter is a fountain of wisdom when it comes to all things recruitment, and his Twitter account is case in point. Everyday he retweets a selection of the articles he has enjoyed throughout the course of the day, he keeps his followers up to date with what's going on both internationally and at home in Ireland in the recruitment industry,  he shares the most important industry news stories, and he posts some of his incredible SlideShares (some of the most viewed Slideshares on recruitment topics in the world, we'll have you know).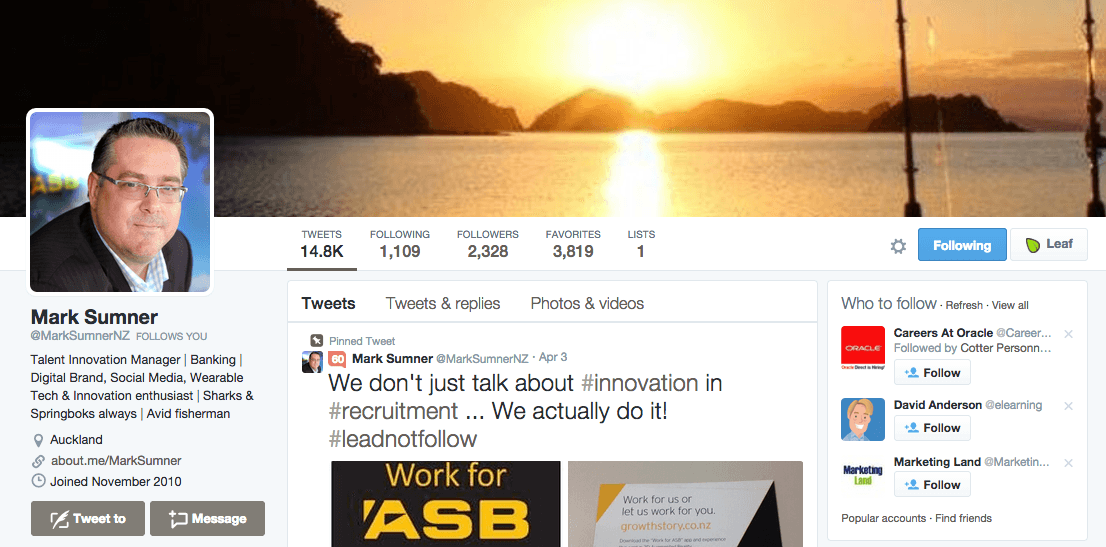 What to expect:
Invaluable content with a social media focus.
Mark tweets out of New Zealand, and likes to share a variety of left-of-field blog articles about recruiting, marketing and business. But if you want all the skinny on the latest social networks and how they're being used, then Mark's Twitter is the only place to be.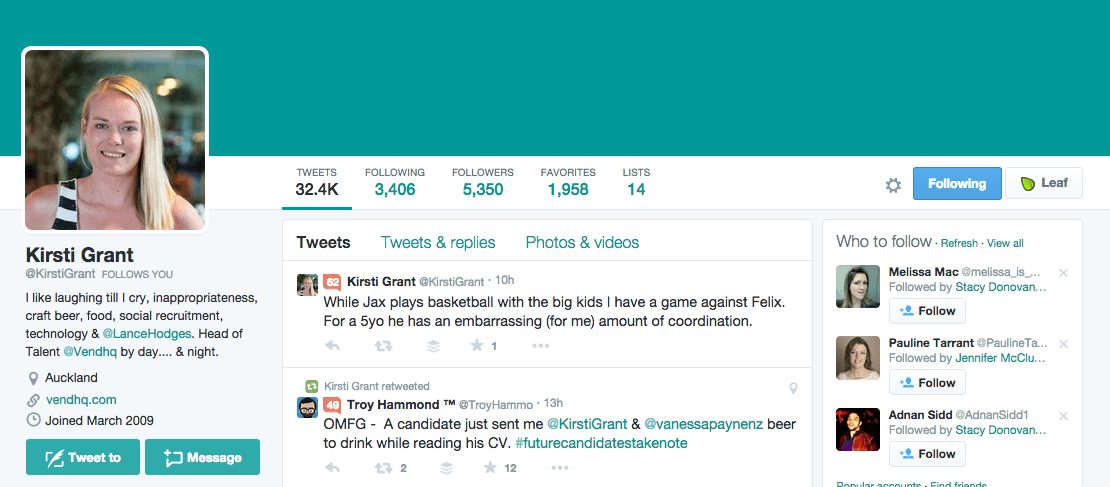 What to expect:
Invaluable content with a social media focus.
Kirsti is the current Head of Talent of Vend (the people behind one of the best job ads we've seen in a long while). If you want to see first hand what great employer branding looks like on Twitter, then follow Kirsti! Her love and passion for Vend is practically oozing out of the screen at you! Take note recruiters because you should be following her every move!
Today is probably one of my favourite days ever. I just want to thank my team. '¬€ Kirsti Grant (@KirstiGrant) January 13, 2015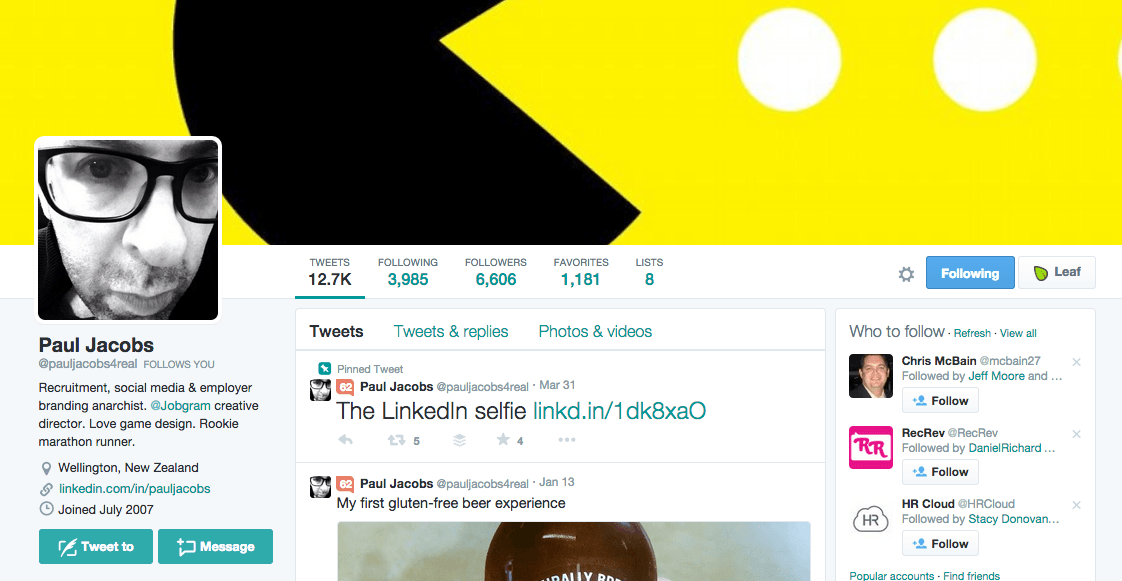 What to expect:
All the good stuff in one place.
Paul Jacobs is the genius behind the game-changing graduate programme campaign for Deloitte in New Zealand – a catalyst for really positive change on the Employer Branding 3.0 front, and something we've discussed very passionately here and here!) – so if you're interested in improving your efforts keep an eye on Paul's tweets of wisdom. Because when it comes to employer branding he knows his sh*t! Beyond that, Paul is also partial to a good stat retweet (you be drooling at the juiciness of some of the information he puts up), the truly ground-breaking blog articles the industry has to offer, and sharing the nuggets of knowledge he learns from his travels. Give this guy a follow immediately!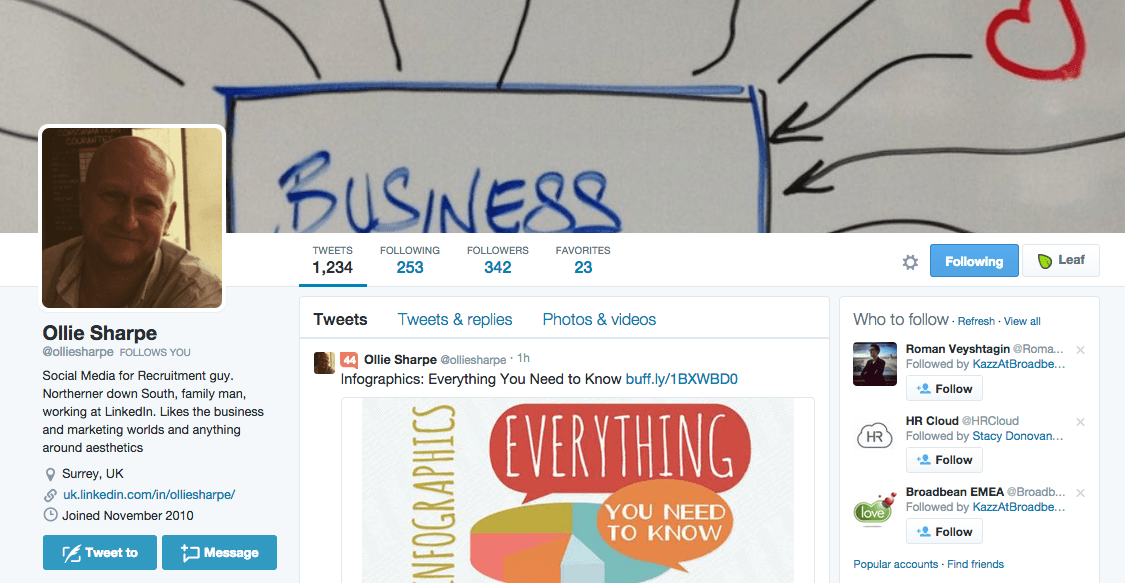 What to expect:
A feast for the eyes!
Ollie Sharpe is the Head of Sales for LinkedIn in the UK and as a result his LinkedIn account is teeming with all the latest and greatest LinkedIn updates and insights you could ever want or hope to see as and when they happen. But he doesn't limit himself to LinkedIn, oh no! Ollie is a "social media for recruitment guy" and has no qualms sharing what he believes to be the best blog articles recruiters can read about the whole spectrum of social media out there. He's also big into the aesthetics of how stuff should look, so if you're a bit stuck for a visual for your latest job ad or what type of images to include in your next blog post, take a scroll through Ollie's account and let your imagination run riot. The man has a keen eye for a good visual, there's no denying it.
A Complete Guide to Creating Awesome Visual Content: http://t.co/Udu6RK7yIv pic.twitter.com/kILO56c9k5 '¬€ Ollie Sharpe (@olliesharpe) January 13, 2015
Want to keep up to date?
Join our 75,000+ subscribers who do!