Keep up with the latest hiring trends!
/
/

24 Terrifying Job Ad Blunders (Halloween Special)
24 Terrifying Job Ad Blunders (Halloween Special)

In 3 days time, little children everywhere will be doing their best to scare the lives out of unsuspecting adults in the hopes of receiving candy for their efforts. But recruiters the world over are already trying to frighten away thousands of job seekers by making some of the silliest job ad blunders known to man.
'Bust' or 'busty' instead of busy. 'Ruining' instead of running. 'Booing' instead of booking – yes, the internet is rife with dodgy job ads. And for the weekend that's in it, we thought we'd share some of the most terrifying (read: hilarious) job ad blunders that have graced real job boards in the last 12 months:
1. I would have preferred to work for a busy store, but I'm desperate so…

2. Miss your turn and you have to wait until the week after ????

3. This sounds like a fun job!

4. Well, desperate times call for desperate measures.

5. That bullet point No.4. Can you even say that these days?!

6. I'm sorry, but just what are you asking me to do under bullet point No.7?!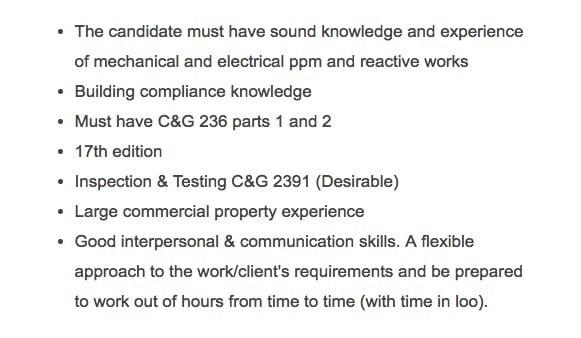 7. Shall we just poo in and see them?!

8. If Clint is so good, why are you advertising to replace him?!

9. Does that mean slow???

10. Company prat required!

11. It's a very different approach to the norm, we'll give them that…

12. No, not really…

????

13. I used to know a person like that…

????

14. It's just a pity whoever wrote this didn't…

15. Not sure about bullet point No.4 

????
16. Is you? (I wasn't aware Ali G had become a recruiter)

17. Would 2 out of 3 be okay?!

18. If you see a parking space at this job, GRAB IT!

19. You have to be regular to apply for this job.

20. Dreams do come true!!! 

????

21. Third time lucky 

????

22. This sounds like fun! Imagine just phoning people and booing down the phone 

????

☎️


24. Job for a serial killer?

????

Have a frightfully good Halloween, Recruiters!

????
P.S. Want more job ad blunders? All of the job ads featured in today's post were first featured on the Really Bad Job Posts Twitter account (@JobPostShame). Follow them for more job post related hilarity (and just pray you never appear on their account!)
Find out how the likes of IBM, IKEA and Siemens
drive hiring excellence with SocialTalent
---