Top 3 Recruitment Forums to Find the Answers to Your Burning Questions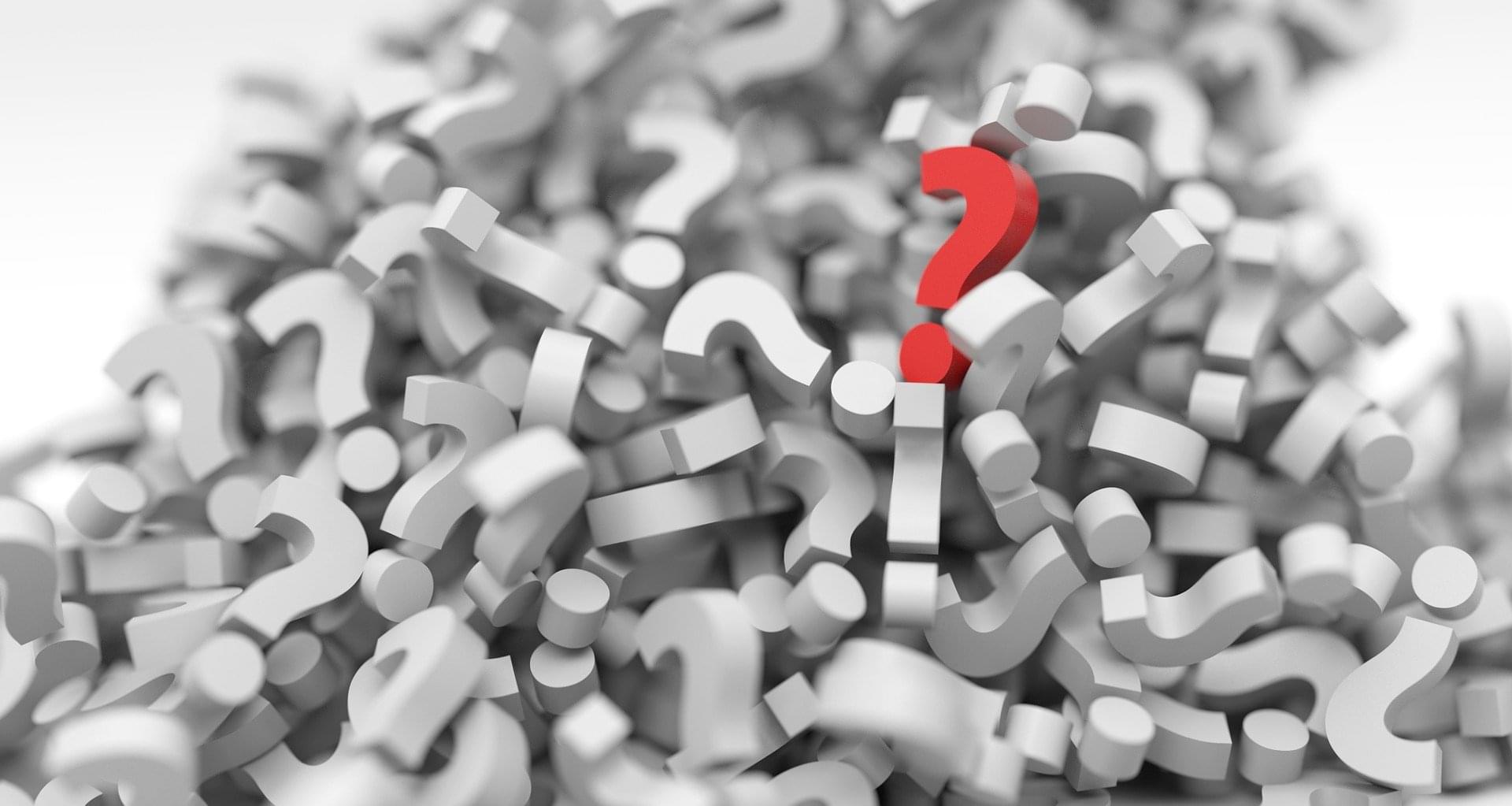 There's a saying that we've all heard a thousand times before – 'There's no such thing as a stupid question'. Now you may or may not agree with it, but one thing that all recruiters can attest to is that working in an industry where everything's always changing, sometimes a little bit of advice from people who are in the same boat as you is exactly what you need to stay on top of your game.
Recruitment is a fiercely competitive industry, one where you really need to have the edge if you want to stick out from the crowd. But let's remember that sometimes in order to do this, you really need to pick the brains of other recruiters. Today, we're listing our top 3 recruitment forums that will help you find the answers to all of your burning questions (including some you probably didn't even know you had!)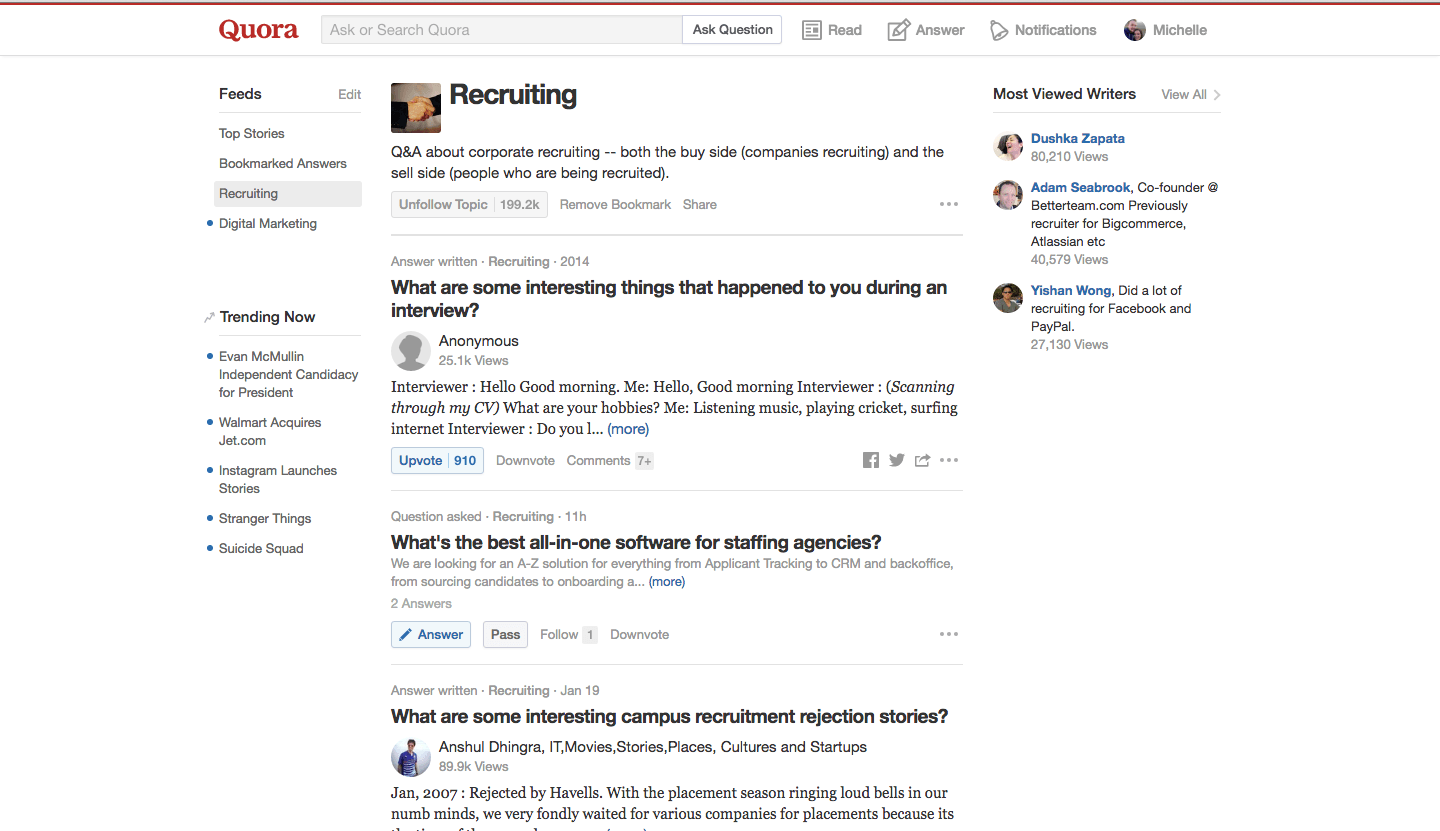 Quora's mission is to share and grow the world's knowledge. According to the company website, Quora wants to 'connect the people who have knowledge to the people who need it, to bring together people with different perspectives so they can understand each other better, and to empower everyone to share their knowledge for the benefit of the rest of the world.' Sounds pretty good, right?
We can't express just how much of a treasure trove this website is for recruiters around the world. Once you sign up to become a member of the site, you choose what subjects you are interested in, and voilá – the most popular questions that have been asked about that subject as well as a plethora of answers at your fingertips.  We're also mega-impressed with just how easy it is to submit a question on the forum. All you have to do is type your question into the bar on the top of the page and click 'Submit'. Literally couldn't be easier.
Right now, the types of recruitment questions on the forum include 'What are all the best ways to use LinkedIn for job search?', 'What are the best practices for startups to hire top talent on a shoestring budget? and 'What tech tools do sourcers use most frequently?', and that's just the tip of the iceberg! No matter what your question on recruiting is, big or small, practical or scientific, we guarantee that someone on Quora will be able to answer it for you.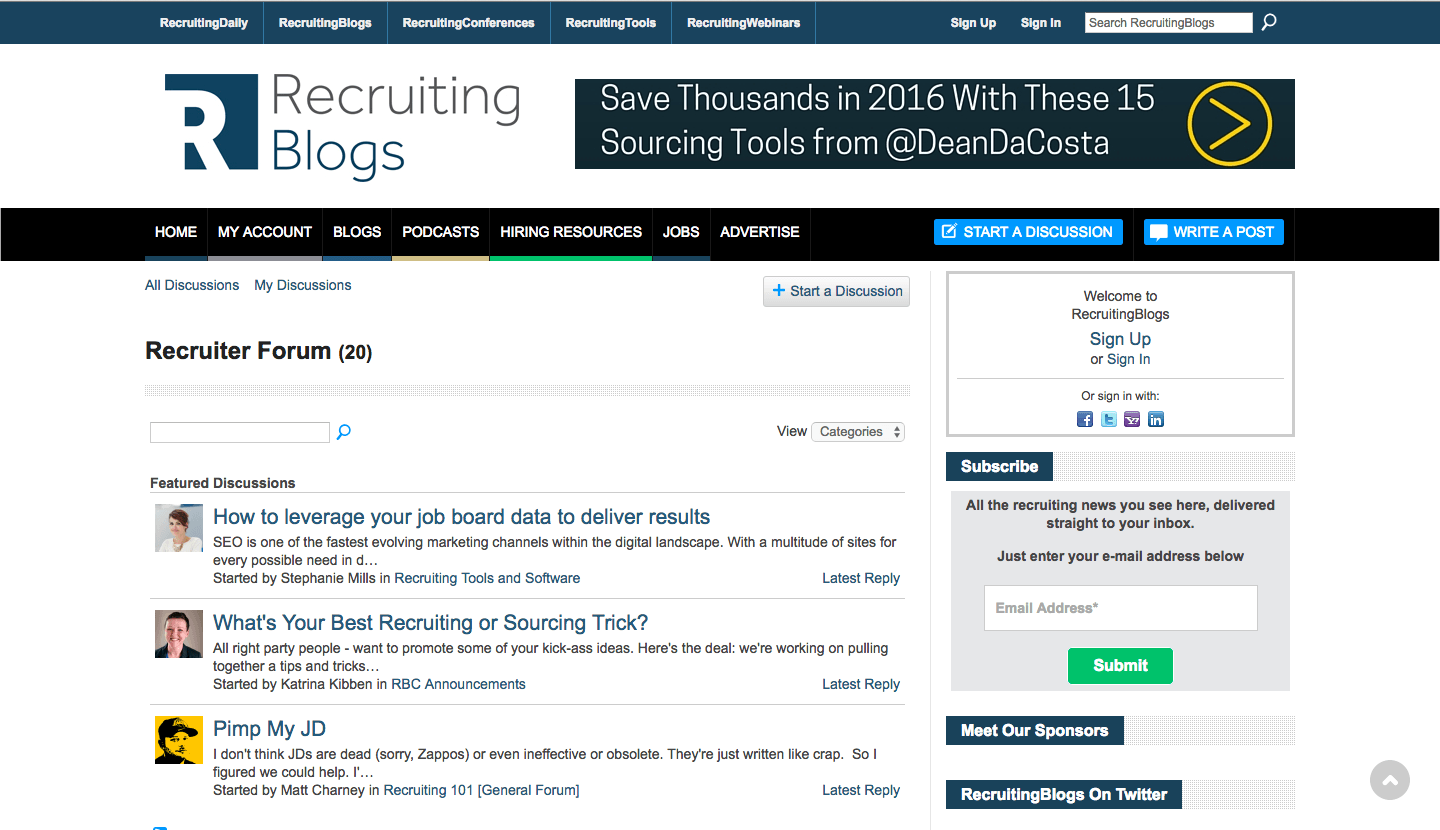 As part of the hugely popular website Recruiting Daily, Recruiting Blogs isn't just a fantastic place for recruiters to get their daily scoop, it's also got a killer discussion forum to boot. Categories range from 'Sourcing' to 'Recruiting 101' to 'Recruiting Rants' and everything in between. What's particularly helpful is that Noel Cocca (CEO), Ryan Leary (Partner) and Matt Charney (Executive Editor and one of the sourcing experts on our Black Belt programme) often jump into certain discussions as well as starting their own on the forum.
Some of the discussions up on the forum right now include 'How to leverage your job board data to deliver results', 'What's Your Best Recruiting or Sourcing Trick?' and 'Does anyone use Bullhorn for their internal ATS?'. It's a super place to not only get insight into some of the questions that you have about recruiting, but also a great way to potentially connect with other recruiters and influencers in the industry.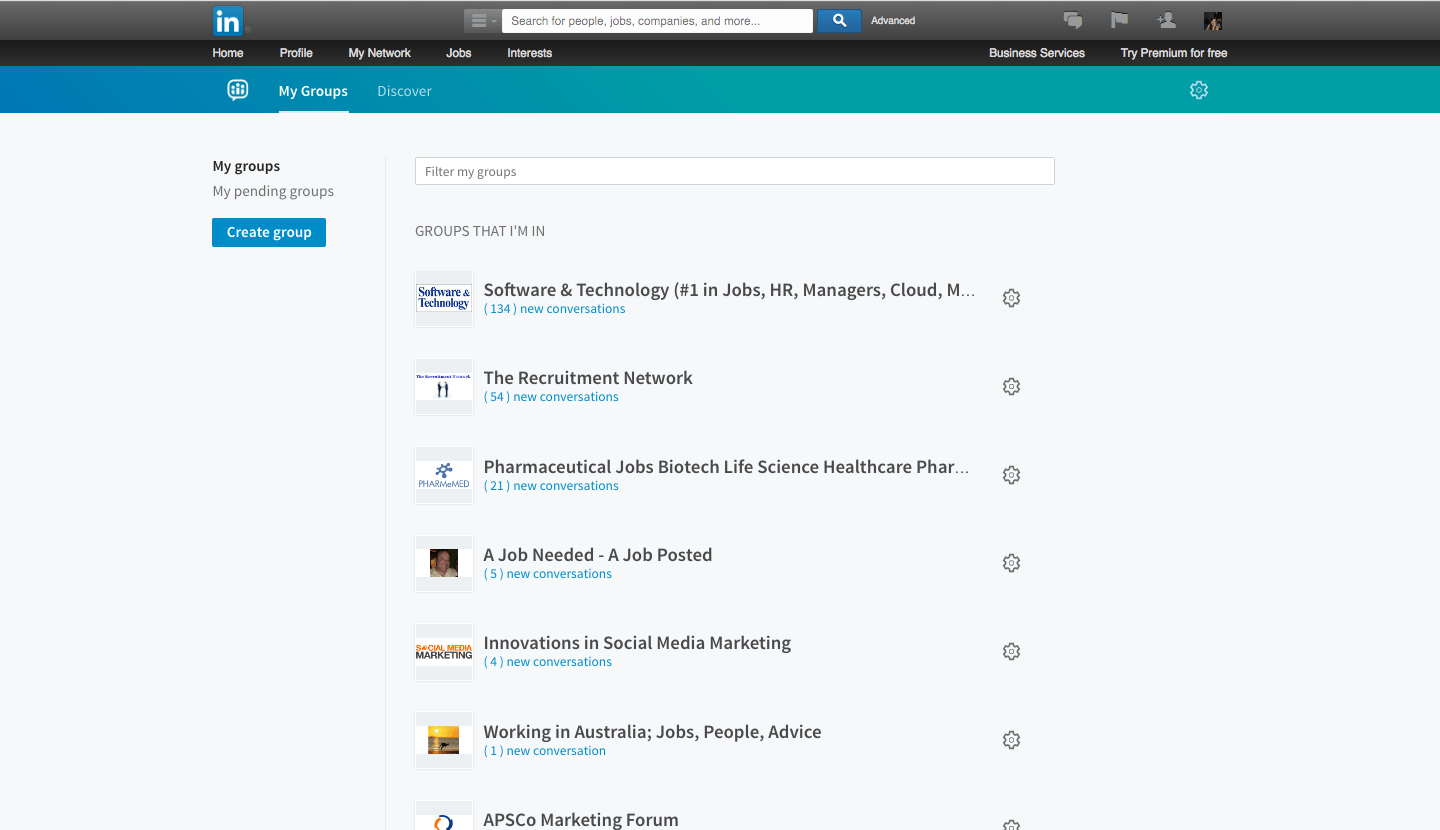 Okay, okay, so technically listing LinkedIn Groups as a forum isn't technically 100% correct, but we just had to include it in the list. There are literally so many LinkedIn Groups that recruiters can trawl through to find the answers to their questions and share their knowledge on the industry. Some of our favourite recruitment groups on LinkedIn include:
Direct Sourcing Using Social Media
Openreq (HR, Staffing & Recruiting Professionals)
Talent Management Professionals
We would highly recommend that you request to join all of these groups and start listening to the conversations that are happening as well as read the articles that are being shared. Feel free to post any questions that you may have (just remember to follow the 10 Golden Rules for Posting in LinkedIn Groups to make sure that you're putting your best foot forward!)
So there you have it – three places that you should be able to find the answers to any recruitment questions that you may have. And don't forget, you can always ask the team here at Social Talent towers if you have a question about recruiting that you can't seem to find the answer to! Tweet us @socialtalent and we will get our experts on the case!
Want to keep up to date?
Join our 75,000+ subscribers who do!