6 of the Best Employer Brands on Snapchat Right Now!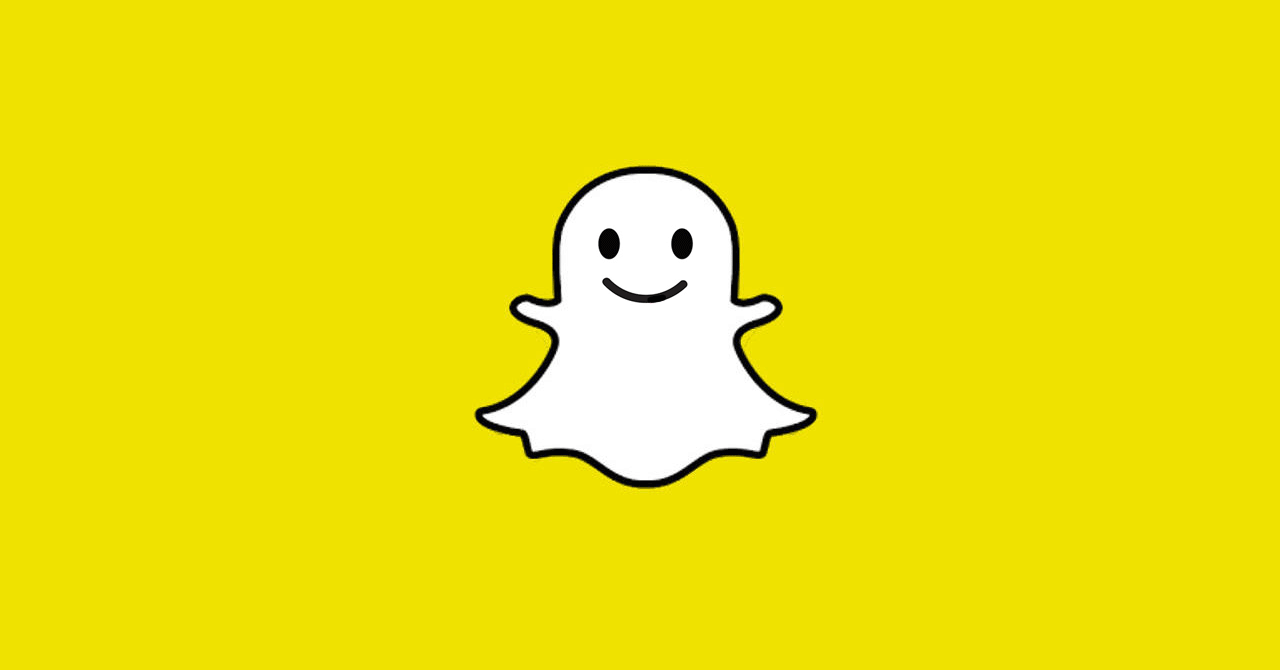 150 million people use Snapchat every day to send more than 400 million snaps – that's a bigger daily active user base than Twitter (136 million)! And the platform is growing incredibly quickly. By the end of 2016, Snapchat's US user base is projected to have increased by 27% from the start of the year, and the app is expected to add twice as many new users through 2020 as Twitter and Pinterest. Not only that, but also by 2020 at least a quarter of the entire mobile population in the United States is projected to be using Snapchat.
Yes, most of Snapchat's user base is young (it's currently the No.1 social network among teens beating out Instagram, Twitter and Facebook), but the app's popularity is growing amongst all demographics. Half of new Snapchat users are over the age of 25, and the growth rate of the 25+ audience is double that of the 25 and under audience. And those that are on it are paying it plenty of attention! The average user now spends an average of 25-30 minutes a day on Snapchat, while 41% of all 18 to 34-year-olds living in the United States can be reached via Snapchat.
In short, Snapchat has already established itself as one of the major social networks in a short period of time, and it's expected to continue to grow rapidly for quite some time. As such it is now the perfect medium on which to promote your employer brand and have it seen by thousands of people.
[cta-blog]
1. Aer Lingus (Username: aerlingus)

I'm delighted to be able to kick off today's proceedings with an Irish company. Yes, Aer Lingus (the budget airline) is (in my opinion) one of the best companies for showcasing the people behind their brand on Snapchat. In fact, they were the very first airline to start using Snapchat as part of their employer branding strategy.
Follow Eoin's @Snapchat story on his day-trip to #HeathrowT2 this morning. Username: aerlingus pic.twitter.com/MJGBJgK7Ji

— Aer Lingus (@AerLingus) July 9, 2014
Aer Lingus use Snapchat purely for showing off the 'behind the scenes' of the brand especially around big events like St. Patrick's Day, Christmas, and inaugural flights. They also do a number of snap series that follow crew members as the touch down in some of the airline's most well know destinations.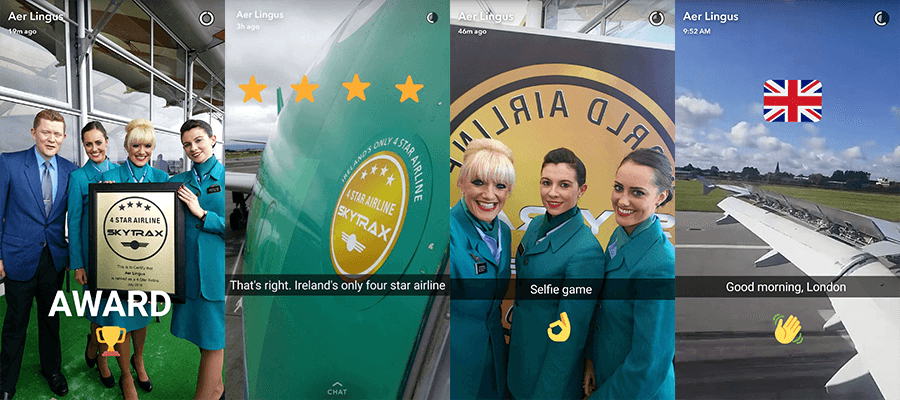 Other things captured on Snapchat include employee participation at charity events, graduate fairs, award ceremonies, and (probably most interesting of all) little insights into life at 37,000 feet including cockpit visits and wing shots – perfect for anyone looking to get a little more insight into life as an Aer Lingus employee.
2. Cisco (Username: wearecisco)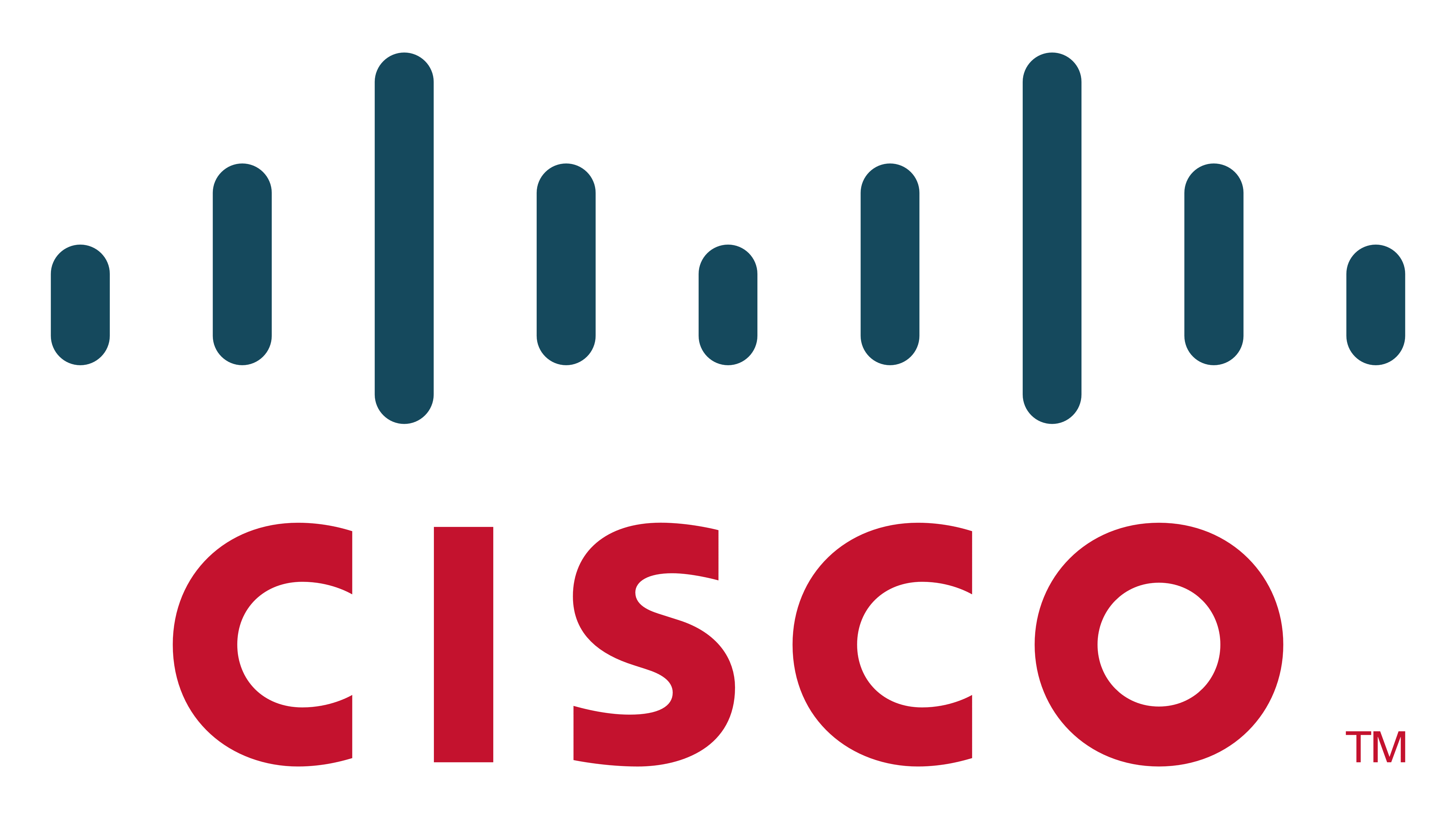 I've been a long time follower of the Cisco Snapchat account. In my opinion, it's one of the best examples of how Snapchat can be used to promote your employer brand. Why? Well, pure and simply, Cisco have really gotten to grips with how to use Snapchat successfully as an employer branding platform.
Take last Thursday's snap series, entitled "Behind the scenes with Engineering", for example. In it a Cisco employee gave viewers a quick tour of the Cisco laboratory, showed them the tools used to make Cisco products, the product testing facilities, as well as a sneak peak at the inside (motherboard) of a current Cisco product, let us in on a "lunch-n-learn session" (where less experienced Cisco engineers receive mentoring from senior members), jump in on a game of lunchtime table tennis, and check out some of the interesting things Cisco engineers keep on their desks.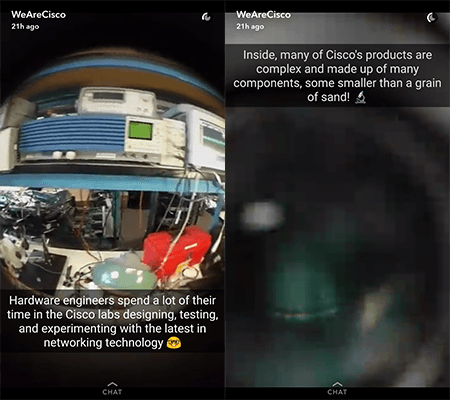 Each snap in the series was invaluable to anyone considering applying for a job in Cisco's engineering team, in the process of applying, or for anyone interested in the inner workings of an engineering team in general.
Other snap stories of theirs have included Q&A sessions with influential industry guests, access all areas to big industry events, a day in the life features on employees in different departments, and other smaller insights into working for Cisco like staff lunches, desk reveals etc.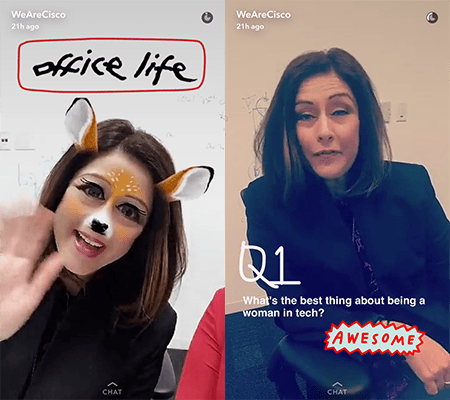 Speaking about her company's Snapchat account, Cisco Social Media Manager, Carmen Collins, told RecruitingSocial, "As a team, we had been trying to think of the best way to get in front of the Snapchat audience. But it had to be authentic to the Snapchat platform and how the audience used it. The only thing that made sense was the employee voice – which was perfect, because, for the last year, that's how we had positioned our entire social media strategy. Our Talent Brand team mission statement is meant to empower our WeAreCisco tribe. We tell stories to the world about current employees (using a co-worker voice, or the employee voice) to make a connection to our people and technology to entice future Cisconians to work here. So we handed over "the keys" to our employees to tell their story with snaps. As a social media manager, that's a pretty scary thing to do. But we started with a trusted group of Cisco Talent Brand advocates, and they have exceeded all of our expectations. We roll new people into the group every few weeks in order to ensure the account is fresh and new, but also purposely keeping the group small enough to ensure that our account is safe from hackers and we can stay organised with our global employee snappers."
Bottom line: If you want to know how it's done, follow Cisco on Snapchat IMMEDIATELY!
3. Warby Parker (Username: warbyparker)

Who knew the staff at a prescription eyeglasses and sunglasses firm could be so cool?!
Warby Parker uses Snapchat for a number of different reasons including the showcasing of new products, but among their retail-focused snap series, are some excellent employer branding ones.
"Desk Job" is one of those series. In each Desk Job snap "episode", the company ask an employee (or two if they're "desk buddies") to take the audience through their 5 desk essentials – i.e. 5 interesting items they keep on their desk that help them be more productive or have more fun while in the office. In last week's episode, we were introduced to Product Designers, Travis and Sarah who sit side by side in the Warby Parker office. In a sequence of snaps we got a sneak peak at their desks in their huge open plan office. Each desk was decorated with photos, magazine cuttings and their 5 desk essentials: a desktop ping pong net (they play at 3pm everyday to combat the 3pm slump), a succulent plant (they see the plant as a symbol of their friendship so they take turns watering it and making sure it thrives), a desk fan (use all year round apparently), a shared snack bowl, and of course a pair each of Warby's coolest shades.

"4 Questions With" is another. In this series, the company ask four questions of one employee, usually ones that relate to their career path, what they do in their day-to-day role, what advice they would give for anyone looking to get into a role like theirs, and other general career advice. As with all of Warby Parker's snaps, this series also has a humorous edge.
Once a Snapchat Story is up, they then promote it across Instagram, Twitter and LinkedIn. And just check out that engagement when they do!
4. MailChimp (Username: mailchimp)

We've said it before and we'll say it again, your employees are your best advocates and anything you can do to feature them in your employer branding efforts is a winner. MailChimp know this and so they spend a lot of time showcasing their employees to give viewers a real time view of what life at the company looks like. And just one of the ways they do that is via the medium of Snapchat.

While they don't have any reoccurring snap series like Warby Parker, MailChimp regularly snap their employees out and about, as well as in the office. The audience gets to meet them and learn about them, and their experience with the company and the careers they've chosen through desk reveals, Q&A sessions, events and a whole host of other fun things like office pranks. And Mailchimp employees are encouraged to be as creative as they can. As part of his top 5 rules for promoting a creative culture, CEO Ben Chestnut, says "Give yourself and your team permission to be creative. Permission to try something new, permission to fail, permission to embarrass yourself, permission to have crazy ideas."
Just like Warby Parker, MailChimp like to promote their snaps across social media so they spread the word far and wide:
Art director + our Snapchat account = ???????? ???? https://t.co/SFKj5dsMcg pic.twitter.com/ie5iCbwtmv

— MailChimp (@MailChimp) July 7, 2016
5. Elle Magazine (Username: elleuk and elleusa)

Back in February this year (2016), and just before New York Fashion Week, the team at Elle Magazine UK decided it was high time they started a Snapchat account. Since then they have quickly mastered the art of making fascinating snap stories that capture a unique inside view of the inner workings of a fashion magazine, including their people (how and where they work), what their offices look like, how things like fashion shows, launches and shoots are run, and most importantly (for a fashion fan like me), what the inside of the elusive Elle fashion and beauty cupboards look like IRL, making it a must-follow account for anyone wanting to get into fashion journalism or photography!
Sister publication, Elle Magazine USA, have also gotten in on the act and regularly let staff members like Associate Editor, Kristina Odulfo, take over their Snapchat accounts to let viewers in on what a typical day at the office looks like or for offsite events and shoots: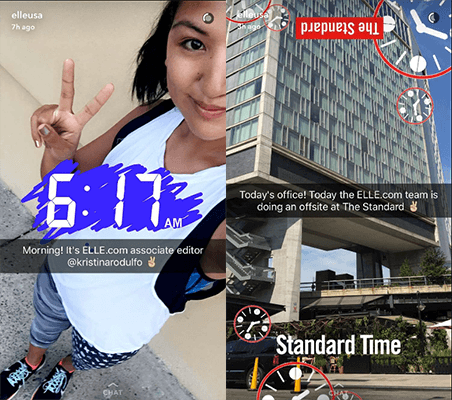 6. Hubspot (Username: hubspotinc)

Hubspot's Snapchat employer branding philosophy? Use the app as "a place where [you] can showcase [your] unique culture and perks, [your] awesome employees". The team want to position HubSpot as a destination and use Snapchat as a platform to spur viewers to check out their other online offers like their blog, website, careers page, and so on. And they're succeeding! Hubspot's Snapchat account is fun, colourful, innovative and clever, and showcases exactly what life is like at Hubspot (and yes, it's just as cool as you thought it was!).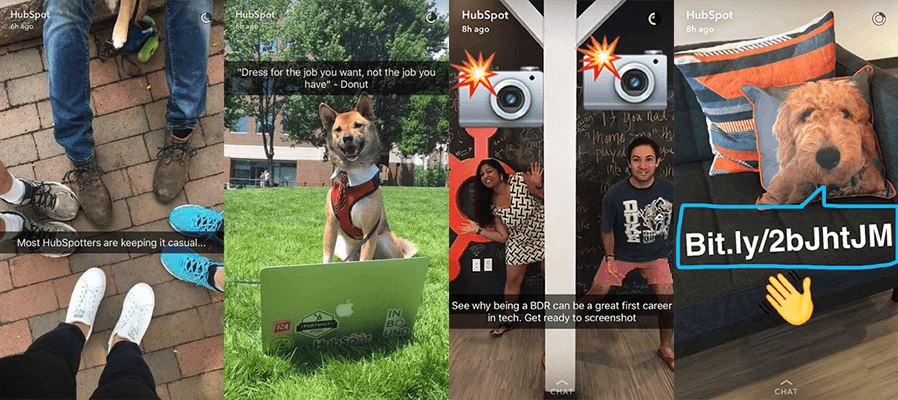 "The key for us is using a human voice that fits in the Snapchat world, rather than a voice that's stuffy or ultra-professional," says Lindsay Kolowich, a Content Marketing Manager at Hubspot. And it's this approach that sets Hubspot apart from their competitors. None of their Snapchat content looks and feels as if it's been created by an organisation. The vast majority of it blends almost seamlessly with the type of native content being created by the average Snapchat user.
How did they manage to get it so right? According to Marissa Breton (Hubspot's Social Media Marketing Manager), the company "turned to our collective team to gain perspective and source ideas". They did so by sending out a company-wide email asking for anyone who wanted to be featured on Snapchat. Those who expressed an interest in being on camera or creating Snap stories, were added to a list. The company then created an internal Slack channel for all those people, and Slack was then used to ask for volunteers for specific shoots and to source general ideas. And the ideas don't just come from one office. Hubspot teams from around the world (inc. Dublin and Sydney) are contributing to their account to ensure viewers get a "global perspective".
Breton's advice for running a successful Snapchat account with an employer branding focus? Don't be too perfect about it! "Stories should feel quick, off the cuff, and not overly produced. In fact, one of our highest performing stories was just a quick video of me sitting in a chair reacting to a Facebook platform announcement in real time. I saw the press release, ran to an empty room, and fired off a few quick snaps explaining the change. That's it. Keep in mind that the photos won't be professional-grade … and they don't have to be. Your focus should be on finding a way to create authentic, compelling moments and stories, so try not to overthink it."
Conclusion
To paraphrase Cisco's Director of Global Talent Brand and Culture, Macy Andrews, Snapchat is a great way to share a real glimpse of what it's like to be a team member in your company. So take advantage of it. The key to making it work is unleashing your employees and trusting them to tell their unique stories through their own snaps. Only by doing so will you ensure an authentic viewing experience for customers and potential candidates and create something those people actually want to watch and engage with.
Have you been inspired to get snapping? If so, be sure to send us your snaps @SocialTalent1, or take some screenshots and share them with us on Twitter @SocialTalent. We can't wait to see them!
Want to keep up to date?
Join our 75,000+ subscribers who do!