6 Unmissable Recruitment News Stories this Independence Day - 4th July 2016
In recruitment news this week:
New LinkedIn Report Reveals the Latest Job Seeking Trends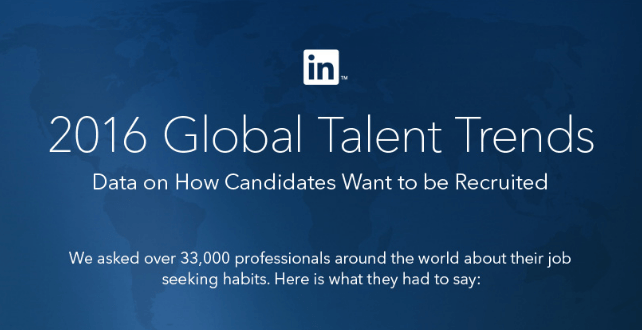 In an effort to understand what it takes to make candidates jump from one company to another, LinkedIn have conducted one of the largest surveys of professionals globally. And the findings are very positive from a recruiters perspective!
The site asked over 33,000 people around the world about their job seeking habits and this is what they told them:
An incredible 90% of global professionals are open to hearing from a recruiter about a new job opportunity.
Unfortunately however, there are two major stumbling blocks that hold candidates back from accepting roles brought to them by recruiters, and both relate to not knowing enough about the company in question. But the good news is both of these issues are easily fixable on our end if we start paying more attention to our employer branding efforts at each stage of the candidate decision-making process:

34% of job seekers cite not knowing what it's really like to work at the company as a stumbling block.
27% of job seekers cite not understanding what's expected of the role as another stumbling block.

When it comes to what candidates want to know most about your company; 66% want to find out more about company culture, 54% want to hear more about the perks and benefits your company offers its employees, while 50% want to learn more about your company's mission.
Candidates primary desires when entering a new job are:

Career advancement
More of a challenge

Fair compensation (notice how they chose 'fair' compensation, not 'better' compensation)
When it comes to landing a new job; 39% of candidates are using referrals to grab their next role. A large proportion (32%) still use job boards. While 30% utilise social networks to find their next role.
Many employees see themselves at their current company for less than 2 years. However, those people who want to stay for 3+ years see their work as a calling, fitting into a larger purpose that ties in with their own personal values.
Download the full LinkedIn 2016 Global Talent Trends Report here.
Brexit's Startling Impact on Job Search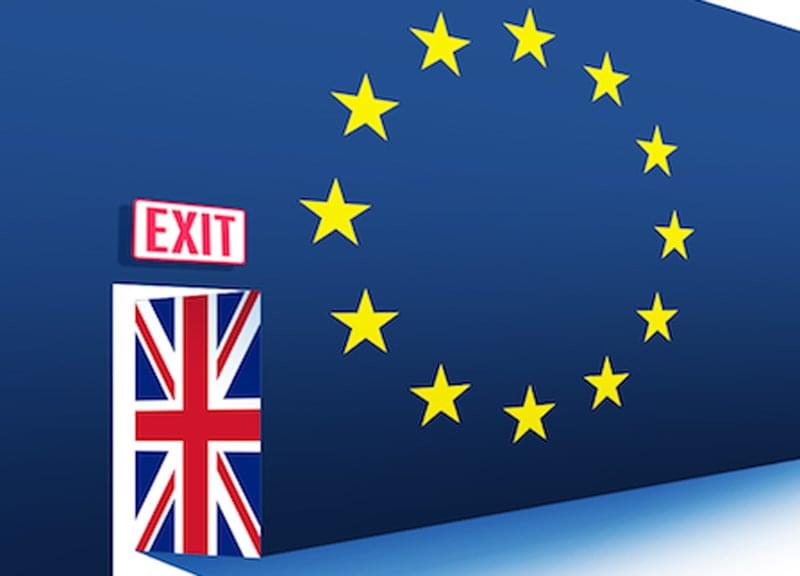 The UK's vote to leave the European Union continues to plunge the country and the wider continent into a state of crisis. One of the main issues arising from the decision is freedom of movement – long-enshrined as a key pillar of the EU – and the fact that it will soon be a thing of the past for UK citizens. But what, if anything, will replace it? And how will the referendum result affect the 3 MILLION EU citizens who currently live and work in the UK? The uncertainty amongst job seekers has sparked some rather interesting and telling spikes on job search leaving the UK and several surges of interest towards other EU countries and those further afield.
The Impact of Brexit on UK to EU Job Search
Indeed data shows that in the 48 hours following the announcement of the results, the share of UK job seekers looking for opportunities in European countries was double the average in the days prior to the vote. As for what they were looking for, top searches included roles in marketing, human resources, hospitality and the finance sectors.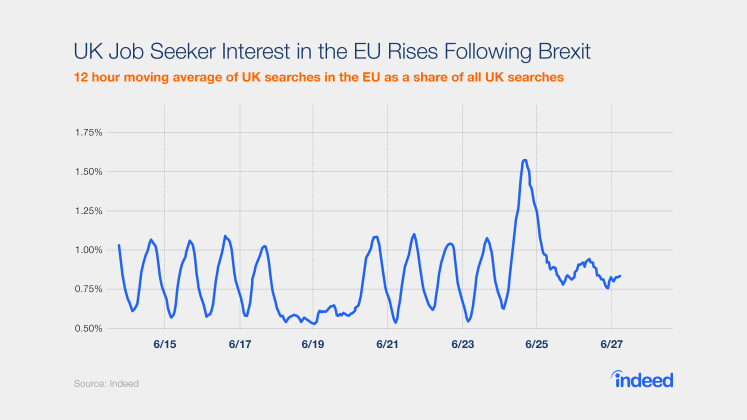 Facing an uncertain future in the UK, this surge in EU-oriented job search could be a reflection of the anxiety being felt by those millions of EU citizens currently based in the UK.
Ireland a Major Beneficiary of Job Search from the UK Following Brexit
Job searches from the UK to Ireland on June 24th (the day the result of the referendum was announced) were 2.5x higher than the average in the days before the vote. Job seekers were looking for work in fields including marketing, human resources, engineering, transportation and retail.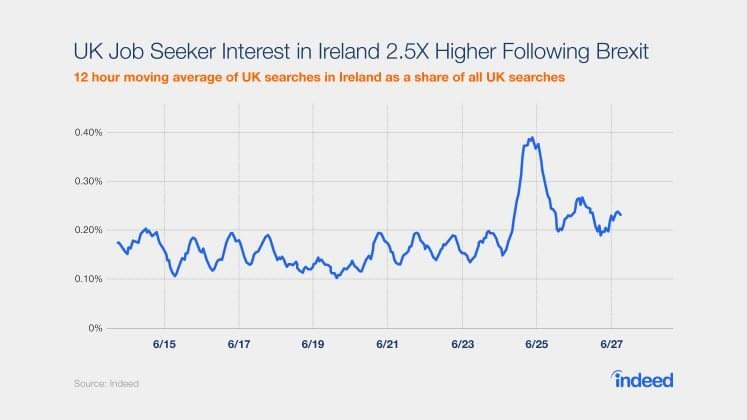 With the UK supposedly out of the EU, Ireland becomes the only country with access to the common market where the majority of citizens speak English as their first language. So, it's no surprise then that traffic from the rest of the EU also increased in the period following the Brexit result. Although the spike was not quite as large as search from the UK, it was still 2.2x higher than the average in the days before the results of the referendum were announced. Job seekers were searching for work as drivers, electricians, marketers and retail assistants.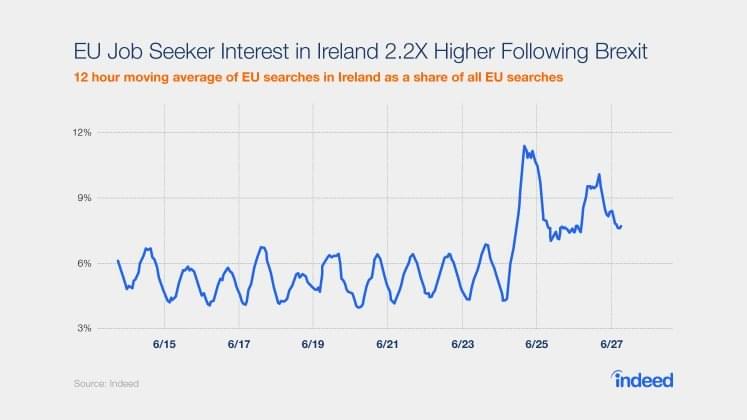 The Impact of Brexit on UK to Rest of World Job Search
Searches from the UK to the rest of the world were 73% higher at their peak on June 24th than the average in the days before the results of the referendum were announced. In fact, post-Brexit UK foreign job search experienced it's biggest ever spike outside the EU.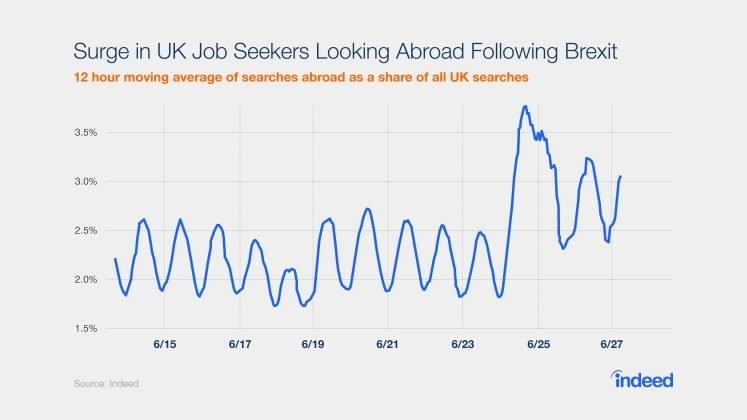 In Canada, job search from the UK was 4.2x higher than the average in the days before the results of the referendum were announced—a much bigger spike than observed in Ireland and the EU. In the US, job search for the UK increased by 1.7, while in Australia it increased by 1.9.
Find more stats on how Brexit is affecting UK job searches here.
Where Does the World Want to Work?
According to LinkedIn's most recent data, the following companies are the best in the world at attracting and (crucially) keeping top talent, and as a result can boast "Top Attractor" status:
Apple
Salesforce
Facebook
Google
Amazon
Microsoft
Uber
Unilever
Coca-Cola
Johnson & Johnson

John Lewis
Virgin Media
Harrods
Google
PA Consulting Group
ASOS
KPMG
Jaguar Land Rover
Amazon
Burberry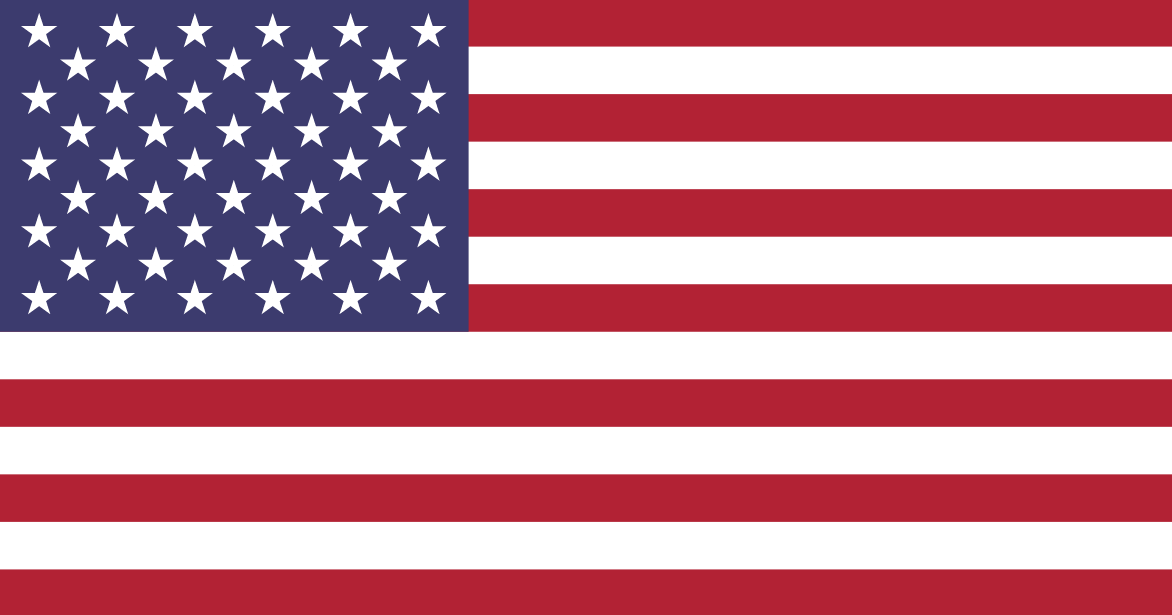 Google
Salesforce
Facebook
Apple
Amazon
Uber
Microsoft
Tesla
Twitter
Netflix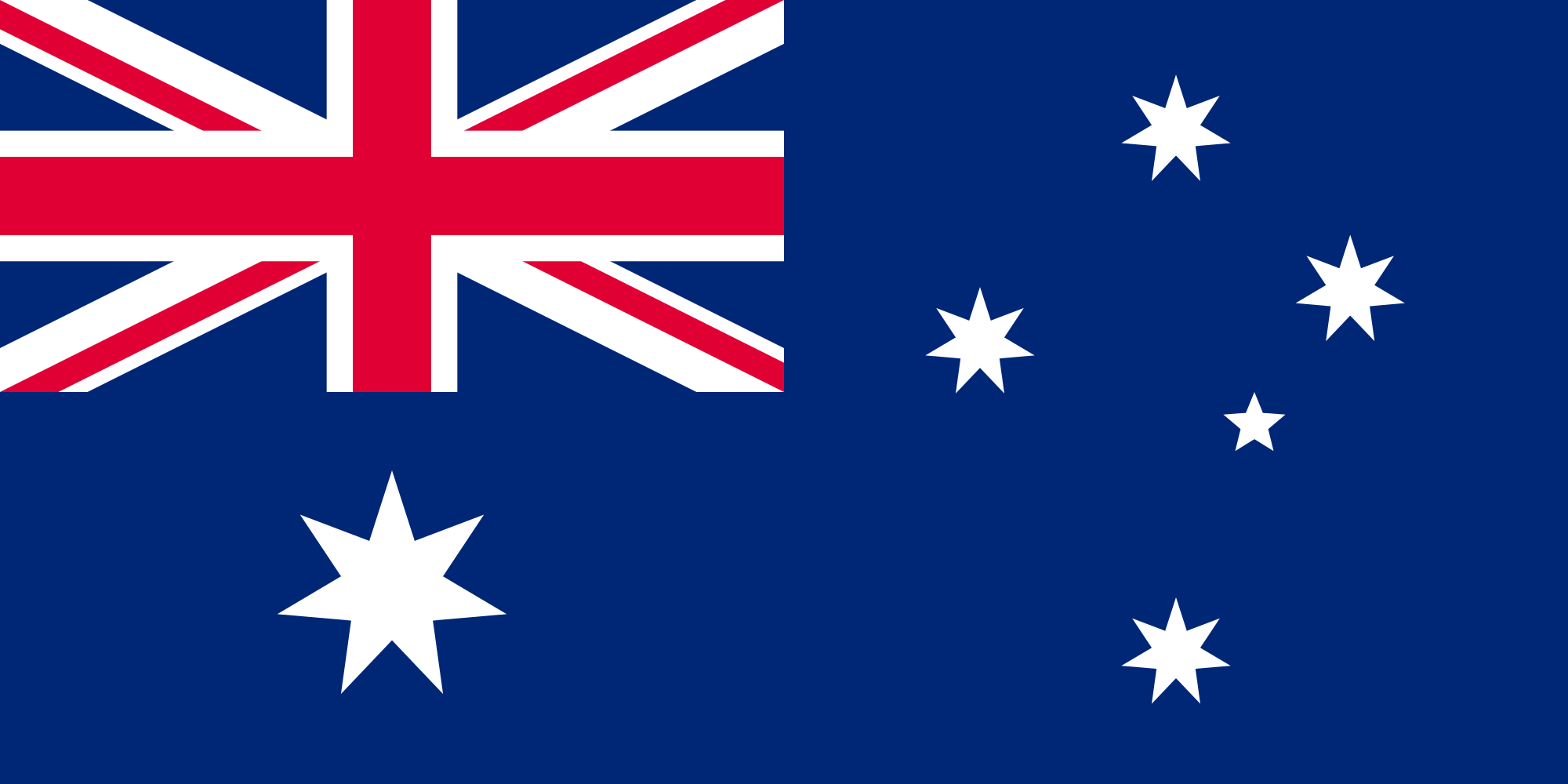 KPMG
PwC
Commonwealth Bank
Coles
Deloitte
Westpac
Qantas Airways
Lion
UGL Limited
CPB Contractors
This is How Top Performing Talent Searches for Jobs (Pssst! It's not what you think!)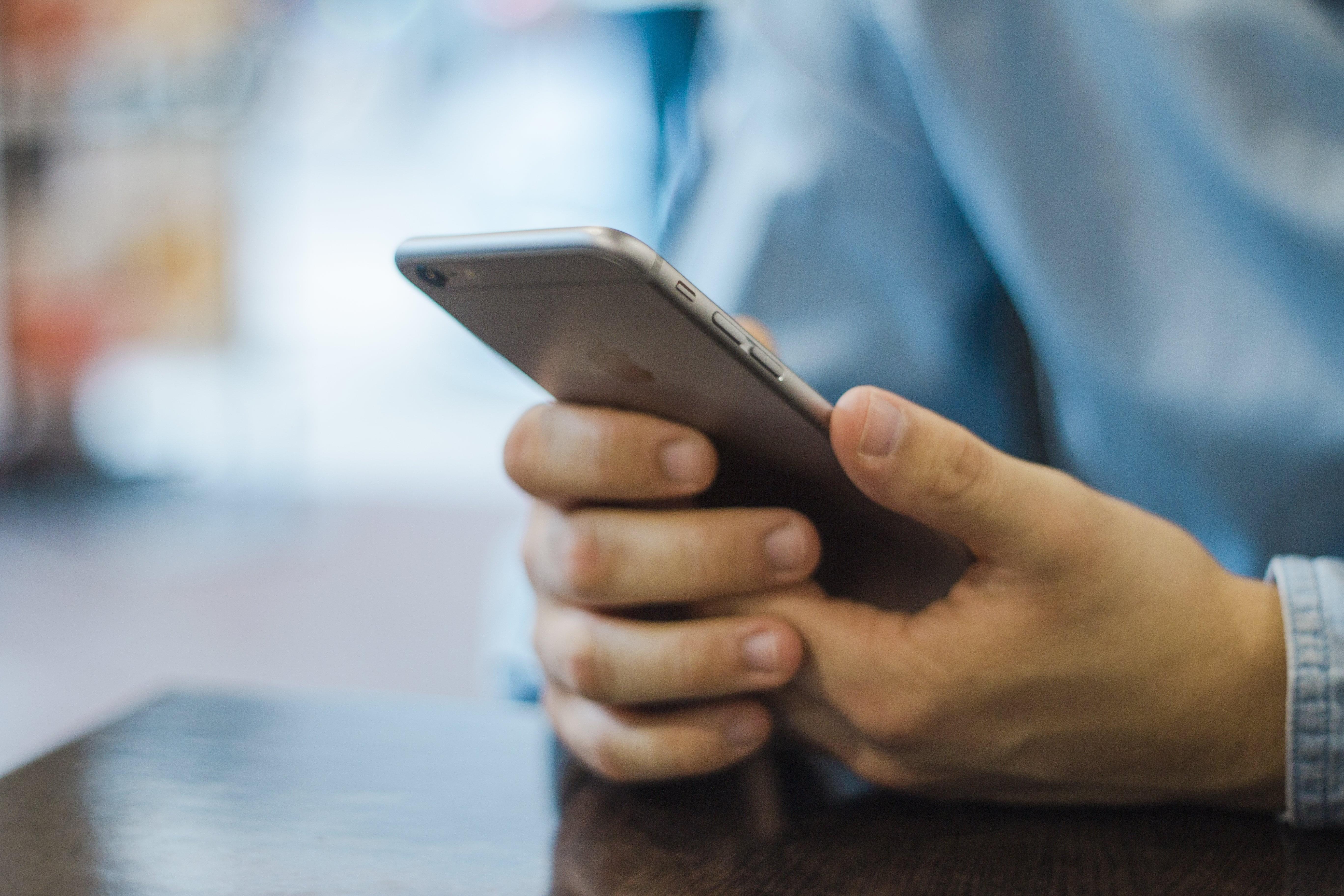 Recruitment professionals have long assumed the most talented candidates are passive: that they're employed by great companies, they're not actively looking for new opportunities and they need to be wooed away from their roles by diligent recruiters. But, according to some brand new research from Indeed, this mentality couldn't be further from the truth. In fact, top performing talent are actually very active when it comes to steering their careers and will regularly search for jobs, not waiting idly for their next career step to find them.
92% of top performers say they search for jobs at least a few times a year and of the top performers who were actually hired within the past year, this number is even higher: nearly everyone (96%) took an action to find a new job in the six months prior to being hired.
This finding will come as a shock to the hundreds if not thousands of recruiters who tend to focus on outbound recruiting tactics as the path to hiring more top performers. Instead of waiting to be contacted, the best candidates are monitoring opportunities for the one that meets their needs and goals, and they're using online tools to do so. Among top performers who were hired in the past year, 55% visited an online job site in the six months before their hire, 54% subscribed to online job alerts and 48% used a mobile job search app: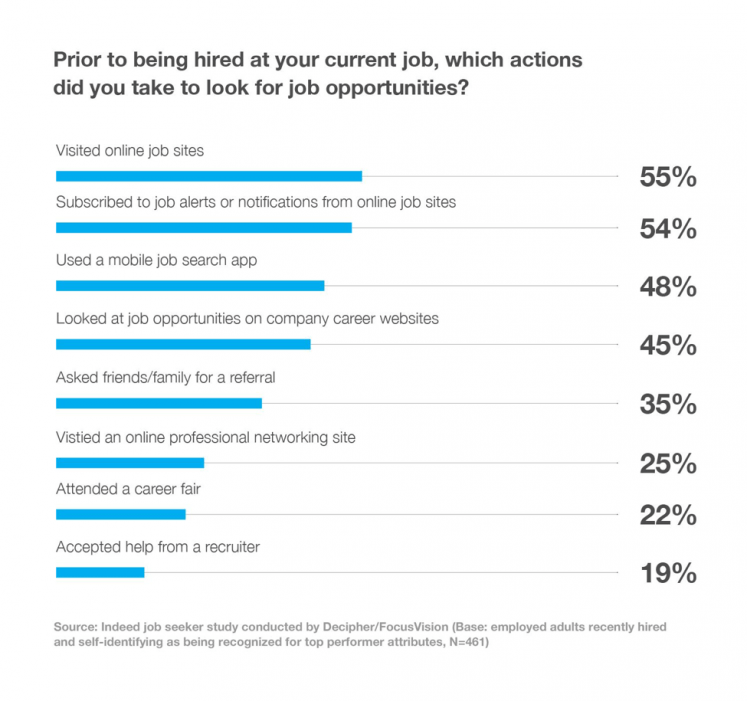 Furthermore, compared with other job seekers, top performers are 46% more likely to be attracted by a better company reputation and 29% more likely to be attracted by more interesting, challenging work. This means, instead of focusing their efforts on outbound recruiting tactics, recruiters should be focusing on attracting top talent through strong employer branding and compelling job content that showcases the things that make a position impactful and rewarding. Meaning and purpose from their work is also important to them, not just better compensation. In fact, top performers are 10% less likely than other job seekers to be attracted to a job by better compensation or benefits.
To learn more about what drives the most talented candidates in the workforce, check out the full study here.
Introducing the Twitter Dashboard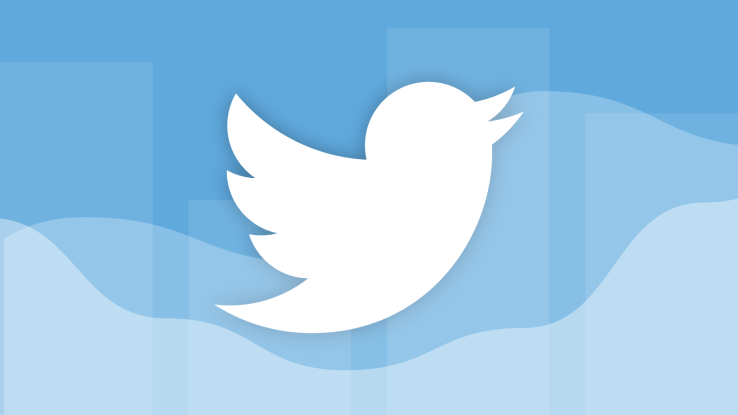 Monitoring your social mentions just got a whole lot easier thanks to Twitter. Last week, the site released a brand new, much needed standalone application for small businesses (and recruiters): Twitter Dashboard.
The new service, available on both web and mobile, is aimed at businesses that want to use Twitter to connect with their customers (read: recruiters who want to connect with potential candidates). The app offers a suite of tools, including customised feeds of tweets, tools for scheduling posts, access to tips on what to tweet, analytics and more.
One of the key features Dashboard includes is the ability to monitor Twitter for posts about a business that go beyond those where people have tweeted directly to the business's @username. Dashboard users can set up a custom feed that instead monitors for hashtags and keywords, like your business name or product names, for example. That way, businesses can view and (crucially) respond to customers and candidates who are talking about them or asking questions, along with those who have actually mentioned the business's Twitter handle – all in one feed.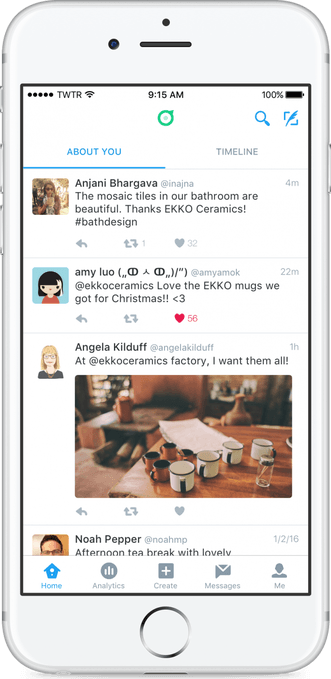 Additionally, from the Dashboard website, businesses can set up a queue of scheduled tweets to reach their audience at the best time. The new iOS application, meanwhile, lets you also schedule, edit and reschedule these tweets while on the go.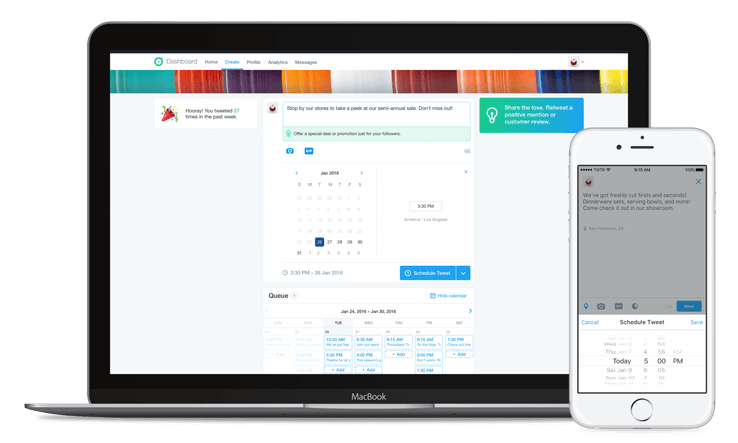 Dashboard also helps businesses figure out what to say and which sort of posts work by offering tweet suggestions.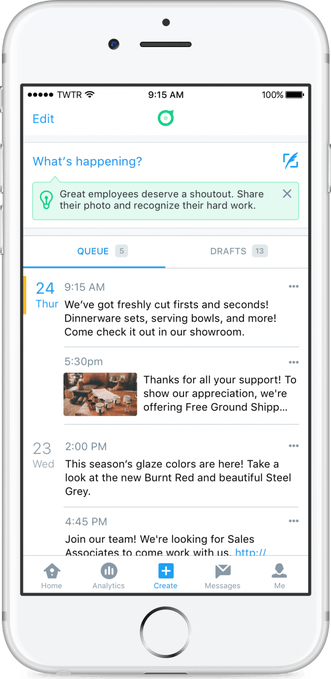 Along with access to Twitter Analytics, businesses can begin to figure out how these tweets are working by measuring their impact. This is available both on the web and in the new application. Analytics lets businesses see a range of information about their account, including top tweets and mentions, top media posts, top followers and more.
If you're interested in giving it a go, the new Twitter Dashboard is launching into beta in the U.S. and is available online at dashboard.twitter.com or via the Dashboard app in the App Store.
Grim Study Reveals More Cleavage Equals More Job Success
In the most disturbing news you will hear today, a French study has revealed that women who wear low-cut clothing are more likely to secure a job.
Over a 3 year period, Dr. Sevag Kertechian of the Paris-Sorbonne University sent two women with almost identical CVs and experience to apply for 200 roles. To ensure the study was fair, each woman applied for 100 roles wearing a conservative outfit and 100 roles wearing a more revealing outfit. Out of 200 sales role applications, the applicants wearing the low-cut dress received 62 more interview offers. That means women who show more cleavage are 19x more likely to get an interview than those who prefer to cover up…
"Our results showed interesting trends as low-cut dresses significantly influenced the choice of the recruiters, even for accounting positions," Dr Kertechian told The Telegraph. "Regardless of the job, whether customer-facing saleswoman or office-based accountant the candidate with the low cut clothing received more positive answers. The results were quite shocking and negative but not necessarily surprising – they show we need to conduct more research."
Not connected with us on social? Stay in touch and keep up-to-date with all the latest recruitment news, research highlights and our wide range of useful resources.
Want to keep up to date?
Join our 75,000+ subscribers who do!