9 Industry-Rocking Pieces of Recruitment News this Week - 11th April 2016
In recruitment news this week:
Watch Out! There's Now a Recruiter Screening Tool for Candidates

Lazy recruiters beware! Candidates will soon be able to screen you before deciding whether or not to work with you.
Yes, in an effort to shield candidates from a never ending barrage of poorly researched and worded messages from lazy recruiters, Anthology (formerly Poachable) have released Anthology Shield.
Using Anthology Shield, candidates will be able to build personal screening criteria, which is private. The site will then generate a custom URL for that criteria which candidates can pass on to recruiters or keep on their LinkedIn profiles. When they click on the link, recruiters will have to answer screening questions. If their answers fit with the candidates criteria, the candidate gets notified and can decide if they want to engage with the recruiter. Thus saving candidates from receiving a whole load of requests from recruiters who may not be suitable.
In the future, ERE.net's Todd Davis sees this tool being able to take all the data that has come in via these assessments and grade recruiters, which should (in theory) help recruiters become better at their craft.
We'll just have to wait and see whether or not it catches on!
Pipeline or Culture?: What's the Real Reason there Aren't More Women in Tech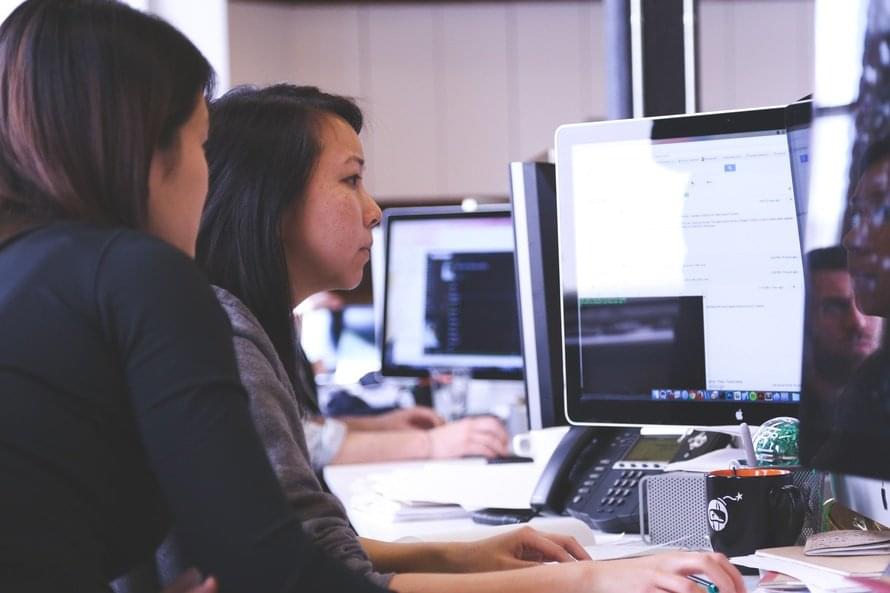 According to a new report from McKinsey, women aren't landing many entry-level jobs in the tech industry. But is a poor pipeline or something much more sinister to blame?
Women in the tech industry hold only 37% of entry-level jobs – significantly lower than the 47% of women who, on average, are offered entry-level positions in other industries. And those numbers get smaller as the positions get more prestigious. Women in tech hold 30% of the managerial positions, 25% of the senior manager or director roles, 20% of the vice president titles, and 15% of roles in the c-suite.
But while McKinsey are attributing the disparities to the fact that the tech industry doesn't have enough women with relevant college degrees in its talent pool, others are pointing the finger at the industry's "unresolved issues with sexism" – especially due to the progressively dwindling numbers of women in advanced roles at tech firms. In other words, women leave the technology industry because of culture.
This is not just a "pipeline problem." Women leave the technology industry because of the culture. https://t.co/XuABCAnis0

— Alex Howard (@digiphile) March 29, 2016
But tech isn't alone. Industries like the automotive, energy, retail, media and finance also see women exit before they are promoted to executive-level jobs. In finance, women hold only about 22% of executive-level positions, but working back up the pipeline the numbers become notably healthier: women hold 52% of hold entry-level positions, 47% of manager positions, and 38% of the senior manager positions. That said, the percentage of women serving as senior managers in finance is still higher than the percentage of women even getting entry-level jobs in tech…
Adding fuel to the fire is the fact that 38% of women think their gender will make it difficult for them to advance in their career.
"Because of the high attrition rate for women working in tech, teaching more girls and women to code is not enough to solve this problem," Rachel Thomas, a software engineer, wrote in a Medium post in July 2015. "Because of the … well-documented differences in how men and women are perceived, training women to negotiate better and be more assertive is also not enough to solve this problem. If tech culture is going to change, everyone needs to change, especially men and most especially leaders".
Regardless of the root of the problem, what is clear is that, when it comes to diversity, the tech industry still has plenty of work to do!
(RELATED: 33 Must-Know Facts About Women in Tech)
Lytmus Tests To Find The Best Coders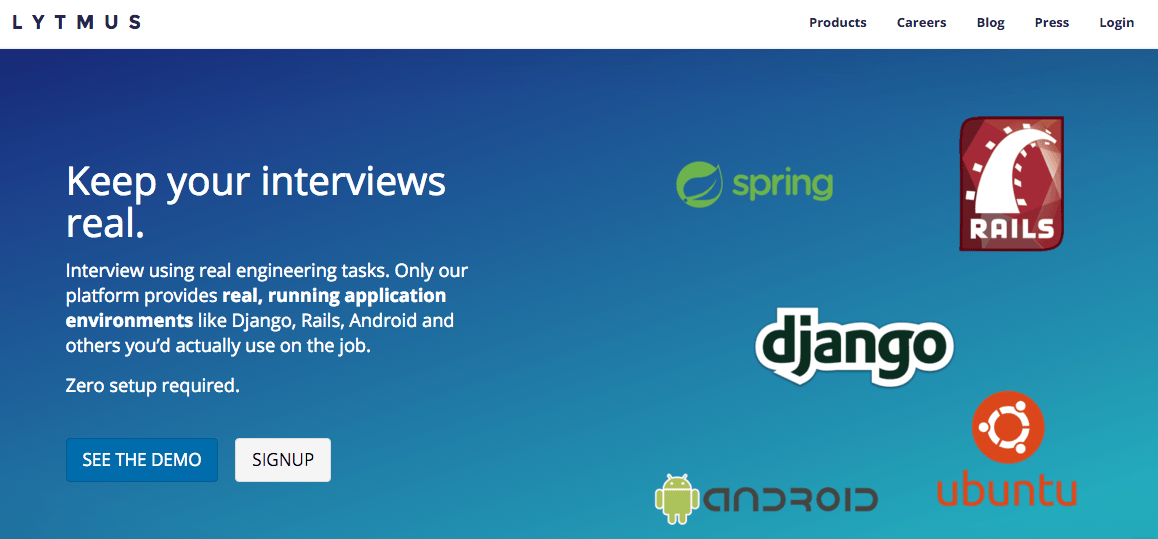 Tech recruiters take note! Lytmus is a brand new startup online service that enables recruiters to quickly sort through technical candidates to determine who among them to call for an initial phone screen, and then to assess their skills with real world engineering and coding tasks.
According to Litmus CEO, Abhay Parekh, "the main problem in hiring is that traditional interviewing processes look mostly at who people are on their resume. They don't objectively look at what candidates can do." As a result, "instead of letting coders show their talents in "real world" settings, they limit them to whiteboard type of environments and "gotcha" questioning. This, not surprisingly, disillusions the best candidates and leads to overall sub-par reviews and hiring choices."
In his opinion, the overall solution is a "major disruption in the hiring process via unique online talent platforms," which is why he and his team created Litmus – "the most accurate technology solution for identifying and engaging top performing technical job candidates."
How does it work?
Lytmus addresses each step of the hiring funnel, levels the playing field for applicants, and improves the hiring process for companies of all sizes in 4 ways:
Lytmus Pre-Screen reduces the number of unqualified phone screens and helps determine candidates' skills early in the hiring process. It goes beyond the resume to uncover the best candidates based on what they can actually do, and how they perform on realistic coding projects.
Lytmus Phone Screen allows you to pair-program with the candidate in a real development environment. With this inside view, companies get to know what it's like to work with a candidate and see how they think.
Lytmus Take Home reduces the chance of a bad on-site interview. If a hiring manager is uncertain about a candidate after a phone screen, they can send them an additional project and learn more before an on-site interview. After the submission, Lytmus' auto-graders run in the background and can check a candidate's work.
Lytmus On-Site quickly sets candidates up on a real project. See how candidates perform beyond whiteboard coding challenges. Not brittle like other offerings, Lytmus is comprehensive and flexible. Set up a Hadoop environment and ask questions in SPARK, or spin up a web environment and ask questions in Django.
Companies like Pinterest, Okta and Pocket Gems are already using the site to help the find tech talent, but will you be joining them? Tell is your opinion of Lytmus's product in the comments below.
Japan's Answer to LinkedIn Gets $33m in New Funding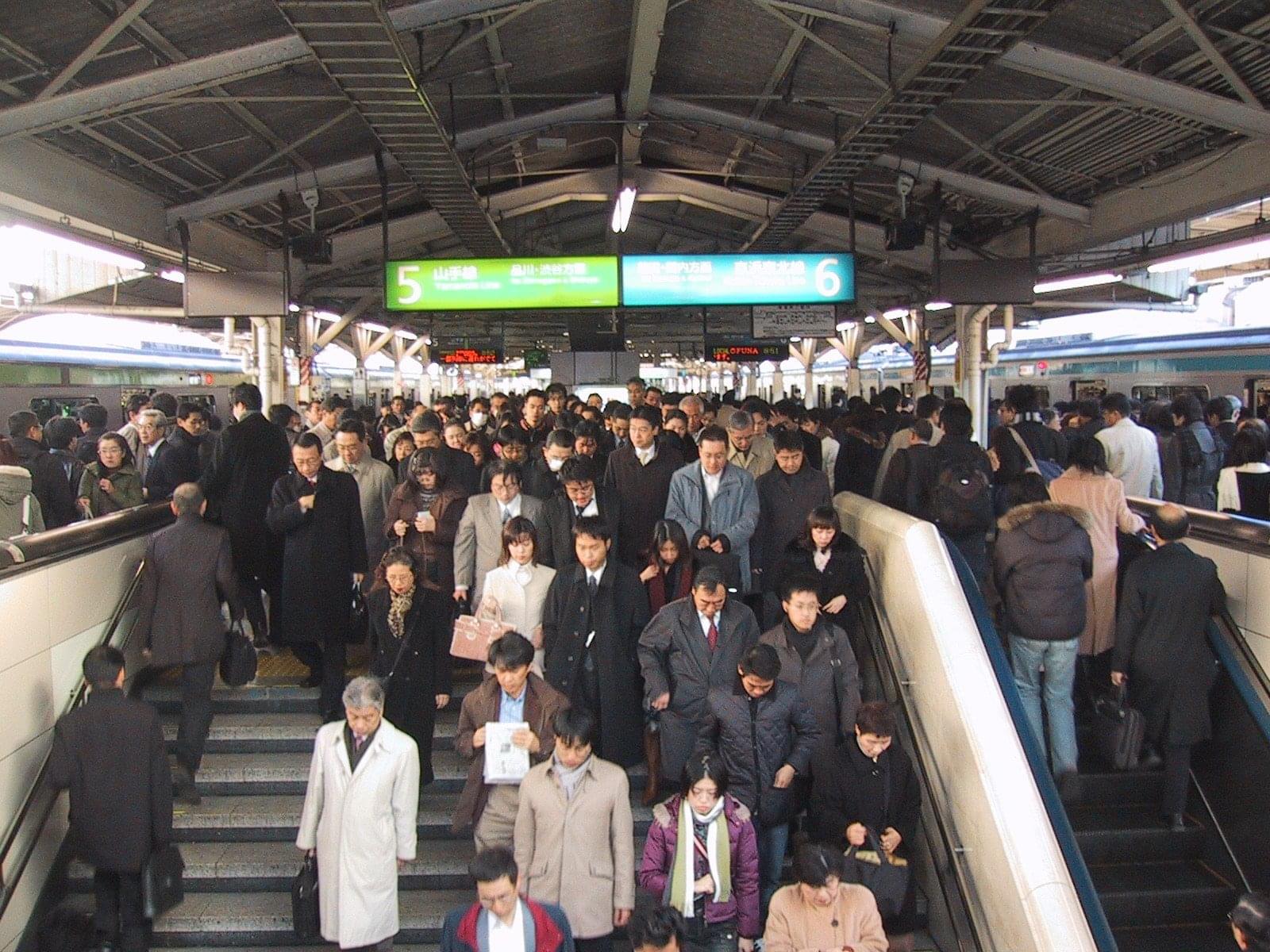 Japanese recruiting startup BizReach announced a Series A round of funding from 10 companies totalling $32.8 million on March 29, making it one of the most funded startups in Japan.
BizReach has been called the LinkedIn of Japan and has gone against the traditional recruiting business model by allowing companies to post jobs and connect with professionals in its database for free. Paid subscriptions are also available for job seekers as well as additional premium options for corporations. The site has 4 main services including:
1. The original service is for high-class recruitment and aimed at job seekers looking for salaries of over $75,000.
2. Another separate service that targets women and young professionals in their twenties.
3. Stanby, a job search engine (released by BizReach in 2015), that currently lists over 4 million jobs.
4. While job site RegionUP is aimed at professionals in Southeast Asia.
Founder and CEO, Soichiro "Swimmy" Minami, started BizReach after having difficulty finding new projects to work on through the traditional recruiting process in Japan.
Although BizReach has been profitable through recruiting advertisements since 2014, Swimmy is looking for his next challenge. He hopes to use the funds he has just raised to grow Stanby and use its ATS as the base for a new cloud recruiting system called HRMOS set to open in May 2016. Interestingly, while ATS are common in the US (e.g. Workable, Greenhouse, and Lever) and search engine-like job posting sites such as Monster.com have been around since 1999, BizReach still provides a novel service in Japan.
BizReach overall aim however, is to bring more analytical capabilities to recruitment. Swimmy hopes to eventually track employees over their lifetime. This means a company could manage applicants before hiring, keep track of back office tasks like pensions, and even track employee performance at a single location.
"Enhancing Emails" with Senders
In the past we've brought you Sidekick by Hubspot, Rapportive, Prophet and Crystal Knows – a selection of invaluable data tools that can help you use the web and your email better, faster and smarter. Today, we're introducing you to a little tool that could have big potential. Senders is a brand new (in beta) email service that aims to enhance the emails you send and receive by adding relevant and contextual information.
How does it works?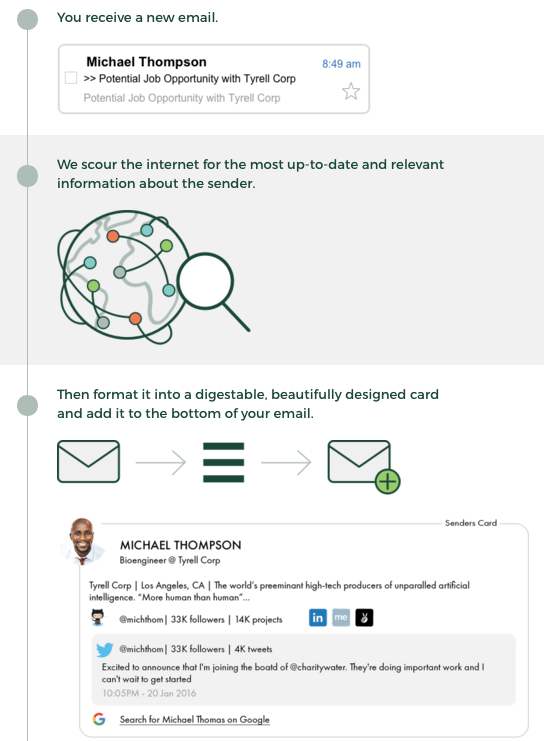 The email service creates a sort of contact card within emails, including social networks, a short bio, photo, company address and other relevant info. Thus, performing searches on the person(s) within your emails can be easier, if not rendered moot, since Senders will fetch and catalog most of the publicly available information for you — all within the email correspondence.
When TechCrunch.com writer Stefan Etienne tried it out, this is what he got:

A user can edit the information that Senders will display. By verifying your email, you can make edits to the card. For his card, Stefan added more relevant information while also making some corrections — like using his own Twitter account and not Techcrunch's.
Senders is currently in open beta and accepting sign-ups now, so potential users can see whether or not it's useful for daily emailing. Are you going to give it a spin? Let us know in the comments below.
New Site will use Data to Find Top Data Talent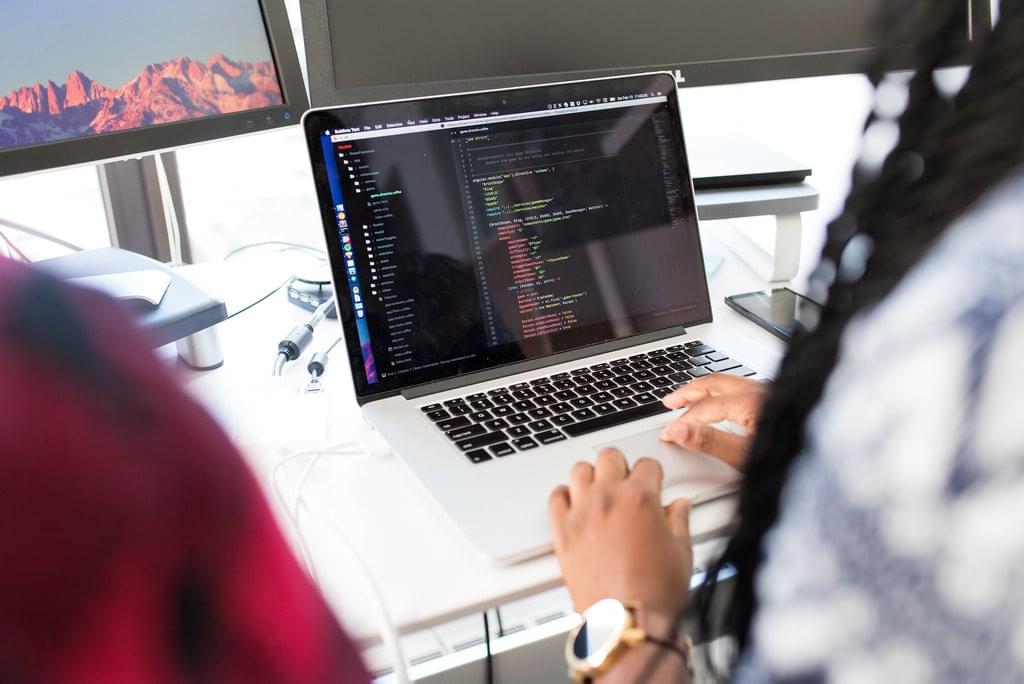 Fancy hiring more superior data scientists without the need to write lengthy job ads or spend lots of time trawling through candidate after candidate on LinkedIn? Well, that's exactly what Correlation One, a brand new job matching tool, is claiming to be able to help recruiters do.
Correlation One is a talent platform focused exclusively on data scientists, that helps employers validate, source, and hire "outstanding data scientists". The company have developed a set of holistic and practical tests that assess a range of skills including data wrangling, data exploration, data visualisation, interpretation, and clear communication of results to business stakeholders. In this way, they test the life-cycle of data science work in a setting that quickly identifies candidates who can add value and solve real business problems with data. This, according to the company's website, "helps employers save time and make the best hires".
For more information, check out the company's website.
Most Ingenious Use of Snapchat for Recruitment Yet?
While the buzz around Snapchat for recruitment continues to grow on a day by day basis, it jumped up to another level this week after Space150, a digital advertising agency, announced that they will be using the app to recruit interns for their prestigious summer placement scheme.
The process is certainly more interactive than the average candidate interview, with the hopeful interns expected to complete several challenging tasks using just their SnapChat account. Each applicant must create a Snapchat story for Space150's clients based on the 2020 theme – the list of clients in question include Sony, Nike, and Disney. SnapChat has over 100 million daily active users, which means that the competition for the 10 placements will be extremely competitive.
The emerging use of Snapchat's geofilters – a setting which records the time and location of each photo – has the ability to redesign the entire recruitment process. Recruiters can now see where their top talent lies, and has only to reach out to them to determine who the best fit for the role is.
Undergrad Candidate Raps CV to Star-struck Recruiters
Move over Drake. Step aside Lil' Wayne. There's a new kid in town and his name is… Pitambar Dayal. Ok, so it mightn't be quite as catchy as your average rapper alter ego, but Pitambar is turning heads for his rapping skills the world over.
Pitambar is a biomedical engineering student at the New Jersey Institute of Technology, USA, who decided that writing his CV down was far too mainstream. So instead, he rapped his resumé at recruiters in the hopes that one would shake his hand. Here's what happened next:
Bow Down to the Most Bizarre Job Ad of 2016
We love an alternative job ad here at Social Talent, which is why we'd like to give a special hat tip to the creator's of 2016's wackiest job ad so far – one looking to hire a "Professional Bogan".
For those of you unfamiliar with Australian slang, a "bogan" is the phrase coined to describe an unsophisticated or uncouth person, often of low socio-economic status. The UK equivalent being a "chav" and the US equivalent a "redneck".
The Perth-based role was advertised on job board Seek.com.au under the arts, media and performing arts section, and lists essential requirements as "an unbridled love of Ozzie culture", "rockstar attitude", "available to work weekends like a legend" and to be able to "provide your own flanno" (that's a flannel shirt to you and me). With a desirable skill of being able to sing "all the lyrics to Thunderstruck" the AC/DC classic.
The ad was posted by promoters The Gelo Company for Bogan Bingo nights at Rosie O'Grady's pub starting later this month, with the successful applicant doing the oh-so important job of calling the bingo.
Check out the full ad below, and if you feel like applying yourself (yeah, the hell wouldn't you?!) all you need to do is fill out this form: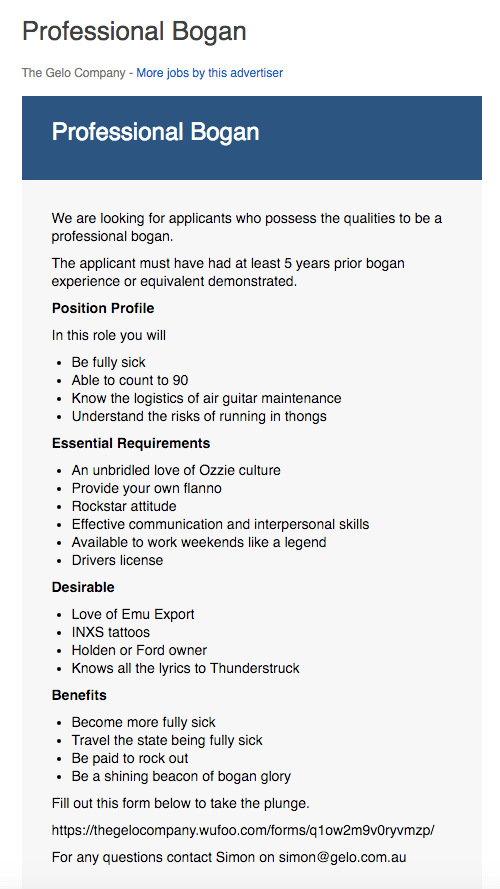 Want to keep up to date?
Join our 75,000+ subscribers who do!