9 Intriguing Social Recruiting News Stories - 6th July 2015
In the news this week:
Job Boards Still A Leading Way To Fill Vacancies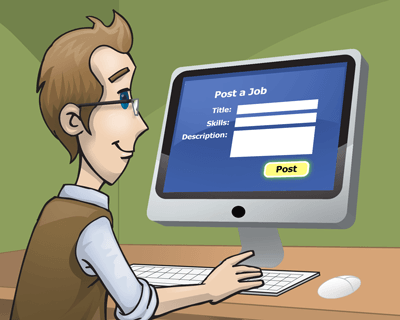 As more than one survey (including our own) has pointed out over the last few years, job boards are far from dead. And the results from the International Association of Employment Web Sites latest survey, is also showing that applying to a job posted on a commercial site is still the leading way some job seekers find work. In fact, 24.5% of the 330 job seekers and 40 recruiters who took the survey, said they had found their last job by "responding to an ad posted on a commercial job board". And some 7.3% also said they had found their last job after being "contacted by a recruiter who had seen their resume in a job board database" like Monster or Careerbuilder.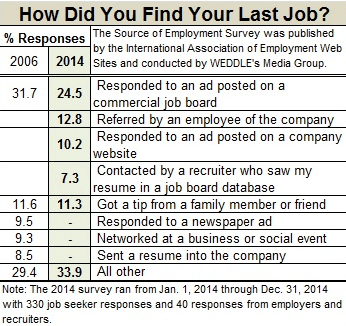 However, while the percentage of job seekers who said they had found work via job boards is still the highest compared to several other methods, the numbers have declined substantially since 2006. As the accompanying chart shows, jobseekers who found work via a job board have fallen almost 23% in 10 years. But, according to John Zappe from ERE.net, that may not so much be a sign of their declining importance, as evidence of the rise of other search tools and techniques.
For example, referrals, which didn't make it into the Top 5 in 2006, now account for almost 13% of the placements. Company websites, too, have dramatically improved in quality, becoming a destination for job seekers. Also not among the Top 5 sources in 2006, company career sites are today how 10% of the survey's responding job seekers found their last job.
While some of the results of this survey echo other surveys, including the annual Source of Hire survey compiled by the recruitment consultancy CareerXroads and another from HR software vendor Silkroad, Zappe noted however, that it would be a mistake to read too much into the results. He noted, that like most source of hire surveys, the sample size and collection methods make drawing conclusions more art than science. But what can be said of report was perfectly summed up by it's author, Peter Weddle:
"The responses strongly refute the conventional wisdom, at least as it has been espoused by some in the recruiting field, that 'job boards are dead or dying or dinosaurs."
Amen to that!
Industry Is LinkedIn For Bartenders And Chefs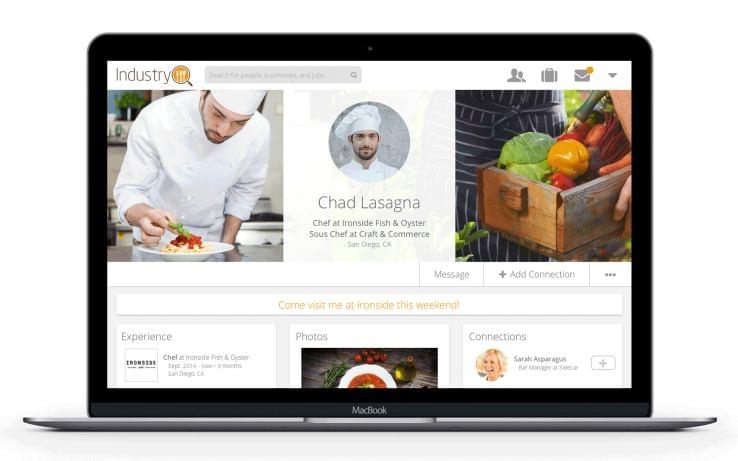 Since it's inception in 2003, LinkedIn has made it easier for many job seekers (and recruiters) to apply and search for jobs while maintaining a professional online presence. However, the formalness of the platform has meant that it just isn't suited for some non-white-collar industries, and as a result many industries, and in particular the culinary and hospitality industry are underrepresented on the site.
Well, move over LinkedIn because there's a new professional network in town that hopes to capitalise on your most overlooked sector, Industry (a recent winner of the TC Radio Pitch-Off) is a professional network exclusively for the service and hospitality industry. The website lets employees showcase videos and photos of skills specifically needed in hotels and restaurants, like bartending or cooking.
The service is free for users, while businesses pay on a subscription basis. Even if a restaurant or bar isn't currently hiring, the service makes it easy to post jobs and keep a pipeline of talent for their future needs.
Cody Barbo, founder and CEO of Industry, explained that his company helps eliminate the awkward step of walking from restaurant to restaurant handing out resumes, which is inefficient for both the potential employee and the establishment.
The company also helps steer candidates towards specific jobs that they qualify for. For example, some jobs may require a culinary degree, and Industry will only show that job to applicants who have that degree listed in their profile.
For employees new to the hospitality industry, the site has a career-building section where it will suggest specific training and certifications that would help the candidate advance their career. The company is partnering with specific culinary schools and training programs to directly refer applicants, for which it will sometimes take a small referral fee.
The site is currently in a private beta in San Diego in which it saw sign-ups from 2,500 employees and 300 businesses (including popular California spots like Il Fornaio and Tender Greens). The service also facilitated an average of one hire per day, with over 300 jobs posted. Industry is expanding its private beta throughout the West Coast this summer, and will launch nationwide this winter.
Facebook Overhauls Its Video Analytics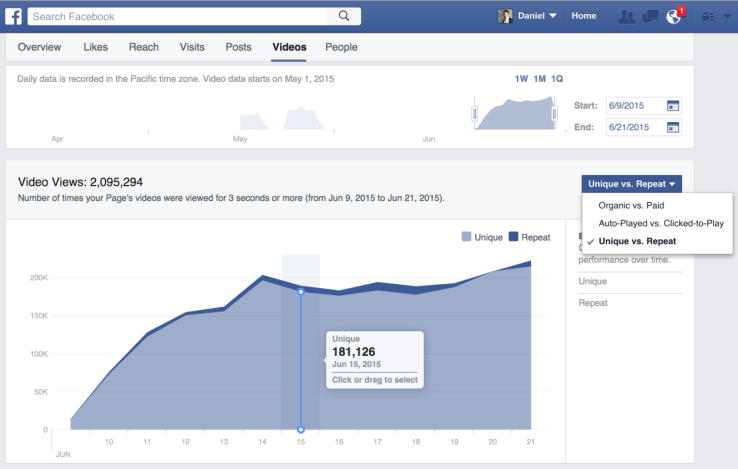 It's been said (even by us on numerous occasions) that Facebook Video is becoming bigger than YouTube, as brands upload more video directly to the social network than ever before. Now, Facebook is catering to the needs of video publishers with the launch of a new Videos tab in Page Insights, which will allow publishers to better track the performance of videos across data ranges, along with other data, in a more accessible fashion.
Before, Page admins and video publishers were able to track video metrics in Page Insights, but the data provided was only available when you chose the option to export the data from Facebook by selecting a date range and file format, like Excel. In addition, you could only see analytics on a per video basis, but now you're able to track views at the Page level based on any custom date range.
Now finally, Page owners will now be able to see views, reach, and other video metrics for the videos they've shared from other Pages. Using the dedicated Videos tab, Page owners will be able to track:
views and 30-second views at a Page level
top videos within a certain date range
metrics for videos shared from other Pages
In addition, Page owners will be able to toggle between breakdowns, like Organic vs. Paid, Auto-Played vs. Clicked-to-Play and Unique vs. Repeat, in order to better understand their own audience's viewing behaviour. They can also drill down into a specific time period to see the views from just those dates, in order to understand views day-over-day. And when viewing these benchmarks, Page owners can compare it to their average performance over time.
Meanwhile, the "Top Videos" section shows which videos on the Page are the best-performing based on reach, views or average completion rates during a given date range. This sort of data helps video publishers better understand what sort of content works best with their audience. They can also click into videos to see individual metrics around engagement, audience retention and more.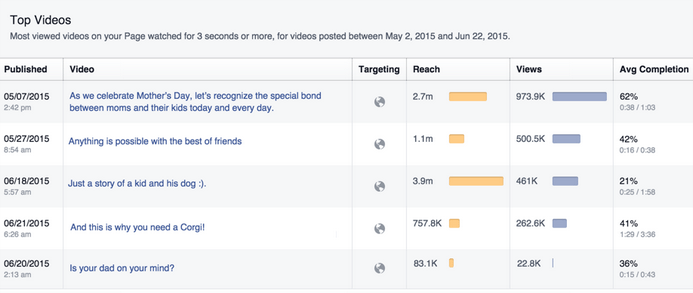 The changes come at a time when a number of social media managers and Page owners (myself and my colleague George included) have been frustrated with Facebook's video metrics, which have been inaccurate. So for those of us tasked with tracking Facebook metrics like video views, the announcement that the section now has its own tab and an upgraded feature set is good news!
A recent study of 80,000 Facebook video posts across 20,000 Facebook pages showed that the gap between Facebook video posts and YouTube shares grew significantly in December when brands then posted 20,000 more video to Facebook than to YouTube that month. In addition, Facebook video grew from 3 billion daily views in January to 4 billion by April, reports have shown.
In addition, another report by market research firm Ampere Analysis also recently stated that Facebook will deliver two-thirds as many video views in 2015 as YouTube – or two trillion compared to YouTube's three trillion. Meanwhile, both services have similar monthly active user numbers – 1.4 billion for Facebook, and 1.3 billion for YouTube.
Gmail Gets Hundreds of New Themes and Emoji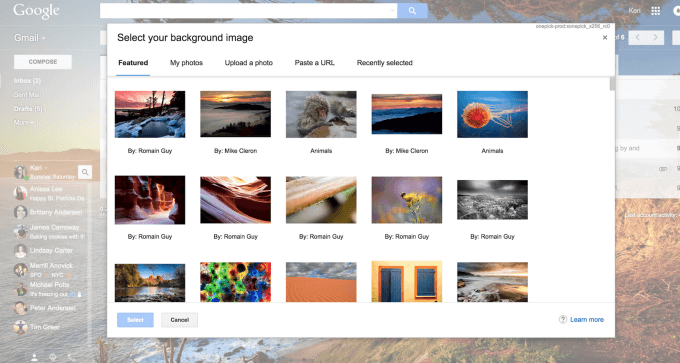 Google announced a couple of additions to its web-based Gmail service last Thursday, aimed at making the product more fun for it's 900 million users to use, as well as more personal: it has expanded its theme catalog, which allows you to customise the look-and-feel of Gmail, by adding hundreds of new themes to the service, and it has rolled out new emoji.
Although Themes have been a part of the Gmail experience since 2008, they've been buried in the Settings tab and gone un-updated for a number of years now. That's why this expansion of the themes section is notable.
Where before, the catalog only featured a couple dozen themes – including those that were solid colours only – the new catalog will increase Gmail's selection by hundreds, including more high-res options. Some of these will even include photographs taken by Google staff (nice nod to employer branding there!).
Users will also be able to upload their own themes, as well as use built-in Instagram-style editing tools like blur, vignette and text background to customise them further.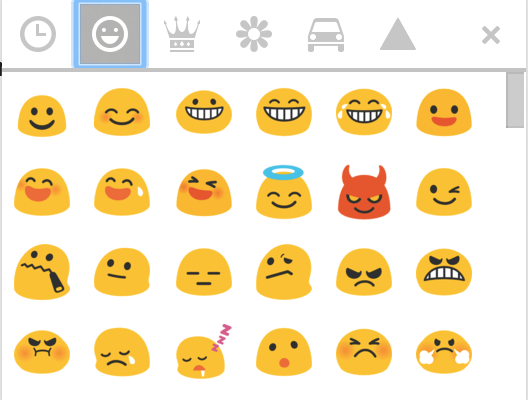 In addition, Gmail is also adding better emoji to its web-based email, which includes a set of smiley faces, as well as other categories, like food, nature, holidays and more. The new emoji will now resemble those used on mobile texting apps, or, as it turns out, Google's own Hangouts app.
Does Facebook Look a Little Different to You?
It should do, because its video analytics was not all Facebook overhauled last week! The site has quietly began updating its logo across its various properties last week, but the tweaks are so minor that many users (you might be included) likely did't even notice.
The new logo still combines the classic Facebook blue background with white lowercase lettering. The difference? Now the font is a little thinner and the "a" got a face lift: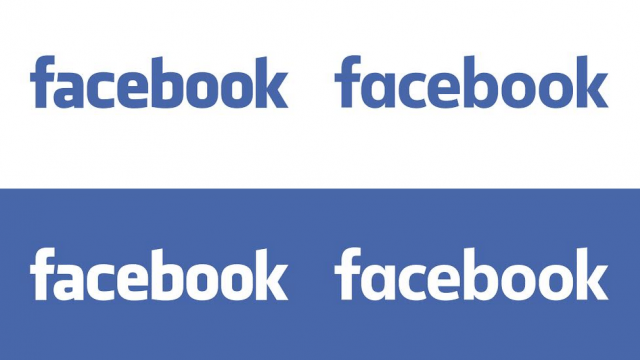 "Now that we are established, we set out to modernise the logo to make it feel more friendly and approachable," Josh Higgins, Facebook's creative director, said in a statement provided to Mashable.com. "While we explored many directions, ultimately we decided that we only needed an update, and not a full redesign."
The original iconic Facebook logo was designed in 2005, one year after the social network launched at Harvard and began its rapid takeover of college campuses and eventually the world.
Still can't quite spot the difference? This might help:
New Logo for Facebook done In-house with Eric Olson. http://t.co/7s36a5ulR8 pic.twitter.com/ykoOOwd8co

— Sven Grothe (@svengrothe) July 1, 2015
Twitter Pushes Ads with a New Button Atop Mobile Users' Profiles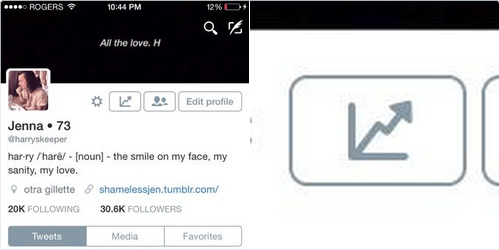 A new "Twitter Ads" button, which is now prominently appearing on some user profile pages on both the iOS and Android client applications. The feature, which is currently being tested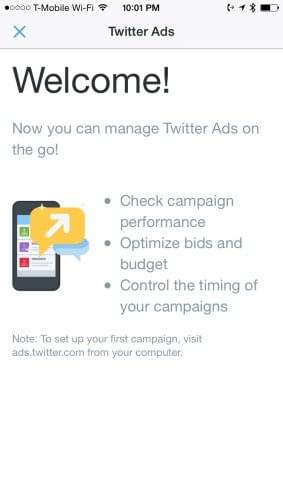 in beta, does nothing more than let you know that this button serves as a place where you can manage an ad campaign, so if you're not already running a campaign it is pretty useless. And it doesn't go so far as to allow users to actually get started building their first campaign from the app itself. But for those of you who regular run promoted campaigns for your job ads, this button will be a welcome sight.
It's also speculated that because Twitter have decides to dedicate this large a portion of its user interface to Twitter Ads, it will probably start allowing users to craft Twitter ad campaigns from the mobile app directly, in time. So, watch this space ad lovers.
LinkedIn Reveals Recruitment Agency as a Top Influential UK Brand

Hays (former Black Belt graduates) have been named as the second most influential brand on LinkedIn in the UK, behind EY and followed by BP, Financial Times and McKinsey & Company respectively.
The score measures the influence that brands have on LinkedIn through their content marketing (which goes to show just how important content is to recruiters in 2015) and level of engagement from their followers.
Hays is also the world's most followed recruitment agency on LinkedIn (1 million+) and ranks 17th in the list of the most followed companies worldwide. UK followers represent over 118,000 of the total one million followers internationally. That makes Hays the 6th most followed company in the UK and the most followed within its industry.
After reaching the one million followers mark, Alistair Cox, CEO of Hays said:
"Our role is to help match the right skills with the right career opportunity. For Hays to be the seventeenth most followed company in the world, and by far the most followed recruiter, shows that our strategy is working, because when people think about their career, they're thinking of Hays."
Time to start paying close attention to Hays' recruiting/content marketing strategies methinks! And brush up on your content marketing! Check out our "Recruiters Guide to: Creating a Kick-Ass Content Strategy" for more information on how to do that.
"To Infinity and Beyond!"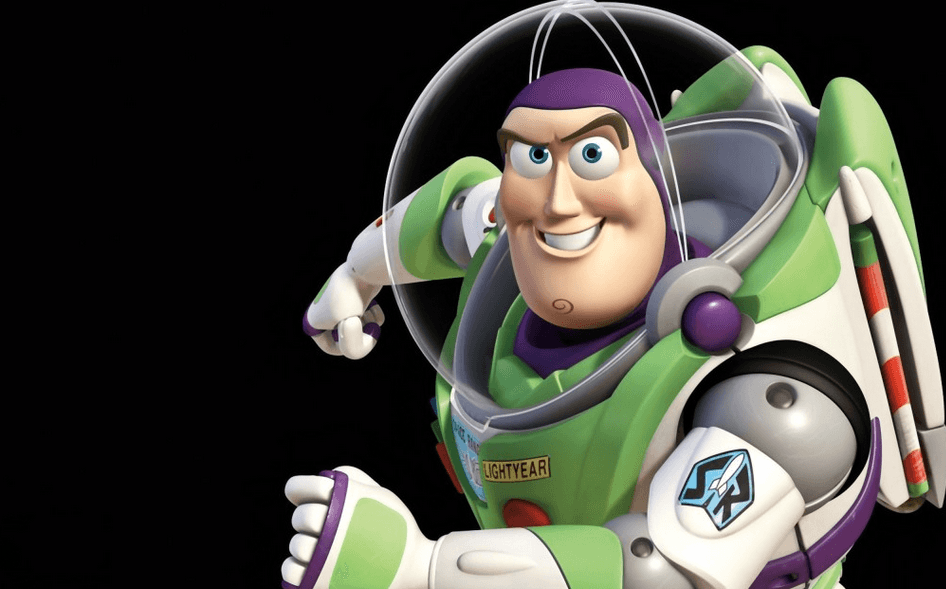 For those of you with astronomical ambitions, a new kind of recruitment website (excuse the pun) has just been launched.
Paul Koronka, a Space Engineer and the Founder of SpaceJobMarket.com says that, with a healthy satellite industry and new space exploration plans, there are more vacancies in the interstellar sector than ever – people just need to know where to find them.
Koronka says:
"70% of jobs in our industry are hidden from most eyes. Space has inadvertently evolved a closed shop that locks out newcomers and makes it difficult even for established people to advance our careers. And yet employers are crying out for new talent, skilled graduates and experienced professionals. Not only in the traditional engineering fields but across many departments, from business and financial administration to the major new growth area of space law."
But while SpaceJobMarket.com isn't the first site to list space-related jobs, the primary function of the site is to provide communities where jobseekers and employers can network. And where 'who you are' is just as important as what degree you may have or what past jobs you can list.
Employers in such a highly-skilled and demanding industry need to look beyond the simple resumé when considering recruits, according to Koronka. "Employers want to know about the whole person – the skills, aptitudes and interests that may not be in an initial job spec but are the attributes that help someone to stand out, and that will be an added bonus to an employer. Not just the things someone's good at but the things they enjoy. It's the sort of information that comes across when we all get to know each other through being members of a community, and it's the sort of information that becomes apparent in the communities of SpaceJobMarket.com."
Those on a mission to find a job in space can build sophisticated personal profiles. Helping them in their networking and enabling employers to see the rounded person. Companies can also build profiles and interact with the community to find the best, most relevant talent available.
Koronka says:
"This is a very exciting time to be in space. There is a lot of investment going into the industry, the workforce across Europe is very fluid and there are so many new opportunities."
Heatwave Workers Offer Laughable 'Sickie' Excuses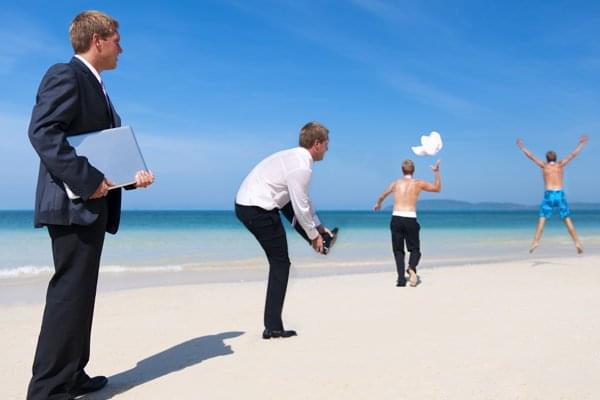 If you live in the UK or Ireland, you've undoubtably been enjoying the rather glorious heatwave that seems to have made our shores its home over the last week or so. But with temperatures soaring to a sweltering 35 degrees in some places last week, absences from work are soaring up too. 25% up!
And according to ELAS, the employment law expert, hot and bothered workers are coming up with all sorts of weird and wonderful excuses to avoid the office and enjoy the sunshine. Here are the Top 8:
A worker who called in to say he had got the wrong train
A worker who called in saying he was hungover
One worker claimed she was suffering from 'woman's trouble'
Another worker said that their gran had died, before the employer bumped into said relative
One worker called to say he had come down with food poisoning following a barbecue
One worker said they were suffering from 'too much sun'
One worker called in ill only to be on the same plane as the HR director when going on holiday later that day
Several workers blamed hay fever for their absences from work
Want to keep up to date?
Join our 75,000+ subscribers who do!