Global Recruiting Survey: 5 Key Takeaways To Prepare you for 2018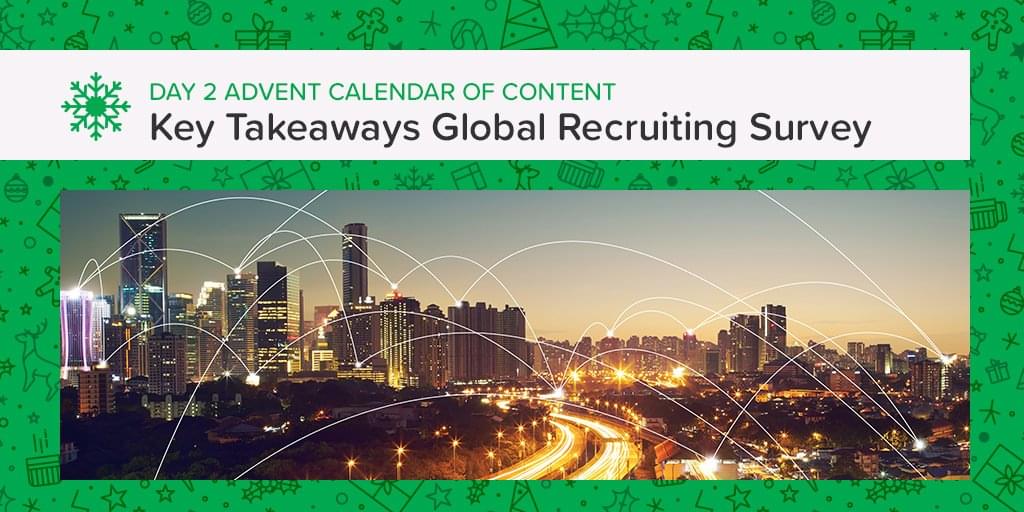 If you're new to the SocialTalent Global Recruiting Survey let's start from the beginning.
Every year we spread our survey far and wide to reach as many recruiters from all over the world as possible. We ask them a range of questions from the super basic- how many hours a week do you work? to the intricate details about their personal recruiting funnels- what percentage of candidates from your sourcing efforts would you reach out to?
Then we take all of the answers and pour over them back in the office. We break the results up as many ways we can. By region, by number of years spent recruiting, favourite sourcing channels etc. We do all of this because we want to know what makes recruiters tick and more importantly, we want to know what the excellent recruiters do to get the good results.
If you missed the survey this year don't worry. We have summarised our 5 key takeaways from our results this year.
The Basics:
Recruiters surveyed: 2002
Total countries: 81
Agency, In-house and third-party providers
1. Super Recruiters use all the resources available to them
Super Recruiters- those that x- don't have any particular superpower. Does that make it better or worse!? It turns out they're just more resourceful. Super successful recruiters don't the most expensive LinkedIn accounts, they don't work crazy hours and they don't focus all their attention on one or two vacancies. Nor do they flood their day with mountains of requisitions. They're just really good at making things work for them.
Whilst every recruiter loves LikedIn InMail, Super recruiters are much more likely to also use other sources like email and the phone. A multi-channel approach appears to drive better response rates and a leaner funnel all round. These top performers also create a message that really connects with a candidate resulting in a 90% response rate. The key to great engagement seems to be a multi-channel sourcing and then multi-channel engagement strategy!
2. The robots are coming but the humans are here to stay
Don't worry, this isn't a post dedicated to the arrival of the robots. BUT automation is creeping into the routine of an average recruiter. As we leave the mundane tasks to the bots it's more important than ever that recruiters do what they do best- connect with people! Super recruiters show they have a response rate of +81%. This means they have a skill writing great messages. How? They connect to the person on the other side and send an engaging message that captures their attention.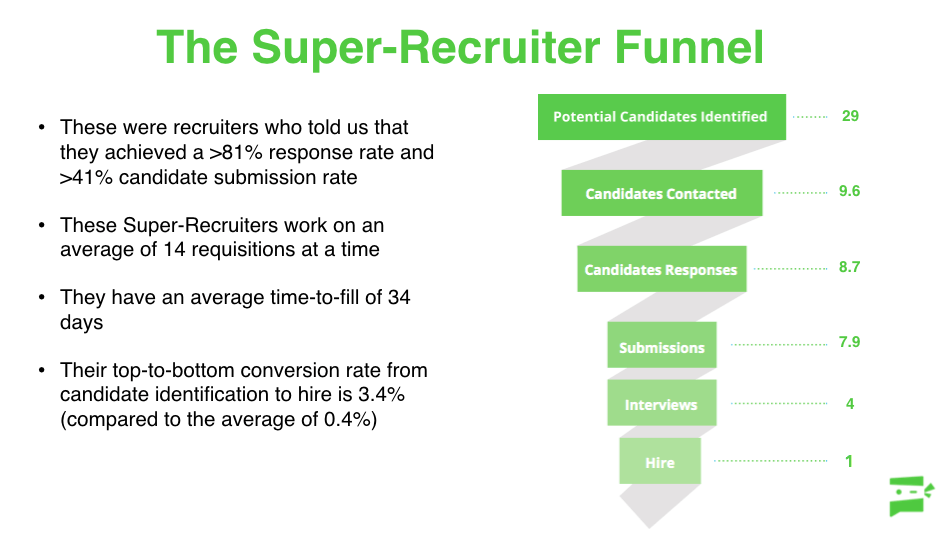 3. Online learning holds the key to personal development
We have been producing the SocialTalent Global Recruiting Survey since 2014 so we have been able to track the different trends in recruiter's behaviour. Recruiting is still not taught as a profession in college, so where do recruiters learn their trade?
77% of recruiters invest in online learning platforms as well as social media to keep themselves on top of their game.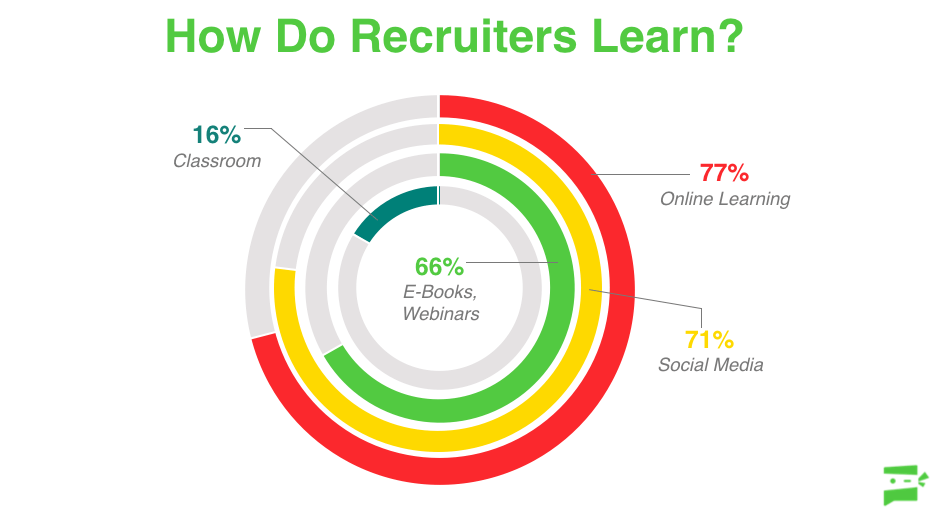 4. Messaging candidates anywhere and everywhere
Messaging apps are on the rise with recruiters. 71% have reported an increased use of various messaging apps to communicate with candidates. Use of Skype, Whatsapp and iMessage has increased massively since 2015 when a mere 38% of survey responders said they used messaging apps. What will we see over the next few years when it comes to engaging with candidates?
5. The rise and fall of social media
Many companies have prohibited social media within the workplace to discourage distraction. For recruiters and HR professionals, there is a balance between savvy sourcing and pointless procrastination.
Three years ago, 31% of companies restricted recruitment professionals from using social media within the workplace. Only 13% of recruiters encountered social media restrictions in 2016, although that figure has risen to 19% in 2017. The rise in restrictions might be down to security breaches on social media, including the increase in scams and fraudulent behaviour- where is the happy medium? Here's hoping 2018 can bring clearer boundaries so social media can continue to play a part in our sourcing efforts
*Download the full Global Recruiting Survey 2017 report here*
Don't miss the next stocking filler from our amazing Content Advent Calendar! Sign up now and get content treats straight to your inbox! Share the Christmas cheer by recommending it to a friend!

Get involved!
Receive a tailored curation of the latest industry insights. Sign up for our Christmas Advent Calendar!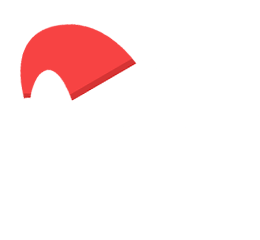 Want to keep up to date?
Join our 75,000+ subscribers who do!