Keep up with the latest hiring trends!
/
/

Are Agency Recruiters Lazy?
Are Agency Recruiters Lazy?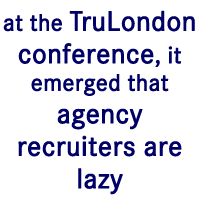 A number of themes emerged from the truLondon unconference in the UK last week, but the one that stuck out the most in my mind was that agency recruiters are lazy.Of the 190 attendees, the majority were in-house HR/ Recruitment professionals and vendors, including digital marketing guys and ATS providers. In one particular track led by Matt Jeffery, head of EMEA Talent Acquisition at Autodesk and someone whom I personally really respect, there was a full-on attack by a vocal group of attendees against the agency sector, accusing them of ripping off clients, providing poor service levels and being the most expensive yet lowest quality source of hire to businesses. In another track on "the candidate experience", which I only read through the tweets, recruitment agencies were being vilified for their poor treatment of job applicants.
I am an agency recruiter, I spent 13 years working in agencies until late last year when I took on my current role in Social Talent and I don't see the world through rose tinted glasses. There are many unscrupulous agency recruiters out there and there seems to be more negative things said about agency recruiters in the UK than most other markets. In Ireland, I worked alongside agency recruiters who didn't know their arse from their elbow but still managed to make their targets every month. But does that mean that we are all the same? Certainly not.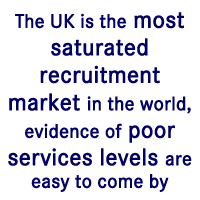 The UK is arguably the most saturated recruitment market in the world, therefore we should expect to see disproportionate extremes when compared to other markets. Pre-recesssion Ireland was similarly saturated with agency recruiters, so anecdotal evidence of poor service levels were always easy to come by. The London market is the most competitive recruitment market in the world, and whilst most recruiters in the UK and Ireland are seeing a reversal of fortunes in 2011, I know a lot of London agencies who are struggling under the weight of competition.
On Thursday night I ended up sitting beside Jason Lauritsen of Talent Anarchy over a few (much needed) bottles of beer. I had mentioned agency fees at some point and so Jason, who has worked as both an in-house recruiter and an agency recruiter in the US, inquired as to what the going rates are in the UK and Ireland. I explained that most contingency fees range from 10% to 20%, typically in the mid to late teens for professional sectors with of course many exceptions where higher fees are being commanded by some of the big names and quality boutiques. He was stunned by the lower end fees in particular as I explained that PSL's (preferred supplier lists) have been driving down fees for years, particularly post 2008 as our industry dropped its knickers to find clients. I recently trained the in-house EMEA recruitment team of a Fortune 100 company who told me that they pay agencies the same fee as they pay internal referrals; '¬800 per placement. Crazy stuff.
Jason, like most US recruiters I suspect, comes from a market where 25-40% is the norm. He offered the opinion that the recession that we are all still struggling to emerge from hasn't really effected that rate; most US recruiters have stuck to their guns and whilst their volumes may have fallen, their rates have not.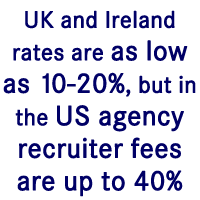 So this massive differential between UK-Ireland fees and US fees got me thinking. Between 2006 and 2010 I recruited almost exclusively in international markets, i.e. not the UK or Ireland. I sourced all of my contacts online and through referrals and found that the people I spoke to were overwhelmingly happy to make contact with a recruiter and I forged many relationships. I'm not saying that this wasn't the case in the UK and Ireland, it's just that I found with UK & Irish candidates the initial contact was often quite tense and sometimes confrontational.
I am used to having to differentiate myself to Irish and British candidates to convince them that I'm not like "other recruiters". Personally I have always thought that most other good recruiters are like me but I recognised that the candidate market in the UK and Ireland was often quite negative about agency recruiters. In stark contrast, if I headhunt people in Miami, FL. they are so positive and cheery in our initial correspondence and dialogue and appear to go out of their way to help me and ensure that we keep in touch. I have often lamented on the reasons for this but never more so then when Jason asked me about the fee differential.
Here's my theory: In the UK and Ireland, agency recruiters under-value themselves. We are the source of last resort for many companies these days. Clients want to recruit directly and call us when they get stuck or think that the task is going to be too hard.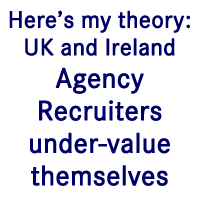 However, the point at which they decide to use an agency recruiter may come very early in the process as the cost of hiring someone is relatively low (12% of a '¬30k salary for a multilingual customer service team leader is pittance). The agency recruiters have similar targets to their global peers, yet they have to fill twice as many vacancies for the same return. All recruiters work hard. Some are more effective than others, but if you take "big billers", they share very similar traits and are all passionately committed to their jobs. If you want to bill '¬400k a year and your average fee is 15% of '¬50k, then you're going to have to place one person per week. Your US peer only has to place two per month. It is almost impossible to work twice the hours and so something has to give, which unfortunately leads to erosion in quality. At the end of the day, the client pays the bill – not the candidate – so we often sacrifice candidate service at the expense of trying to deliver for our clients. We all know that without the candidates we don't have a service to charge the clients for, but under pressure we have all chosen to cut corners and not reply to some applicants. If you haven't, tell me how you have managed to survive?
Bottom line though is that our clients aren't happy. The corporate recruiters at truLondon last week voiced their dissatisfaction and they pay our bills. Agency recruiters need to fix things, but where do we start?
I think we need to look at our fees and stop trying to provide a premium service at budget prices. There is room for two different models: one that is low cost, high volume and you get what you pay for (aka the Dell model); the other is a premium service that is focused on niches and particularly demanding hiring assignments (aka the Apple model). If you are a professional recruiter you shouldn't work on an assignment that pays less than 25%. That being said, if you take on such work you need to be able to deliver, and your client has the right to demand a near-perfect short list first time and exceptional customer service throughout the process. You need to be at the cutting edge of your industry and helping to steer your client's employer brand proposition and candidate experience. You need to have the capabilities of the world's best sourcers, the innovation of the techie elite and the relationship skills of…well..the world's best recruiters.
This will mean that some of the work you currently transact will not be sustainable as it's just not viable for your client to pay such high fees for certain hires. You will work less roles for less clients but do a better job. You will be the Jerry effing Maguire of the recruitment world!
But that's only one half of the story. Corporate recruiters, you need to change too. Jason's insight last week leads me to believe that most corporate recruiters in the US are just better than their UK counterparts (I'm talking on average here, I know there are some exceptional in-house people in the UK and Ireland but you're not the norm, you are by definition the exception). In Europe we tend to look to the US for innovation and take their lead in how we use social media and technology in the recruitment mix. I would argue that this is because US recruiters, particularly in-house recruiters, are more creative, more technology savvy and really treat their industry as a proper profession. Most of the best case studies on employer branding and the use of technology in the recruiting mix come from the US. When I was in Boston in July all of the recruiters were using LinkedIn's Professional Corporate Recruiter product and talking about how to improve and grow their talent communities, not arguing over what a talent community looks like and whether Facebook should be used in the recruitment mix.  They've been doing it for years and now they're looking to do it better.  None of them complained about agencies, they see the recruitment agent as playing an integral role in their talent acquisition strategy and they don't complain about the fees that they pay to these partners.  If corporate recruiters in the UK & Ireland had to pay a minimum fee of 25-40% then they would likely think twice before engaging an agency; I suspect that they would force themselves to be more innovative and push back on the business to better support them in this.  I reckon the US guys have been acting this way for years!
You may choose to disagree with me on lots of these ideas and claims but the bottom line for me is that candidates respect recruitment consultants in the US, they don't tend to respect us in the UK & Ireland.  Fees aren't the only thing we need to fix but I think that asking for a higher price forces you to fix your other problems.  Recruitment is very Darwinian, only the strongest survive.  Ask yourself this; are you worth 30%?  I know that I am.
By the way, I haven't even mentioned the rest of Europe; many of our European neighbours are charging 40% for contingency work!  Let's stop fighting for scraps and instead start working smarter for what we are truly worth.
Find out how the likes of IBM, IKEA and Siemens
drive hiring excellence with SocialTalent
---