Keep up with the latest hiring trends!
/
/

Become The Most Popular Recruiter on LinkedIn
Become The Most Popular Recruiter on LinkedIn

Welcome to SocialTalent's Live & Learn series!
Each week we gift you with a little bit of info that will help smoothen your recruitment process and expand your knowledge of your industry. We've taken episodes from our recruitment training platform and delivered them in one short and simple blog piece.
With this Live & Learn series we promise we kept it:
Short
Simple
Ready to use!
Sound good to you? Let's begin!
How to Build and Nurture a Following on LinkedIn
LinkedIn is a recruiter's bread and butter. Unfortunately with a reported 467 million profiles it can be hard to stand out. Dave Hazelhurst is a marketing expert who can walk you through the best way to stand out from the crowd.


Key Takeaways
1.  Make sure you can be easily found on LinkedIn. Personalise your URL and start building your personal brand
2.  Join a group. LinkedIn members who participate in groups have more profile views than those who don't
3.  We all know that sharing is caring. By actively sharing in these groups and encouraging people in your company to spread your content far and wide you'll gradually build up your LinkedIn presence.
---
SocialTalent we have created the best recruitment training for our Recruiter Academy. Packed with insights from Recruitment experts to develop your skills as a recruiter, whether you work for an agency or have a role as a corporate recruiter as part of a team of flying solo- we have the training for you! If you're looking for LinkedIn groups that are perfect for recruiters then make sure you check these!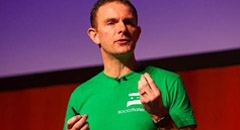 SocialTalent Recruiter Academy
A full library of videos that can help your team transform their hiring process
Find out how the likes of IBM, IKEA and Siemens
drive hiring excellence with SocialTalent
---