Blogging for Recruiters: 8 Practical Tips To Get You Started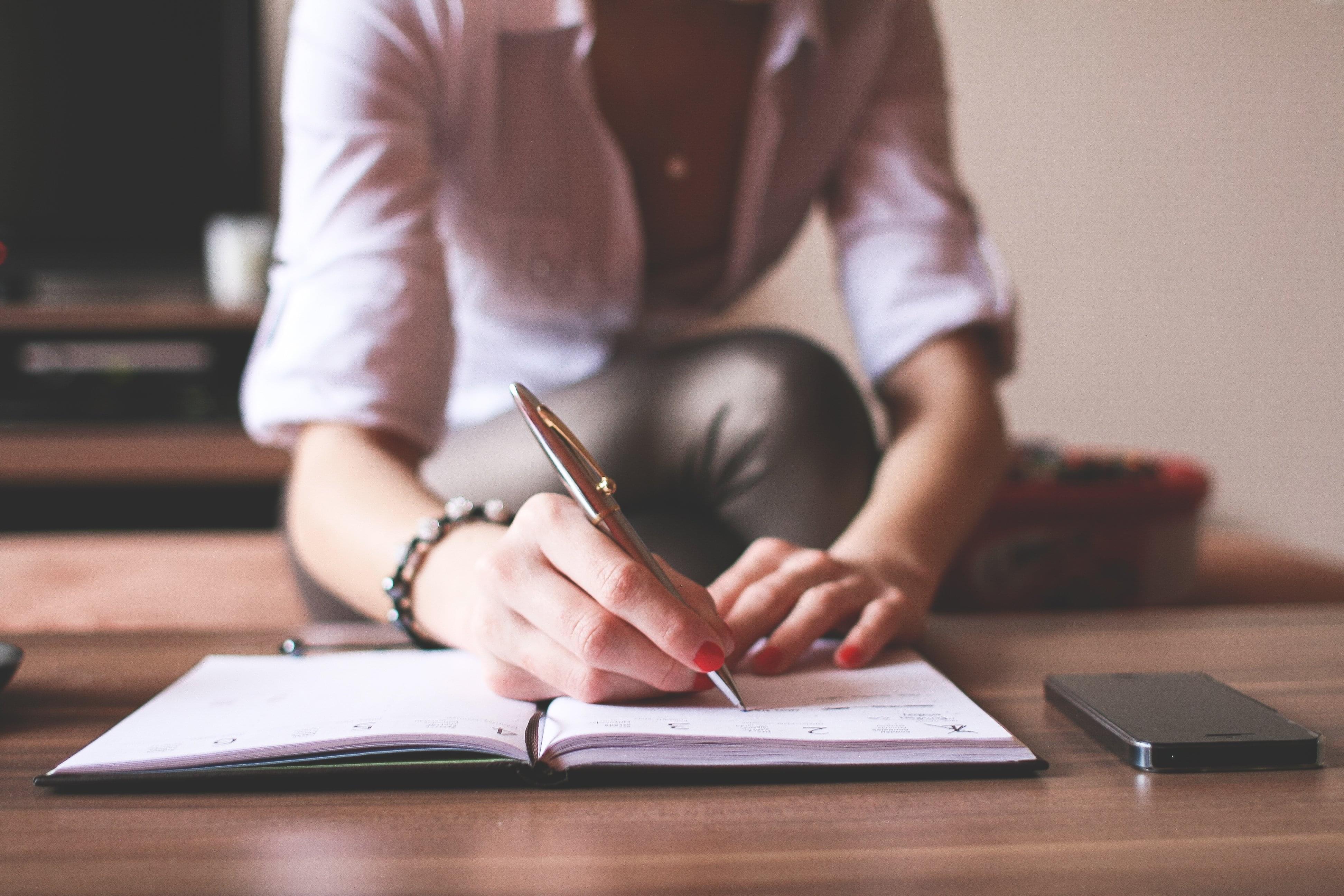 Content should be the lifeblood of your recruitment marketing strategy. It is largely accepted that content is the fundamental tool for recruitment marketing as without content, there is nothing to promote. One of the easiest methods to generate content for your recruitment marketing strategy is blogging. "Blogging" we hear you say, "isn't that for the marketing department?" Well yes, it is but you can also get in on the fun and start generating awareness for your employer brand, showcasing your current talent and solidifying your position as a thought leader in the industry.
There are many benefits to creating a recruitment blog, including attracting new visitors and helping convert those visitors into applicants. Think about it – if you write quality blogs which depict how great it is to work for your company, interested readers will more likely hold you in higher regard and will have you top-of-mind when the time comes when they want to apply for a role. The goal of any blog is to get it read and (hopefully subscribed to as well!) so we have decided to give you 8 quick tips on how to start building a successful recruitment blog!
Tip #1: Define the Goal Of Your Recruitment Blog
What are the core motivators for developing your recruitment blog? Answering this question will not only help you define your recruitment blogging goals but also give you the impetus to develop an overall strategy to achieve these goals. Are you looking to use your blog as an employer brand awareness tool? Are you looking to attract top talent and increase applications for vacant opportunities? Is your goal to be a thought leader in the industry by sharing your expertise? It depends on the industry you are working in but ideally you should want to achieve all of these goals.
Tip #2: Define the Audience You Want to Target
Who do you want to talk to? What are the different types of content they are most likely to consume? Are they going to be more receptive to thought leadership pieces, employee spotlight videos or company news items? These are the questions you need to answer if you want to deliver content more strategically. A good template for defining your audience is to create candidate personas which are idealistic versions of the candidates you want to attract and ultimately apply to your company.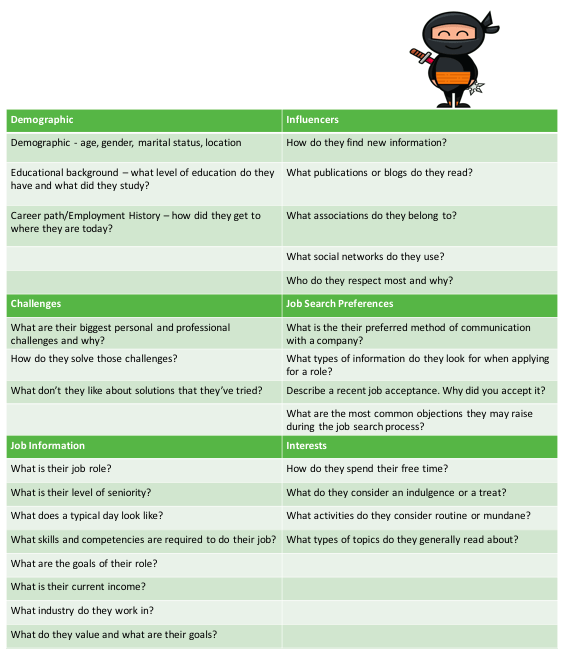 Tip #3: Figure Out Your Tone of Voice
Frankly, not an easy thing to nail down quickly so don't rush this. You will discover your tone of voice as you start blogging regularly but it's important to have some idea of how you want to approach and interact with your audiences from the beginning. Your tone of voice is an expression of people behind your employer brand and can help you build trust with your audience.
Although your candidate personas should dictate your tone of voice, a general guideline would be to steer clear of thesis-like language and instead focus on striking a balance between casual and professional, as this tends to work best. As you start blogging regularly and getting to know your audience more, you can make more informed decisions on your tone e.g. should our voice be more community-driven, more direct, more empowering, more tongue-in-cheek?
Tip #4: Content Creation Tips
We already mentioned that candidate personas will dictate the type of content you are going to write but you can take this a step further and actively research for trending topics and points of interest. When doing this, it is important to think about 'The Magnificent 7' which are certain themes and types of content that typically get shared the most. See below these pain points along with development actions you can take to discover content ideas for each theme: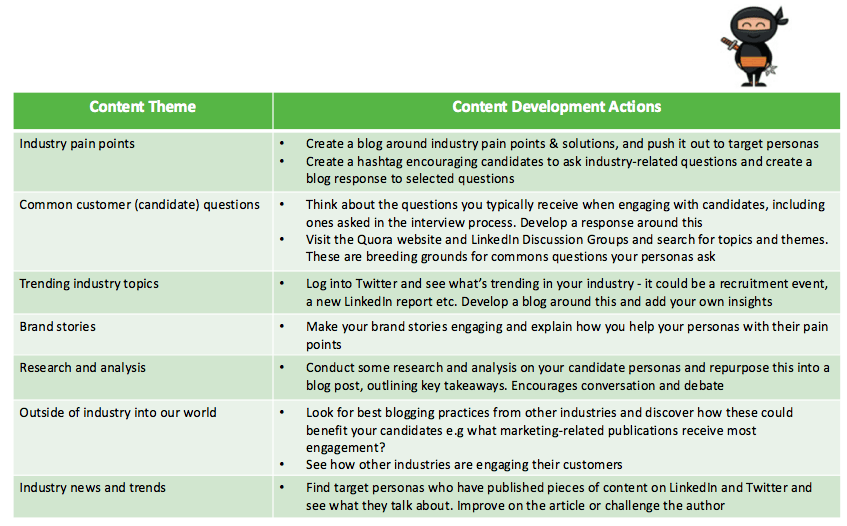 Tip #5: What is the Content Strategy For Your Blog?
It's time to get strategic. You need a clear and focused content strategy to produce optimal results for your blog. Some things to consider that will help you define your content strategy are:
What is the purpose of each blog article?
What is the workflow from blog creation to publication?
What will the ratio be for original blogs:curated content?
What content formats do we think will work best for the blog (i.e. text, photos, images, links, video etc.)?
How often should we post on each channel?
How will we measure effectiveness?
Tip #6: Formatting and Optimising
It's time to start writing! Again, you need to be smart about this and put yourself in the shoes of the reader. You need to break up your content as much as possible. What we mean by this is you need to avoid writing long chunks of text as this will discourage the reader to continue reading. Use headings, images, bullet points and numbered lists so it's not overwhelming to read. Call-to-actions are also critical. You want your readers to stay on your website as long as possible so make sure to add relevant call-to-actions e.g. a link to your Meet the Team page or to a job ad on your careers website.
The next thing you need to do is optimise your blog for search engines. Search Engine Optimisation (SEO) is the process of improving the visibility of a website or a web page in search engines and this includes your recruitment blog. This means SEO plays a huge role as a critical link between your company and potential candidates so ensure you place keywords in your blog title, blog URL and throughout the copy in your blog.
Tip #7: Blog Distribution
Content is king but distribution is queen and she wears the pants! Seriously, you could write the best blog article in the world but this becomes a total waste if you don't promote it properly. You will have defined the channels you use to promote your blog post in your content strategy in point 5. Three simple ways to promote your blog posts are:
Your website: Make sure your blog is on the navigation bar on the home page of your website. Have popular/recent blog posts on the side bar of all of your articles
Social: Each network was created to deliver a different type of social experience for audiences so it's important to get your messaging right
Email: Include the most popular blog posts in your monthly newsletter if you have one
Tip #8: Analyse Performance
As with any marketing or recruitment initiative, you need to measure the impact of your activities. Without defining what your return is, you have nothing to measure success or failure against so this should be made clear and absolutely aligned with business objectives from the beginning. You should consider tracking the following:
Measure the number of views and shares your blog post has got. This will help you what types of content perform best
Another way of doing this is filtering your data by author, topic or channel in order to see what you should continue to write about
Measure how many clicks your call-to-actions are getting on each blog post. Are people subscribing to your blog/visting your job ads/applying for jobs? Are certain call-to-actions performing better?
Blogging is an easy and useful tactic to generate more content in order to attract your target candidates. Following the above steps will help you get your blog up and running but it's important to say committed. Too often, recruiters get discouraged when they don't see positive results quickly which is a big mistake. Continually refine your blogging strategy by undertaking more research and develop a blog that actually resonates with candidates.
Not connected with us on social? Stay in touch and keep up-to-date with all the latest recruitment news, research highlights and our wide range of useful resources.
Want to keep up to date?
Join our 75,000+ subscribers who do!