Keep up with the latest hiring trends!
/
/

Boolean Blue Belt Brainteaser Quiz 2013 – The Answers
Boolean Blue Belt Brainteaser Quiz 2013 - The Answers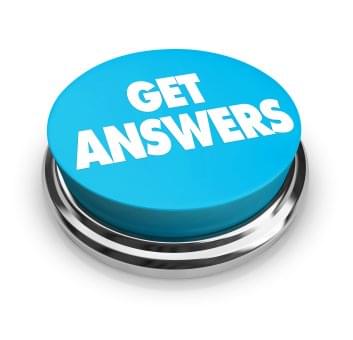 Hundreds of you participated in the Boolean Blue Belt Brainteaser Quiz over the last week and it's about time we put many of you out of your misery and gave you the answers! Of those who took the test, only 34 of you managed to get 5 out of 5, so well done to you guys!
This is now turning into an annual quiz, and just the same as last year, your biggest clue with this quiz was that there was only one possible answer to each question.
Here's how you get a straight A in this quiz:
Question 1:
Zsuzsanna is from Hungary and studies "anragogy" (I think she meant Andragogy – Adult Education). According to her WordPress blog, what is her favorite movie?
So, for this we should conduct an x-ray search of WordPress and look for elements which are contained in the question:
[box type="shadow"] site:wordpress.com "Zsuzsanna" "anragogy" "favorite movie"[/box]

Low and behold, we get our one and only result and her favourite movie is The Matrix!
That was a nice easy one to start off with, and 76% of you got it right.
Question 2:
Anita is a senior resercher at a government agency in South Africa. What is her last name?
(a) Kleinschmidt
(b) Modi
(c) Edwards
Now, there are a few things going on in this question.
1. First name is Anita
2. She misspells researcher as "resercher"
3. She works at a Government Agency
4. She's from South Africa.
5. Her last name is one of three options: Kleinschmidt, Modi or Edwards
Assuming that we have no idea where this profile is in the world, we really should just do a Google search.
[box type="shadow"]Anita "senior resercher" "government agency" "south africa"[/box]
Turns out that Anita's profile is on LinkedIn, and our first result is that of Anita Edwards, the second result is for Niki Friderichs, but the relevancy is that Anita Edwards' name is on her profile somewhere too. So, sure enough, Anita's last name is Edwards.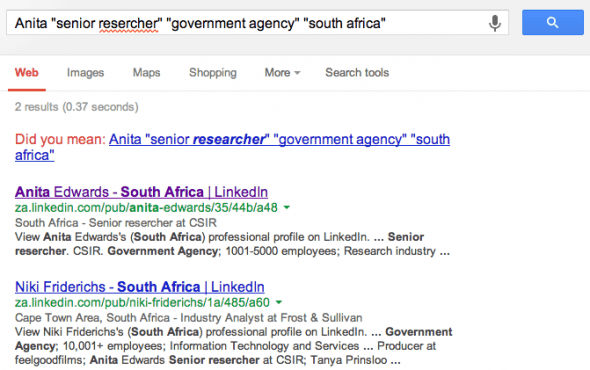 Now, there are three last names in the search, and if you had misread Anita's misspelling as "researcher", you would have come up with both of the other two last names (Modi and Kleinschmidt), and half of you did a toss-up between either of those two names. However, logic prevailing, there could only be one possibly answer so neither of those could be right, right? Anyway, 58% of you managed to get Anita's correct last name.
Question 3:
Robert Mirsky is a partner at KPMG in the UK. What is his email address?
Poor Robert. When you look at Anita's (above) LinkedIn profile, the top "People Also Viewed" result is Robert Mirsky because all of you looked at LinkedIn before everywhere else!
Email patterns are one of the key things we teach and test for in our Blue Belt in Internet Recruitment course, and KPMG's email is one of the easiest to obtain!
Step 1 to finding out someone's email address is first obtain the domain name (in KPMG's case, they have many and separate by country. They have kpmg.com, .de, .co.uk) So kpmg.co.uk is our domain.
Second, is to determine what the email pattern is. As you know yourself from your own business email address, or any candidates you manage, companies tend to go by a set pattern of email addresses – firstname.lastname, initial.lastname etc.
One quick string that we like to use in Google and is very successful at finding email patterns is:
[box type="shadow"]"email * * kpmg.co.uk"[/box]
From this, we can see clearly that KPMG's email pattern is firstname.lastname@kpmg.co.uk
Next, now that we know the pattern, let's verify it: go to www.mailtester.com and put in Robert Mirsky's email, and see if it comes up green: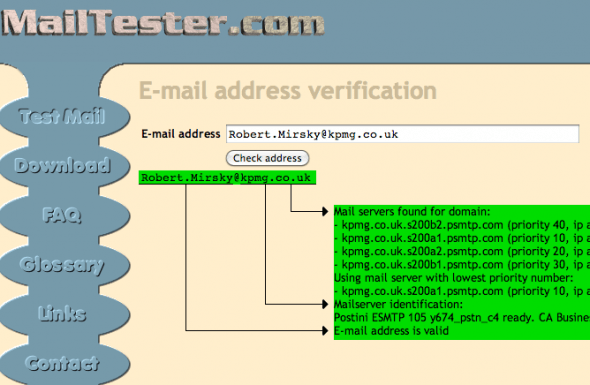 72% of you got that correct!
Question 4:
Which one of these LinkedIn Boolean strings contains an error?
(contracts OR contract OR licence OR license OR licensing) (negotiator OR negotiation OR arbitration OR arbitrator OR conciliation OR mediator OR mediation)
(contracts | contract | licence | license | licensing) (negotiator | negotiation | arbitration | arbitrator | conciliation | mediator | mediation)
Even if you weren't sure which of these was wrong, the most obvious thing to do is copy and paste each of them into LinkedIn and see which comes back with results.
The first string produces results without error, whereas the second string comes back with no results. Therefore, the second string is the one with the error. But, what is the error? The problem is the inclusion of a Boolean operator shortcut called the pipe ( | ), which is not accepted by LinkedIn.
Question 5:
Krishna is a math teacher who likes to compose English poems, living in Kathmandu. What is Krishna's twitter handle?
Now, just like Anita, this question has several clues:
1. Krishna is her first name
2. She's a "math teacher"
3. She likes to "compose English poems"
4. She's living in Kathmandu.
The best place to search Twitter, in our opinion, is followerwonk.com. Into Followerwonk's search engine and we input our terms:
Keywords: "math teacher" "compose English poems"
Name: Krishna
Location: Kathmandu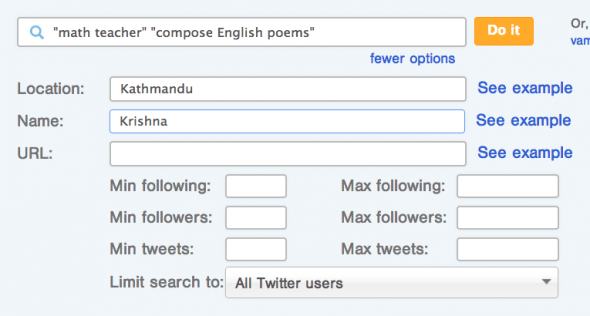 And our one and only result is:


Krishna Bista, whose handle is @kbbtunet
67% of you got that correct – excellent stuff!
How did you fare with the quiz? Get your team involved and see how well they rank (obviously no cheating), we'll keep the quiz open until June 14th.
Find out how the likes of IBM, IKEA and Siemens
drive hiring excellence with SocialTalent
---