Keep up with the latest hiring trends!
/
/

BranchOut to launch "Game Changer" in Facebook Recruiting
BranchOut to launch "Game Changer" in Facebook Recruiting

There's been so much talk over the summer about Monster's BeKnown, the Recruitment app for Facebook, that it's easy to forget about BranchOut which was the first of its kind when it launched just over a year ago.  Mike Del Ponte, Marketing Manager at BranchOut is at the RadicalPlanet recruitment unconference in Toronto, Canada this week and presented yesterday on BranchOut's new recruiter product which they are launching next month.   It sounds awesome!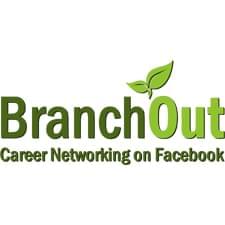 Before I get into what that product is; here's some background on BranchOut and BeKnown.  The basic premise of each of these products is that you can set up a separate, unique profile within Facebook that is visible to potential employers and you can search jobs, research companies and network with hiring managers and recruiters, all in Facebook.  It's basically LinkedIn but in everyone's favorite social network, Facebook, that doesn't offer up your private information to employers or recruiters.  You can connect or "friend" an employer or recruiter within each system without adding them as a "normal" Facebook friend.
Monster's BeKnown is basically the Monster.com job board but within Facebook.  Yes, it has some "social" features but it's a job database that you search and apply for jobs on.  Period.
BranchOut is not that well known in Western Europe but is pretty big in the US and surprisingly big in the Nordics and Brazil (who knew?).   It's similar to BeKnown but so far it has one unique feature that as a recruiter, I think is really important.  It allows you to search the 1st degree connections of any of your BranchOut connections including the ability to find out who your friends know in any particular company.  This second degree reach is what really gives BranchOut the edge on BeKnown.
So as a recruiter, how is this useful?  Well if you are an agency recruiter you can search for leads in any company you want and find potential referrers who can give you an introduction to new clients.  For recruiters in general, you can find contacts in any company that you want to target candidates in and leverage that relationship to network with or headhunt candidates.  BeKnown just gives you access to your network and allows you to post jobs. Boring.
So back to Mike and his talk.  Mike tells us that Facebook has 800 million users; LinkedIn has only 120 million.  Do you want to search a database that has nearly 7 times as many candidates as LinkedIn?  The demographics of LinkedIn and Facebook are quite different too.  The age profile on Facebook is lower.  Graduates just aren't on LinkedIn (and may never be as they grow in their careers).  LinkedIn is also a boring place, most users go back to LinkedIn less than once a month and spend less than 8 minutes on the site.  In stark contrast, 28% of Facebook users between 18 and 24 years of age check Facebook before they get out of bed EVERY DAY!  Facebook is the largest talent network in the world with the most engaged audience in the world (measured in time spent on site and the volume of content shared).
BranchOut has over 3 million users of the app on Facebook.  That's a tiny percentage of the 800 million members but don't forget that BranchOut can see all of their friends and the average Facebook user has 130 friends.  Mike was coy on what the true reach of BranchOut is but I reckon that they have access to nearly 250 million profiles through second degree connections.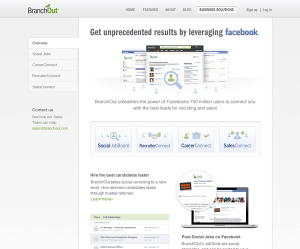 So, BranchOut's new product is a Recruiter tool that allows you to search all of these profiles in Facebook, just like you can search data in LinkedIn.  It's a LinkedIn Advanced Search but with Facebook's profile data.  For those of you who have tried, Facebook is hard to search.  It's possible (check out this post from a couple of months ago) but it's nothing like LinkedIn.
So, my big concern is how the second degree connections will feel about BranchOut using their data. It's on thing to be indexed when you have signed up for the BranchOut but being indexed and search because your friend joined; people are going to be pis*ed at this!  Unsurprisingly, BranchOut have already thought about this; when you find someone you will only be able to reach out to users that you have a common connection with and your message is sent to your mutual friend who decides whether to forward it or not.  Allowing the signed-up users to decide who gets to contact their connections is genius and its the reason why this will work.  As much as I would love to get 100% access to all the users and be able to message them, the users would revolt and BranchOut would be dumped out of the system.  Besides, if you are a smart recruiter and have attended our courses or read our blogs, you'll have no problem bypassing the system and reaching out to users.  But BranchOut's name will not be involved! Genius.
Mike has offered us a preview look at the product closer to the time of its launch in 4 weeks so watch this space!
To connect with Mike, you can find him on LinkedIn or Twitter.
Find out how the likes of IBM, IKEA and Siemens
drive hiring excellence with SocialTalent
---