BUMPER EDITION: 10 Unmissable Recruitment News Stories this Week - 12th October 2015
In the news this week:
LinkedIn Expected to Launch BRAND NEW Employee Referral Product at TalentConnect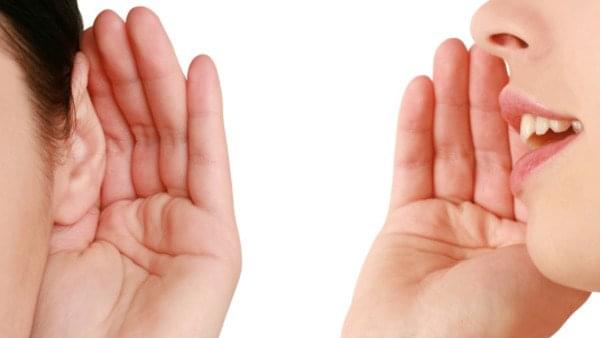 You heard it here first folks! According to the rumour mill, LinkedIn are expected to launch a brand new Employee Referral product at TalentConnect next week. The news comes following the company's acquisition of Careerify earlier this year and it's subsequent testing with several large customers in recent months.
Now, this isn't the first time a LinkedIn referral product has been mentioned. Back in 2012, LinkedIn shelved a much talked about referral product after trials because there were complications over getting companies to convince their employee to sign up, as employees needed to sign over network access to recruiters – something that didn't go down very well!
The launch (if it does go ahead) is happening at an opportune moment, as according to a number of recent studies, referrals are the number one way candidates discover new jobs, the number one source of hire, the fastest source of hire, and the most satisfied employees. So if LinkedIn have indeed solved the problem of making referrals easier for companies with software, you can bet your bottom dollar that that software will be huge!
That said, software is only the end part of the process in making referrals a success. Employee engagement comes first, and many companies forget that fact. But if LinkedIn are able to encourage employee engagement with this new product successfully, they really will be on to a winner!
So watch this space folks! All will be revealed tomorrow, and when it is, you'll be the first to know!
TalentConnect takes places tomorrow, Tuesday 13th October, in California, USA. To register to attend the event, click here.
Speaking of LinkedIn…
Could LinkedIn Owe You $1,500?
LinkedIn will have to dole out $13 million after settling a class-action lawsuit for sending too many emails. Something they announced to their customers last week by way of another email… (why quit the habit of a lifetime eh?)
Yes, the company contacted those on the service who "may have used LinkedIn's Add Connections feature between September 17, 2011, and October 31, 2014," to notify them that a class-action lawsuit had been filed against the company.
Essentially, LinkedIn's "Add Connections" feature was a quick way to connect with the people in a contact list — a one-click method to notify everyone that you had joined the service. However, LinkedIn used access to users' contact lists to send two "reminder" emails, which a court found had been sent without the users' consent. Those additional emails are the focus of the lawsuit, and why LinkedIn will now pay out.
LinkedIn acknowledged no wrongdoing but opted to settle the lawsuit. It will pay $13 million into a fund for payments to plaintiffs.
Here's the email LinkedIn sent to eligible users: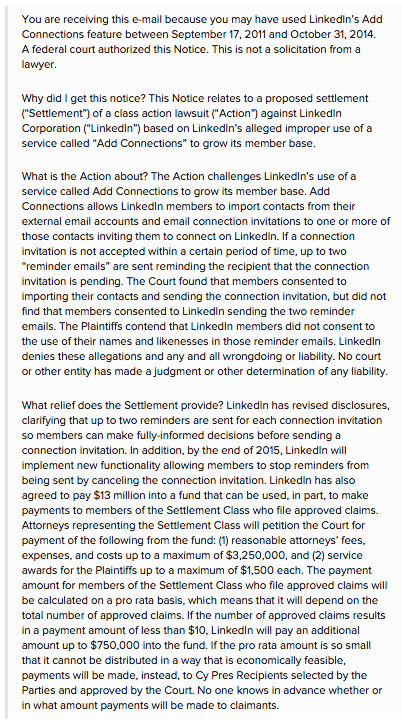 Depending on how many people file the claims, those eligible can earn up to $1,500, though it will likely be less. Claims must be filed before December 14, 2015, and there will be a final approval hearing on February 11, 2016.
Did you receive one? Let us know in the comments below.
When It Comes to Changing Jobs, Age Isn't Just a Number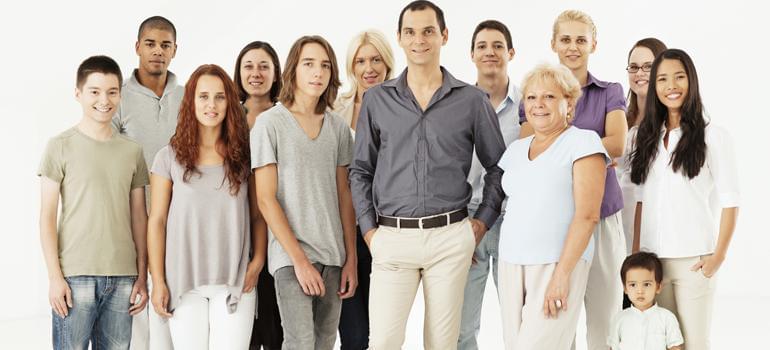 In addition to the insightful findings they posted in an infographic concerning how more than 10,000 professionals change jobs, LinkedIn have just released some new insights. Specifically, how a person's age affects why they'll change jobs.
According to the new set of findings, younger workers tend to change jobs for different reasons than older workers, some of which are intuitive. Specifically, younger workers care more about career progression than older workers, most likely because they're much earlier into their career than an older worker.
Older workers, conversely, were a third as likely to switch to a completely new industry, compared to younger workers. Also, interestingly enough, the older the worker, the less likely they are to switch jobs for money.
Here's a breakdown of the Top 3 reasons people switch jobs, by generation: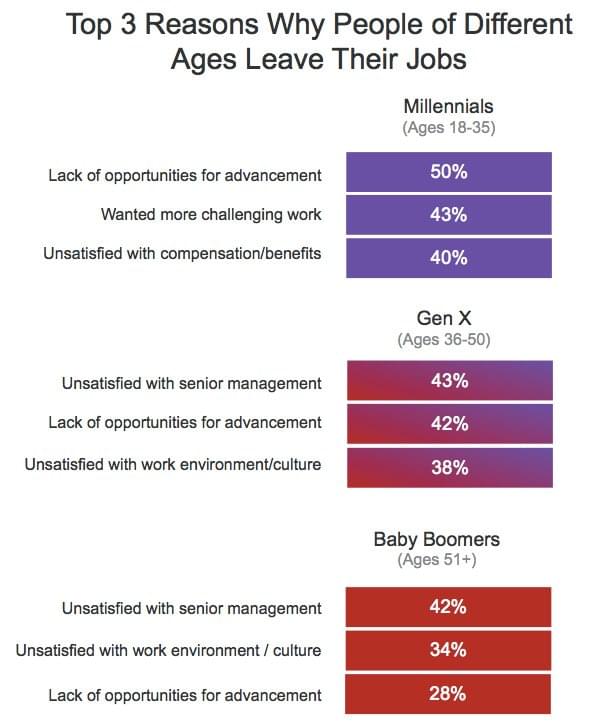 There's also a generational difference in the way people switch jobs. Below is a full breakdown on how recent job switchers learned about their new job, per generation:

The data shows recruiters have to talk differently to millennials, as opposed to baby boomers. For example, millennials are more about the future – where can this job take me? – whereas baby boomers are more about the present – does this company really have the right leadership?. But there's another takeaway too, and it revolves around where to invest your resources when advertising an open position. If you are looking for a position that wouldn't require a lot of experience – i.e., a job for a millennial – your best bet is advertising it online. Conversely, if you are looking for a more senior level position that requires more experience – i.e., a job for a baby boomer – online isn't the main place to go. Instead, you'd be better off asking your existing staff if they know anyone, as that's the number one way baby boomers hear about new positions.
(RELATED: How to Get People to Change Jobs)
Instagram Now a "Go To" Tool for Recruiters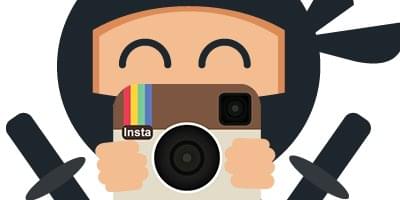 Instagram may slowly be becoming the go-to place for recruiters looking to hire millennials, according to hiring experts. When Jobvite recently interviewed 500 UK recruitment and HR professionals, 6% said that they planned on using Instagram in the future to attract new talent.
"Instagram is the new Facebook," says David Lahey, VP International for Jobvite. "Now that the millennials whole families are on Facebook, it is only natural that they start to navigate towards somewhere else where they can be themselves."
Adam Gordon agrees. He's the Managing Director at the Norman Broadbent company Social Media Search. "Instagram is not a place you would go to if you want to make general resourcing," Gordon explains. "But if you are trying to recruit females between 16 and 25, then you should go on Instagram as that is the biggest demographic there."
Gordon also advises recruiters looking for visually-oriented candidates to start using Instagram. He says: "The problem with Instagram is that you cannot detect much information about the candidates themselves from their profiles. However, you can use it to find out about their design style."
Gordon tells recruiters looking to use Instagram in their work to make sure they set up some guidelines and only allow a small team to post on the account. He says: "Loads of companies have fallen into that trap by posting pictures from the Christmas party where people are snogging, being drunk or whatever, and that's not the most ideal use of Instagram."
Jobvite's UK Social Recruitment Survey revealed that only 40% of the polled UK recruiters had used social media to recruit candidates. That could be compared to a previous report that showed that 92% of US recruiters have used social media to recruit candidates.
P.S. Our Black Black in Internet Recruitment training now includes an Instagram module to help you get the best out of the hottest new social recruitment tool. Ask our Sales team about it today here.
(RELATED: Ready…Steady…Instagram – The Social Talent Story)
Hire, Market, and Sell Better Using LinkedIn Elevate's NEW Features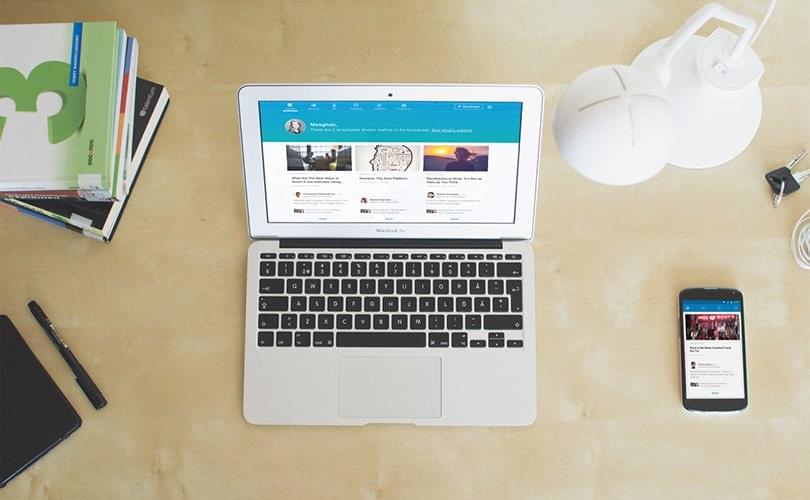 As you may recall, in April LinkedIn introduced Elevate — a new product that helps companies curate and share content with their employees, and measure its impact on hiring, marketing, and sales. Last week, after several months of working with select companies, like DLA Piper, Fortinet, and Visa,Linkedn announced that Elevate is now available for purchase to all large enterprises, and is jam-packed with powerful new features including:
Audience Demographics: Insights into who engaged with your employees' content
Tracking clicks, likes, comments, re-shares, and reach is great. But those metrics are useless if, for example, you're trying to influence CIOs at Fortune 500 companies and your employees' content is reaching partners at law firms. That's why Elevate now shows curators the job functions, companies, and industries of the members their employees' content is reaching, and whether or not their content is resonating with those members.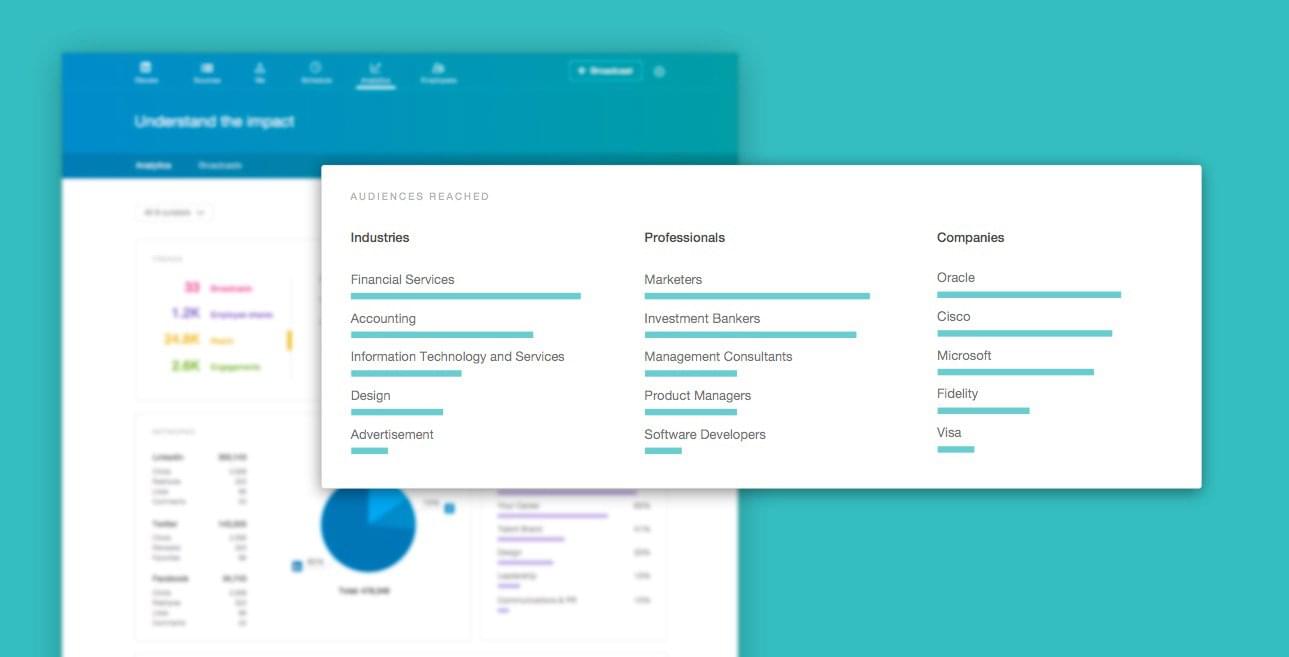 Employee Insights: Insights into how sharing strengthens your professional brand
If employees don't see how they benefit from sharing content, their engagement will wane. That's why Elevate now shows employees how sharing is helping strengthen their professional brands. They'll now receive emails that highlight the profile views that resulted from content they shared, and which influential people in their networks viewed, liked, commented on, or shared their content. They'll also receive notifications when content they shared receives a large number of likes, comments, or shares, or is re-shared by an influential person in their network. Plus, employees can now share content on LinkedIn, Twitter, and Facebook.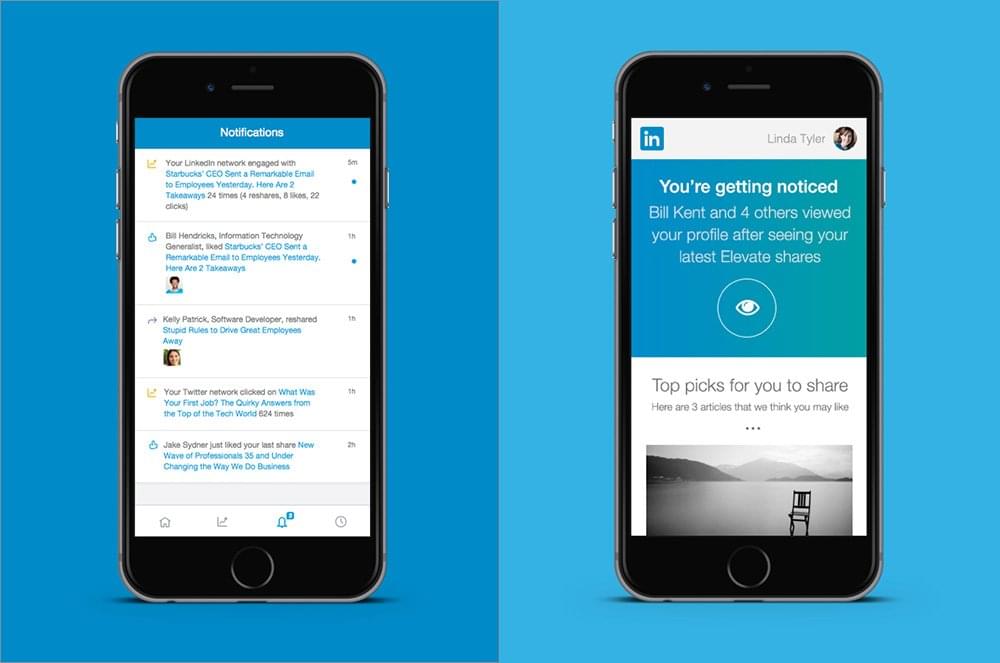 For more details on how Elevate has helped Visa, DLA Piper and Fortinet hire and retain talent, check out the site's dedicated blog post, here.
More and More Young People Turning to YouTube for Careers Advice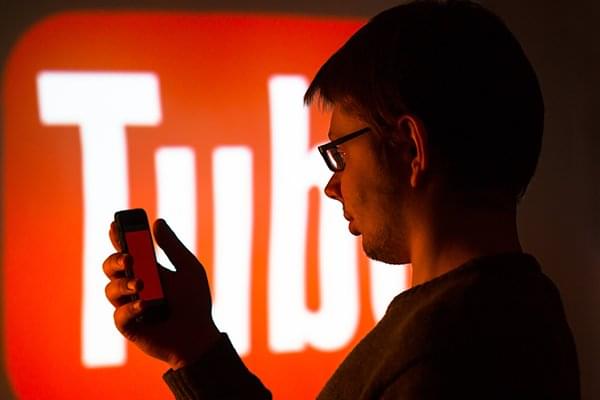 According to new research, young people are rejecting traditional sourcesof job advice (family, friends and teachers), and are instead turning to YouTube for guidance.
The Office of National Statistics (ONS) figures reveal that over half a million 11-15 year olds (15%) are now searching for careers information on YouTube, compared to research by YouGov in 2012, which showed that 70% of this age group in 2012 went to teachers for recommendation.
More traditional resources have become less popular with 32% of young people seeking information from a careers adviser and 62% speaking to teachers, showing a 12% decrease. Despite parents being the main source (66%), a quarter of school children supposedly speak to their friends, 27% use Google and 12% use other social media platforms.
Ofcom research also suggested that almost 8 in 10 school children have used YouTube, with this specific age group watching an average of 33 minutes online each day.
Are you thinking what I'm thinking recruiters? Yes, your company/agency should be investing more time into the creation of a YouTube channel if you hope to stay relevant and attract the talent of the future!
(RELATED: The Story Behind our Non-Traditional Employer Branding Videos That Worked)
Is This the Coolest Intern Recruitment Video of All Time?!
Well, if it's not, we don't know what is!
In order to offer an insight to their unique internship programme, SpaceX, the aerospace manufacturer and space transport service, has released a YouTube video showing what it's like to work as an intern at the company.
The engineering programme which is based in California, USA selects 700 people for an internship each year, during which time the interns experience a full range of duties and may work on anything from computer software to testing rocket engines.
SpaceX builds the majority of their equipment in-house. Including a fleet of rockets which are shipped to the International Space Station.
"This is not a normal internship!" says David Larson, one of the 2015 interns, which you'll see from the video above. Another intern, Jeff Ellenoff, who works as a Test Engineer, described how much he enjoys going to work. He said: "When an engine test happens, it's the most incredible thing you could possibly think of. I get to come to work and play with spaceships all day."
Yes, you do Jeff, and I am so incredibly jealous of the fact! Check out the inspirational video above.
(RELATED: How to: Produce a Kick-Ass Recruitment Video for FREE in Under 60 Minutes)
The World's 25 Most Socially Engaged Recruitment Agencies Revealed
Last Wednesday, saw recruiters from far and wide flock to Islington in North London for Social RecruitIn – LinkedIn's one-day "transformational" industry conference for search and staffing professionals.
We were onsite on the day, to see the likes of James Caan and Lou Adler take to the stage, along with 500 other recruiting specialists from around the globe. Best practices were shared, insider insights divulged and top industry trends revealed, the latter of which we were particularly interested in!
At the event, LinkedIn were very "excited" to announce the list of the Top 25 Most Socially Engaged Companies in the recruitment industry, and we were very excited to see if any of our customers had made the coveted list! And we weren't disappointed!: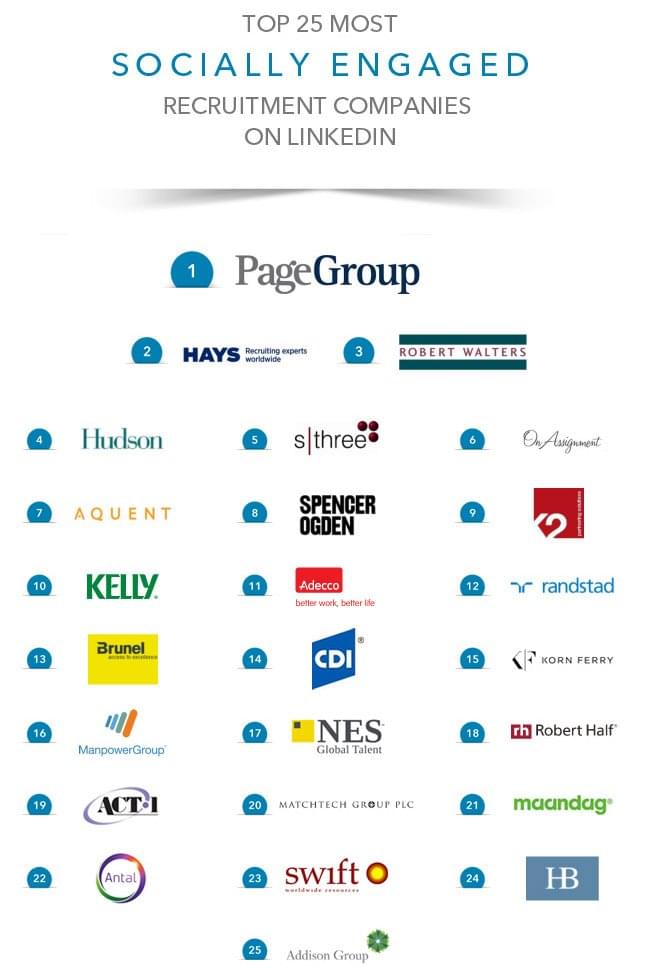 To come up with the rankings, LinkedIn looked at a range of metrics including social reach, employee engagement and interactions, talent brand and content marketing power on LinkedIn. So, a massive congratulations to all of our customers who made the list, we're extremely proud!
You Can Now Back Up WhatsApp Messages, Photos & Videos To Google Drive

Last Wednesday, Google Drive announced the adoption of a feature that'll be rolling out over the next couple of months that will let you back up your WhatsApp messages, and their contents, regularly on Android, if that's your chat app and mobile platform of choice: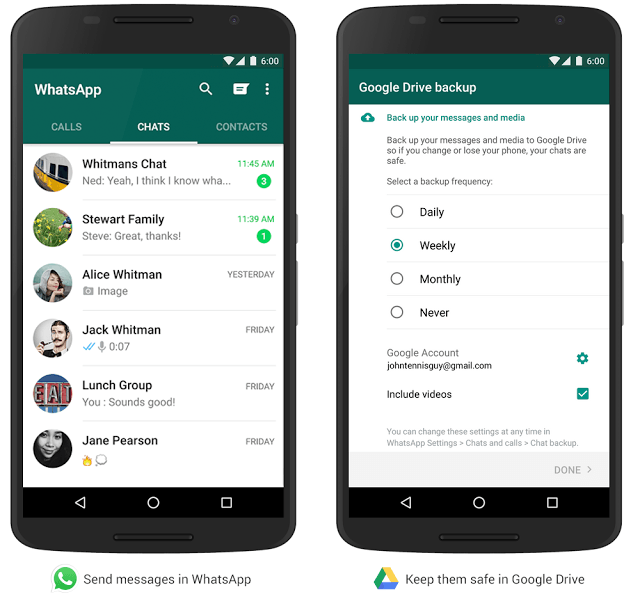 In a statement, Google said:
"…you don't want your memories stuck on your phone. (What if something happens?!) So starting today, WhatsApp for Android lets you create a private backup of your chat history, voice messages, photos, and videos in Google Drive. And once you do, you can restore everything on a new device with just a couple taps.

The new backup feature is rolling out over the next few months, so keep an eye on your WhatsApp settings to see if it's available. In the meantime, please visit our Help Center if you have questions about today's update. And check out our developer site if you'd like to integrate your app with Google Drive."
We're just upset the functionality isn't available to us iOS users yet!
How Google Thinks About Hiring, Management And Culture
During Laszlo Bock's 9 years as Google's SVP of People Operations, the company has won more than 100 awards for its employment practices. Bock, who came to Google after stints at McKinsey and GE, recently collected his thoughts about management and culture into "Work Rules!: Insights from Inside Google That Will Transform How You Live and Lead," a New York Times best-seller.
He expounded on some of his HR-related ideas in a conversation with Beth Seidenberg at KPCB's recent CEO Workshop:
Top Takeaways:
Hiring is best done by committees, not individual managers. (1:26) Most people overestimate their interviewing skills. As a result, interviews are too often an exercise in confirmation bias, in which interviewers, without realizing it, are looking for data to affirm the snap judgment they've already made. Google's hiring committee's sole job is to keep quality high; its decisions cannot be questioned.
Avoid "gotcha" interview questions. (4:11) Google's data shows brain teaser-style interview questions don't predict performance, rather structured interview questions are much better indicators. When screening for problem solving, one might say, "Give me an example of a hard problem you've solved," and then drill down for specifics. Those kinds of questions are much more predictive of how someone will perform.
Don't forget what life was like before you were a manager. (5:30) When you become a manager, you forget what you hated about being managed when you were an employee. As managers, we want to make sure our people get their work done and as a result, we get involved with all kinds of things that we shouldn't, because if we've done hiring right, we've hired exceptional, smart, capable, motivated people.
Managers thinking about self-improvement should think small. (9:13) People learn best when they focus on the smallest possible things, when they practice one small skill that is a constituent component of a much bigger thing. Doing that has two benefits. One is immediate repetition of that skill, and the second is immediate feedback and course correction. People learn best when they have those two things working.
Sweat the small stuff. (13:26) Managers have to be acutely aware of how small things can affect the culture of a company. Things like slamming a door or leaving garbage on the table after lunch in the boardroom: Those signals get internalized by everyone in the company. There was one tech firm where they had free towels in the gyms. And then one day they decided, on some cost cutting exercise, to start charging some trivial amount for towels, like two bucks a month. But that small decision was a tipping point in the culture; people realized, "This isn't the place I joined."
Pay Unfairly. (16:34) Talent doesn't follow a normal distribution, so neither should salaries. Ordinary pay systems are based on a misguided notion of fairness, and so have a relatively small difference between the highest- and lowest-paid employees. Google has a contrasting perspective: its compensation packages reflect these differences in talent. It is not uncommon for one hire to get a $10,000 stock grant while another one gets a grant worth $1 million.
Counter Offers Are Toxic to a Company. (22:00) Google doesn't make counter offers, which incentivize the wrong employees. A well-designed compensation package helps to retain the most qualified.
Want to keep up to date?
Join our 75,000+ subscribers who do!