Keep up with the latest hiring trends!
/
/

DIY Web Analytics on Social Networks for Recruiters
DIY Web Analytics on Social Networks for Recruiters
In last Wednesday's webinar the impact and importance of services such as Klout, PeerIndex and Kred, which measure your level of influence on the social networks you use were addressed.
Those services are all to be commended and are without question useful to recruiters but if you wish to take measuring your digital online presence into your own hands there are a number of ways to do so, and they're all FREE!
How do you know if your job posts, your CV-writing tips and salary surveys that you spent ages writing are actually getting read? As a recruiter, your content (from job posts to industry blogs) need to have a high visibility online, so here are 4 things you should be monitoring on a day-to-day basis to measure your online performance and gain much needed insight in to your social influence.
1. Check your Google Analytics
These metrics are extremely important, they allow you to measure the number of unique visitors, repeat visitors to your website, page views, content read, bounce rate, as well as the length of time they spend on your site.
2. Check your Content "Virality"
There is no point having a fantastic looking website, full of engaging content if nobody visits it. If you have a blog attached to your website it's important to understand what other blogs and company pages link back to your website, this can be done using LinkBacks and Social Share while Comments and Followers are more immediate ways of seeing if your blogs are stirring debate.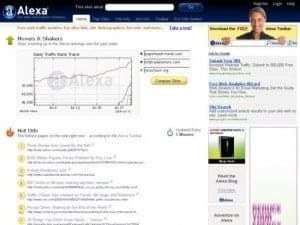 We like Alexa – it allows you to measure your website's performance relative to itself and relative to your competitors and will tell you how your website ranks globally and within your country. So what you're trying to do is increase your rank by whatever means possible – if it increases you're doing something right but it is important to remember that if you're rising and so is every other website in your industry it could be an industry wide phenomenon and nothing to do with your activity, as effective as it may be.
Tweetdeck is a nice application you can now use on your browser and it allows you to set up Free-text searches for your company name, the brands that exist under your company, your Url and also Post Titles – not a lot of people do this but it can be very effective and allows you to see who's been talking about you on Twitter.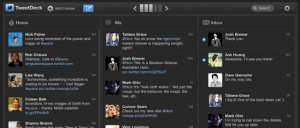 LinkedIn Updates follow a similar principle to Tweetdeck in that it allows you to find people who have shared your content. Just go to the top right hand corner of your LinkedIn screen and change it from People to Updates and go from there. If people have been talking about your content or sharing it on other sites be sure to engage with them – comment yourself, like it, thank them etc.
3. Set up Google Alerts
Google Alerts are the easiest way to help you manage your online mentions, where Google will deliver to you in one email digest mentions of you or your company name around the web, which you can set up to alert you daily, weekly or in real time.
To do this, go to alerts.google.com, type in the phrase that you want Google to search for all the time, and then add your email address. Select that you want "All results" (not the default "Only the Best Results"), and choose your frequency of delivery. So whenever there's a mention of your phrase, Google will alert you to it.
4. Determine your Social Reach on social sites
SocialBro is a great tool that enables you to analyse all the followers you have and the people they reach. It's all about influence with SocialBro!
Crowdbooster (in BETA at the moment) is a great little product, it accurately tells you your Twitter impressions, retweets etc. If someone influential commented on your post or retweeted your tweet, Crowdbooster will show you the data involved.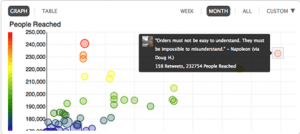 And last but not least, the very intuitive Facebook Insights. If your company is on Facebook you can now see not only the people who Like your page but also the people who are talking about your brand, commenting on your content or mentioning your company.
Do you use any of these products on a daily basis or at all? Are they effective? Which one do you think carries most Klout, pun intended?
Find out how the likes of IBM, IKEA and Siemens
drive hiring excellence with SocialTalent
---