Keep up with the latest hiring trends!
/
/

The Art of LinkedIn "Endorsement Bombing"
The Art of LinkedIn "Endorsement Bombing"
"Congratulations! Your connection has endorsed you for the following new skills & expertise: Marketing, Copywriting,…Paranormal Romance?!"
Brace yourselves recruiters, "endorsement bombing" (or the process of "endorsing people for nonsensical skills ") is now a thing! Yes, believe it or not, the art of hitting your friends and family with a truck load of totally irrelevant LinkedIn endorsements is now quite a popular online prank – and the more bizarre the "skill", the better the bomb.
But while LinkedIn doesn't let you create your own crazy endorsements, turns out there are already some pretty weird things LinkedIn will let you endorse other people for! As will be demonstrated below.
So start readying yourself to feel a wide range of emotions when checking out these real-life endorsement bombs – from creeped out to extremely jealous that you don't yet have that skill! Things are about to get pretty random!
P.S. We don't recommend you try this to get the attention of a coveted candidate, or any candidate for that matter! But if you really fancy giving endorsement bombing a go,  focus your efforts on close friends and family! Don't say we didn't warn you!

My new goal in life is to develop cat herding skills.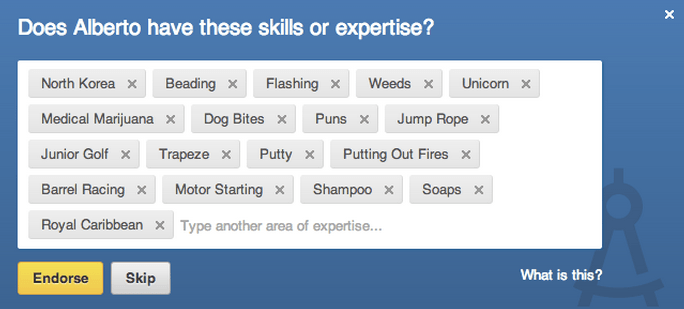 I'd definitely like to have someone in the office who was skilled at putting out fires, but also knew their way around a unicorn. Vital attributes.




When the Walking Dead finally comes true, you'll be delighted you hired this person!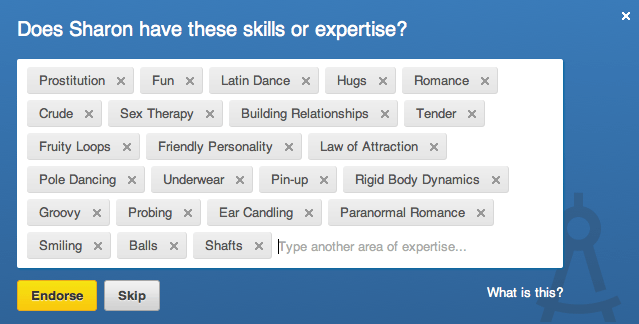 What even is "paranormal romance" and how do you become skilled in it??!! Does "ear candling" and "probing" play a vital role in the process?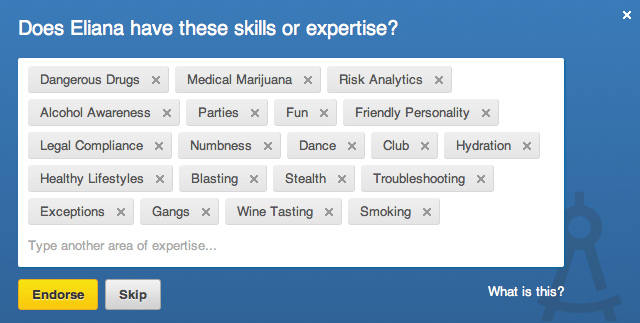 Yikes!

I think they're trying to tell you something Yusef…



Brian sounds like a right troll…



Someone's got a little bit of an axe to grind…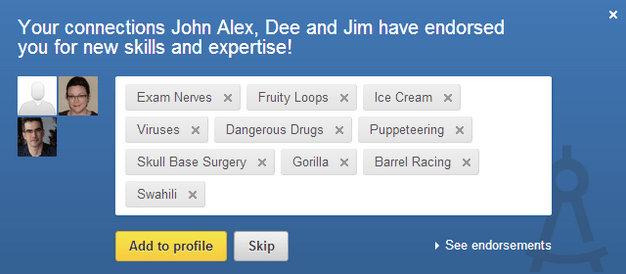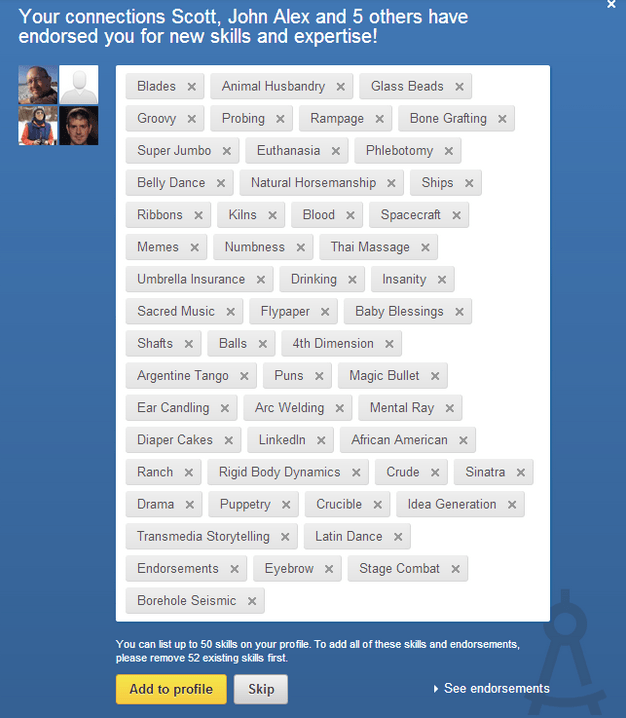 Insanity, Sinatra and Diaper Cakes? Three phrases I never thought I'd see in close proximity.
Find out how the likes of IBM, IKEA and Siemens
drive hiring excellence with SocialTalent
---