Keep up with the latest hiring trends!
/
/

Engage Your Workforce Using Employee Resource Groups (ERGs)
Engage Your Workforce Using Employee Resource Groups (ERGs)

What is the point in having an ERG?
Employee Resource Groups (ERGs) have become even more prominent in today's workforce. Not only do they encourage candidates to apply for a role in a company, but they also help retain top talent. Businesses all over the world are in a dogfight for talent, and if you're to hold onto your prized possessions – you best keep your candidates happy.
So what is the point in setting up an ERG at your company? Is this another fancy initiative that will end up getting scrapped months down the line? The simple answer – NO. Having an ERG will benefit employers, team leaders and employees resulting in a happier workforce. Furthermore, they will improve the recruitment process at your company. Let's take a closer look.
ERG's promote diversity & inclusion
Ideally, your ERG should be built up of people from all walks of life. Each individual should have different characteristics and viewpoints. This, of course, helps when searching for new hires that might be foreign to tour the current workforce. I would argue that having an ERG encourages employees to share ideas whilst also kickstarting important conversations in the workplace.
ERG's also act as an excellent resource for a new employee, especially when it comes to integrating them into the workforce. This is especially the case when a new hire is relocating to a new country. A new country with a different culture that they might not be accustomed to. ERG's will add them to WhatsApp groups, Slack channels or other communication apps to assist and integrate them with the local community.
Retention. Retention. Retention.
The further benefit of having an Employee Resource Group at your company is that it can improve retention rates at your company. This is simply down to the fact that candidates feel more comfortable about approaching them with certain problems they might have. William Frierson writes that;
"Employers who demonstrate an appreciation for diversity and who provide employees with professional development opportunities often notice an improvement in employee retention"
It's the continuous care for employees that will ultimately have employees feeling like they belong there. Your employees become more engaged, more effective and ultimately, improve your businesses performance!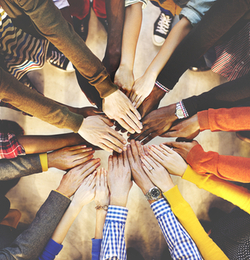 LEARN RECRUITMENT SKILLS THAT DRIVE DIVERSTY
Eliminate bias from the recruitment process.
Find out how the likes of IBM, IKEA and Siemens
drive hiring excellence with SocialTalent
---