Keep up with the latest hiring trends!
/
/

Experience Branding: The 3rd Generation of Employer Branding
Experience Branding: The 3rd Generation of Employer Branding

The winds of change are in the air. Employer branding is evolving into a new animal that's bigger, better, and more effective than it ever was before. Yes. Experience Branding is making a name for itself across a number of corporations and is slowly becoming the go-to candidate attraction method, particularly in the graduate recruitment market.
So what is Experience Branding?
Experience Branding, in the recruitment sense, is the art and science of personalising/humanising your company/corporation by creating an emotive employer branding experience with people i.e. real staff members at it's heart.
What does Experience Branding look like?
Experience Branding as a form of employer branding was first fully understood and utilised by Deloitte New Zealand, when they put together their graduate intern placement programme. Instead of the usual/predictable employer branding video detailing how 'great' the company is and how 'fun' it is to work there, Deloitte decided to make their current cohort of interns, the stars of the show. Each of Deloitte's seven new interns have had a mini documentary filmed about their experience with the Deloitte internship process so far and what they hope to achieve from it, with each documentary available to view and comment upon on Youtube. Each video provides the viewer with an insight into the day-to-day life of a Deloitte intern including snippets of the work, the offices, the desks, the equipment and the general look and feel of the Deloitte environment. Not once is Deloitte's branding or cultural message shoved down your throat or forced upon you. If anything I wanted to learn more about each of interns and their Deloitte experience! It's about the employee's journey, not the company's top-down "why our culture is great" strategy that employer branding efforts often end up being.
Introductory Video:

Individual Story Video:

What Deloitte have created is a excellent example of just what can be achieved with Experience Branding. The introductory video alone has received almost 5,000 views and it just details the 7 interns and their roles within Deloitte! The individual stories themselves (all timed at about a minute and thirty seconds) have around 3,000 views each and the Deloitte Grads NZ YouTube channel has over 75 subscribers.
But their YouTube channel isn't where the attraction campaign starts and ends. In addition to the videos, each of the seven interns (all from different sectors within Deloitte) have been encouraged to set up and manage a Facebook page that documents their internship experience on a daily basis and allows the public to ask the interns questions about the experience and how it's going for them. Paul Jacobs, the recruitment, social media & employer branding specialist who ran the campaign for Deloitte, says "Each video was posted to Facebook with additional stories/infographics around each of the featured grads – these flowed through to print media and careers events. We noticed direct conversation between the grads in the videos and the students – e.g. answering Facebook queries, responding to comments." "We've been moving away from an employee/culture branding approach per se to an immersive branding (experience branding) approach, where the brand story becomes more about the student and their wants and needs, even using social to give them a sense of what it's like to work in the firm, without physically walking through the doors."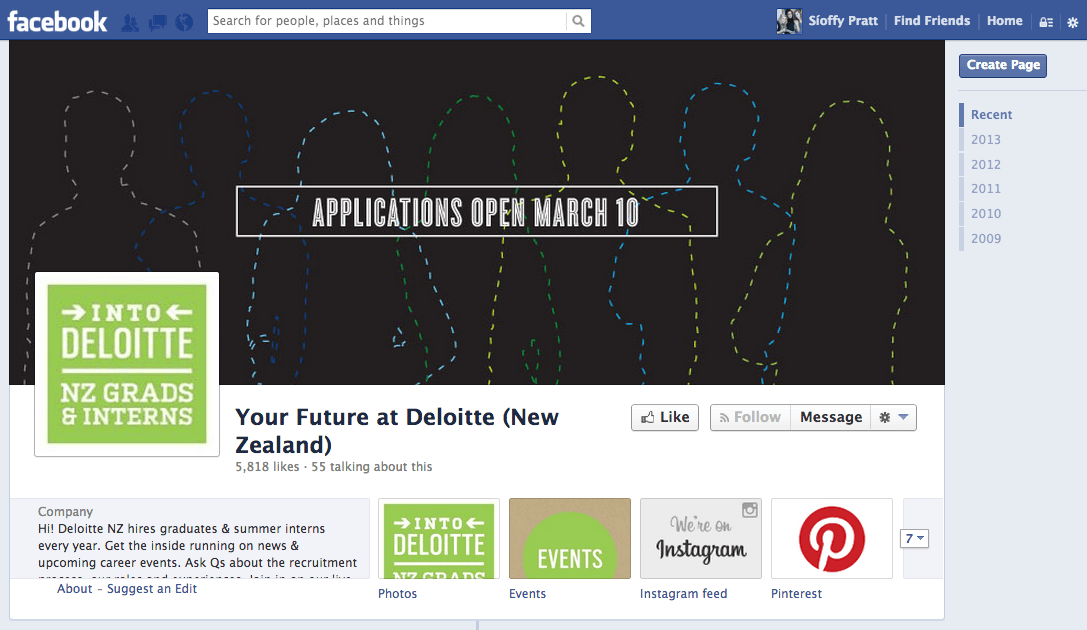 The purpose of the the attraction campaign is to encourage you (the job seeking grad) to envisage yourself in Deloitte, and prove that Deloitte can help you utilise the skills and talents you learned and developed in college, so that you progress not only within the company and the industry, but personally as well.
The key to experience branding is people. By recognising that your staff are more than just their job title, you are already half way there. Experience branding involves the telling of a human story. It is not about the corporate brand or the marvellous facilities you may offer, it's about your people and how they feel within your company, because that is what any potential employee will be concerned with. They want to know what it's like "on the factory floor" so to speak.
IBM is another corporate who have taken the reins of experience branding and created an impressive candidate attraction campaign. Take a minute to consider IBM's employer branding video from their LinkedIn Careers Page:
Notice the language the employees featured in the video are using; "I joined IBM because I wanted to…", "my name is …, I'm an IBMer", "join us". This video isn't about IBM, it's about their people. IBM employees are telling their story, not the story of IBM. Just like Deloitte, IBM is telling potential employees that IBM will help them fulfil their ambitions and allow them to use their skills and grow.
How can you get in on the Experience Branding action?
First things first: find the stories within your firm. Experience Branding is about storytelling. Every single one of your employees has a story to tell of their time and experience in your company. If that story is a postive one, then share it. Let that employee tell their story in their own words. It could be the story of the girl who's come back to Dublin to work for Acme Co. after previously moving to London, and what it's like for her to be back home; the perks of working in her home country again e.g. friends, family, the people etc., or the story of the guy who has changed career paths and is now persuing his dream career in IT with Acme Co., and how Acme Co. has helped him do so.
Secondly, determine which social network works best for you and your employees. Would your employees stories be better told in video form on Youtube? Would daily Facebook posts be more appropriate? Would your employees feel more comfortable tweeting or instagramming about their experiences? Find out what would suit your culture best. If at all possible, don't limit yourself to one social network when sharing these stories. Integrate your campiagn like Deloitte. You'll catch the attention of more potential candidates that way.
Thirdly, determine the type of stories you are going to tell. Make it social, allow your staff to update a Twitter or Facebook with their photos and videos of office activity or team building days. Encourage staff to share and mention as many aspects of the company's culture as the wish.
Finally, just ensure that your efforts involve your people. This is about them. Trust on their opinions and their experiences, because really, your employees are your best recruiters!
If you would like to learn more about creating the ultimate employer branding campaign using techniques like experience branding, then check out our Employer Branding module as part of our Black Belt in Internet Recruitment training course. We show you how to build a following of loyal and engaged employer-brand ambassadors that you can leverage as a talent tribe to fill ongoing and volume positions and help you recruit more members for your tribe. Email Wendy today at [email protected] to find out more.
Find out how the likes of IBM, IKEA and Siemens
drive hiring excellence with SocialTalent
---