Keep up with the latest hiring trends!
/
/

A Recruiter's Guide to: Creating Truly Attention-Grabbing Job Ads
A Recruiter's Guide to: Creating Truly Attention-Grabbing Job Ads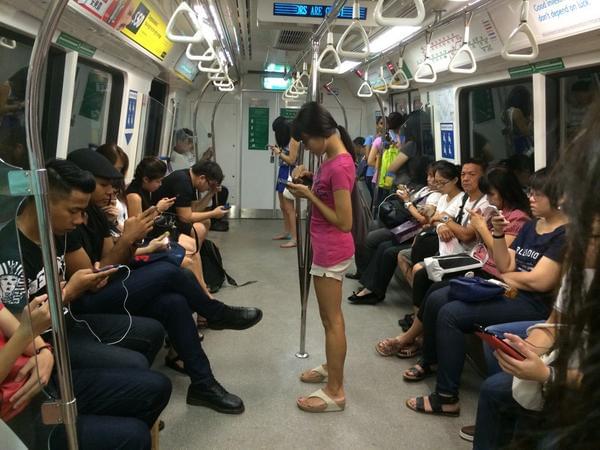 People's attention spans are getting shorter. One minute a job seeker is reading our lengthy job spec on their phone, the next, a notification from WhatsApp, Twitter, Viber or Facebook pops up and they're gone. And any interest they once had in that job spec is now gone too. Your opportunity, as a recruiter, to convince that job seeker to apply has also vanished. You failed to keep that job seeker's attention, so they moved on.
But how do you make your job ads grab and keep their attention? That's the question I asked myself last year when I started specialising in recruiting UI and UX designers and I realised just how many job seekers are now searching for and applying for jobs using their mobile devices.
I quickly realised that my job ads needed to become more visual. For one it makes sense – designers are visual people, but I also kept hearing the same complaint over and over again – reading long, boring job descriptions just wasn't doing it for those visual people. So I decided to do something about it.
Now, to be honest, my first attempt at a visual advert couldn't have gone worse! I can say that now because I have a little more experience in creating visual ads, but I initially thought this one was great: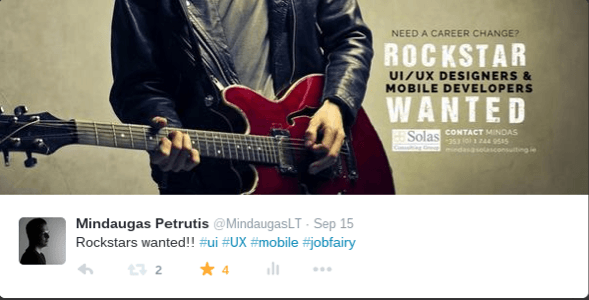 That was until it was picked up and ripped apart by a UX Architect on Twitter… At the time, I genuinely thought my life was over when I saw his tweet and the comments from others. But then it dawned on me – I had the perfect opportunity to improve. So…. I RANG HIM. Yes, I picked up the phone and I gave the guy a call. Why? Because it gave me an opportunity to speak to the very person I was hoping to attract with my ad and find out what he (and his peers) would actually find appealing. And you know what the best thing is? Me and my job ad "nemesis" are still in touch today!
So, today I'm going to help you harness the power of the advice he gave me and show you exactly how I create my own successful visually appealing job ads.
My "Creative" Job Advertising Process
Research:
When it comes to the creating job ads, the first thing I do before anything else is to analyse the job spec and research the company in question. (The ideal scenario is to have met the client, but as we all know, we don't always get that luxury!) By analysing the job spec I get a better understanding of what the client needs and the skills they need the candidate to have, and by researching the company I get a clearer picture of the type of person they're looking for.
When carrying out my analysis, I always try to find things that are less obvious about the company – something that isn't on the spec – maybe a social media post that portrays the company culture or their tone in a particularly unusual way, or maybe something I've spotted on their website. I then try to imagine what the ideal candidate would want to see on a job ad for that company.
Then, once I have my research and my thoughts in place, I move on to the creation stage.
Create:
First stop in the creation stage is Unsplash.com – a website filled with thousands of beautiful, original images you can use without the need to credit the photographer. I like to take my time when browsing through them and try to match up the job/client with a particular image that lends itself to a clever/funny caption: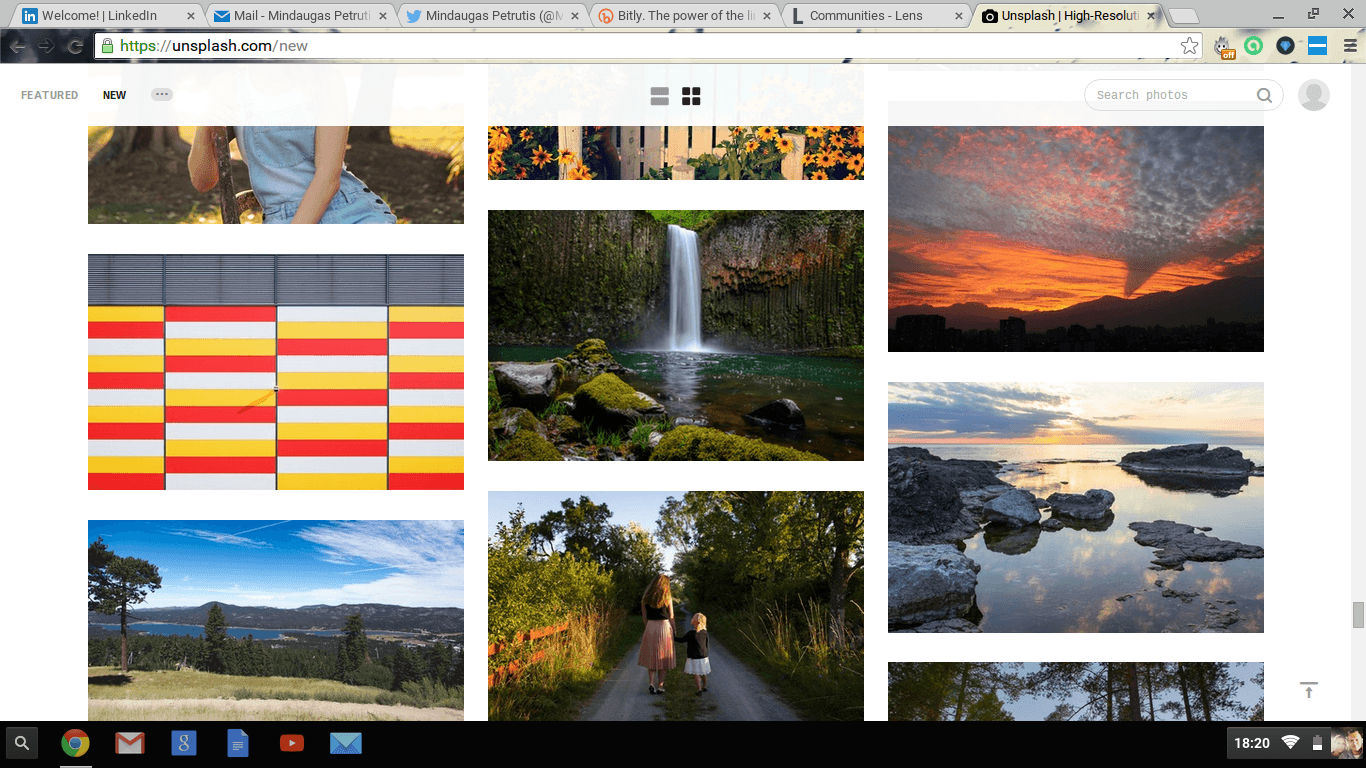 Too often I see job ads with a description and a picture underneath that has nothing to do with anything. Unless it's something hilarious that will make the user want to click, it's not going to work. Invest some time into this, try to personalise the ad to your target market, try to tell the clients story rather than just spoutting out the facts that can be seen on the full spec anyway. It might take a little longer, but as you learn and evolve, this strategy will produce some great results.
Once I've picked and downloaded the image, I go to Canva.com – a fantastic, free design tool that helps you create really cool adverts (for a variety of social sites including Instagram, Facebook and more) with very little effort. Ok, it takes a little while to get the hang of it, but after a few practice runs it really does only take a few minutes to knock up an advert. All you need to do is upload the image you selected from Unsplash.com (or choose one of Canva's stock images), drag, drop, upload any company logos, add text, change fonts and you're done!: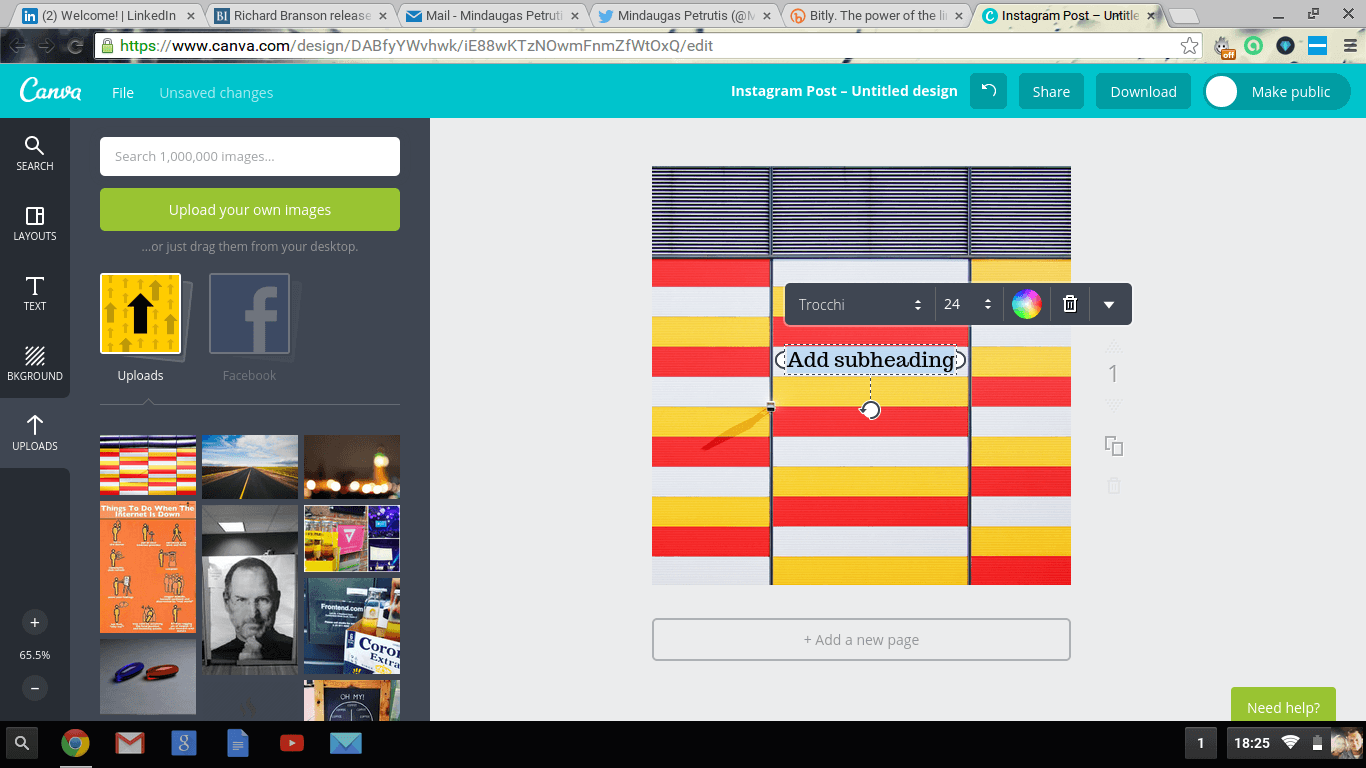 Test:
Next stop: Instagram. Now that I've created the advert, it's time to test it. I usually try to come up with a different caption to the one used on the ad image, so as not to repeat myself. Then I set to work researching and adding relevant hashtags for the job I'm posting. Then all that's left to do is hit the post button: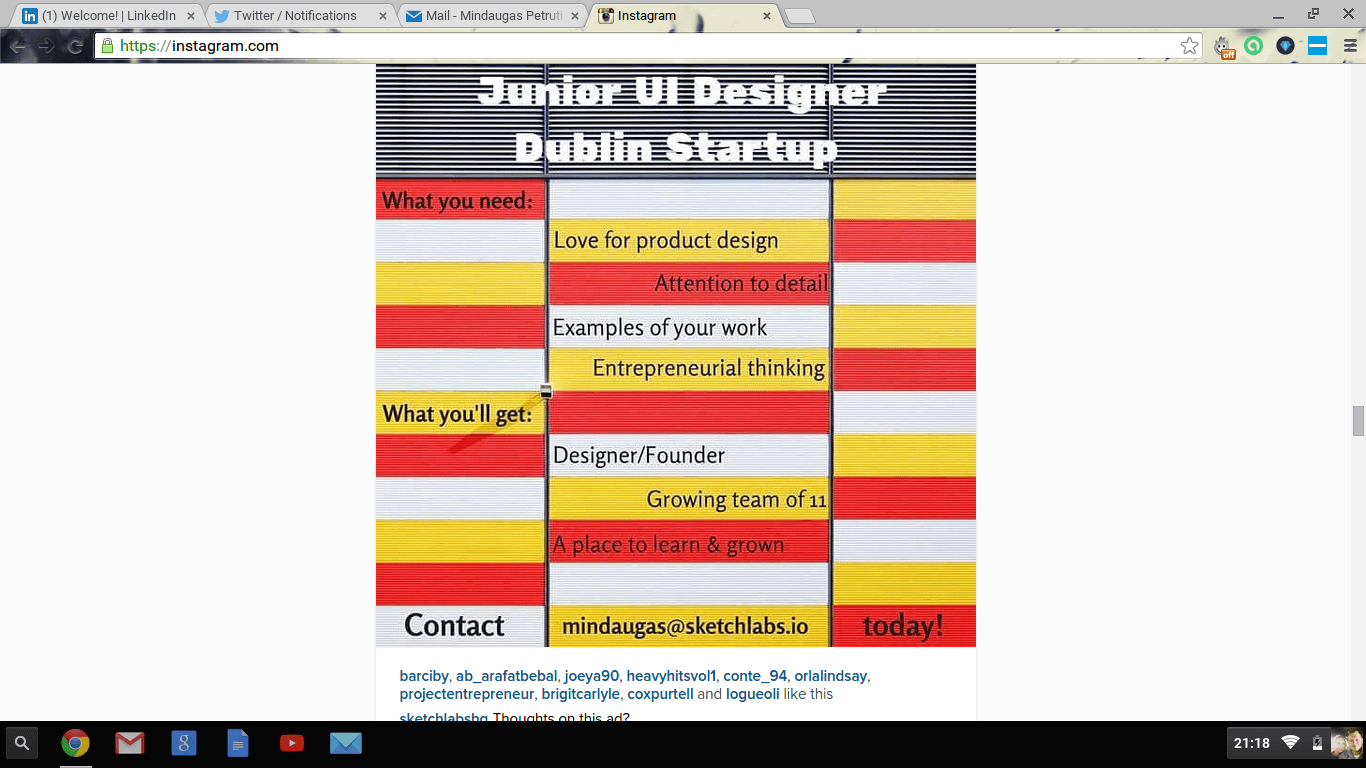 If the ad only gets a few likes, I know it's not that great, and I'll go back and to try to change a few things. I always check who liked the Instagram post, if designers are liking it – job well done!
For more creative Instagram ad ideas check out Social Talent's other blog post: 10 Crazily Creative Instagram Job Ads.
My Biggest Achievement So Far
Over the last year, my creative journey has led me to what I feel is my biggest achievement so far – the creation of this visual job ad.
A few weeks ago, I went to meet an amazing new client, and found the location and the office were truly breath-taking. On my way home, I was trying to imagine how I would portray the office, the location and the people, in a single image. I couldn't. There were just so many things I wanted to feature and that I thought any potential candidates should see and know about this incredible business! But how? A single Instagram job ad image wasn't gonna cut it for this one!
So I started doing a little research and happened to come across Exposure.co – a tool that allows you to create beautiful photo narratives using your own photographs. It was perfect! So, I spoke with the client, explained what I wanted to do, they loved the idea, sent me across tons of beautiful and original images, and the rest of history!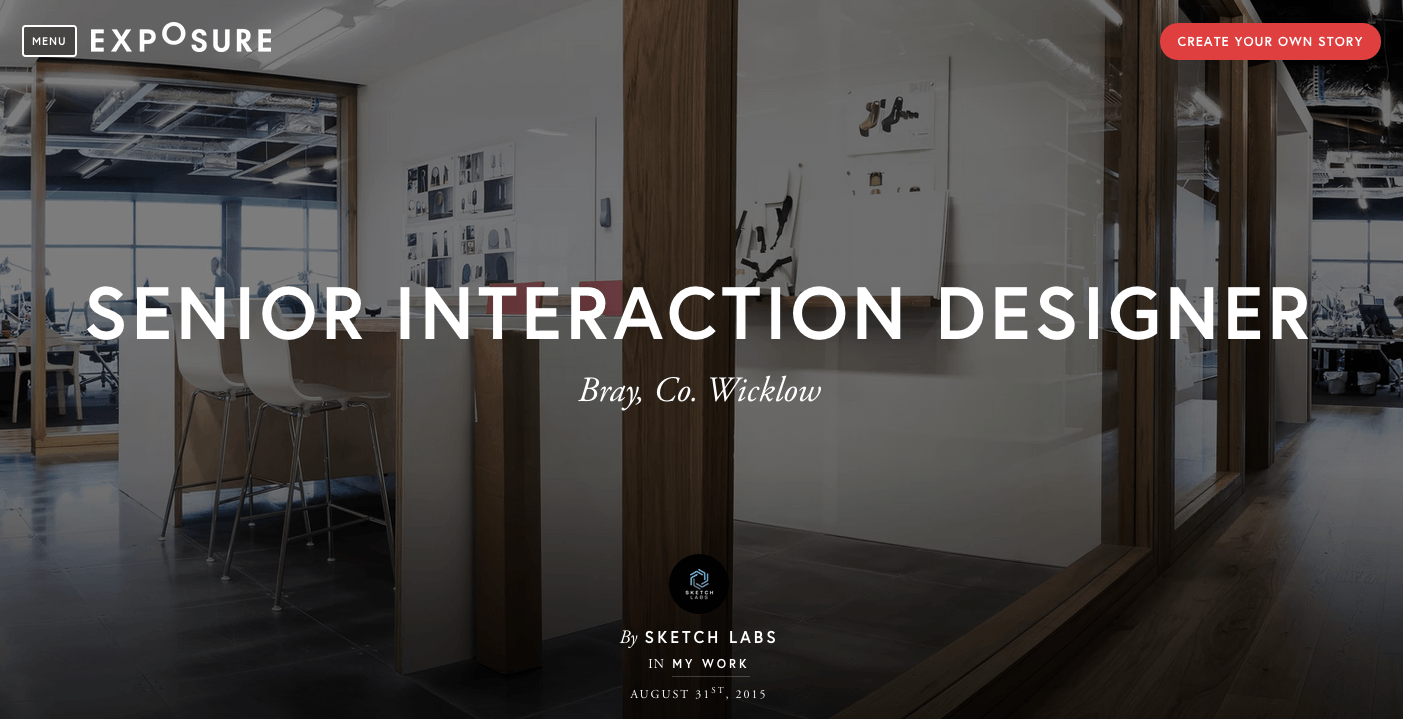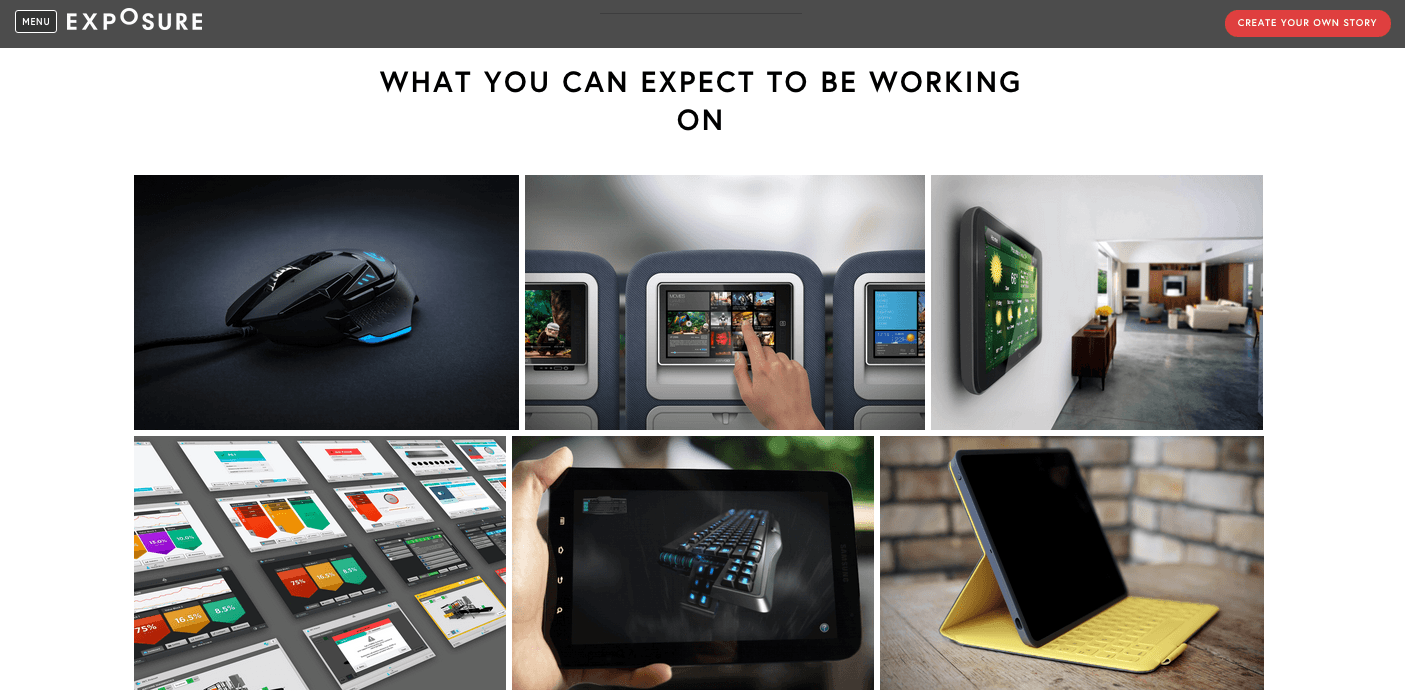 I am extremely proud of this one! It has been viewed just over 1700 times on Exposure.co to date, and over 160 people have clicked the link to view the ad on Twitter, Facebook and LinkedIn. And then there were tweets like this too: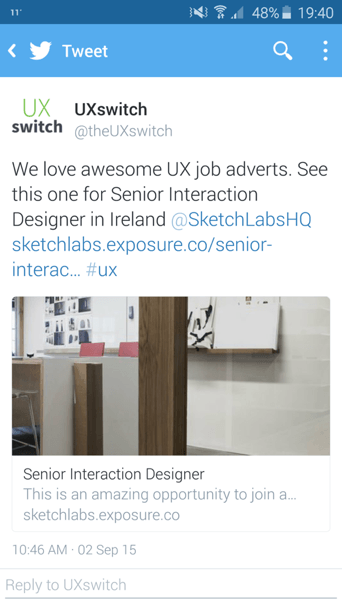 Most importantly, the right people are responding to this advert, they're applying, they're sharing it to their networks, and they're referring others to it. Some designers (who are far too senior for the role in question) have even reached out just to say that they loved the ad! And all because I took some time to research and find the perfect medium on which to advertise this job, involved the client, and wasn't afraid to be different.
Conclusion
As recruiters, we speak to tons of candidates every day. If you have a good relationship with them, don't be afraid to ask them for advice. Maybe even send them over an advert you're working on before you post it. Listening and talking to my target audience, and building up a picture of what they want to see in an advert – things they like and don't like – has been absolutely key to the success of my visual job ads so far.
Likewise, don't be afraid to get your client involved in the job advertising process. It's as much for their benefit as it is for the candidates'. I like to build a relationship to the point where I am almost a part of their team, that way I know everything there is to know and they are more than happy to help by providing some extra information or images.
Don't be afraid to be bold, and to try new things like different social media tools and platforms. I can almost guarantee you that very few recruiters are using the likes of Unsplash and Canva to create job ads.
And finally, (and I can't stress this enough) always track the progress (likes, shares, comments) of your job ads and learn from them. Constantly research, evaluate the stats, change, adapt and go again. It's the only way you're job ads will improve.
If you can marry each of those things, then eventually you too will be creating engaging ads, which in turn will attract the right people! Good luck and let me know how you get on in the comments below or tweeting me @MindaugasLT.
Find out how the likes of IBM, IKEA and Siemens
drive hiring excellence with SocialTalent
---