How to Add a LinkedIn Button to Your Gmail Signature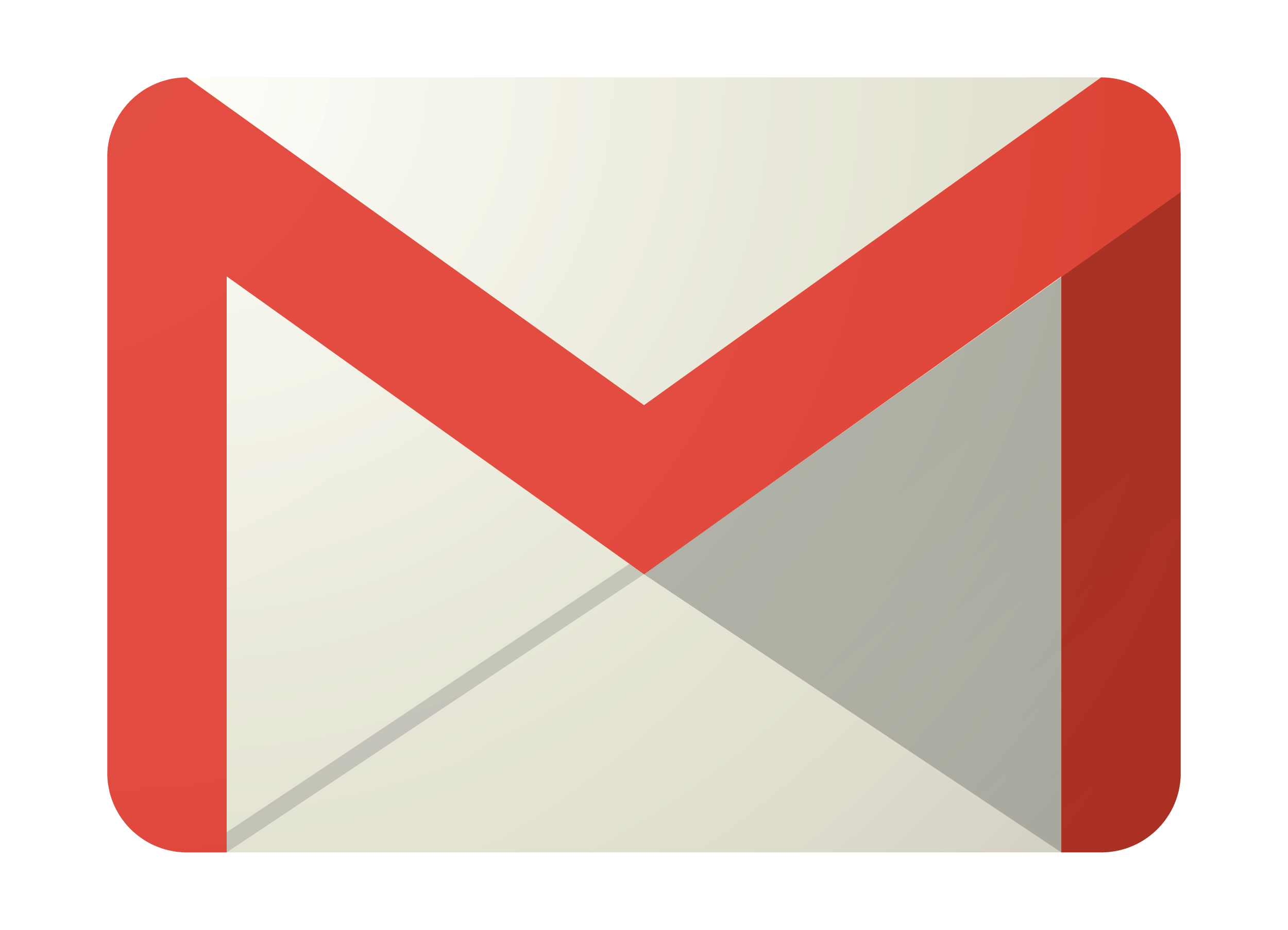 Make your email signature work just that little bit harder for you by adding a link to your LinkedIn profile in the form of a LinkedIn button. Here's our step-by-step guide for how to do so:
Step 1.
Login to your LinkedIn account and click the Profile button to go to your personal profile:

Step 2.
Once in your profile, take note of your personal profile URL, which in my case is https://ie.linkedin.com/in/siofrapratt. You will need it later.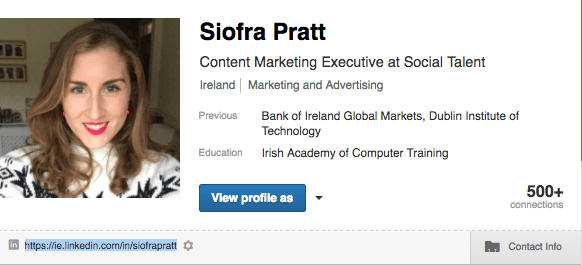 Step 3.
Next, go into your Gmail account and open up your Gmail settings by clicking the cog icon in to top right hand corner of your Gmail dashboard, and selecting the Settings option: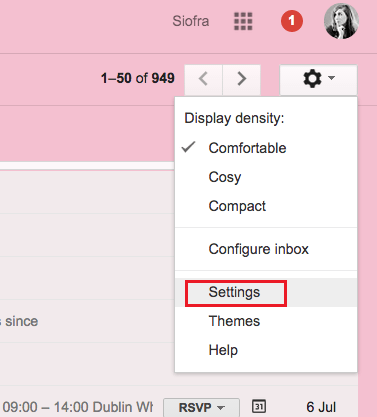 Step 4.
Once inside your Gmail settings, scroll down to the Signature option: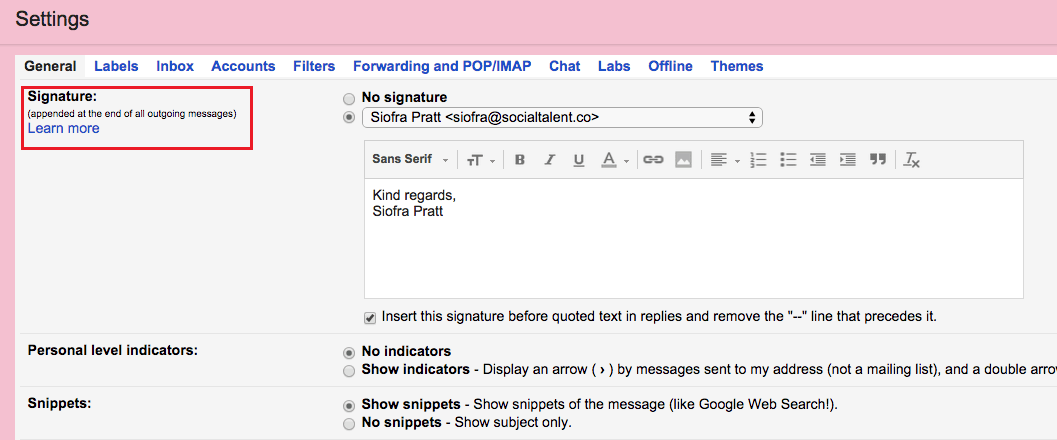 Step 5.
Click the Insert Image icon in the Signature section: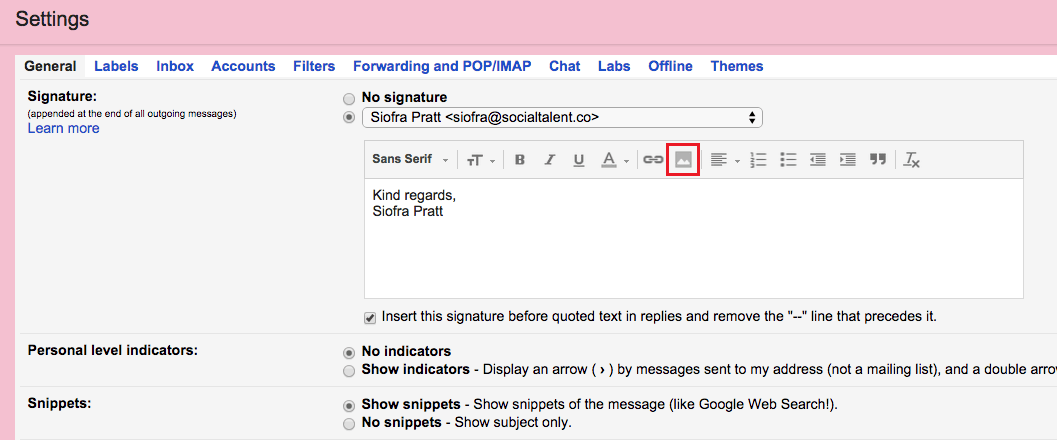 Step 6.
Select the Web Address (URL) tab and enter the below URL code into the box provided. When Gmail displays a preview of the LinkedIn button we've created especially for you, click Select. That button image will now be inserted into your Gmail signature.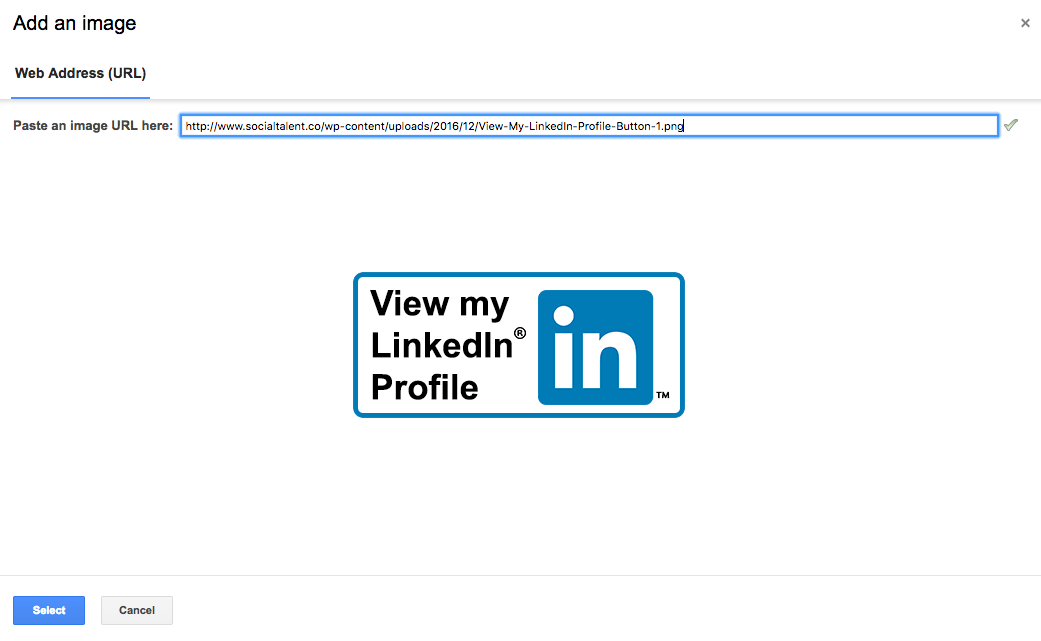 When the button is inserted into your signature, just click the image to resize the image (Small, Medium or Large) depending on your preference.
Step 7.
Now all you need to do is add a hyperlink to that image, so that when people click it, it brings them straight to your LinkedIn profile. To do so, use your cursor to highlight the LinkedIn button image in your signature then click the Add Link icon:

The options associated with the image will change. Select the Change option from these new options:

Gmail will then ask you to enter a web address. That web address needs to be the URL of your unique LinkedIn profile. Once you've entered it, click OK: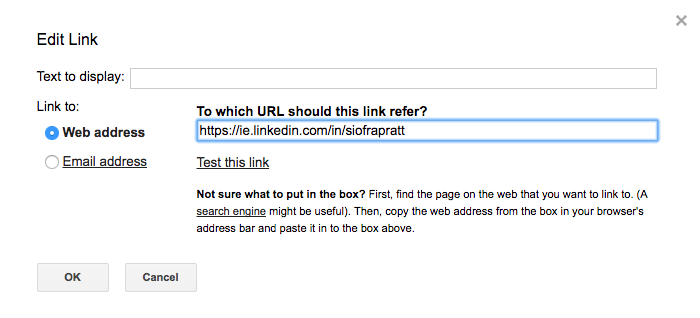 Step 8. 
Now that your image has been hyperlinked, all you need to do is click Save Changes in Gmail settings and you're done!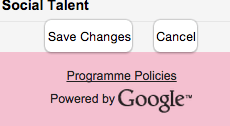 And you're done! Now, the next time you send an email to someone via Gmail the option to visit your LinkedIn profile in one click via a LinkedIn button will be available to them.
Now that you've added a LinkedIn button to your Gmail signature, it's time to spruce up your LinkedIn profile. Download our FREE guide now: The Sourcing Ninja's JUMBO Guide to LinkedIn
FREE EBOOK
The Ninja's JUMBO Guide to LinkedIn (Part One)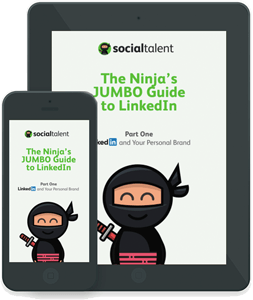 Want to keep up to date?
Join our 75,000+ subscribers who do!