Keep up with the latest hiring trends!
/
/

How to: Leverage "Who Viewed My Profile" on LinkedIn
How to: Leverage "Who Viewed My Profile" on LinkedIn

Whether you're a recruiter, job-seeker, entrepreneur or any other business professional, knowing who's checked you out online can be a really powerful tool to enhance your business success. It's something that few business professionals really take into account, but LinkedIn know full well just how much these sales leads can add to your bottom line. They charge you money for this feature and it's one of the only pieces of analytics that I would happily fork out for. Why? Because it is an excellent selling tool.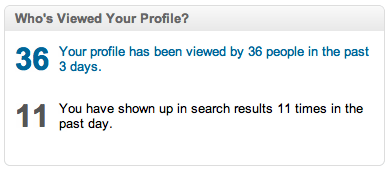 How do I leverage this data?
This visitor data is different to any other visitor data source on the web, simply because it gives you something really key: NAMES. Having the person who visited your account's name is a sales lead. Even if you're not selling anything they'd be interested in right now, it gives you the ability to connect with them on the network and perhaps sell to them later.
By seeing the names and profiles of your visitors, it gives you a warm introduction to connect on LinkedIn:
I saw that you viewed my profile on LinkedIn this week, and that you're working in X industry. I'd be delighted to connect, and if I can be of any help please feel free to reach out!

Best, Joe
Quick and simple, and kept to underneath the 200 character limit that LinkedIn have now set for connection invitation messages. (In case you're wondering, LinkedIn have set this character limit because recruiters and sales people were abusing this message to include details of job or sales opportunities, therefore effectively spamming LinkedIn members.)
What data should I be paying attention to?
Other than the names and profiles of those who're viewing your profile, when you use a LinkedIn Pro account, LinkedIn give you an excellent breakdown of the stats on your profile. From how many appearances you've made in search results, to a 90-day running total and graph of who's viewing your profile, detailed search keywords that LinkedIn members are using to find you, and the demographic data on these profile visitors.
What you should be reviewing often is the following:
The keywords that members are using to find me – are they keywords that appear often in my profile and are they the ones that I actually want to be found for? If they're not, then perhaps it's time to review your profile and optimise it to include, maybe in your Specialities and Skills section, the keywords that you'd like to be found for.
The locations of those that find you – are they in your local area or are they too diverse? Are they in the entirely wrong country altogether? Perhaps review your location information – is your country and postcode correct?
If you're a job seeker, look at the views by industry: is staffing and recruiting or HR coming up on top? Or maybe the industry that you're working in right now (many recruiters and HR professionals put in their company's industry rather than their profession, so if the HR manager of an accounting firm looks at you, they may have their industry as Financial Services or Accounting). Again, make sure your profile is optimised to encompass the industry you work in and reflect your skills.
Tell us your success stories by leveraging "Who Viewed My Profile" in the comments – have you introduced yourself to potential clients and customers, or even better, potential employers?
Find out how the likes of IBM, IKEA and Siemens
drive hiring excellence with SocialTalent
---