Keep up with the latest hiring trends!
/
/

How To Optimise Your LinkedIn Company Page
How To Optimise Your LinkedIn Company Page

Welcome to SocialTalent's Live & Learn series!
Each week we gift you with a little bit of info that will help smoothen your recruitment process and expand your knowledge of your industry.
With this Live & Learn series we promise we kept it:
Short
Simple
Ready to use!
Sound good to you? Let's begin!
Best Practice For Your LinkedIn Company Page
Everyone thinks they know how to make a company page. Write a description, add a photo and you're good to go. But do you know how to optimise your LinkedIn company page so it's easily found? We all want more views and clicks and Dave Hazlehurst (Google Dave) is a marketing mastermind who can show you how to make this happen.
Key Takeaways
Taking the time to cultivate a really strong LinkedIn company page will benefit your branding in the long run. Make sure candidates can find you easily and you'll be sure to get more clicks. Whether you're starting from scratch or your page needs some spring cleaning, keep these points in mind.
1. Think of Google make sure your description leads with powerful, keyword-rich sentences for optimum SEO
2. Investigate the different status update options. Try playing around with new ways of sharing your content- targeted marketing can be really powerful when done well.
3. Create something your employees are proud to share. Encourage people to share your content and promote your page by delivering quality content
SocialTalent has created the best recruitment training for our Recruiter Academy. Packed with insights from Recruitment experts to develop your skills as a recruiter, whether you work for an agency or have a role as a corporate recruiter as part of a team of flying solo- we have the training for you!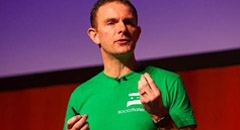 SocialTalent Recruiter Academy
A full library of videos that can help your team transform their hiring process
Find out how the likes of IBM, IKEA and Siemens
drive hiring excellence with SocialTalent
---