Keep up with the latest hiring trends!
/
/

How to: Use GitHub to Find Super-Talented Developers
How to: Use GitHub to Find Super-Talented Developers

Originally founded by Tom Preston-Werner, Chris Wanstrath, and PJ Hyett to simplify sharing code, GitHub quickly grew into the world's largest code host. They now have 268 employees and a membership of over 8.9 million developers, programmers, engineers and techy-types, who contribute to around 20.8 million repositories of source code. Yes, GitHub is a tech recruiters dream! It's packed to the gills with talented folk and the good news is, you can search for them for free!
What is GitHub?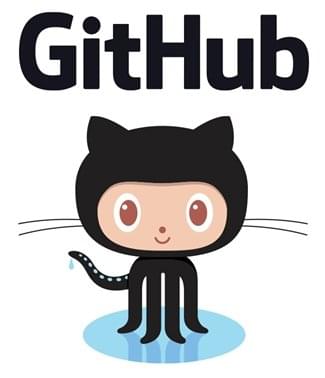 GitHub is the world's largest social coding site. Put simply, it's a cloud based, hosting platform for open source (OS) developers, who use it to host and share codes based on open source frameworks and technologies, like Ruby on Rails.
So while, you and I might use the likes of Facebook and Twitter to share articles or photos, developers use GitHub to share open-source development projects they're working on.
The name GitHub comes from the fact that the site is used by developers for anything that uses the Git Revision Control System, which is essentially a version tracking system. The Git Revision Control System allows developers to record and track all the changes in a particular code from the original source code.
How can recruiters use it?
Well, my friends, this is where GitHub gets interesting for recruiters! Each and every developer using GitHub, has to set up an account – a profile that is visible to the public. And on it you can find all sorts of fantastic information about that person, including:
Username
Current employer
Location
Email address
Websites they have chosen to display – where you may be able to find out more about the candidate.
No. of followers – 2-10 followers is good, 11-25 is great, 26-75 is exceptional (and probably means that person is very respected within the industry), and anyone with 75+ followers is super hot, and will be nigh on impossible to recruit!
Contributions that person has made to the site – under this section you are likely to see keywords pertaining to the coding languages the person usually writes in, for example the keyword rails will be visible if that person has added content around Ruby on Rails.
Repositories – these are the open-source development projects the person has chosen to host on GitHub and projects they've copied ("forked").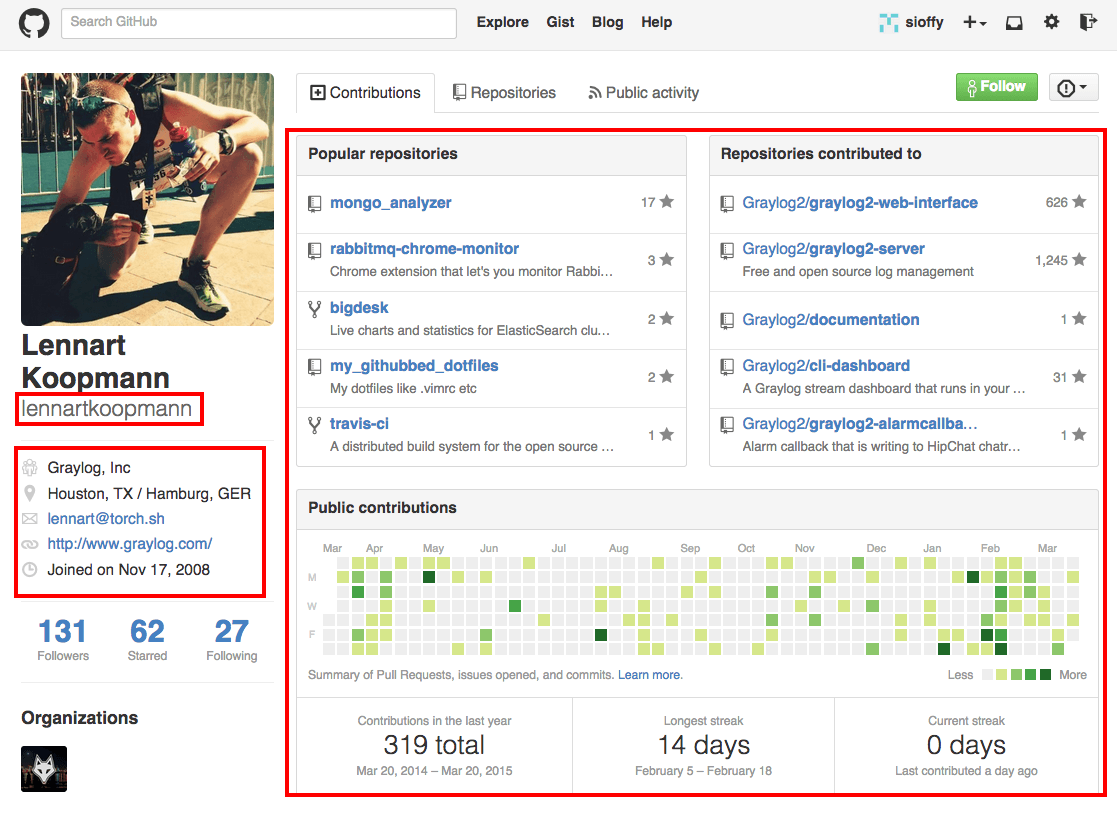 How to: Search GitHub for Candidates
So, now that we know what GitHub is used for and why developers host and share code there, let's move on to the big question: how do we find developers and programmers we'd like to hire on GitHub? And more specifically how do we find them based on the specific languages they code in and the location they're based?
Step One:
Create a GitHub account
Non-logged in users are very restricted as to what they can and can't search for in GitHub, so the first thing you need to do (even as a recruiter) is create your own account. All you need to do so, is a username, your email address and a password. Then you're in.
You can add a profile photo and your company's name and website after, to bulk out your profile if you wish – and we'd recommend doing so.
Step Two:
Use the search bar to search languages, location and followers
When running a search on GitHub you will do so using up to three parameters
Language
Location
Followers
For example, if you wish to find someone who's skilled in Ruby on Rails, based in London and with a follower count of between 2 and 20 people, your search will look like this:

Or if you wanted to find someone who's skilled in Javascript, based in Texas and with a follower count of greater than 5 people, your search might look like this:

For YOUR specific search, you can replace ruby and "javascript", as I've used above, with any programming language you wish. For example:
language:objective-c
language:c++
You can replace London or Houston with the location you're looking to hire within, remembering that location is a free text field, so if you are searching for candidates in London, you may need to state united kingdom or UK instead. For example:
location:"united kingdom"
location:uk
And finally, if you wish to specify the number of followers the person needs to have (you don't need to include this in your search if you don't want to), just replace the above numbers (2..20 and >5) with your specific number range. For example:
followers:>10 – will search for users with more than 10 followers
followers:5..50 – will search for users with between 5 and 50 followers
followers:<75 – will search for users with less than 75 followers
Step Three:
Filter your search results accordingly
When the results page appears, by default, GitHub may show you the results for Repositories instead of Users first, so just amend that view by selecting Users' from the menu on the left hand side, as illustrated below: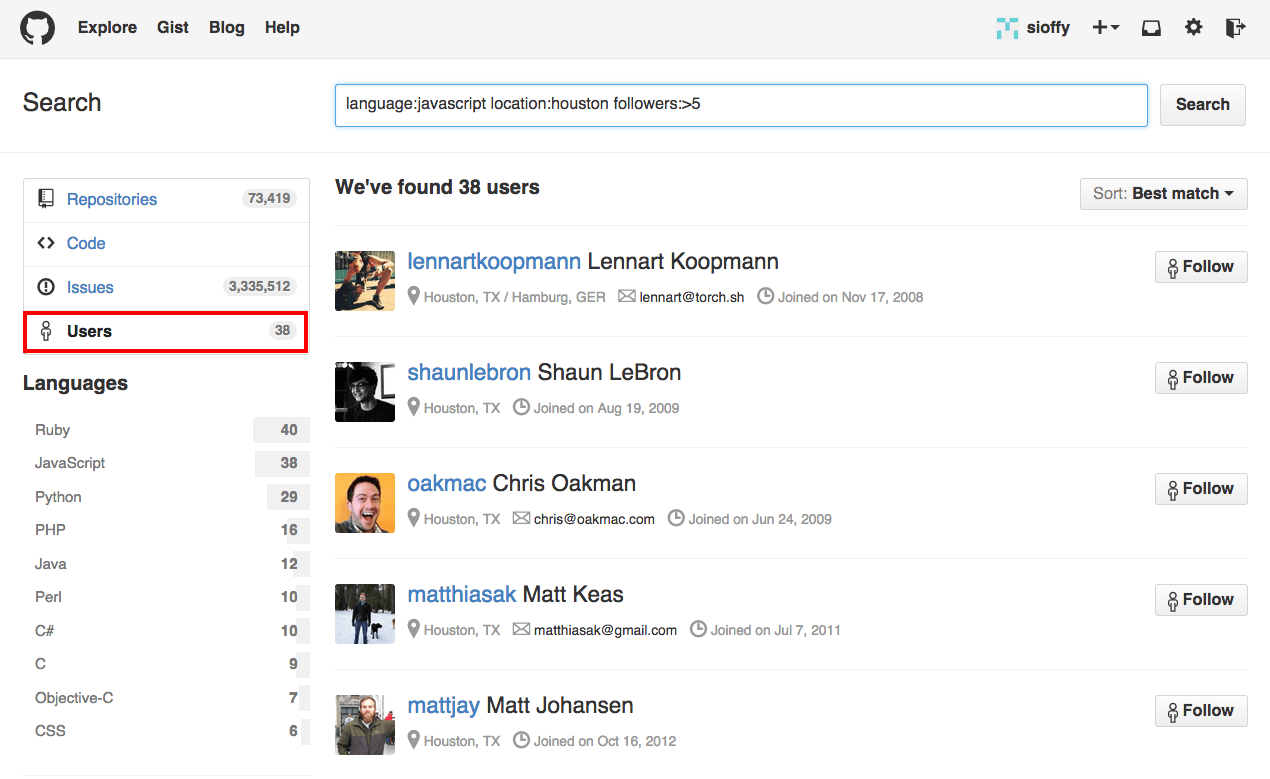 You can decide whether or not you would like to re-order the results you've received.
By default, GitHub will always show you Best match results first. Best match will order people according to how much they have coded (in GitHub's opinion) in the language you've specified and near the location you've included. This default view makes it really easy to find people whose primary coding language is the one you've defined, but if you wish to change that order, use the sort dropdown menu (as illustrated below) and select another option like Most followers, Most repositories etc.: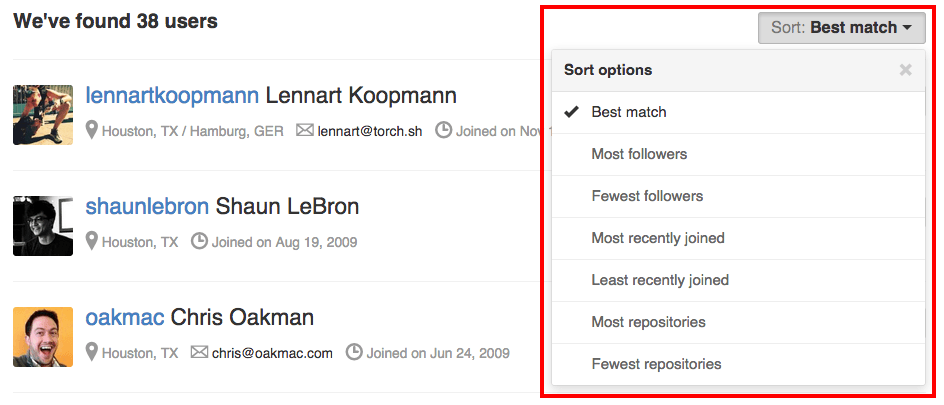 Contacting Candidates on GitHub
Now that you've found some great developers you'd like to reach out to, it's best to do your research before contacting them. If these people are good, they're probably being targeted by recruiters left, right and centre. So, you need to give yourself an edge when contacting them, and the best way to do so is to be familiarising yourself with their work, getting a feel for the projects they tend to be involved in, and checking out how active they are on the site.
The first thing you need to do is check out their repositories – where they store their code: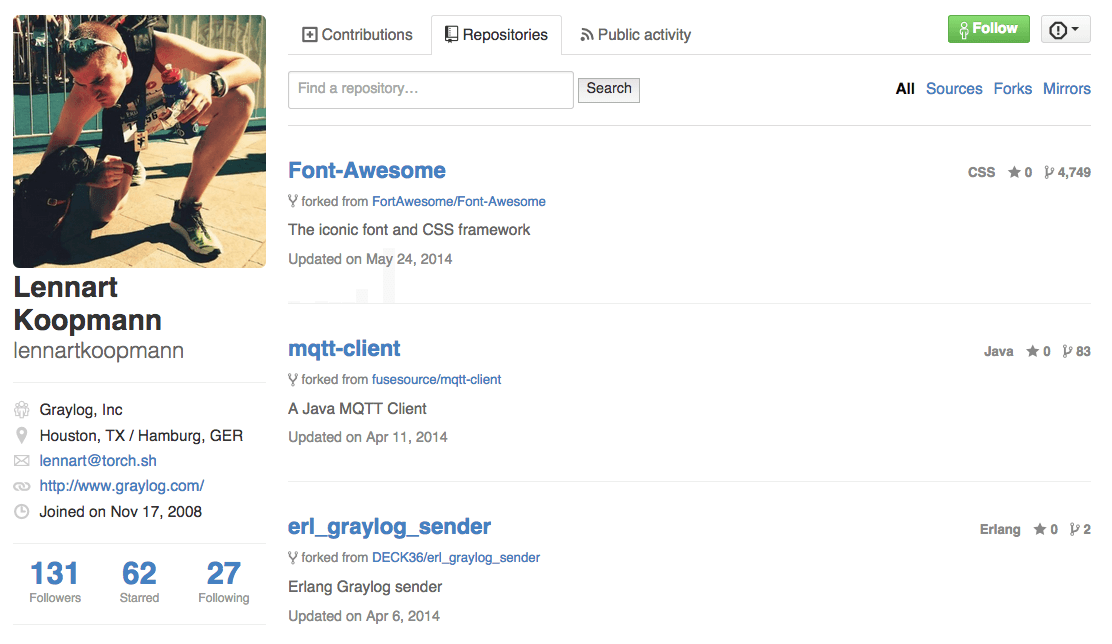 Code listed as Sources is code that that person has authored from scratch themselves and hosted on GitHub: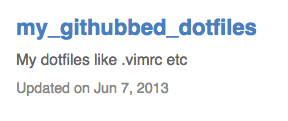 Code listed as Forked is code that that person has copied from another user – code they've found valuable, and copied to use in their own code: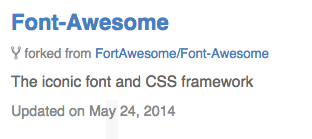 Have a look at what they're authoring and what they're forking from others to get a feel of the type of projects they're involved in.
The second thing you should check out, is their public activity. Have they been on GitHub recently, either adding more code, forking someone else's code or commenting on someone else's code?:

And finally, be sure to cross reference them elsewhere on places like Twitter, Google+ etc. to see if they're commenting on other things inn other places relative to the code they're sharing.
Then all you need to do is carefully craft your message using the knowledge you've gained about the candidate and wait for their reply! Happy sourcing folks!
 Bonus Tip:
Use SourceHub to Search GitHub the Hassle-Free Way
If you fancy doing things the super hassle free way, sign-up for SourceHub and let it do all the hard graft for you. All you need to find great candidates on GitHub (and 14 other social sites including LinkedIn, Twitter and About.me) on SourceHub, is input:
the title of the job you're looking to fill
the skills the candidate needs to possess,
and the location you're looking for the candidate in.
No ANDs, ORs, or NOTs. Just tell SourceHub exactly what you're looking for, in simple terms, click the GitHub icon and it'll automatically open a comprehensive page of search results full of the best talent GitHub has to offer, ready for you to contact: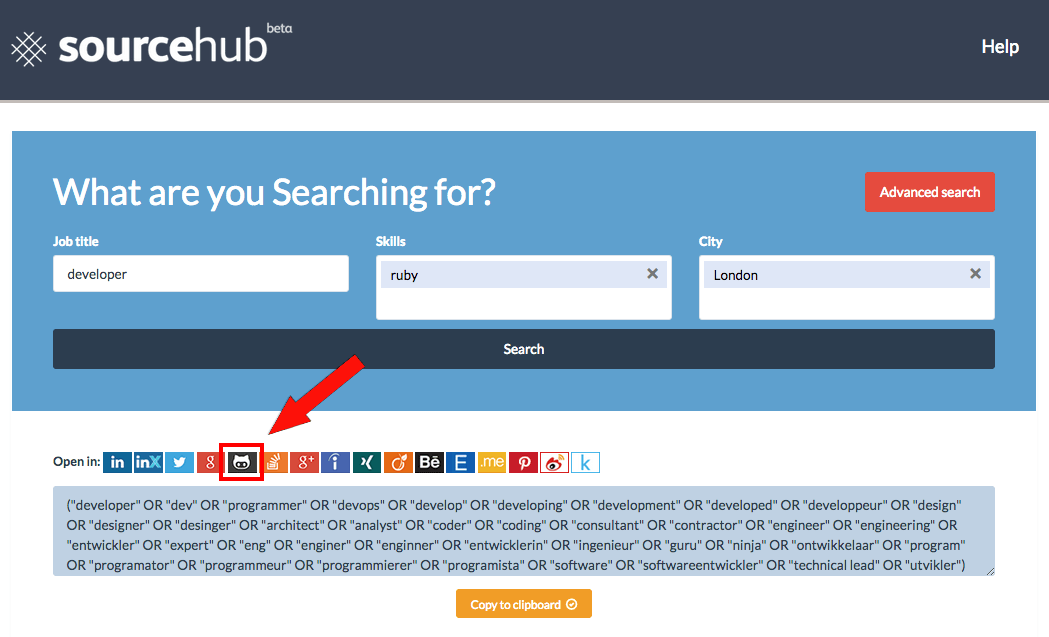 So what are you waiting for, sign-up to SourceHub for FREE now, and start finding the cream of tech talent:
Find out how the likes of IBM, IKEA and Siemens
drive hiring excellence with SocialTalent
---