Keep up with the latest hiring trends!
/
/

How to Use Indeed For Recruitment Research
How to Use Indeed For Recruitment Research

Welcome to SocialTalent's Live & Learn series!
Each week we gift you with a little bit of info that will help smoothen your recruitment process and expand your knowledge of your industry.
With this Live & Learn series we promise we kept it:
Short
Simple
Ready to use!
Sound good to you? Let's begin!
How to use Indeed for Recruitment Research
Did you know Indeed is so much more than just a job board? If you read between the lines it can unlock a whole new world of data. Johnny Campbell teaches you how to find out what talent is searching for and how you can make crucial decisions with your team.

Key Takeaways
Now you have the skills to find some extra information on the potential candidates you should be looking at AND how the market is reacting to jobseekers demands. Remember:
What job titles is your prospective talent searching for? Checking the filters in Indeed can lead to crucial SEO insights for your job ads.
Use the Education filter to gain an idea of what level of education your ideal candidate will have. What are the exceptions and what is the norm?
Seeing which companies are hiring for similar roles and where talent is currently working will help you clarify what the market is looking for.
---
SocialTalent we have created the best recruitment training for our Recruiter Academy. Packed with insights from Recruitment experts like Johnny Campbell, John Vlastelica and Stacy Donovan-Zapar to develop your skills as a recruiter, whether you work for an agency or have a role as a corporate recruiter as part of a team of flying solo- we have the training for you!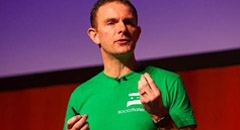 SocialTalent Recruiter Academy
A full library of videos that can help your team transform their hiring process
Find out how the likes of IBM, IKEA and Siemens
drive hiring excellence with SocialTalent
---