Keep up with the latest hiring trends!
/
/

How to: Use New LinkedIn Sponsored Company Page Updates
How to: Use New LinkedIn Sponsored Company Page Updates

LinkedIn have announced the arrival of new Sponsored Posts for Company Pages, which will promote Company Page updates in the newsfeed of LinkedIn users (rather than the side-margin ads which no one clicks on), taking further steps towards Facebook-esque Advertising.
This is a huge benefit for companies that are advertising on LinkedIn, since Updates in newsfeed streams are more likely to be read and interacted with than the ignorable ads on the side of your screen. Targeting LinkedIn members based on demographic and professional information (location, gender and age, profession, job title, seniority, what University they went to, what Skills they have, what Groups they're a member of) is a key component to successful online advertising.
A word of warning though – LinkedIn Sponsored Updates are expensive, in comparison to other online advertising networks. Your starting bid is $4.00 per click (social actions like Likes, Shares, Comments and Company-Follows are free), which when you compare that to Facebook or Google Ads, is one of the highest starting rates going. However, LinkedIn has some of the richest demographic profile data in the world. As a company advertising high-end products, professional services or core high-skill jobs, LinkedIn is your man.
Here's a Step-by-Step guide to Sponsored Posts on LinkedIn!
1) Ensure that you are the Company Page Administrator for your organisation
If you have the ability to post updates as your company, you're a Company Page admin. If you don't have this option, check out this great blog post by SocialMediaToday for a quick guide to Registering your LinkedIn company page.
2) Start your Advertising Account with LinkedIn
If you don't already have an Advertising Account with LinkedIn, click here to get started. You can create an ad from scratch, sponsor an update or explore more marketing solutions (like create a job ad etc). You'll be asked to enter your billing details, and then follow the rest of the steps outlined below.
3) Create a Company Post on LinkedIn that you want to promote
To do this, simply type in your update and ensure that you also include a link to your campaign – whether it's on your own website landing page, job board or application form etc.
Let's use this as an example: say you wanted to promote the fact that you've announced 50 jobs at your Pharmaceutical company for Sales roles.
Write a quick status update, for example:
"Great news – we're expanding! ACME Company are delighted to announce we're now hiring for 50 jobs in our Pharmaceutical Sales division based in our [location X] office. If you're a Pharmaceutical Sales rep, we want you! Click the link to find out more about this exciting role!" [insert link to your website here]
Now, instead of just posting it out to all of your Company Page followers, click on "Share With" and select "Target Audience". Only issue the update to Company Followers who meet your target criteria – in our case above, Sales people (particularly Pharmaceutical Sales) who are in our target location.

After the update has been posted, you can now Sponsor it.
4) Click on the "Sponsor Update" button to get started
You'll see this button appear under your post on your Company Page:

5) Start promoting your update to reach new LinkedIn members in your target
Using similar criteria, start selecting your target audience for your update.
Location: Specify the country you want to target, and if possible the specific region within that country (not all countries are divided into regional targets).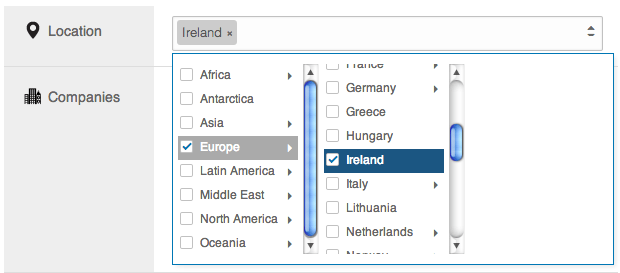 Companies: You can either select "All", specific companies by name (say your closest competitors who are based in your region that employ the kinds of people you want to hire/poach) or select by Category (industry or company size – like, is this a Pharamaceutical company, or Technology company etc. Do they need to be working for a large company, a medium-sized business or a small niche company with less than 10 employees?).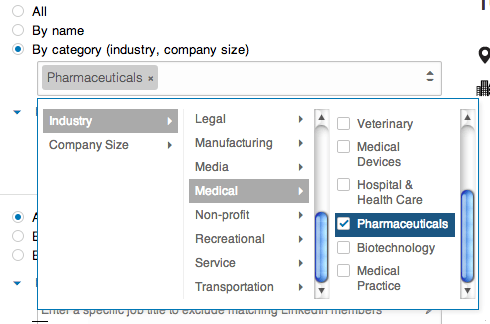 You can then un-target people who may be working for specific companies – perhaps you don't want to waste your targeting audience on your own employees, so enter your own Company Name here. Or, perhaps you have an agreement in place with your closest competitors that you will not actively poach each other's staff, so enter their company names here.

Job Title: You can target by All, Job Function or by specific Job Title. I'd recommend that you type in the specific kinds of job titles you want to target (bearing in mind that people write their job titles in weird and wonderful ways). LinkedIn will prompt you to "Consider Adding" other variations of the job titles you've entered – tick off whichever ones apply to your target, being sure to leave out titles that are too junior or too senior. I've targeted campaigns before using over 200 different job titles to get as many in my target as relevant as possible.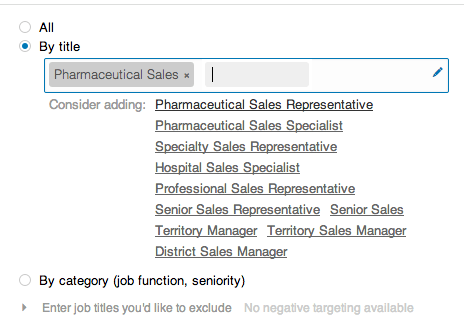 If you want to continue refining your audience by Skills, Groups, Schools etc, click on "More targeting options". Enter your targeting criteria exactly as you have done so above, as you need it.

LinkedIn will keep a real-time tally on how many people are in your audience on the side of your ad screen. You have to have a target audience above 1000 members though.
When you've reached your target audience, click "Next" and set your budget.
6) Set your Advertising Budget
LinkedIn will suggest a bid sum per click (CPC – cost-per-click), or you can select to pay per 1000 impressions (called CPM – cost-per-mile). You should set a Daily budget and a Total budget, for example $100 per day (at $4.00 per click, means you'll get 25 lead-clicks max per day from your ad), and a total budget of $500 if you're running your ad over a 7 day period.
Define how long you want to run the ad for (either Indefinitely, or until a specified date), and hit Launch Campaign.
Now, your Company Page update will appear in your target audience's newsfeed stream with a small "Sponsored" message at the top, reaching a potential audience much greater than your current company page Followers, and to which your message is perfectly relevant to them. Remember – the more relevant the message to your target audience, the more likely they are to pay attention, interact and convert to your call-to-action.
Happy sponsoring!
Find out how the likes of IBM, IKEA and Siemens
drive hiring excellence with SocialTalent
---