How to: Use Recruitment Marketing like a Fortune 500 Company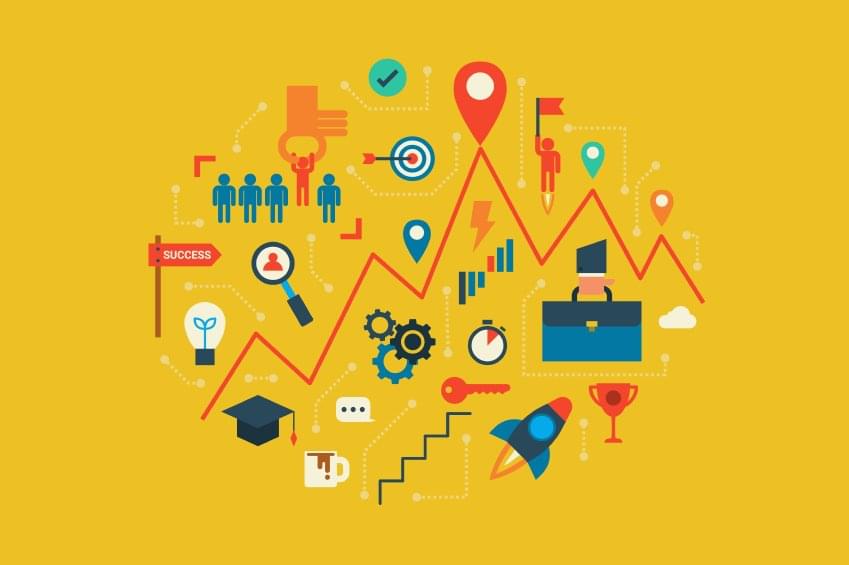 You are going to be hearing a lot about recruitment marketing in 2016. A LOT.
I've said it before and I'll say it again: Candidates are like consumers. In fact, they are technically a recruiter's consumers. We're hoping they buy what we have to sell: jobs. But just like regular consumers, candidates have choices. As consumers themselves, they're used to being able to research anything and everything they want about a product before they buy it, and they expect to be able to do the same with your organisation/client and the job you're offering.
It's not enough to offer good jobs anymore. You need to prove to candidates that your company is THE company to work for and that your employer brand, your benefits and your growth opportunities are better than those of your competitors. And the only way you're going to convince them of all that, is with recruitment marketing.
What is Recruitment Marketing?
The college student's favourite, Wikipedia, tell us that recruitment marketing is "the strategies and tactics an organisation uses to find, attract, engage and nurture talent before they apply for a job", but Smashfly probably best describe recruitment marketing when they say that it's "every tactic (content marketing, email nurturing, social recruiting, mobile recruiting, career site, SEO, employee referrals, talent networks, job marketing, employer branding, recruiting events, recruiting analytics, CRM) that a talent acquisition team uses to find, attract, engage and nurture leads in order to convert them into more qualified applicants to fill jobs now and in the future".
A recruiter's job is to convert applicants into hires. Recruitment marketing is what helps you do that by enabling you to build pipelines of interested and qualified candidates.
Are you utilising the power of Recruitment Marketing yet?
If you haven't given recruitment marketing much thought up until now, you're not alone. When Smashfly ranked 2015's Fortune 500 (download Smashfly's full report here) on their recruitment marketing efforts throughout the year, the average grade awarded was a "C", meaning that while they're currently doing a "good" job with their recruitment marketing efforts, there is room for improvement when it comes to gaining a competitive advantage over competitors.
In conducting their research on the recruitment marketing practices of Fortune 500 companies, Smashfly were able to identify a number of practices those Fortune 500 (and you!) can do to raise that grade from a "C" to an "A", from best practice to emerging practice to more untapped practices. This is what they found:
Best Practice (aka what you definitely should be doing!)
Sharing employee stories on your career site.
We've said it before and we'll say it again, successful employer branding is not about telling the company's story, it's about telling the people's story. Why? Because, people are more likely to share a memorable story about their time at your company than facts and figures, and as J.T. O'Donnell so rightly says, "By telling stories that showcase how a company operates and what makes it special, brand awareness is created". So the first thing you need to do is find the stories within your firm. Every single one of your employees has a story to tell of their time and experience in your company. They know more about the role than job spec could ever tell a candidate, so any potential candidates will be delighted to see and hear future coworkers talking about what it's really like to work in your organisation and what a day in your organisation actually looks like. Long story, short: find your Trojan Horses that will carry your talent brand story along for the ride. Make them the star of the show and let them tell their story in their own words.
Offering landing pages and content specific to key job families.
Most Fortune 500 companies don't just have a generic careers site with every job listed. They make the effort to provide potential candidates with landing pages specific to each job function (e.g. IT, Marketing, Sales etc.), which then makes it easier for candidates to browse through the most relevant jobs for them. You should do the same of your company hires for many different types of role.
Having a mobile-friendly careers site
If your careers site still isn't mobile-enabled you should be very worried, because according to a new report released last Tuesday, mobile app usage went up 58% in 2015. But while 58% growth is remarkable, the growth rate has been steadily dropping over the past couple of years. In 2014, mobile app usage grew by 76%, and in 2013, it grew by 103%. However, the large but slowing growth figure points to a market that's maturing and one which is completely comfortable with mobile and app use. That's why most Fortune 500 companies have created a careers site that can be easily browsed on a tablet or smartphone. The long and short of it is, that the vast majority of customer-facing websites/e-commerce websites now have this mobile functionality, so candidates are used to it. If you're not giving them the same easy experience they've come to expect from other websites with your careers site, they'll go elsewhere.
Having content dedicated to diversity policy and inclusion.
The topic of diversity was huge in 2015! Targets were set (e.g. in the UK, Lord Davies recommendations a bold new target of all FTSE 350 boards having 33% female representation by 2020), many large corporations took very big public steps to improve diversity in their hiring practices (e.g. Deloitte switching to a 'blind CV' hiring strategy to boost diversity), and several tech giants (including Twitter and Pinterest) made notable, high-profile Head of Diversity hires. Therefore, if you have taken steps to improve diversity within your organisation or you have a diversity and inclusion policy you're particularly proud of, you need to make it known to any and all potential candidates by ensuring it's at the forefront of your careers site.
Having content dedicated to graduates, interns and first-time job seekers.
Millennials are our next generation of candidates. They're known as the "Me, me, me" generation and as a result, they will expect your organisation to distinguish them from other applicants by providing them with a dedicated section of your careers site. Companies like Glanbia and Jameson do this really well, so be sure to look to them for inspiration when creating your own.
Emerging Practice (aka things really should consider doing!)
Including the option to join a talent network on your careers site.
Only a select few Fortune 500 companies currently give potential candidates (those who haven't applied for a job) the option to join what's known as a "talent network" i.e. an email subscribers list that will send them information on jobs within the company, what the company/employees have been up too etc. According to Smashfly, talent networks are a fantastic way of nurturing potential candidates until they're ready to apply for a new job, so that when they do eventually decide they're ready to look for a new job, your organisation will be top of their list.
Career specific social channels
Again, only a handful of Fortune 500 companies currently use social channels like Twitter to differentiate different career options in their organisations e.g. use one Twitter account to advertise and post information on sales and marketing roles and another to advertise and post information on careers in IT. But the same way you should offer potential employees specific career landing pages and content, you should also think about offering them the opportunity to be a part of a career specific social channel that only posts content relevant to their specific career path.
Mobile-friendly application process
I was very surprised that more Fortune 500 companies didn't have the option for candidates to apply using their mobile devices considering most of them boasted a mobile-friendly careers site and the fact when it comes to finding their next gig, 79% of Americans head online. The truth is, employers who accept mobile applications are twice as likely to receive as many quality applicants. So having a mobile optimised application process is a no-brainer. As a general rule, applying by mobile should take no longer than 90 seconds. One-click apply buttons are preferable, but if you require a candidate to enter some details when applying it is advisable to have no more than 7 mandatory fields.
Untapped Practice (aka things you can do to gain that competitive edge!)
Using images and videos in job ads
We've been saying this for almost 2 years now! When asked if they would be more attracted to a company with job postings that included visual elements (images or videos), than to a company with postings that didn't, 51% of respondents said they would be more attracted to a company with job postings that incorporated visual elements. Add in the fact that images and videos can help your content show up higher in search-engine results, and it becomes clear that visual elements are key to the success of job postings online.
Having a careers specific blog beyond a corporate blog
Again, it all comes down to providing the most relevancy for your potential candidates. If you offer a careers-specific blog they can read to learn more about their industry niche, your culture and your jobs, it positions your organisation as a valued resource for people in that industry, giving you an edge when it comes to who they choose to apply to next.
Conclusion
When devising your 2016 recruitment marketing strategy, you need to ask yourself the following questions:
Are potential candidates aware your organisation exists?
Are your jobs readily found when someone is searching?
Can candidates easily engage with your organisation on social media and on mobile devices?
Is your application process frictionless?
Are you top of candidates mind when candidates are ready to make a career move?
By answering these question truthfully and taking note of the best, emerging and untapped practices we have outlined above, you will be well on your way to creating a beautifully bespoke and effective recruitment marketing plan for your unique organisation.
Want to keep up to date?
Join our 75,000+ subscribers who do!