Keep up with the latest hiring trends!
/
/

How to: Use SnapChat for Recruitment
How to: Use SnapChat for Recruitment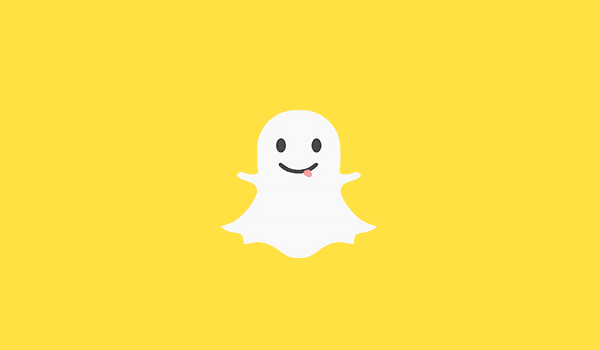 It's been almost a year since I wrote our first recruiter's guide to SnapChat in an effort to make the platform a little less daunting for wary recruiting professionals. Back then, the site was very much unknown territory for recruiters. Sure, we all knew that it's importance as a social channel was growing and that it had a special popularity amongst the hardest to reach candidate pool (Millennials), but we really hadn't a clue how to start putting its unique qualities to work as a recruiting tool. A few pioneering companies were beginning to take the SnapChat recruitment plunge, like Dublin-based pub Sober Lane for example, but no one really knew what they were doing and there was no real framework or proven way to use SnapChat for recruitment purposes.
Well, as I mentioned previously, it's been almost a year since I brought you up to date on all things SnapChat recruitment related, and in that space of time, our (Social Talent's) knowledge of the platform has grown enormously (along with SnapChat's daily users), and we have come to understand and appreciate where SnapChat's potential as a recruitment tool really lies.
Today, we're going to pass that knowledge and understanding on to you, in the hopes that you might starting using this wonderful, innovative tool as part of your 2016 recruiting arsenal.
A Quick Recap: What is SnapChat?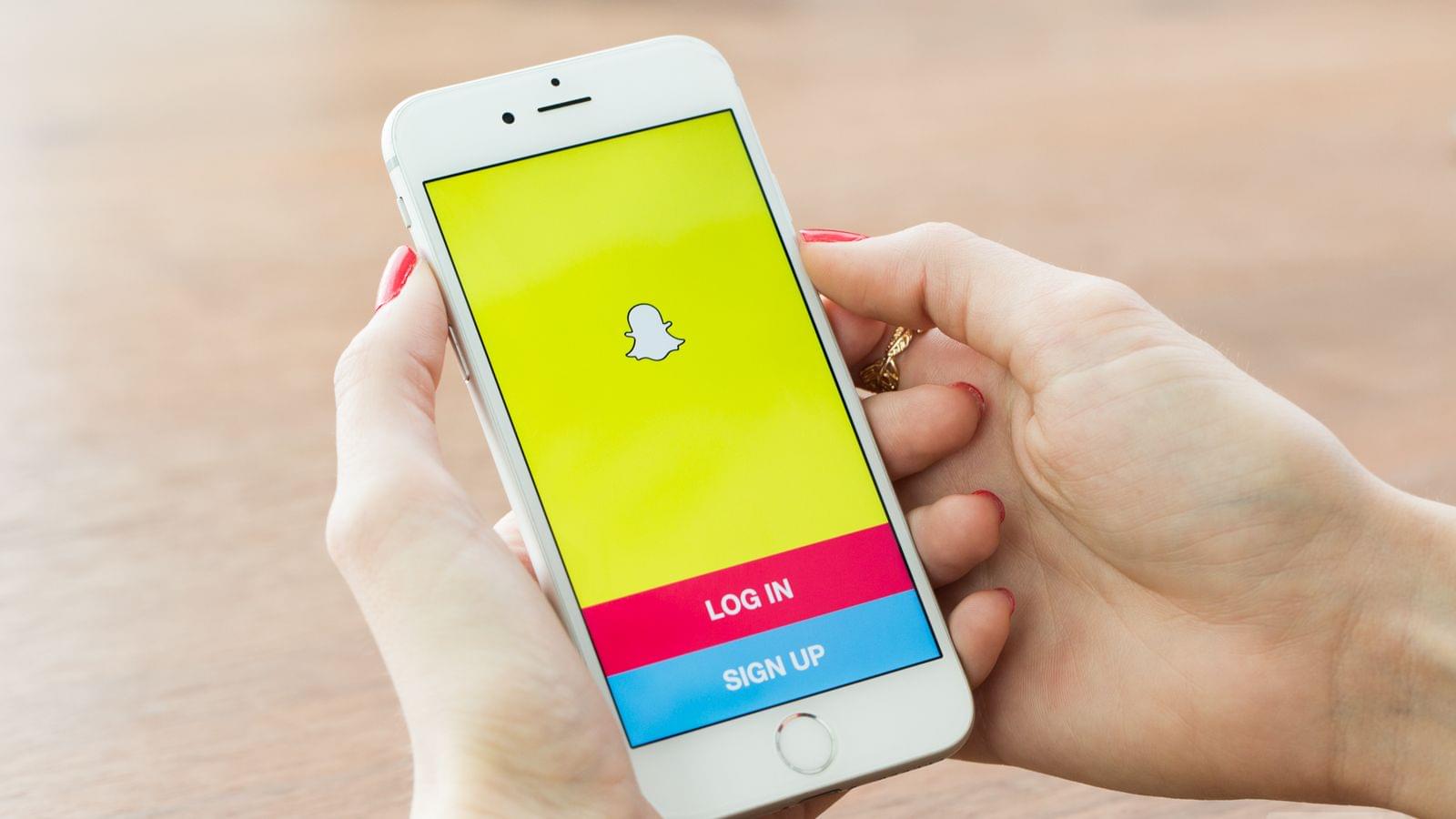 For those of you who are still unfamiliar with it, Snapchat is a photo messaging app, used by over 200 million people on a monthly basis that allows it's users to take photos, record videos, add text and drawings and then send them to a controlled list of recipients.
Sounds like any other messaging app right? Wrong! The difference with Snapchat is, that each of those images or videos (known as "Snaps") have a set time limit placed on them for how long the recipient can view that Snap. As of April 2014, that range is from 1 to 10 seconds, after which they will be hidden from the recipient's device and deleted from Snapchat's servers. 700 million images and videos are sent via SnapChat every day (that's 67% more images than Facebook) and Snapchat Stories content is being viewed 500 million times per day.
Basically, SnapChat is the place to be!
How to: Use SnapChat for Recruitment
Looking back on last year's blog and the SnapChat recruitment examples I gave, it's safe to say that we (and everyone else) mainly considered SnapChat to be useful for recruitment as a means of getting potential candidates to send us fun, alternative job applications. The emphasis was all on the candidate. We let them do the hard work when it came to SnapChat, without providing them  with very much in return.
That attitude changed in 2015. Nowadays, if you're still only using SnapChat as a method of creative job application, you're missing out on it's potential as a recruitment tool… big time. What this last year has taught us is that SnapChat's primary niche as a recruitment tool now falls firmly into the employer branding category. Yes, along with other visually based social media channels like Instagram, SnapChat is slowly but surely becoming an incredible vehicle on which to present and show off your employer brand to potential candidates. But how and why?
"Snapchat is very much built for storytelling" says SnapChat influencer Branden Harvey, and as we all know by now thanks to J.T. O'Donnell, "by telling stories that showcase how a company operates and what makes it special, brand awareness is created. When those stories focus on things potential candidates desire in an employer, it becomes Employment Branding." Therefore, the two things go hand in hand. You need to tell the story of your company and its people and SnapChat lets you tell it.
"When you do anything every single day and make it public it builds an audience", says Harvey. "All the content I'm creating is very focused on in-the-moment stuff, which I think my fans really relate to". And guess what? You can build a following of really relevant and engaged candidates using SnapChat too.
Here are five unique ways to tell the story of your company on SnapChat to attract great candidates and build your employer brand:
Give candidates access to live events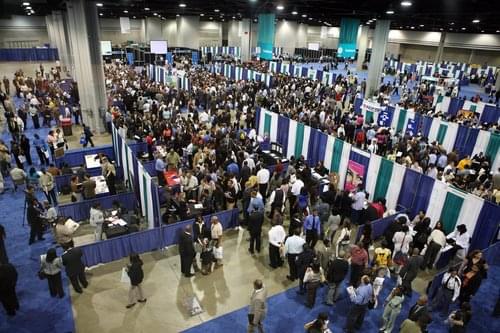 At a careers event, a big industry expo or your company's sports day? Let your SnapChat audience know and bring them with you!
Show them where you are with a video or a photo, film short clips of the speakers or the races being run, take a photo of the delectable refreshments stand or the medal table – make your followers feel like they were there and make them feel they were involved.
If you are Snapchatting from an event or throughout your day, be sure to watch your Story as you add to it and put yourself in the position of a follower who has no context of who you are, where you are or what you're doing. If you're posting all at once, make sure that you close out the story with an ending that includes a Call To Action that directs followers to one of your other social media profiles, career site or lets them know when they can expect more content from you on Snapchat. This invites them to engage with your company elsewhere online and serves as an opportunity to tease upcoming content, events or jobs.
"Partnering up with an influencer is one of the most effective things you can do" according to Branden Harvey.  Brands like Sour Patch Kids have had incredible success partnering with social influencers like Youtuber, Logan Paul, who's own social following can help spread brand awareness and reach.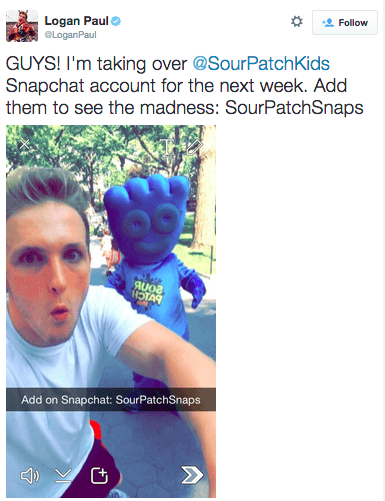 So why not apply the same principle to your own SnapChat recruiting account?
For example, if you're hiring for a marketing role, why not let a member of your marketing team or a different member each day, take the reins of your SnapChat recruiting account for a week? After all, they do know your target audience best in this instance.
Find someone that is familiar with Snapchat, a good storyteller and enthusiastic about the company and working there, and make them the star of the show. It might be the Head of Marketing, or it might be the new Marketing intern. Let them show any potential candidates what it's really like to be part of the team and give them a true day-in-the-life picture of what happenings in the marketing department – where they work, daily tasks, funny team rituals, the clothes they wear, the music they listen to – show the candidate what they're missing if they don't apply for the role. Get them excited about becoming a part of that team, all the while including the message that they can become a part of it by applying for the job.
By getting your current employees involved, it will not only boost their satisfaction but it will also encourage them to share the content across their own social channels were other similarly skilled candidates are.
Retention and attraction? Win-win recruiters!
Take candidates behind the curtain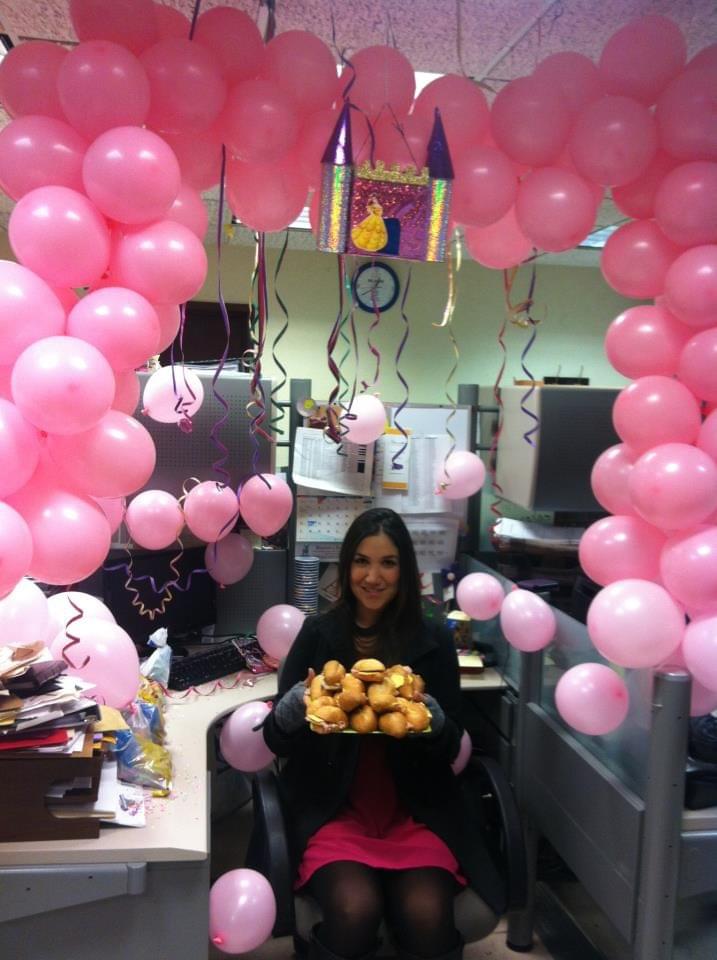 Potential candidates are always curious as to what really goes on behind the scenes of their favourite companies.
What does the inside of the building really look like? What kind of people really work there? Where do they have their meetings? What's the dress code? Do they celebrate each other's birthdays or achievements? Do they go for after work drinks? SnapChat is the perfect medium on which to answer their burning questions!
Snap in-office birthday parties, a typical Friday afternoon, company outings, morning meetings, the cafeteria, office dogs sleeping, the new coffee machine working, today's delicious lunch special, the new sound system, the CEO's desk – show off your company!
And don't be afraid to take video Snaps of these occasions! We're living in a video centric world incase you've been asleep for the past 3 years or don't have access to YouTube, Vine or Facebook. Video lets you show instead of tell. It will show off your company's character more than any character limit or staged photo. It allows you to do things like include music or conduct a 10 second interview. It allows your followers to connect with you because you're appealing to another one of their senses.
Let them truly experience what it's like to be a member of your amazing team, or in other words, show them what they're missing by not working there!
Debut content on SnapChat
As a Kardashian fan, one of the best things about following each of the individual girls' SnapChat accounts, is that they each tend to debut important new stuff there. We're talking major Kardashian exclusives like upcoming magazine covers, new hairstyles, red carpet dresses, makeup looks… you name it, it's up on SnapChat first before you see it anywhere else. Why is that one of the best things about following the Kardashians on SnapChat? Because I feel privileged to have been let in on something before the rest of world found out about it. It's as simple as that.
Apply the same principal to your SnapChat recruiting account. If you're writing a job ad for a brand new open role for example, why not take a quick snap of the ad or maybe just the headline, and put it out there for your followers to see? Give your SnapChat followers the heads up first.
This is the last and most critical stage in the social recruiting process. You've hooked them. They've come in to an interview, but how do you make your company stand out? At HireVue, they're experimenting with Snapchat as a means to add value to the onboarding process. Once a candidate has come in, they find him or her on Snapchat and send a short video saying thank you for coming.
What a simple, yet highly personalised way of making the candidate feel that their time was valued and appreciated!
Conclusion
The most important thing to remember while working with SnapChat for recruitment is to have fun and to not try to make things too perfect. Your Snaps shouldn't feel super crazy planned. In fact, Snapchat is the poster child for imperfection. Snapchat storytelling is unlike any other medium, because it's more raw and unscripted. It's real and that's why it appeals to people. People go on Snapchat so they can be imperfect. Whereas on Instagram we have perfectly curated accounts, people go on Snapchat because they can send duck face selfies to all of their friends. They know they can have fun with it because it's going to disappear in 24 hours. To sum that up, your company should be doing whatever the equivalent of a duck face selfie is for their own brand.
Oh, and don't forget to promote your Snapchat on your other social media profiles or in email marketing. Tweet your handle out when you're headed to an event or when an influencer is taking over your account. Include it on your end title screen on your YouTube channel. Get stickers made and hand them out at trade shows, industry events, parties or wherever there are humans who have cell phones.
Thinking of employing SnapChat as part of your recruiting strategy? Let us known how you get on in the comments below or tweet us @SocialTalent. Or, if you need some help putting that all-important recruiting strategy together, download a copy of the Black Belt in Internet Recruitment online training course prospectus to find out how it can help you build and execute a strategy to find more, higher quality candidates 4 times faster than your competitors.
Find out how the likes of IBM, IKEA and Siemens
drive hiring excellence with SocialTalent
---