Include These 3 Points in Your Job Ads to Increase Application Rates

Welcome to SocialTalent's Live & Learn Series!
Each week we gift you with a little bit of info that will help smoothen your recruitment process and expand your knowledge of your industry.
With this Live & Learn series we promise we kept it:
Short
Simple
Ready to use!
Sound good to you? Let's begin!
Three Points You Must Include in Your Job Ads
You don't need to be a master copywriter to impress candidates with your job ads. There are simple things you can include that will set your job ads apart from the crowd. Johnny Campbell analyses what the candidate wants and uses it to create spectacular job ads.
Key Takeaways
See how simple it is to write a really engaging job ad!? Simple points that will draw the eye and ignite curiosity in any applicant. Before you get started remember:
Never ever assume! You can't guarantee that an applicant knows the amazing story behind your company. You have to show them!
It's easy to stand out by simply including a salary in your job ad.
Candidates want to see their future in your company. Demonstrate how their career path can develop with you
SocialTalent has created the best recruitment training for our Recruiter Academy. Packed with insights from Recruitment experts to develop your skills as a recruiter, whether you work for an agency or have a role as a corporate recruiter as part of a team of flying solo- we have the training for you!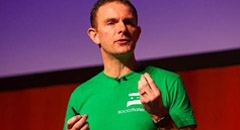 Create your own Recruiter Academy
Access our video library and learn your way to success!
Want to keep up to date?
Join our 75,000+ subscribers who do!