These Two Letters Have Had a BIG Impact on The Recruitment Industry
There are two letters that have had a monumental impact on the recruitment industry…
As recruiters from every corner of the industry strive to improve and carve out a place for themselves in the tech-led future of recruitment, there are two letters that have risen to the surface.
L&D
Learning and development has grown from a subset of HR to become its own industry, with its own budget. It has become increasingly important as the recruitment industry faces its second revolutionary battle- the war for skills.
What is Learning and Development?
Learning and Development initiatives ensure that employees have access to training opportunities in order to develop their skill set and ensure they can develop their career.
This can incorporate investment in new technology, training courses and formal education. In order for an L&D programme to be of benefit to employees, it should focus on the development of soft skills as well as technical abilities.
Employees should feel like they have the opportunity to enhance multiple skills and companies need to facilitate the "always on" approach when it comes to learning and development.
The Reinvention of Learning
It has been well documented that the demise of traditional learning has left companies with little choice but choose more innovative options. In the SocialTalent Global Recruitment Survey 2017, we learned that recruiters, in particular, absorb most of their knowledge from online tools and resources.
With only 16% benefitting from classroom-based learning eg. in-house training days or corporate learning events it's clear that L&D teams need to own the responsibility of investing in the best online learning resources available to them.
The Rise of Learning Management Systems
As the approach to learning and development became more agile corporate companies began to look towards Learning Management Systems (LMS) to create a uniform approach that could scale across the whole business.
An LMS helps HR rollout and track various educational programmes or training courses.
Installing an LMS reduces the amount of time and effort spent on training. It removes laborious admin and scheduling pains and allows employees to learn in a uniform environment. Many companies use learning management systems to aid onboarding and compliance training. This way they can track progress and gather reports on any mandatory training their company.
Homegrown Talent
By investing in an LMS companies can begin to harness the potential of homegrown talent. This spawns from a school of thought that Talent Acquisition has run its course and the recruitment industry must find a new way of creating the workforce of the future
"The war for talent is over. The talent won"
-Josh Bersin, Founder of Bersin by Deloitte
The War for Talent is Over and Everyone Lost perfectly sums up the sputtering engine of the war for talent and details exactly why it's no longer appropriate.
As SocialTalent CEO Johnny Campbell referenced in the video above- Cognizant has actively taken charge of the concept of creating their own talent.
When their TA team pushed back on hiring demands and illustrated the sparsity of available candidates with the preferred skillset, the company was forced to come up with a new way of solving this problem.
Since they are in one of the most competitive hiring landscapes an efficient answer was critical. Highly adept technical skills can have a short lifespan in the rapidly changing world so finding talent for today's role is a different challenge to workforce planning for the future.
As companies gradually invest more in the upskilling of their employees, Cognizant has taken it a step further and actively train new recruits for a job that may not even exist yet.
"Instead of looking for an exact match [for a job role] look for somebody who has a certain minimal set of requirements to be successful. Somebody who is entrepreneurial and fits our corporate spirit, somebody who has the passion and the potential to be successful in that role. When we can recruit these people then we can train, develop and mentor them"
Gwellyn Daandels, Senior Director Analytics and Information Management, Cognizant
You can watch our full interview with the Cognizant team on our TA Talks channel.
What Does This Mean for Recruiters?
If companies are now committing to quality in-house development and training where does that eave recruiters? How does it affect the way they identify, source and engage with talent?
Even more critically, will this concept of 'growing your talent' lessen the need for recruiters as organizations like Cognizant are reinventing the acquisition part of TA?
These new steps in adopting learning and development initiatives have a significant impact on the way recruiters will do their jobs. For a start, it will place a huge focus on a recruiter's ability to identify strong soft skills in candidates. Candidates will no longer replicate job specs, they'll begin to look less like purple squirrels and more like lumps of clay with high potential waiting to be moulded.
While we wait for the recruitment industry to align with corporate demands it will be interesting to see which companies adapt first and who can come up with a creative scalable alternative to traditional talent acquisition.
Don't be the recruiter that's left behind. Our training content is designed to equip recruiters for the future!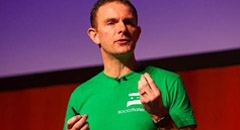 Create your own Recruiter Academy
Access our video library and learn your way to success!
Want to keep up to date?
Join our 75,000+ subscribers who do!