LinkedIn Boolean Search: Recent LinkedIn changes and how to get around them
For those recruiters amongst you who use Boolean search or X-Ray Searches to find candidates on LinkedIn, you are probably peeved by the extra "junk" that LinkedIn has recently allowed search engines to index, namely Groups, Jobs, Titles and Skills.  On the positive side LinkedIn is showing the search engines even more of its database rather than restricting it, contrary to the predictions of many sourcing sceptics over the last number of years.  The downside is that previous Google search strings such as site:linkedin.com (inurl:in | inurl:pub) -inurl:dir no longer produce a clean search of public profiles.  Many of you may have already starting adding terms such as -inurl:skills -inurl:title -inurl:jobs -inurl:groups which will make the string clean again but unfortunately you are eating into your precious 32 character limit imposed by Google.
So what do you do?  Chances are that LinkedIn is going to continue to pump content into Google's search index, making it harder and harder to x-ray search the public profiles…..or not?
Sourcing is all about pattern recognition and following scraps of data; Boolean strings help but they are far from the "be all and end all" of what us sourcers do.  When we train recruiters we teach them how to think like a sourcer; the Boolean strings are secondary as they change all the time.  In essence we are teaching recruiters how to fish rather than handing them a salmon!
Here's the experiment I tried this morning:  I searched LinkedIn through a logged-in Advanced Search for the keywords "Primary School Teacher" choosing the Location: Ireland.  It produced 227 results.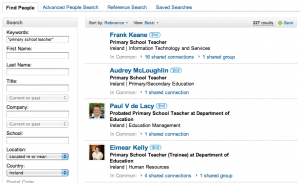 I then searched Google using a "clean" x-ray search string:
site:ie.linkedin.com (inurl:in | inurl:pub) -inurl:dir -inurl:title "primary school teacher"
and this produced 288 results.  We would normally expect the number to be 10-12% lower than the internal LinkedIn search as approx 10-12% of all LinkedIn users lock down their profile so that it cannot be indexed by search engines however LinkedIn recently started listing "similar" profiles in the bottom right corner of public profiles that include job titles therefore there will always be some duplication whereby the public profile result you look at shows the keywords in the job title of the person referenced in the similar profiles rather than the keywords being in the actual profile you are looking at (remember that Google sees the result as a page with text, not a profile!).  Anyway, suffice to say that all the public profiles that could be found are found using this method but we are running out of space in which we can search for additional keywords.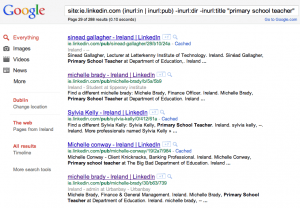 How can we find Public Profiles without having to enter such a long string into Google?  The answer is pattern recognition; looking for keywords or a phrase that is both unique to all public profiles yet is also indexed by Google (not every word on a page is automatically indexed by search engines!).  After trying out numerous phrases with mixed results I used "Contact settings" which appears below the Experience section on almost every Public Profile.  If you simpy run a site search for the part of LinkedIn you are looking for (i.e. site:ie.linkedin.com in this case, searching Ireland) and add the phrase "contact settings" you immediately narrow your search down to pure public profiles.  Just add keywords from there and you can find nearly anyone you are looking for.  So to find  a "Primary School Teacher" in Ireland I used the following search in Google:
site:ie.linkedin.com "Contact Settings" "Primary School Teacher" which produced 247 results.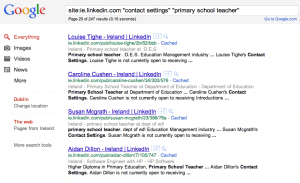 Again there are several duplicates caused by the Similar profiles in the bottom right hand corner of each public profile but nearly every available profile is listed yet we didn't have to use any complicated field commands and the search string is very short, leaving us plenty of scope to add more search terms in Google.
What's the lesson?  Learning boolean strings by rote will not make you a sourcer.  You need to be able to identify patterns and then translate these patterns into search language, even if its very basic, to keep up with the changes that sites such as LinkedIn are always rolling out.
We'll be in Boston next week for truBoston to discuss sourcing, recruiting and all things technology and social media related.  If you haven't yet got your ticket, click here.
Happy hunting!
Want to keep up to date?
Join our 75,000+ subscribers who do!