Keep up with the latest hiring trends!
/
/

How to: Create a LinkedIn Showcase Page
How to: Create a LinkedIn Showcase Page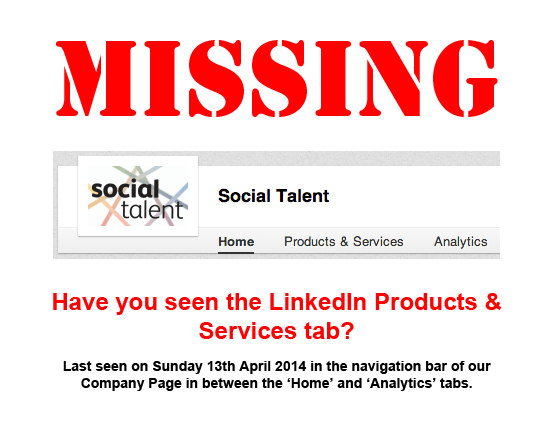 We reported late last month, that LinkedIn were planning to drop the Products & Services tab on LinkedIn Company Pages. Well, that day finally came yesterday when LinkedIn Product & Services tabs everywhere disappeared into the depths of LinkedIn's past, (probably) never to be seen again.
So what now? Well, LinkedIn are encouraging former users of the Products & Services tab to transfer the information from these pages to a Showcase Page or Showcase Pages. But what are Showcase Pages? How will they replace the Products & Services tab? And most importantly (now that we HAVE to start using them), how do you set up a Showcase page.
What are LinkedIn Showcase Pages?
Company Showcase Pages are like sub-pages of your company's main page on LinkedIn. They are really useful for developing specific company communities if your business has many different aspects, or branches of your business across multiple locations. Hence why they are being touted as the primary replacement for the defunct Products & Services tab.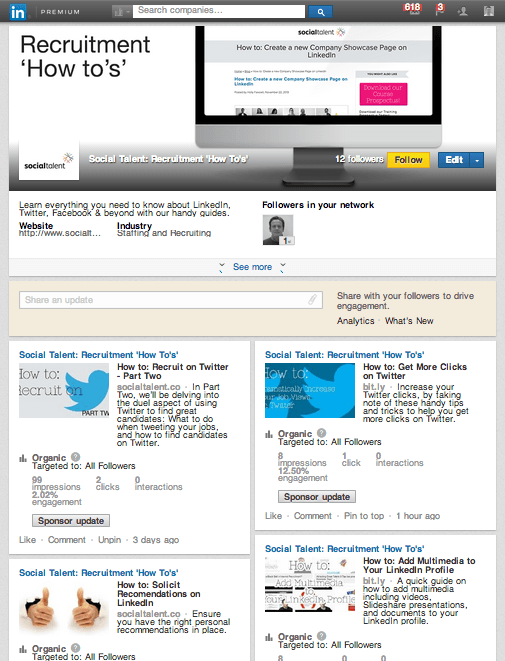 By creating specific showcase pages for specific aspects of your company, it allows your company's followers to choose which aspects of the business they would like to hear more about and in doing so, increases the relevancy of the content that appears in their LinkedIn newsfeed when you post updates in these pages.
How do I Create a LinkedIn Showcase Page?
Here's a step-by-step guide to creating your very own Showcase page(s) for your Company on LinkedIn. Please bear in mind you have to have (a) a company page on LinkedIn, and (b) administrator access to that page to create a Showcase Page.
If you have admin access to your company's LinkedIn page, go to your photo in the top right corner and select 'Manage' beside Company Page. Next, click the blue 'Edit' button at the top of your Company page, and select Create a Showcase Page.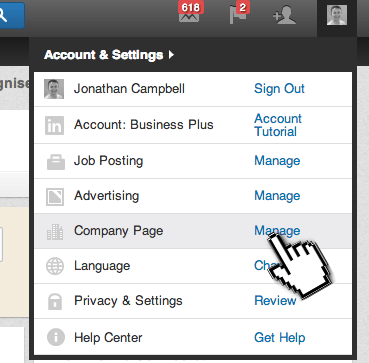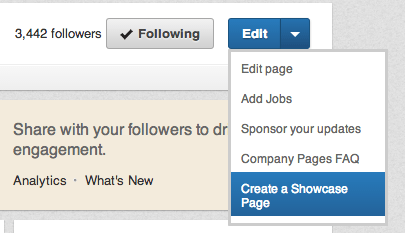 Now, give your showcase page a name, ours are Social Talent: How to's, "Social Talent: Recruitment Funnies" and "Social Talent: Recruitment Infographics", and here you can assign more administrators to your showcase page. Admins have to be first-degree connections of yours. Select people who perhaps don't have overall admin access to the Company Page but who manage your operations for this specific showcase page (like your UK arm versus your North America operations, or product/division sets).
Now, give your page some imagery. There's a huge space at the top of your Showcase page to add imagery for your business '¬€œ make it exciting, make it interesting and a bit more than your logo!

Your imagery sizes are:
Main cover image: 974 x 330 pixels (max file size 2mb, png/jpeg/gif)
Standard Logo: 100 x 60 pixels
Square Logo: 50 x 50 pixels (this is the logo used in status updates)
Feature your LinkedIn Groups
If your company has LinkedIn Groups associated with it, for example staff groups or a talent community, you can feature it here. But remember, you have to be a member of the group to be able to feature it within the showcase page.

You can enter a web address to take people to your website, or a specific page on your site that relates to the product or service you're showcasing. Also, select from the dropdown menu what industry your Showcase page relates to, we selected 'Staffing & Recruiting'.
And you're done and dusted! Remember to only send out updates from your various showcase pages that relate to what that page is about '¬€œ irrelevant updates is one sure way to encourage fans to unfollow your page. Our 3 new Showcase Pages; Social Talent: How to's, Social Talent: Recruitment Funnies and Social Talent: Recruitment Infographics" cover a selection of handy 'How to' guides for recruiters, recruitment memes and jokes, and infographics related to recruitment topics, respectively. Show us your newly created masterpieces by linking to them in the comments section below.
Find out how the likes of IBM, IKEA and Siemens
drive hiring excellence with SocialTalent
---