Keep up with the latest hiring trends!
/
/

How to: Build the Perfect Tweet (Infographic)
How to: Build the Perfect Tweet (Infographic)
Twitter is now the 2nd largest social network in the world. It has revolutionised everything from news reporting to how brands and celebrities interact with their fans, to social communication between friends. And it's quickly revolutionising the way job seekers are looking for jobs and how we, as recruiters, are putting our jobs out there for them to find. But in order to garner relevant responses to your job tweets, they need to be written in such a way that attracts, and motivates potential candidates.
However, creating the perfect tweet has become a modern art form. You have just 140 characters to work with and that 140 characters needs to include a message, a call to action, a link, possibly an image and space left for re-tweets. Phew!
So just how do you go about building the perfect tweet. Well, @GerryMoran has the blue prints for how to build the perfect tweet: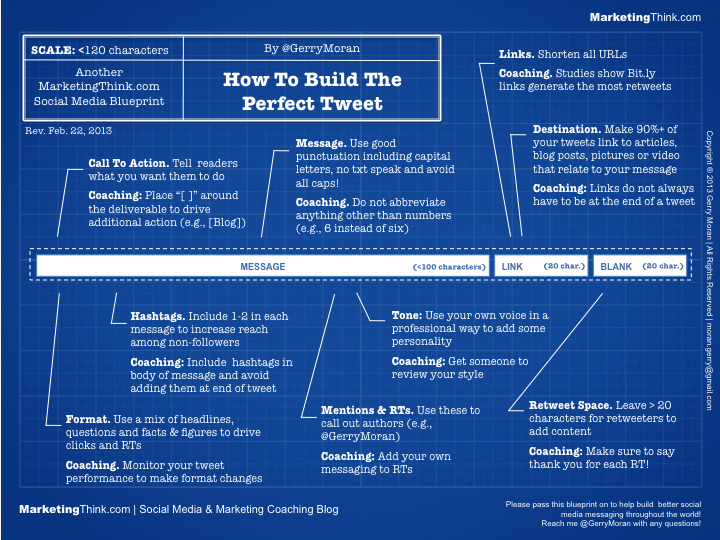 Looking to source candidates on Twitter? Our Social Sourcing module as part of our Black Belt in Internet Recruitment training course, will show you how you can gain a serious competitive advantage by turning Twitter (and some other social sites) into a huge candidate database. Sound good to you? Then give Wendy an email at [email protected] and have a chat about how you can become a Sourcing Ninja, or click the button on the right hand side to download a copy of our very colourful course prospectus.
Find out how the likes of IBM, IKEA and Siemens
drive hiring excellence with SocialTalent
---