Keep up with the latest hiring trends!
/
/

The Ultimate Sourcing Hack For Tech Recruiters
The Ultimate Sourcing Hack For Tech Recruiters

Welcome to SocialTalent's Live & Learn Series!
Each week we gift you with a little bit of info that will help smoothen your recruitment process and expand your knowledge of your industry.
With this Live & Learn series we promise we kept it:
Short
Simple
Ready to use!
Sound good to you? Let's begin!
The Ultimate GitHub Sourcing Hack
Using xray search lets you uncover an extra layer of top talent on ANY search engine. Johnny Campbell tells you how you can use the trick to source the best developers on GitHub so you can bolster your skills as a tech recruiter
Now there's no need to be nervous about sourcing for tech roles, even if you don't have a huge amount of experience. This tip will help you find more top quality profiles, as long as you remember:
Key Takeaways
site:github.com is the magic formula you need to start searching like a pro
Filtering by member profiles is the key to finding users who are contributing to GitHub- these are the people you want to reach out to
Pack your search string with the keywords you need, but remember 32 is the limit!
SocialTalent has created the best recruitment training for our Recruiter Academy. Packed with insights from Recruitment experts to develop your skills as a recruiter, whether you work for an agency or have a role as a corporate recruiter as part of a team or flying solo- we have the training for you!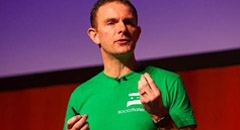 SocialTalent Recruiter Academy
A full library of videos that can help your team transform their hiring process
Find out how the likes of IBM, IKEA and Siemens
drive hiring excellence with SocialTalent
---