Keep up with the latest hiring trends!
/
/

Top 10 LinkedIn Company pages by Number of Followers
Top 10 LinkedIn Company pages by Number of Followers
Is your company using the Follow Company button yet?
Here's 10 global companies that are utilizing the Follow button and their LinkedIn company page to full effect. According to the Statistics company ZoomSphere, LinkedIn has these companies as illustrated in the infographic (below) in the top 10. Remember that following companies on LinkedIn is not like Twitter or Facebook – it's largely about employer branding and getting the news direct from companies that mean something to you (like job announcements) to your LinkedIn newsfeed. Most of the companies listed have fully optimised LinkedIn Company pages, including a Careers section (which is a paid feature on LinkedIn Company Pages). Interestingly Apple do not have a branded Careers Page on LinkedIn, bucking the trend, but all of these companies do post jobs on the professional network. Check the bottom of the post to see how many jobs each of the Top 10 currently have listed on LinkedIn.
Here's a guide on how to set up a Follow Company button for you to embed in your own website, and also a step-by-step guide on optimising your LinkedIn Company page.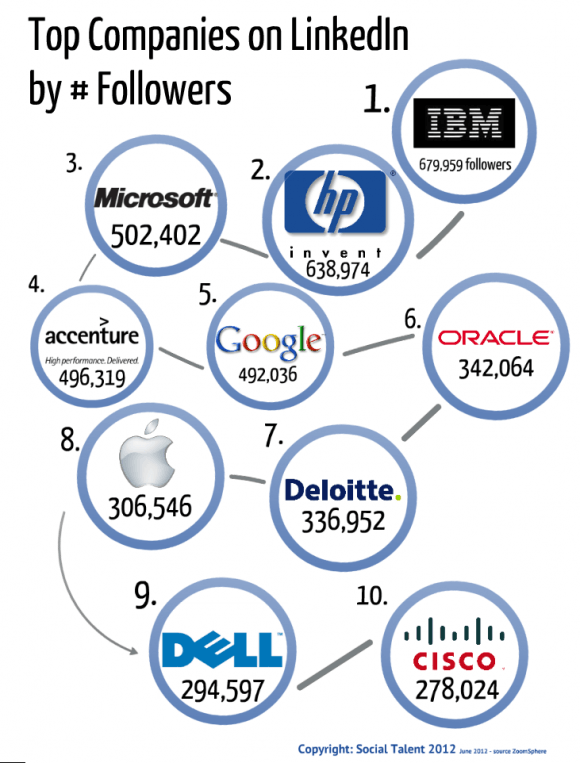 Click here to see IBM's fully optimised LinkedIn Company Page, here for Hewlett-Packard, here for Microsoft, here for Accenture, here for Google, here for Oracle's fully optimised Company Page, here for Deloitte's fully optimised company page, here for Apple, here for Dell's fully optimised page, and here for Cisco's fully optimised company page.
Here's how many live jobs each of the Top 10 most followed companies on LinkedIn currently have advertised on the professional network:
IBM: 456 jobs
HP: 382 Jobs
Microsoft: 5,185 Jobs
Accenture:  214 Jobs
Google: 1,642 Jobs
Oracle: 273 Jobs
Deloitte: 2,771 Jobs
Apple, 51 Jobs
Dell: 623 Jobs
Cisco: 131 Jobs
Interestingly, LinkedIn tells you how many people have clicked on each job and the numbers are extremely low. That's not to say that the people who clicked weren't of a very quality and/ or were eventually hired, but compared to the number of views & applies that a job board ad receives, it is difficult to see the value for employers in paid advertising campaigns on LinkedIn.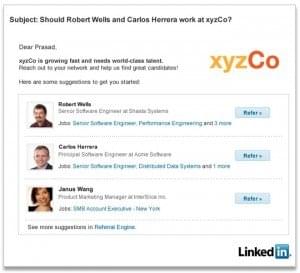 Interestingly, although Accenture are the 4th most followed company on LinkedIn, the number of jobs listed is relatively low considering they used to be such a close partner of LinkedIn's. Back in November 2010 (nearly 2 years ago) LinkedIn announced news of the referral program experiment that they were working on with Accenture that they claimed would lead to the launch of LinkedIn Referral in 2011. This milestone has come and gone and the links to the info on the product are now dead. Maybe it's just me, but it sounds as if the partnership didn't result in great referrals for Accenture! I have it on good authority that the partnership is dead in the water and LinkedIn no longer part of Accenture's employee referral strategy. Lately LinkedIn have applied pressure on friendly competitors who have or had planned to launch social referral software, encouraging them to kill their products in advance of the delayed launch of their own referral tool. Either the amazingly long delay and failed programme with Accenture has led them to re-design the product and make it really work, or the hype just proved impossible to re-produce in real life and they will sneak referral in as a small part of the larger LinkedIn Recruiter product. Time will tell!
Find out how the likes of IBM, IKEA and Siemens
drive hiring excellence with SocialTalent
---