Keep up with the latest hiring trends!
/
/

Top 6 Ways to Say "I Quit!"
Top 6 Ways to Say "I Quit!"
We're recruiters, we hire people for a living. Rarely does the other aspect of the hiring process enter our minds on a day-to-day basis i.e. when an employee chooses to quit his/her job.
So in the true spirit of the Social Talent Friday Funny, we're here today to open up that other aspect and bring you the (rather hilarious) Top 6 Ways to Say "I Quit!":
Say it with a Cake
Mr. Chris Holmes made his dream a reality when he quit his job at Stansted Airport in London by way of an edible resignation letter. Yep, you heard me correctly, Chris decided the best way to quit his job and cement his place in internet history, was to ice his resignation message on the top of a cake. Why? Well, Chris felt the time was right to finally pursue his dream of becoming a full time baker.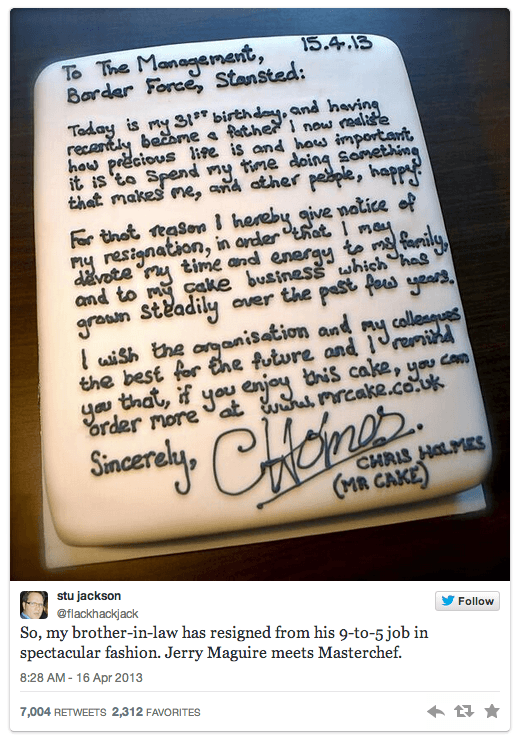 You can order your resignation cake from Chris at www.mrcake.co.uk.
Say it with a Video Game
A disgruntled computer programmer decided to create his own version of Super Mario Bros. with an unmissable "I Quit!" message (and some more text) appearing every time the user passes a level. He then sent his creation around the office, leaving none of his fellow employees in any doubt about his feelings towards the company and his decision to call it a day.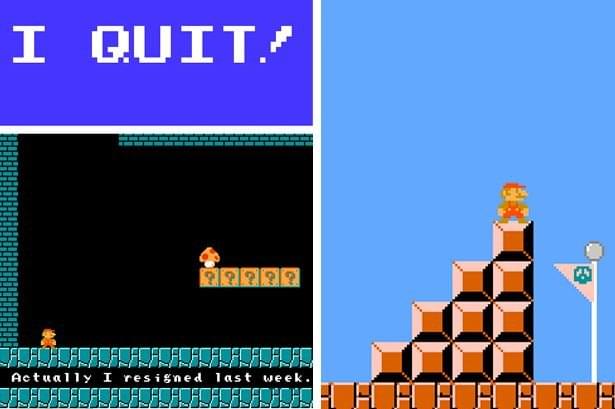 Try your hand at his creation for yourself here.
Say it in a Newspaper
An article entitled "Why I'm Leaving Goldman Sachs" by a man named Greg Smith appeared in The New York Times two years. The article caused an uproar in the global investment bank when Greg spoke about his colleagues referring to clients as "muppets" and the "toxic and destructive" environment at the company. Ouch!
Read the full explosive article here.
Say it with a Marching Band
Room Service worker Joey, turned up at his place of work with a marching band in tow to deliver his resignation letter. See what happened below:
Say it with a Mac Alert
This Mac alert was found left on the computer of a very disgruntled design employee!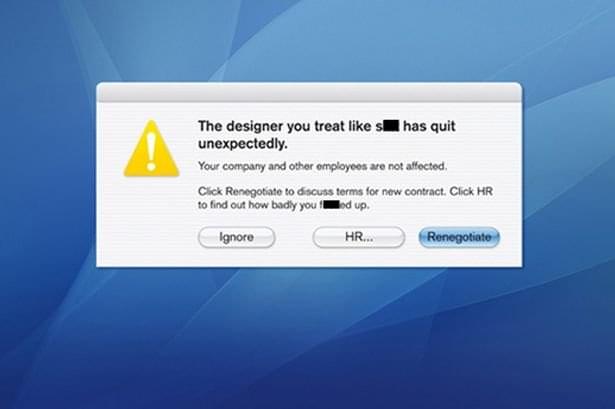 Say it with a Song (and Dance)
The manager at Moe's Grill (an American diner), sang and danced along to Vanilla Ice's "Ice Ice Baby" on the counter of the diner, before ripping his shirt off to reveal the all important "I Quit" message underneath. Check out his dance moves:
Happy Easter Recruiters! We'll see you on Monday with the latest recruitment news.
Find out how the likes of IBM, IKEA and Siemens
drive hiring excellence with SocialTalent
---