Keep up with the latest hiring trends!
/
/

Top Misspellings in Current LinkedIn Job Titles
Top Misspellings in Current LinkedIn Job Titles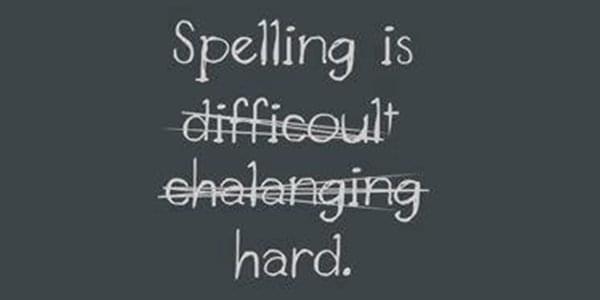 You're about to see a list of the most commonly misspelled words on LinkedIn users' profiles, but before you continue on to the list I'd like to draw your attention to a couple of important notes:
You should all know by now that a misspelling on your CV is a big no-no. It looks unprofessional, it shows a lack of attention to detail and it's a sure-fire way to have yourself excluded from any interview shortlists in today's competitive job market. But did you know that a misspelling on your LinkedIn profile can be twice as damaging to your hire-ability as well as your credibility?
Your LinkedIn Professional Headline is the most visible part of your profile. In case you didn't know, it's the short description of you that appears beside your head shot photo, whenever you or your contributions on LinkedIn appear.
It's also one of the key terms used by recruiters to find qualified candidates for jobs. So, if your job title is spelt incorrectly, you will NOT be included in the search results of recruiters looking to find candidates like you. For example, a recruiter searching for a "Public Relations" Officer is not going to find any of the 423 candidates who've misspelt their job title as "Pubic" Relations Officer. And while you may think it's funny that over 400 people have deemed themselves "Pubic" Relations Officers, it certainly won't be funny when they can't attract recruiters to their LinkedIn profile.
Just take a moment to really look at the amount of people who have spelt their job title incorrectly. Each and every one of those prospective candidates (up to 170,502 if you're looking for Mangers!) will be cut out of your search results every time you perform a LinkedIn search using just the correct spelling of the job title you're after. That means you could be missing out on just the candidate you're looking for. Sure they've misspelled their job title, but they could have EXACTLY the skills and expertise you're looking for!
When we teach people to how to research synonyms of job titles as part of the LinkedIn Search module on our Black Belt in Internet Recruitment online training course, we also teach them to research and include misspellings of those job titles as part of their LinkedIn search too. That way you can be certain that the results your search produces are inclusive of all suitable candidates on LinkedIn, even the ones who've been a little careless with their spelling!
Top Misspellings in Current LinkedIn Job Titles
Engineer

For such a clever bunch of folks, there sure are some amount of incorrect spellings to be found on the profiles of engineering professionals!
"enginner" – 33,104
"enginer" – 19,114
"engneer" – 8,457
"enginneer" – 3,091
Marketing

Vowels may be a little difficult for pre-schoolers to grasp, but it appears quite a few marketing professionals are having the same issues!
"markting" – 5,409
"markiting" – 2,964
"markating" – 1,294
"marketng" – 655
"mrketing" – 415
Recruiter/Recruitment

Come on guys! You're letting the side down!
"recuriter" – 1,766
"recruter" – 1,469
"recruitor" – 451
"recrutment" – 421
"recruiment" – 387
"recriuter" – 251
Accountant/Accounting

Numbers are no problem to Accountants. Letters on the other hand…
"accoutant" – 8,476
"acountant" – 6,669
"accouting" – 3,348
"acounting" – 2,656
Sales

They may have the gift of the gab, but when it comes to spelling their own job title they get a little tongue tied!
"sals" – 2,705
"saels" – 482
"saes" – 386
Military

"Left, right, left, right, left, left… oops!"
"millitary" – 533
"militry" – 166
"militray" – 74
Lawyer

They object to the judge, I just object to their spelling!
"lawer" – 5,160
"laywer" – 794
"lawyar" – 71
Consultant

I just hope none of these people are Spelling and Grammar Consultants…. that would just be unfortunate.
"consultan" – 6,224
"cosultant" – 5,500
"consultent" – 4,221
"conultant" – 1,373
Representative

All goes wrong after the "P".
"represenative" – 8,398
"representaive" – 975
"repesentative" – 621
"represebtative" – 19
Public

From "Pubic Relations" professionals to teachers who work in "pubic schools", and from to legal professionals specialising in "pubic policy" to someone who calls themselves a prominent "pubic figure", the word "public" appears to be quite tricky for a lot of individuals to get right!
"pubic" – 423
"publc" – 115
"pulbic" – 43
Manager/Management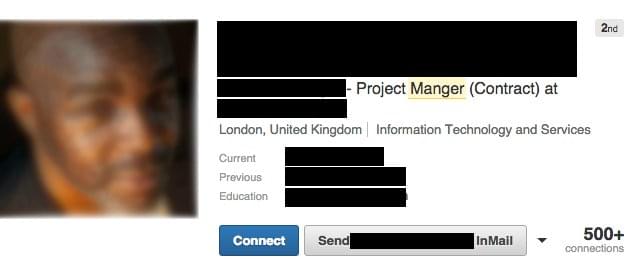 It's apparently quite difficult for many of us to remember that second "a" in most variations of the word manage!
"manger" – 170,502
"mangement" – 7,614
"managar" – 6,036
"mangar" – 1,339
"managor" – 70
Director

Proving that the "Head Honcho" isn't infallible after all!
"diretor" – 35,199 (English language profiles)
"directer" – 7,749 (English language profiles)
"directar" – 186
Executive

The "Curse of the Vowel" strikes again!
"excutive" – 41,201
"exceutive" – 2,091
"exeutive" – 1,459
Editor

Too bad they can't proofread their own headlines!
"editer" – 1,674
"edtor" – 119
Now go and check your own profile just in case!
Find out how the likes of IBM, IKEA and Siemens
drive hiring excellence with SocialTalent
---