Keep up with the latest hiring trends!
/
/

Top Social Talent Recruiting Blogs from March
Top Social Talent Recruiting Blogs from March
This past quarter has been a bit of a whirlwind, whizzing by faster than you can say "Social Recruiting". Nonetheless, we've been so busy covering the length and breadth of social recruiting topics as well as  training over 200 recruiters in the UK, Ireland and Canada (thanks Geoff!) it seems like only yesterday that March began! So as April is well underway, here's a recap of the top blogs on Social Talent through March.
1. Top 10 Facebook Timeline Covers of Recruitment Companies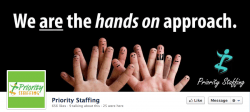 This blog was written in preparation for our free workshop in Dublin detailing the changes being made to all business pages in Facebook with the advent of Timeline, which came in to mandatory effect on March 30th. We scoured Facebook for Recruitment and Staffing companies who had published their new Timeline page, and pulled together 10 of the best Timeline covers.
There was a bit of controversy over those who were omitted due to breaking the rules around Timeline cover images, but as the deadline drew nearer, more staffing companies got their act together and published their brand new Timeline. (If you'd like to have a glance through the slides from the workshop, click here.) Considering that the majority of the Timeline covers featured in our top 10 were of American companies, 30% of viewers were from the US, followed by 20% from Ireland and 16% from the UK.
24% of you found this blog through LinkedIn, while only 5% found it through Facebook! Touché. Click here to read the blog.
2. How to: Search LinkedIn Groups that you are not a member of (on a FREE account)

LinkedIn topics are often our most read, and this is no exception. The illusive ability to search LinkedIn groups that you're not a member of proved far too tempting for recruiters, eager to hunt down the best people from groups that recruiters are often banned from (bear in mind that those groups are often run by a competing recruitment company!).
A whopping 50% of readers found this blog through LinkedIn (despite being a blog about how to flout their system!) after it was published on March 7th. 44% of viewers were from the US, 23% from the UK, and (shock!) only 8% from Ireland. Where have our countrymen gone?! Click here to read the blog back.
3. LinkedIn Essential Update for Recruiters: Tips from the Webinar
There was a difference of 3 readers between this blog and how to search LinkedIn groups, proving that LinkedIn is still the most dominant of all online activities for recruiters, and our thirst for knowledge on how to use it more effectively and respond to periodical changes is insatiable.
The webinar that this blog transcribed was full by 4pm as it went live (it's available here to watch back if you'd like) is also one of the most popular webinars in our series on YouTube. Not surprisingly, 40% of you found this blog through LinkedIn, and a third came to the site directly to catch up on the changes and improvements of our favored professional social network. 40% of visits to this blog were from the USA, 22% from the UK, and 16% from Ireland. Read the blog here.
What was your favourite blog from March on Social Talent? Did you find our how-to guides useful? Let us know your thoughts in the comments.
Find out how the likes of IBM, IKEA and Siemens
drive hiring excellence with SocialTalent
---