Keep up with the latest hiring trends!
/
/

Understanding New Recruitment Laws For Seamless Hiring in 2018
Understanding New Recruitment Laws For Seamless Hiring in 2018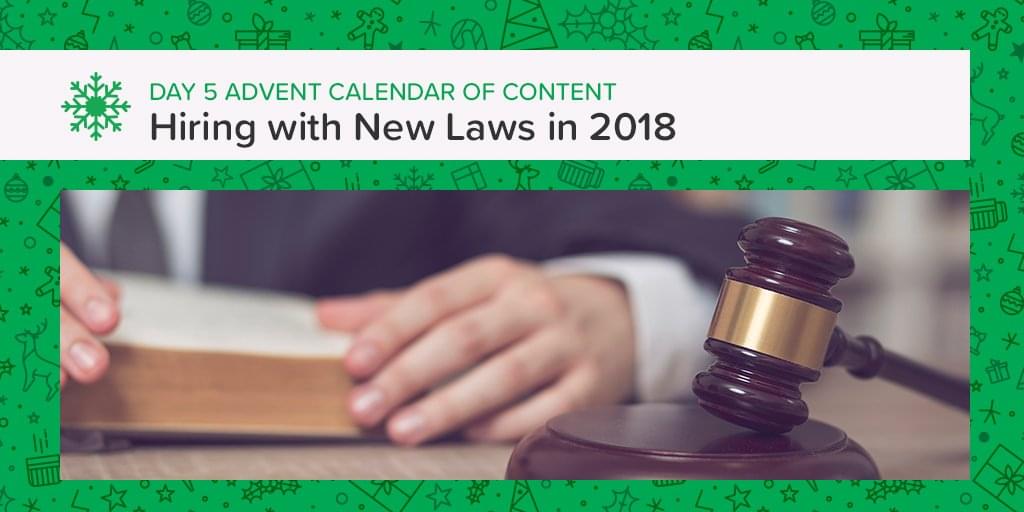 2017 has been a busy year. Our blog has been packed with updates from all over the world as companies, cities and countries have passed new legislation that will affect hiring strategies all over the world.
We want to help you be prepared for the coming year when many of these changes are enforced. Take a look at the examples below and see how you can still recruit like a pro next year.
1. A candidate's previous salary is a now no-go zone
In April 2017 New York followed the example of many other cities by passing a law stating it was forbidden to ask a candidate how much they had earned in their last job. In October California passed the same law statewide. 
As this law is becoming more commonplace recruiters and hiring managers need to know how to navigate these sensitive situations while still getting the information they need from their candidate.
Why the change?
A candidate's salary history can lead to unfair employment offers. Women consistently earn less than men and it's a well-documented fact that African Americans earn less than Caucasians. This wage gap has long been an issue and finally, measures have been put in place to make the workplace as fair as possible. 'Equal pay for equal work' is the mantra that is driving these changes and it's important to see this being influenced from the top down
Asking a candidate to disclose their previous salary can also cause you to undervalue a candidate's worth. This Lever article reminds us that an employee's previous salary could have been dependent on a number of factors such as decent benefits package, different industry or company size.
So, bearing all of this in mind, how can you still be sure you're matching the right candidate with the right job role?
Here are some tips to help you get the information you need:
Scan their resume/LinkedIn profile for clues
As a recruiter, you have come across a large number of varied candidates, now is that time to put your experience to good use. Don't get caught up with the job titles. Instead, look at the responsibilities they've been given and how much they've progressed in their career.
What is their target salary?
This question is even more important now you cannot ask about previous or current salary.
Before the candidate asks you about the salary range for a job role, discuss their salary target range. This will help you accurately match the role to the candidate. When discussing a job role listen carefully to how they react and ask them details about their current job search
Losing the advantages that a candidate's salary history used to provide requires everyone in a recruiting role to strengthen new muscles and gain a new sensitivity for a candidate's non-quantitative accomplishments. It's easy to price a candidate when you have their salary history in front of you.

It's harder — but much more effective, human and impactful — to see the intersection between a candidate and a role when you get past the numbers and into the question, "What has this candidate left in their wake so far, and what are they capable of?"
Liz Ryan, CEO Human Workplace
Consider hiring from within
When a new role opens up hiring manager should consider looking internally for suitable candidates. Hiring from within can sometimes be the perfect option for filling a new role. Not only does this promote a strong sense of employee loyalty but it also massively reduces the cost of hiring. Of course, employees still need to be appropriately trained but the relocation cost and time spent onboarding and absorbing company culture is significantly shorter
Competition!
Tell us your greatest recruiting success of 2017 and be in with a chance to WIN the SocialTalent book of the year!
2. Hiring a candidate with a criminal history
California is at the centre of a second groundbreaking rule. As of January 2018 employers will not be able to enquire about a candidate's criminal history until a conditional offer of employment has been made. This is known as a "ban the box" law.
In the US, 600,000 prisoners a year are set free according to the United States Department of Justice. That's a lot of people who suddenly need a source of income. Under law  AB 1008 if an employer has offered a candidate a conditional offer and then ant to withdraw that offer based on uncovered information regarding their criminal history they must undergo a "Fair Chance" process of dismissal.
What does this mean for employers?
The intricate details of the Fair Chance process are outlined in the California Employers Blog and have been boiled down to a three-step process.
But what should employers do to prepare for the implementation of this law?
AB 1008 goes into effect on January 1, 2018.  Prior to that date, employers should carefully review their employment applications and hiring processes to ensure compliance with the law's requirements – specifically not seeking or relying on criminal history information until after a conditional offer of employment has been made.  Employers that wish to rely on criminal history information will need to understand and follow the specific individualized assessment and employee notice requirements contained in the new law.
FisherPhillips, Workplace Law
Take some time to review your application process to make sure there are no incriminating questions that could prevent a candidate from applying.
This will help you continue without bias and work through the process with any candidate.
For more information on what to do if you discover a candidate does have a criminal history this article on TalentCulture can help you take the first steps
3. The ins and outs of GDPR
We can't finish this post without discussing the influence that GDPR will have in the New Year. This is an issue that affects recruiters Europe more so than the USA.
"From May 2018 candidates must now give explicit consent for their personal data to be collected and used. And they must know exactly how their information will be used. Candidates can object to the processing of their data for profiling purposes and they can request their personal data be deleted when it is no longer required. They can also withdraw consent at any point and there will be penalties if you're not working with GDPR best practices."
FireFish Blog
GDPR is going to affect how recruiters store the personal information of people, including those they source online and may result in a €10m (or up to 2% of the annual worldwide turnover) fine for breaches of the regulations. It'll affect not just European companies but any company dealing in European candidate data.
Brendan Long of CareerWise Recruitment outlines a 6 step guideline that will help recruiters stay on the right ide of the law.
1. No Hoarding – All personal data must be deleted after a set period of time, including when it's no longer used for the purpose it was collected.
2. Ask Nicely – GDPR requires explicit consent for data processing
3. Be Honest – GDPR also requires you to tell someone why you're collecting their data and how you're going to use it.
4. Own Up – Data breaches or cyber attacks must be reported to affected parties and the Data Protection Commission within 72 hours.
5. Lock It Up –You must provide appropriate levels of security for any data you store. This includes cyber security software and access controls.
6. Be Accountable – Take stock of the personal data you hold and ask yourself how you got it, why you're holding it, how secure it is, whether you share it – and for which reasons.
We will be diving into DGPR in much more detail over the next few weeks but for the moment, our good friends at Beamery have created the Guide For Recruiting Teams so we'll leave you in their capable hands for now!
Don't miss out on the rest of our Content Advent Calendar! Sign up and share with friends for all the recruitment information you need for a successful 2018! Competitions, videos, highlights and so much more!

Find out how the likes of IBM, IKEA and Siemens
drive hiring excellence with SocialTalent
---