Keep up with the latest hiring trends!
/
/

Video and Job Advertising: The Perfect Marriage
Video and Job Advertising: The Perfect Marriage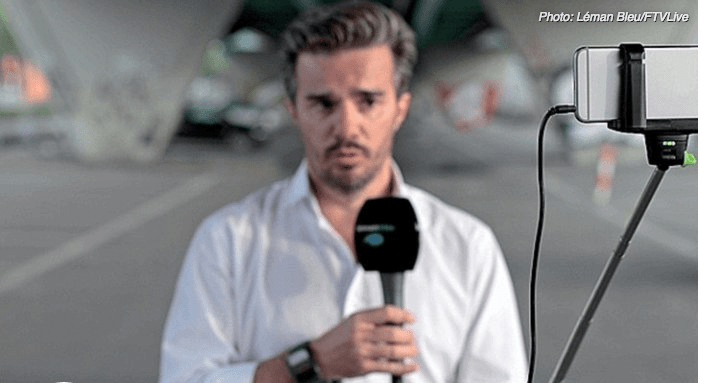 Over the last few years, online video has quickly become a key way for people to satisfy their information and entertainment needs. According to Cisco, video will account for 82% of all consumer internet traffic by 2020 – an incredible statistic! And Google have responded, by quickly favouring pages that contain video and showing them in the search engine results.
But how does this apply to recruitment? There have been big changes in the way companies attract talent and connect with candidates over the years and video represents a fantastic opportunity for recruiters to get more eyeballs on their job ads. From newspaper classified job advertising to going online in the 90's, and now the transformational shift of social media and online engagement. Now video is the latest innovation transforming the recruitment landscape, enabling companies to communicate to talent pools/communities in a much more personal way.
Why You Should Be Doing Video
Given that video is going to dominate internet traffic in the coming years, you really should be considering using this as a core tactic in your recruitment strategy. Not only this but Daniel Sanders, LinkedIn's Solutions Consultant for Talent Branding, tells us the following:
"In 2015, across LinkedIn globally, videos shared in the feed had 100 per cent greater engagement and 75 per cent greater share rate."
This means your video job ad is not only likely to be naturally more engaging and interesting to job seekers but it is also far more likely to reach passive candidates in their news feeds than a written ad. In addition to being more shareable, video job ads give jobseekers the chance to:
Learn about your company's Employee Value Proposition (EVP)
Meet the hiring manager
See your company's environment
Gain an insight into the workplace culture
See where they'll be working
Hear about the relationships agencies have with their client

In addition to this, candidate eye-tracking research from TheLadders showed that potential candidates are only reading jobs ads for about 50 seconds if they don't feel the job is a good fit and around 75 seconds for ads that seemed to match their skills and interests. Considering the time and effort that goes into writing up a decent job ad, they hardly seem a worthy investment.
On the other hand, studies have seen candidates spend over five minutes viewing job ads containing video, an increase of almost 490% in time spent. A CV-Library poll of thousands of candidates also revealed that nearly 80% of job seekers would be more likely to apply for a job that contained a video in the job description.
Video can cut through the staid landscape and really grabs the attention of jobseekers. It's a more powerful way to promote employment brands and a more efficient way to attract better candidates and ultimately, fill jobs faster. To get you ahead in the video game, here's 3 simple ways to optimise your video job ads:
1. Treat the Company and Role Like a Product 
A simple rule is to think of your job as a product and you're trying to sell it to candidates. And in the sales world, video is king! In a job ad, you're not just selling a position, but you're also selling your company, it's culture and values. A video job ad gives the viewer an insight into where they may potentially work, and if the organisation's values match their own.
Do you work in a corporate environment or does your office have a more relaxed vibe to it? Show your potential applicants what it is like to work in your organisation and let your candidates see the personality of your workplace.
2. Don't Hold Back 
Not only are videos a far more engaging style of content but they also allow for a deeper and richer explanation than can be conveyed through written word. With video job ads, recruiters can go beyond describing daily tasks and share the 'feel' of the job to a candidate, helping to capture the nature of the role and the culture of the organisation.
It's also a chance to demonstrate passion and emotion that doesn't come across easily in a written job ad. When you're advertising the position via video, viewers are more likely to pick up on the passion and excitement that people feel about their workplace and their role, making the viewer excited about the possibility of working for your organisation.
3. Ensure the Video Isn't Too Long
You don't want to bore your audience to tears with a 20 minute video about your company culture! You do want to make it long enough to explain the most important information, yet short enough so the job seekers doesn't lose interest. According to a study by Unruly, an advertising technology company, the average length for the 10 most-shared global video ads was 4.11 minutes.
A well-executed video job ad will provide a unique candidate experience that is both exciting and memorable. Videos have proven to be able to capture viewers' attention and have become both a leading form of online content and an effective sales tool. Recruiters who understand this will open the opportunity to put candidates squarely at the centre of the recruitment experience, improving the hiring experience for both the recruiter and candidate.
Author bio: David Macciocca is Founder and Director of VideoMyJob, a mobile app that enables companies of all sizes to create simple branded video job ads in just minutes from wherever they are. David's vision is to raise the bar when it comes to candidate engagement with a truly revolutionary recruitment tool.
Not connected with us on social? Stay in touch and keep up-to-date with all the latest recruitment news, research highlights and our wide range of useful resources.
Find out how the likes of IBM, IKEA and Siemens
drive hiring excellence with SocialTalent
---