Keep up with the latest hiring trends!
/
/

Do Job Postings with Images REALLY Attract More Candidates?
Do Job Postings with Images REALLY Attract More Candidates?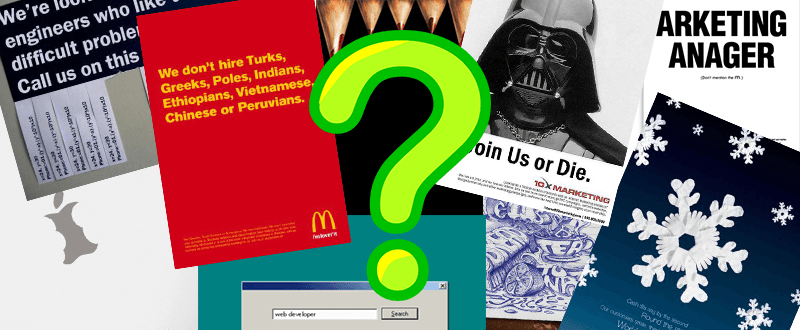 In times when talent pools are shrinking (by the second it would sometimes seem), employers need an edge with which they can attract the best people for the job. And more often than not, the best way to give yourself that edge, is with your job advertising efforts.
Now , we're no strangers to job advertising here at Social Talent, in fact not only have we dedicated an entire module to it in our Black Belt Online Training, but we've also written quite a few blog posts about it over the years, including:
But there's one aspect of job advertising that we've always been particularly passionate about: Great Visuals (or the "front of the chocolate bar", as we like to call it.) Every job ad, regardless of the role it's advertising should incorporate a strong visual element that attracts the eye of the right candidate.

Yes, we believe that too many recruiters get caught up in the nitty gritty details when creating job ads and instead of focusing on selling the job to the best candidates, they focus too much on including every last requirement the hiring manager has stipulated. The result? A visual monstrosity (or, as we call it, the "back of the chocolate bar").

So, you can imagine our glee when SoftwareAdvice.com, a site that researches application tracking systems, decided to survey a number of potential applicants to find out whether the presence of images or videos in an online job posting, really does make the company that posted it, more attractive to candidates and if visual job ads are all we crack them up to be.
We all know that factors such as pay, company culture and long-term benefits are some of the most important in an applicant's attraction to a company, but does something as simple as the design of the online job posting encourage more people to apply?
Let's find out:
Are Candidates Attracted by Visual Elements in Job Posting?
When asked if they would be more attracted to a company with job postings that included visual elements (images or videos), than to a company with postings that didn't, 51% of respondents said they would be more attracted to a company with job postings that incorporated visual elements.
In fact, not only can visuals boost your attractiveness to potential employees, they can also boost your credibility in their eyes. 46% of people say a website's design is the number one factor in determining it's credibility and the same principal can be applied to job advertising. The better looking your job ad, the more professional your organisation will look and the more credible it will appear.
Do Images or Videos Inspire More Attraction?
Videos (as we learned in recent weeks with regards to employer branding) can be an extremely powerful medium when it comes to grabbing the attention of potential candidates. But, in the case of job postings, candidates tend to prefer images over videos. 45% said they were more attracted to images, versus the 35% that said they were more attracted to job ads with videos.
The researchers believe however, that video length could be the key problem here and not just the presence of a video itself. Our research says that you shouldn't waste your time with a video that's longer than a minute and a half, says Jason Webster, co-founder and head of digital recruiting at OnGig, a recruitment marketing platform that specialises in online job-posting design. That's about the [maximum] that people are going to watch. In fact, 20% of viewers will abandon marketing videos that are just 10 seconds long, if they don't feel the video is relevant or appealing.
All in all, images can market your job more efficiently without needing to take a lot of the applicant's time, especially in situations where video is less feasible. I may be at work or on a mobile device, so I can't necessarily invest in watching videos, Webster continued. From a mobile perspective, people are more apt to consume the imagery instead of investing in the video.
What is the Top Visual Subject Matter?
What subject matter of images or videos in job postings would have the greatest effect on applicants' attraction to the company? Well, according to Software Advice's research, for both images and videos, seeing the company's products or services would be most attractive to applicants (30% for images, 28% for videos). The company's employees (22% for images, 20% for videos) and the workplace look and feel (21% for images, 27% for videos) also topped the list of attractive visual subjects.
But while it may be surprising to see products and services top the list, Jason Webster says this makes sense given that potential applicants increasingly want to know that their work is making a difference. They want to know what they're going to have an impact on'¬€the types of projects and challenges; how the product is seen in the marketplace . Increasingly, folks want to work for companies that are making the world a better place [through their products and services], so they want to visualise that.
Conclusion
So what does all of this mean for your job advertising? Well, the simple conclusion is, that if your job postings lack visual content, you could potentially be missing out on the best talent for your company. As this survey (and our blog posts before it) have shown, adding images or videos that show off your company's products or your team, could be the factor that swings a potential applicant towards your job over someone else's. Add in the fact that images and videos can help your content show up higher in search-engine results, and it becomes clear that visual elements are key to the success of job postings online.
So what can you do right now? Well, companies would be well-advised to revise their profiles and job postings on sites such as LinkedIn, and try to include images and videos in them as much as possible. They should also take a look at their ATS. Many applicant tracking systems support branding and design capabilities for including valuable visual elements on company careers pages, and they are well worth utilising. And finally, you should start soaking up some inspiration for your next campaign, right here.
Find out how the likes of IBM, IKEA and Siemens
drive hiring excellence with SocialTalent
---