Keep up with the latest hiring trends!
/
/

VisualCV goes under as LinkedIn prospers
VisualCV goes under as LinkedIn prospers
So you're looking for a job? There are a number of things you can do, a number of avenues you can explore. Replying directly to an advertised job via email is one of them but by doing this you are taking a risk, as your CV can often be lost or ignored, plus your personal information can be forwarded around and once you hit send you can't update it.
Posting your CV to a jobs board is another option, a risky one though. Jobs boards are like a black hole that either lead to you getting the wrong type of job offer or, more often than not, none at all.
Finally, you can spend hours and hours on individual company websites, providing information about yourself in the hope that a vacancy arises and the company still have your CV on file and then contact you.
Anyone who has hired or been hired over the past few years knows that social media is now a standard fixture when it comes to recruitment of any sort. Data is constantly emerging that indicates sites like LinkedIn, for example, play an increasingly common role in hiring, and the numbers are only getting bigger.
About 89% of companies in the United States use social media for recruiting, and not surprisingly LinkedIn is the biggest among social networking sites when it comes to finding and hiring new employees, a trend that shows no sign of slowing down.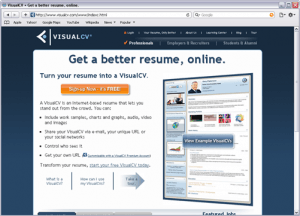 Outside of the phenomenon that is LinkedIn, are there any other options? There are, but for one of them the game is up – VisualCV.
Regrettably, the Virginia-based company will be reluctantly ceasing operations at the end of this month, after four years in operation – stating they were unable to turn the site into a viable, self-supporting business.
How did VisualCV make a difference? It helped people secure significant new career positions.
How did they do it? VisualCV allowed you to stand out from the crowd – you were no longer a plain Jane!
If you had an online multimedia resume on VisualCV you could, as standard, add items like performance charts, images, audio, video clips of work, letters of recommendation, awards and achievements etc – VisualCV gave you a complete picture of you as a professional.
With VisualCV you could update your CV online at any stage, anywhere via a personal URL meaning recruiters always have the most up-to-date version of your CV.
Big-hitting LinkedIn offers a similar and clearly more popular service and is thriving, while VisualCV's adventure is nearing its end. Why?
Did people choose one over the other? Hopefully not. The key was to use both and maximise them to their full potential.
According to Alexa, LinkedIn comes in at number 11 in the top 500 sites in the United States while the soon-to-be defunct VisualCV was way down the list at 25,054. VisualCV had a number of competitors outside of LinkedIn, namely ResumeBucket (16,747), Emurse (37,237) and HowToWriteAResume (97,516) while in the United Kingdom a site such as CV Tips (7,761) provided serious competition.
VisualCV had one advantage over LinkedIn – it allowed you to highlight more than work experiences by showcasing your achievements. This is crucial in today's market, as you need to prove to employers that you will make a contribution to their organisation.
Over the past seven days, Alexa estimates that the daily unique pageviews per user for VisualCV.com has gone up by 10% but in the previous month traffic was down 9% so the upsurge can only be put down to the fact that those with accounts are logging on to dot the i's and cross the t's while others are just curious to find out what the site is all about as it nears its end.
Meanwhile, LinkedIn continues to live up to its name as the 'World's Largest Professional Network'.
VisualCV is not the first company to run out of puff and it won't be the last, especially when LinkedIn is the biggest player at the table.
What can existing online resume sites do to compete with LinkedIn? Will LinkedIn eventually gobble up all its competitors, big and small?
Find out how the likes of IBM, IKEA and Siemens
drive hiring excellence with SocialTalent
---