Keep up with the latest hiring trends!
EXCITING PRODUCT UPDATES: 7 Useful Recruiting New Stories - 22nd June 2015
In the news this week:
Introducing the New LinkedIn Pulse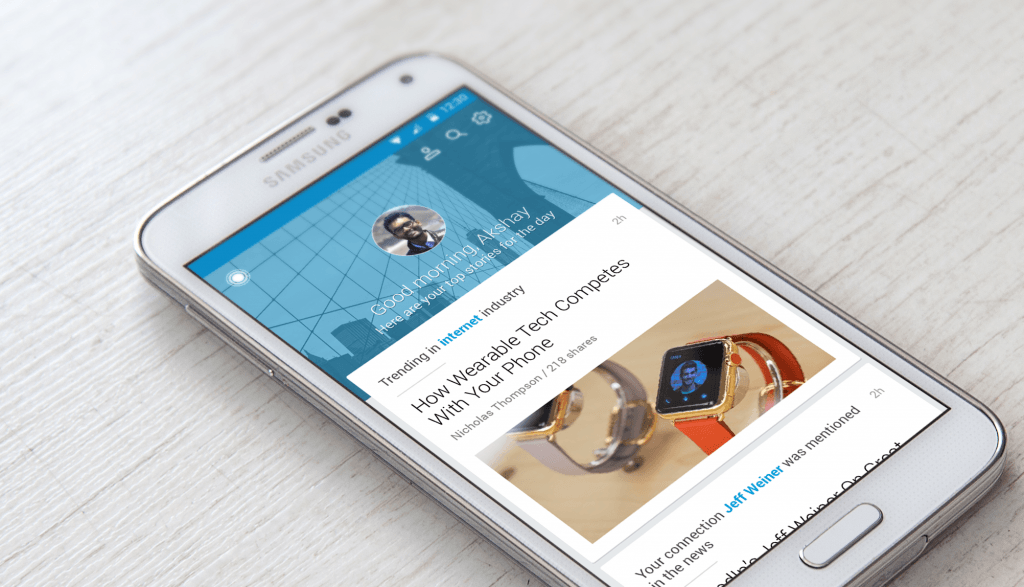 Pulse, the news reading app founded back in 2010 and acquired by LinkedIn in 2013, has released a major overhaul of its iOS and Android apps — the first major update since getting bought, in fact.
The app will now feature a cleaner UI that borrows a swipe-left to reject/swipe-right to save gesture borrowed from popular apps like Tinder, but perhaps more importantly it will provide a whole new approach to how it helps you discover news.
In a blog post, Akshay Kothari, Pulse's co-founder said "In this whole puzzle, we missed one key component: Identity. We knew 30 million users had used the Pulse app, but we didn't know who they were or who they knew. The new Pulse app focuses on delivering you personalised news—news that is powered by your professional world.  Just log in with your LinkedIn account, and Pulse instantly gives you today's news based on the industry you work in, who you're connected to and what you follow on LinkedIn."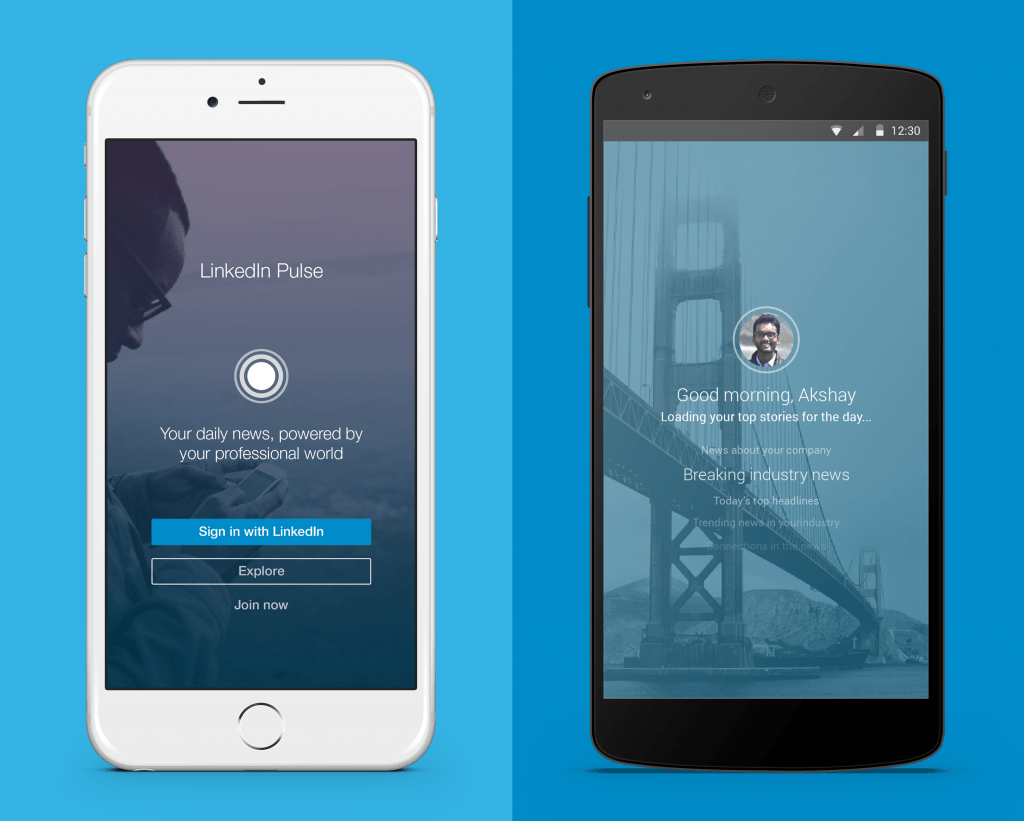 Yes, while the older Pulse app had more of an emphasis on you selecting what you wanted to read in the app, before you could use it, the new Pulse app now "reads" you based on your LinkedIn connections, what you're reading and commenting on, and where you work. In a nutshell, Pulse now provides you with a selection of news based on your LinkedIn "professional graph" – a mix of resume details, network connections and content that you choose to read on its platform.
The new cards-based interface has been designed to enable users to skim through lots of content quickly. Now if you don't like a story you can dismiss it by swiping left. Or if you want to save a story to read later, you can save it by swiping right. If you like the author of the article you can follow them in one click. And all of these interactions will continuously refine your content recommendations.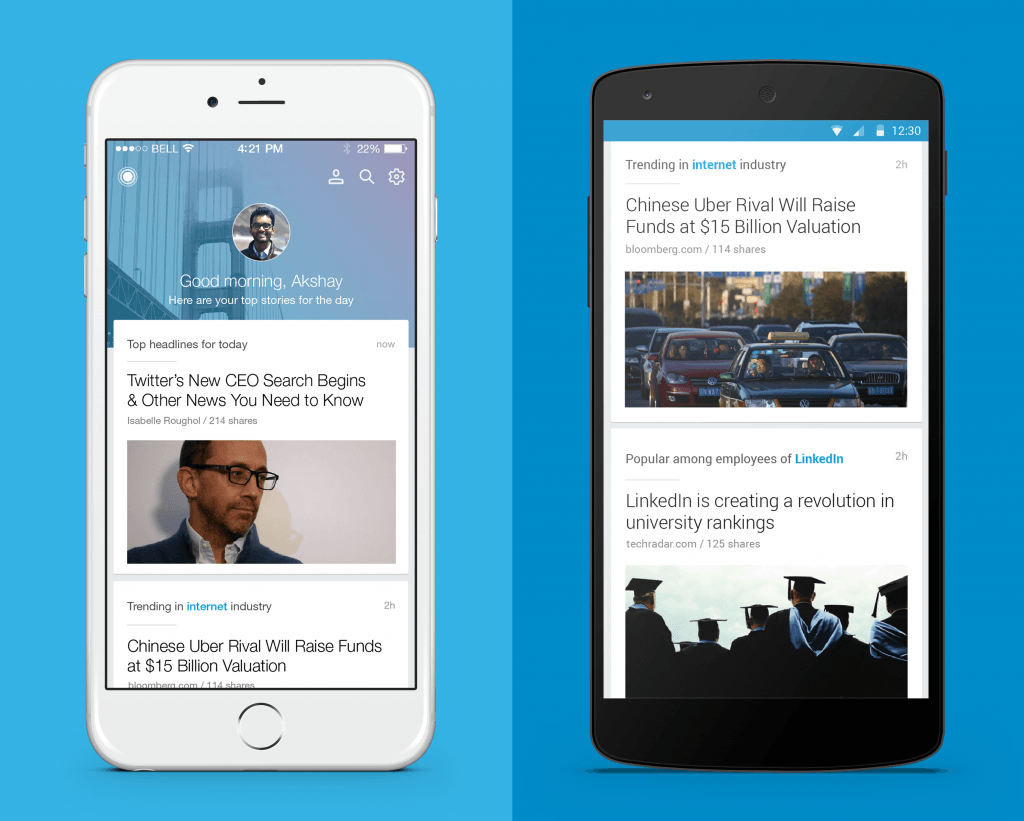 The news fed into Pulse comes from some 250,000 sources, and will include not just a selection of news and magazine sources, but also content from LinkedIn's own publishing effort. You can still add specific publications into the mix alongside this, and for those who are using the current Pulse app, you can continue to do so until the end of this year. This new feed of news will be a mix that could include news about your own company, but could just as easily include news about a company that is competitive to yours. It will feature not only stories highlighting your network of contacts, but stories people in that network may have flagged themselves.
While the new app is welcome, it still has to be said that what people really want in their news feeds may not always be obvious from their LinkedIn profiles. So, in order for Pulse to be as useful and as relevant as it claims to be, the team behind it will need to keep working on maintaining Pulse going forward.
Dropbox's New Requests Feature Lets Anyone Upload Files To Your Account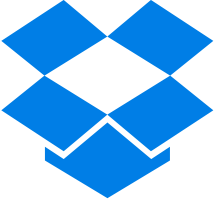 Now this is a FANTASTIC product update! On Thursday, Dropbox today rolled out a new feature that will allow those without a Dropbox account to share files with Dropbox users.
Called "File Requests," the new option gives anyone you ask the ability to upload files into your Dropbox account, into a folder of your choosing. Through a simple interface on Dropbox.com/requests, you can specify what file(s) you're looking for, and you're then provided a link you can distribute or you can select the option to have Dropbox send a request email on your behalf.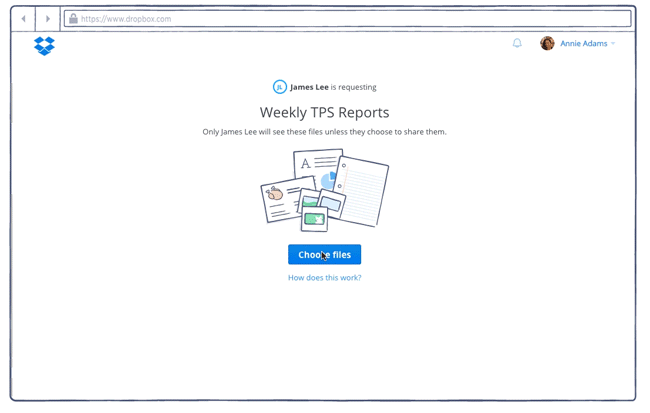 The company says the feature was implemented to address a common pain point among users. Today, most people continue to share files with one another as email attachments, which can be cumbersome to sort through. This continues to be the case because not everyone uses the same cloud service for file sharing, too. Dropbox's File Requests feature is meant to offer an alternative to email-based file sharing, as it puts those in need of the files in more control. The company suggests the feature can be used for a range of sharing scenarios, whether it's collecting bids from contractors, asking for files from clients, or even asking family members to share vacation photos. However, we can see this being big with recruiters receiving CVs, cover letters or even more complex files like video CVs. Because unlike with email attachments, File Requests can handle files as large as 2 GB!
As previously mentioned, when asking for files, users can also indicate which folder should host the files as part of the request process. Then they can either copy the link Dropbox provides (which points to a file uploader interface), or they can enter in the email addresses and message they want to send.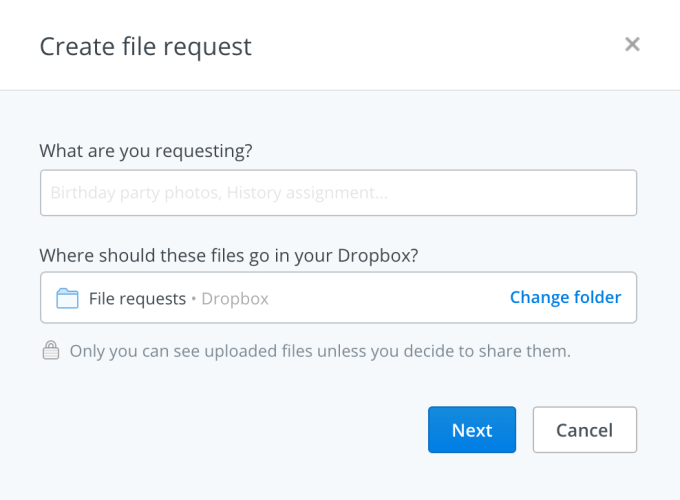 In addition to making it easier for current Dropbox users to ask for files from others, the new option may also serve to introduce Dropbox to others who had yet to try the service. Of course, the feature also lets you ask for files from those who are already on Dropbox, it just simplifies the collection process by centralising all the uploads into a single folder available across your devices.
File Requests is currently available for Dropbox Basic and Pro users, and will arrive for Business customers in the next few weeks. In our opinion, you'd be a fool not to start using it!
Planted App To Help Non-Technical Millennials Find Startup Jobs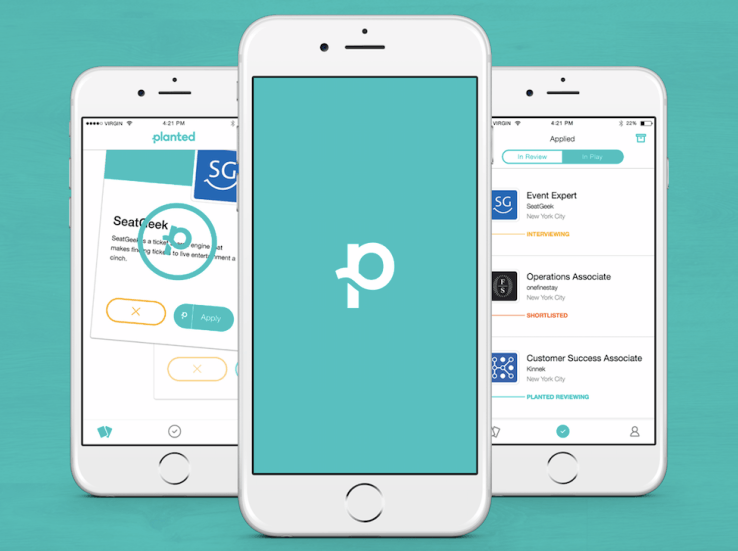 For many recent Computer Science grads, landing a job at a startup shouldn't be too difficult. But for non-technical graduates, however, finding such a job may not be so simple, in fact according to Techcrunch.com nearly half of all recent college grads are unemployed.
But a new iOS app, launched last Thursday is hoping to decrease that number significantly. Yes, Planted (formerly known as Lynxsy), is a brand new app that claims to help non-technical Millennials find jobs with startup companies, by pairing a data-driven algorithm with a layer of human curation to ensure that candidates are matched with the right job prospects. And it's a system that's been working well so far. In less than a year after launching, Planted has helped over 200 candidates land jobs in the New York area, where nearly 60% of all startup jobs are non-technical roles.
"We monitor over 100 different data signals from both the employer and the candidate, ranging from background, to preferences, to which positions people opt into on the platform," says Connie Wong, co-founder of Planted. App users are then provided with a personalised batch of 3 to 5 job prospects each day.
If Glassdoor's figures are anything to go by, it would appear that the key to Planted's success so far is in its presence as a mobile app. According to a recent survey by Glassdoor, 45% of job seekers are using their smartphone on a daily basis to look for jobs – Planted reports over 50% of engagement on mobile, even prior to the launch of its mobile app.
"We see mobile as an opportunity to take the work out of finding work, and to transform the overwhelming black hole that is the job board experience," says Susan Zheng, Wong's co-founder.
Wong and Zheng graduated from Techstars in June of last year, and they've since brought 12,000 job seekers and 400 companies including SeatGeek, ClassPass, and Constant Contact, onto the Planted platform.
Will yo be joining their ranks? Let us know in the comments below.
Twitter Now Autoplays Video And GIFs
Like Facebook before it, Twitter has just introduced auto-playing video and animated GIFs to its official timelines in both the iOS application and on the web, with support for the feature coming to the Android app soon.
The new feature (which is now in effect for all users) means that you'll see native video uploaded directly to Twitter, Vines and GIFs uploaded to the service playback instantly as you scroll. But don't worry, just like Facebook, autoplaying video is muted, and there's even an option in settings to disable it (though it's enabled by default). Clicking on any video changes it to a full screen view of the content in question and unmutes the sound.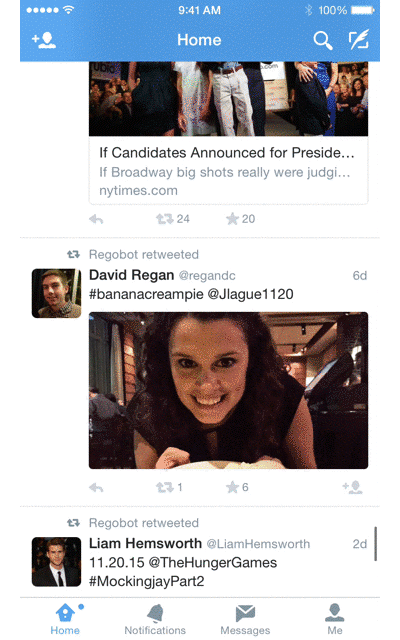 For those of you worried about data limits, Twitter is also offering an option to only autoplay over Wi-Fi to respect user data limits. Selecting this option will cause Twitter to automatically default to the old, click-to-play way of doing things if users find themselves in areas where there's typically lower bandwidth allowances, or more expensive fees for data usage.
If you're curious as to the cost of autoplaying ads on Twitter, Twitter's President of Global Revenue, Adam Bain, says that advertisers are only charged when a video is 100% in view in a user's feed, so when the top or bottom is cut off the view doesn't count. Twitter's advertising blog elaborates that it also only charges advertisers when the video has been viewed for at least 3 seconds, provided again that it isn't cut off in some way in the viewer's feed. According to Bain, this qualifies Twitter video as among the best values in online video advertising in terms of the quality of what it defines as a "view."
Connectifier: An AI Approach To Recruitment Search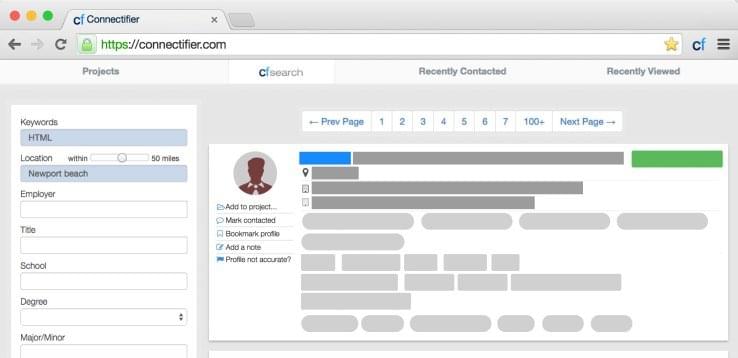 Sites like LinkedIn and Monster.com have become online mainstays both for people looking for jobs and also companies looking to find the right people to fill a role. Now a new startup hopes to turn the recruitment process on its head through artificial intelligence and powerful search software that crawls across many sources at once to build up some 300 million online profiles to find the person you need.
Connectifier, was founded by two ex-Google engineers in 2012, and it has already been quietly amassing a client base of tens of thousands of recruiters from top business in high tech, finance, sales, and healthcare. Last week, it is publicly launched its product to the world at large, and announced $6 million in funding.
After spending time working with recruiters to find talent for the teams he was leading at Google, John Jersin (one of the two ex-Google co-founders) concluded that there hadn't been much innovation in the talent acquisition technology space during the last 10 years. As a result, he decided to apply his engineering and search skills to create a new solution. After all, there are sites out there where people can submit their resumes for consideration by recruiters, and other sites where people can go to look for specific jobs, but no one service has figured out how to use the power of the content of the web to break through different information silos to help unearth people who might be good fits for specific roles.
How does Connectifier work?
Well, like other members of the search aggregator movement, Connectifier creates candidate profiles from information gathered from anywhere people gather online. Per a recent press release:
Connectifier's software combines leading edge search technology with artificial intelligence that performs "entity recognition" to figure out which disparate pieces of information from the web should be aggregated into a single profile. That profile information is then displayed to the end user through their web browser via the Auto Search feature or through the main Search interface, allowing users to get more complete and in-depth information about candidates.
In other words, Connectifier uses big data analytics and machine learning to cut across the long tail of data on the public internet to create accurate and useful profiles of people – profiles that can be found proactively even when the individual isn't actually looking for a new job.
But while Connectifier is young and still evolving, the company's product is already able to cover 3 areas that are black holes in the current recruitment landscape:

1. Solving the issue of out-of-date information
While sites like LinkedIn are go-to places for tens of millions of people, there are millions more who have created profiles there but never update them, let alone add more data to enhance how they might be discovered by recruiters. Connectifier, which surprisingly says it doesn't even use LinkedIn in its profile builds but instead looks across social networks, forums, and anywhere else where you might appear online, essentially crawls sites regularly to seek out the most up-to-date data about people, including how to reach them, a kind of turbo-charged Rapportive.
2. Bringing AI into play
Connectifier has figured out a way of sorting and matching a lot of these disparate pieces of information to help create composite profiles of users. This "entity recognition" happens under the hood, so to speak, and so when a recruiter looks for a specific name or certain profile attributes of the person she or he wants to find, it's these composite profiles that are served up as results.
3. Showing off those AI chops
As Jersin describes it, you can essentially "feed" the platform information such as certain kinds of expertise, or even a piece of published writing from someone who is similar to who you would like to hire, and it will produce a list of results of people who match up with whatever parameters your provide. Think of it like Google's image search, which may produce exact matches, but may also produce very similar images, based on whatever picture you provide.
Exciting and impressive stuff! And an excellent approach to harnessing and organising masses of data to create a recruitment product.
P.S. Connectifier isn't a free tool, but you can trial the product for free on their site. We suggest giving it a go because we can see great potential in this!
Bad Job Adverts and Poor Job Descriptions Creating Weak Candidate Pools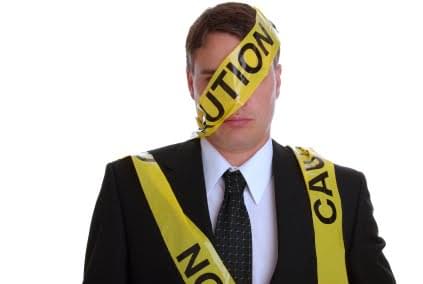 The recruitment industry is "wasting money and time" with unclear job adverts and inadequate job descriptions are "resulting in poorer candidate pools". Yes, according to a study of over 800 employment adverts, carried out by Citizens Advice, and another carried out by the Hay Group, our poor job ad and description writing skills are catching up on us… big time!
2 in 5 job adverts were unclear about the security of the position (part-time or full-time, or temporary or permanent); while 21% suggested that the job might be self-employed. Of the job listings that mentioned the position includes variable shift work, only 8% explained how the rota would work. 1 in 10 job listings did not specify if the candidate would be going through an employer or an agency, 1 in 3 didn't mention expected pay, and 1 in 5 just didn't mention pay at all.
Hugh Stickland, Chief Economist at Citizens Advice, said: "With so little information, job applicants don't know enough about the job they are applying for and recruiters are less likely to get the best candidates for the job. Lack of information on both sides is preventing the job market from running smoothly and contributes to badly matched candidates moving into jobs that are not well suited to their needs. The whole cycle of recruitment must then begin again, wasting time and money on both sides."
Furthermore, 51% of HR managers think that poor job descriptions are causing employees to leave, which is having a huge effect on retention levels. According to the Hay Group's research, 59% of HR departments believe they have wasted their time on unsuitable applicants and 68% said that weak job descriptions are to blame for poor candidate pools. 42% agreed that the quality of job descriptions written in their company is weak. And perhaps most scarily of all, over three quarters (79%) found that getting good job descriptions from managers is time consuming.
Rob Walker, Head of Resourcing at Mencap Charity, said of the research findings: "Creating the right content for a job description is paramount. If the content doesn't reflect the need of the role you will ultimately attract the wrong person. Create the right content, you attract the right candidate. I have borne witness to awful interviews where hiring managers ask potential employees questions that do not relate in any way to the job that the candidates were attracted to in the first instance."
How is this affecting employers? Well, one third of UK companies have staff turnover rates of 21% each year. So, for businesses with 100 to 249 employees, this is costing them £138,000 annually, with HR departments in retail, engineering and legal sectors being the most affected by weak job descriptions.
So what can HR do? Rob Walker says the lies in "ensuring content accurately reflects the expectation of the role is crucial", and that "mapping the personal specification in terms of expected behaviours to the values of the organisation allows the candidate to clearly demonstrate ability in terms of competence and competency". He note however, that while taking those actions "sounds simple", he questioned how often recruitment and HR professionals "truly question the role specific content of a job description created by the hiring manager".
If you'd like to improve your job advertising skills by learning the 5 essential steps to take when writing great job ads, gaining access to our complete guide on recruitment SEO, and discovering our unique step-by-step framework on how to promote your job ads effectively, be sure to download our FREE whitepaper on the topic entitled, The Ultimate Sourcing Ninja Guide to: Job Advertising.
Blind Auditions: The Future of Candidate Interviewing?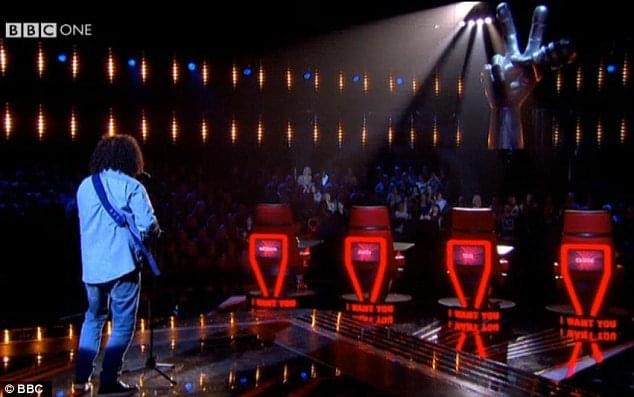 It works nicely for aspiring singers on TV, but could "blind auditioning" work for job seekers too?
Well, Peter Vujosevic, the creator of GapJumpers, is ready to put the theory to the test. According to Dice.com, GapJumpers attempts to hold "blind auditions" for tech, marketing, and communications pros.
How does "blind auditioning" on GapJumpers work?
A candidate accepts a company's challenge to perform a particular task, such as building a Web page. If they complete that challenge to the prospective employer's satisfaction, they move on to the next round—without the employer having known anything about their educational or demographic background.
Why should we blind audition candidates?
Simply put, traditional hiring is fraught with bias. Recruiters and Hiring Managers (however well-intentioned) bring a collection of conscious and unconscious preferences into every candidate interview. In a 2014 interview with Fast Company, Brian Welle, director of people analytics at Google, suggested that hiring executives might counter those biases by focusing on skills rather than the individual; attempting to become more self-aware of behavior and predisposition; examining demographic data related to company hiring; and talking through decisions. But that's a complex list of tasks for anybody to handle, especially since many people are disinclined to acknowledge their own prejudices and flaws.
By accommodating bling auditions for potential candidates, GapJumpers is attempting to help recruiters and hiring managers reduce the affect of bias on their hiring decisions – a topic which is getting a lot of coverage in industry media at the moment.
But while it's obvious a blind audition won't eliminate bias altogether – at some point, the real-life candidate has to interact face-to-face with a manager – it could help balance out the demographics of the applicant pool. The big question is will companies prove willing to integrate this sort of auditioning into their hiring process?
Answer: They may do after they've read tomorrow's blog on socialtalent.co/blog! Tomorrow we'll be explaining exactly what bias is, and just how much of an affect it has on your hiring decisions. We'll also be providing links to some extremely interesting online quizzes you can take to assess you biases. So join us back here tomorrow for all of that.
Find out how the likes of IBM, IKEA and Siemens
drive hiring excellence with SocialTalent
---