Keep up with the latest hiring trends!
5 New Sourcing News Stories for the New Month- 3rd November 2014
In the news this week:
'Prophet' Is Now in Limited Beta
A quick heads up to all you recruitment tool fans, Prophet, the free email finding Chrome extension, has been released in limited beta.
I think it's fair to say at this stage, that the recruiting tools a recruiter has access to, can determine whether not or not they close on their next fee. Such is the power of social sourcing in 2014. And we're of the opinion that Prophet is definitely a tool you're gonna want to have access to in the future.
Prophet is a new Chrome extension that uses an advanced engine to predict the most likely email combination for any given person based on their name, company and other social data. It's free to download, and most importantly of all: it works.
Prophet works on the industries most popular social sites including About.me, Facebook, Github, Twitter, StackOverFlow and LinkedIn. And if you're concerned about whether or not the emails returned to you are legit, the tool makes it perfectly obvious which email addresses as working by labelling them:
[Verified] – The email exists, is deliverable, and is NOT a catch-all
[Unverified] – The email exists, is probably deliverable, and is a catch-all
[No email could be guessed] – All known as nonexistent or undeliverable
What does it look like? Well, as you can see from the image below, Prophet displays the leads contact information as well as the networks that Prophet is currently compatible with in a sidebar next to the individual's social profile.
Excited? Want it? Then all you have to do is enter your email address here, and you will be given instant access.
The Rise and Rise of Twitter's Users
In a statement concerning it's Q3 credentials last week, Twitter (Social Talent's favourite social network) revealed that while their user numbers had risen by 23% to 284 million, their user growth rate has slowed for the second quarter in a row. That said, the company's sales more then doubled to $131.3 million, topping the $351 million average analyst projection compiled by Bloomberg, and timeline views increased from 173 billion to 181 billion!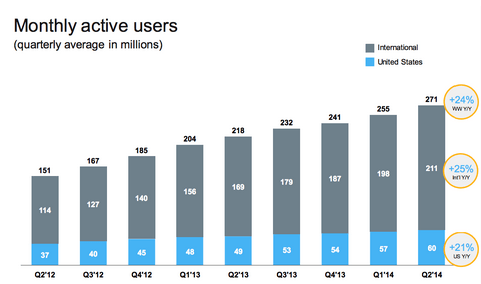 Still, "They need user growth to be higher if they want to keep attracting the attention of marketers, said Nate Elliott, an analyst at Forrester Research Inc. They're moving in the right direction, considering this time last year we were wondering if they could kick-start growth at all. But they'll want to move faster in that direction. And Twitter CEO, Dick Costelo, is hoping to do that by making Twitter easier to use, developing a better messaging service, drawing more visitors with exclusive Hollywood content and working with mobile-application developers to expand the company's services even further. The company is also aiming to sell more ads as Twitter messages gain impact outside of the website, on news sites and TV shows.
They're changing the narrative of what Twitter is, said Brian Wieser, an analyst at Pivotal Research. There is an attempt on the part of the company to position itself as a platform first as opposed to this place where people happen to tweet. And that can only be a good thing in our book.
Tell us your thoughts in the comments below.
Employer Branding 3.0 in Action: Candidates Can Now Talk Directly to Pinsent Masons Employees
We're all about openness and engagement with your existing employees here at Social Talent (our recent blog post on the Employer Branding 3.0 phenomenon is testament to that fact), which is why we were delighted to learn of and impressed by the efforts law firm Pinsent Masons are taking to include their current employees in the hiring process.
Yes, hopeful candidates are now able to pose questions directly to trainee Solicitors, gap placement students and graduate Recruitment Managers at international law firm Pinsent Masons, making first-hand information readily available from within the firm. Not only that, but the interaction between candidate and employee is published on an exclusive website, meaning that potential applicants are not only able to pose their questions, they can browse and search previous discussions to really understand the firm's people and culture.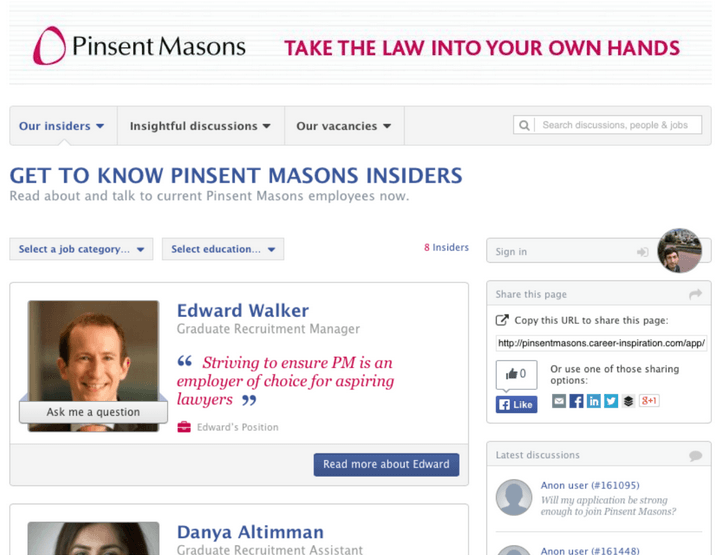 The difference between this and regular firm contact is that candidates can easily direct their questions to specific individuals in the firm who are then capable of responding with real personal experiences and advice. This freedom permits the candidate to choose based on a range of criteria, such as attended university, course or work experience, to get a response that may be able to help them the most.
According to Pinsent Masons: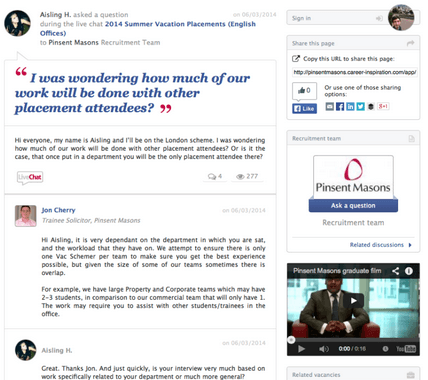 "The traditional recruitment process that the majority have come to know may not portray a clear image of a firm's culture, its business or its values. This is the reason that Pinsent Masons has implemented PathMotion's Career Inspiration platform within their new website, promoting engagement between candidates and employees. This optimises the firm's online presence and gives the opportunity to candidates to understand its culture and whether it is a good match personally. The firm is represented in a transparent fashion and visible on Facebook and on its website'¬€the first point of contact for many potential candidates.
Previously limited to career fairs and planned graduate events, Pinsent Masons now give the opportunity for their employees to share application advice, day-to-day work and anything about the firm at any time"
On a practical level, it means that employees are able to reply at their convenience without leaving their desks, and because all of the discussions remain visible online, all future applicants will have access to a vast bank of information at their fingertips. These live chats can also be used internally, where the content is not published online, which proves extremely useful for candidates that have reached the later stages of the recruitment process or for on-boarding and introductory purposes. Genius! Simple, yet highly effective. Fair Play Pinsent Masons!
The Career Inspiration platform can be found here.
Beware: LinkedIn Rate Hike Is On the Way
Another lot of Q3 results came in last week; LinkedIn's. The professional network's latest set figures saw revenue increased by a whopping 45% to $568 million. 61% or $344.6 million of which was made up of recruitment revenue. As a comparison, the same quarter last year only dragged in $237.7 million from recruitment and Monster brought in a total of $393 million in the first half of this year. (Monster will report its third-quarter numbers next week.)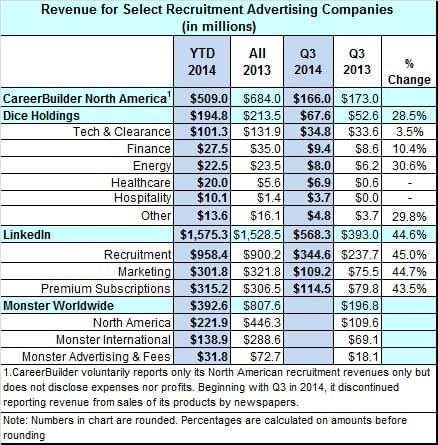 However, talent solutions customers can expect a rate increase next year, which LinkedIn executives said would be in the mid-single digits in most geographies. CEO Jeff Weiner and CFO Steve Sardello said customers were already being notified of the increase. An increase it doesn't expect to lose any significant number of customers from.
The price increase will take effect for new customers and renewals after January 1st, 2015.
We've Made Some Changes to SourceHub
Oh yes, work continues on our crazily popular (10,500 users and rising!) sourcing tool, SourceHub, and it just keeps getting better and better if we don't say so ourselves 😛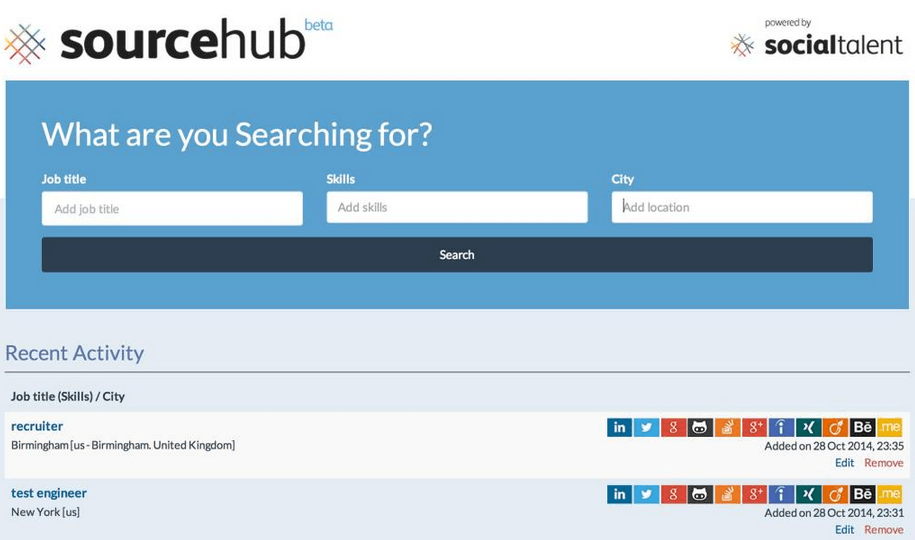 What can you expect from the cleaner look, smart locations & intuitive job title search? All this:
You no longer need to select from the prompted job titles, you can type any job title you want and we will automatically match it against our synonym database if we have a match.
Locations are more intuitive. For example, if you type "New York" we show you all locations within the New York area, not just an exact match for "New York". We hope this will help recruiters really narrow their focus when searching for talent.
You can now name a search and also delete old searches you don't need any more.
You can now add additional search terms in an Advanced Search (previously you could only change synonyms for existing search terms once you click Advanced. Now you have much greater flexibility to change the search in Advanced mode).
We will be making further changes in November and cleaning up the synonym suggestions to make them even smarter, so if you'd like in on some of the SourceHub action sign up right here.
Find out how the likes of IBM, IKEA and Siemens
drive hiring excellence with SocialTalent
---