Keep up with the latest hiring trends!
Cancel that interview: How tech is changing how we assess talent
Technology is a great thing, and the more it evolves, the more it gradually takes over the most urbane of tasks (remembering your friend's birthdays, your appointments, your credit card details, the page number of the book you're reading). Necessity is the mother of invention, and corporate solutions for the recruitment and selection process is certainly a necessity in this day and age. Time is of the essence, as is legal certainty, and making sure we hire the best fit for the job to ensure our company's success.

Interview assessments are costly in time and money. They're hugely important, but they're inconvenient for both the interviewer (who needs to take time out from their busy schedule to dedicate their time to interviewing candidates and then afterwards in narrowing down their selection) and the interviewee (who may have to take time off work to interview for the new position or travel). Considering the volume of applications companies receive for each vacancy with a much larger active-jobseeker pool, the HR team's job is only getting harder in making time to assess each applicant.
In a white paper issued by cloud video-assessment company Sonru, exploring the Candidate's experience of video interviewing, it's clear that candidates are open to the idea of interviewing for initial assessments via video rather than in person or on the phone, saving them time (and nerves!).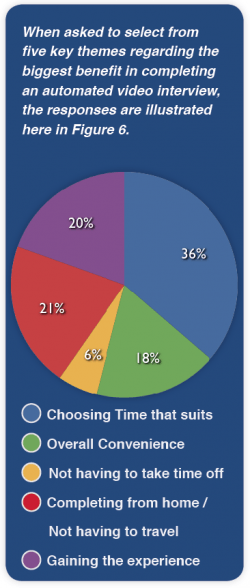 Sonru surveyed 1,300 video-interviewed candidates, before and after the automated interview. 84% of respondents said they were either confident or very confident before the interview, and the vast majority of candidates (65%) said that they felt "impressed" or "Happy to progress to the next stage" afterwards. When asked to select from 5 key themes regarding the biggest benefit in completing an automated video interview, 36% said that choosing a time that suited them to be their biggest benefit. 21% said that not having to travel, or having the ability to complete the interview from their home as their main factor, and 18% cited overall convenience. Most respondents said they'd prefer an automated video interview to a telephone screening interview.
Video assessments are still relatively new, and many corporates are hesitant to adopt such a new technology and change the way they currently assess applicants. However, as many businesses have reduced their HR teams to save money or have increased their workloads, taking the time out of their schedule to assess many multiples of candidates for open vacancies can be too much of a stretch for the HR team. Even telephone screening takes up too much time. Each one is individual, you've to set aside and agree a mutual time to assess each candidate, be recording each response individually (usually on paper) and still have to discuss with your fellow assessment panel members who you believe should be brought forward for in-person interview based only on your notes and observations.
What assessing applicants by video interview has done is allow for candidates to respond to the interview in their own time, wherever they like (be it at home, on their lunch break, at 2am, in a coffee shop etc) and the recording of their interview is available for the HR team to watch whenever is convenient to them. The recording is there for reference purposes later on in the process, and can be used to cover any potential legal issues arising from the selection process. Win-win!
Furthermore, having a video-interview process can reflect a much more positive image on the company themselves, being open to new technology and innovative in their approach. These white paper findings prove definitively that the Sonru environment enables job seekers to genuinely enjoy the video interview experience. More than that, candidates end up feeling happier after the process than they did initially!
Video assessment is a no-brainer for the hiring company – it saves time, money and leaves the job seeker with a more positive impression of the process. For those of you have struggled to find a place for video in the recruitment mix, here it is, kicking the butt of any alternative.
(Meet the team at Sonru at the truDublin Recruiting Unconference this Wednesday and Thursday 16th-17th May (tickets here), where there'll be a Sonru video booth, and Ed Hendrick will be leading a track all about video assessment and innovative interview methods. See you on Wednesday!)
Find out how the likes of IBM, IKEA and Siemens
drive hiring excellence with SocialTalent
---